Gurgeniani Waterfall
You can hike to Gurgeniani Waterfall in Lagodekhi National Park. 40 meters waterfall is located in a beautiful green gorge. Calm sound of the river, tiny waterfalls and fresh air make the trip adventurous. The path which leads to the waterfall is very interesting and quite adventurous.
It takes 5-6 hours to hike to the Gurgeniani waterfall. Path is longer but easier than Rocho waterfall. It is recommended to find out if there are all bridges available before the hike at Administration building. You can not just follow GPS during the hike. You will need intuition to jump over the stones.
It is possible to reach top of the waterfall where locals might be partying, but it may be hard – do it at your own risk. Use special boots for hiking and avoid visiting during the period of heavy rains.
Rocho Waterfall
Hiking to Gurgeniani Waterfall starts from Lagodekhi administration building. First it follows beautiful, forested route of Lagodekhi National Park then there is a river crossing. If the bridge is not there it might be hard to cross the river but usually the bridge will be there. It is better to ask the administration regarding bridge before the hike.  Then there is a serpentine pass above the mountain which can be a dangerous especially after rain – you should watch your steps.
Later you will descend into the river gorge again and soon you will reach beautiful waterfall bursting out of cliffs. Breathtaking greenery around the waterfall is amazing especially in the beginning of the summer when the color of nature is fresh. Path is stony at times to it is recommended to have suitable hiking boots to go up stones. Even if there is a short distance it takes some time to get to waterfall and back so you should allow around 4-5 hours.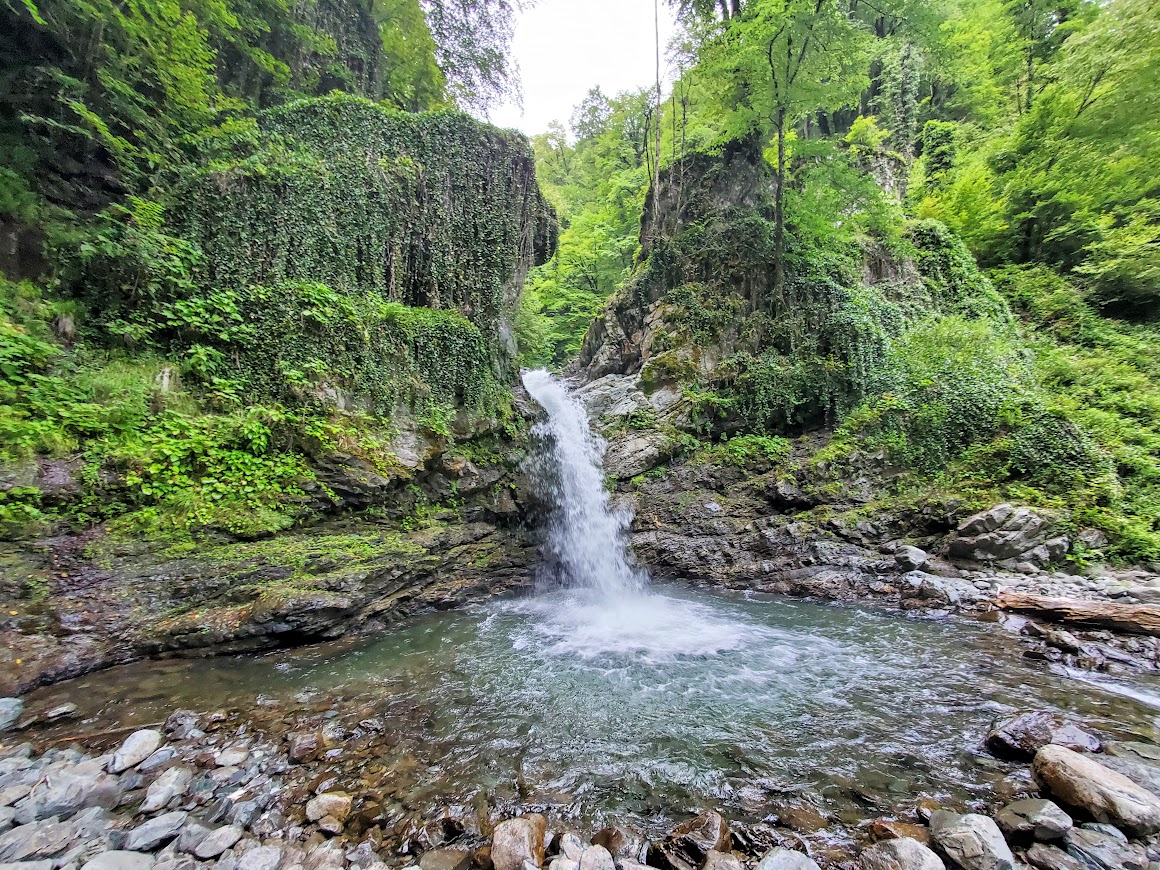 How to get to Lagodekhi
To reach Lagodekhi you can take marshutka (minibus) from Isani station (near Isani metro); You can take a shared taxi from Isani metro station.
To reach Rocho waterfall or Black Rock lakes you do not need to take taxi from Lagodekhi because the route starts from there. If you would like to hike to Machi fortress, the route starts from Matsimi that is why you will need taxi from Lagodekhi. In case of Gurgeniani waterfall you have to get a taxi to Gurgeniani (Khizabavra) village.
GPS Track of Gurgeniani Waterfall Hike
GPS Track of Rocho Waterfall Hike
Facebook Comments