Gomismta
In Gomismta resort of Guria April/May means snowed cottages from fairy tales.  June means blossom of Yellow Azalea when the resort turns incomparably beautiful in yellow colors mixed with lots of green and white, July and August means people who come here to rest and more fun, also  every August, the resort Gomis Mta holiday is held around the time of transfiguration holiday when the nature starts to change again.
In September Gomismta resort turns red as bushes of yellow are all red and it starts the new cycle of long winter, lots of snow, abandoned cottages till it comes the June again and brings mystic fogs which are similar to the sea waves who hit you and leave you drunk with a strong smell of yellow mountain flowers and then the sun appears again and descends into the Black Sea which is very near from here. You need 2-3 hours from Kobuleti resort of Black sea to reach Gomismta at the sea level of 2100m.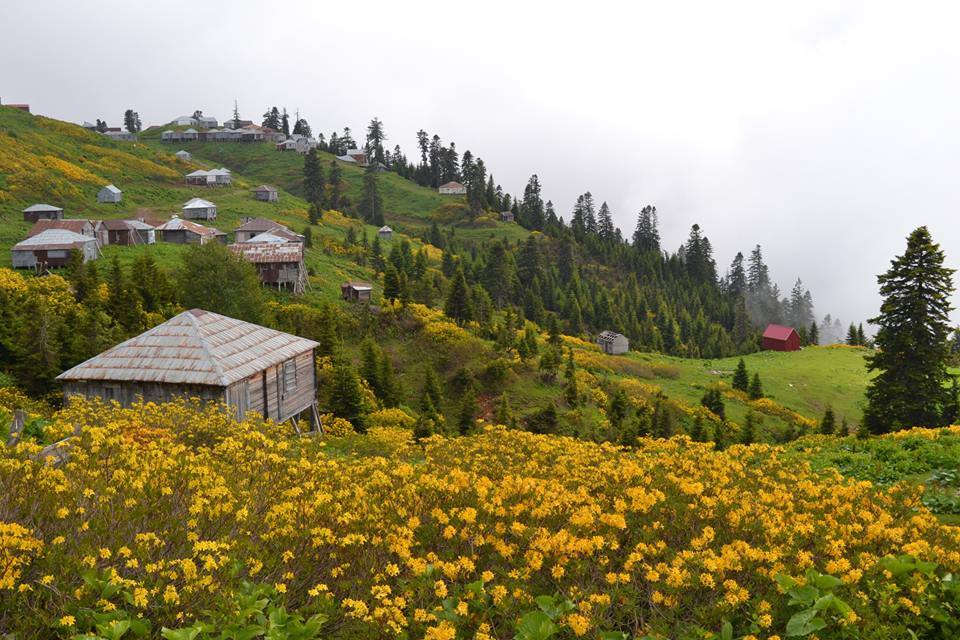 Where is Gomismta Located?
Gomismta resort is located in river Bzhuzhi gorge of Guria region of Georgia, 17km from Ozurgeti at the height of 2100m (41.829820  42.159531). The resort is distinguished with its panoramic views, pine forests, Rhododendron luteum, beautiful mountains and many beautiful summer cottages of Alpine zone.
The resort is very beautiful at every season especially in spring (June). You can visit its Facebook page here. The road is reachable by any car and easy from Ozurgeti but Gomis Mta-Bakhmaro road and its continuation to the villages Danisparauli offers excellent opportunities of offroading in Georgia, exploring numerous summer settlements of Mountain Adjara populated by hospitable Muslim Georgians.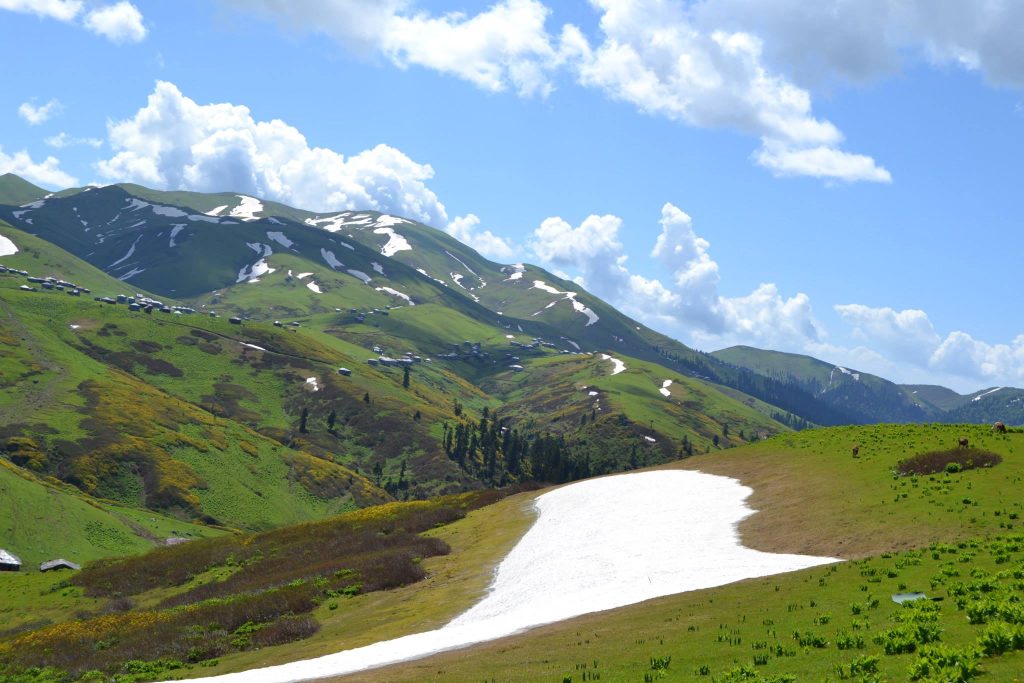 Hiking in Gomismta
Gomis Mta can be the base some great hiking routes nearby to Chinchao (2500m) and further to Bakhmaro or Tbikeli lake (it is normally reached through Khino village but it is also possible from Gomis mta, but it can also be the basis for the multiple day Trek – (Ghorjomi)-Bakhmaro Resort-Bakhmaro Sunset Hill-Sakornia Mt-Melia Ghele Yayla-Mt. Mglis Satsoli-Chinchao Lake-Gomis Mta Resort-Tbikeli Lake-Kintrishi National Park Forests-Khino (actual trekking minimum 4 days total time 6 days; Trekking can be extended to 6 days).
Trekking starts at Bakhmaro Resort of Guria. To get to Bakhmaro can be also interesting. You can take a public transport/jeep from Ghorjomi to Bakhmaro (bus arrives in Zorti-Keli yayla), or drive from Chokhatauri by regular car, or hitchhike and in the evening watch sunset at Bakhmaro sunset Mountain and prepare for trekking.
There are  small summer settlements on the road. I can not describe something special to see on the road, but these settlements which are above 2,000m from the sea level have hospitable locals living in, so its worth trying to meet them,also you should enjoy views, alpine flowers, bushes of rhododendron, etc.
The 2nd day (the first day of Trekking) you will go up the ridge (pass little below Sakornia mountain 2750m) near Bakhmaro. Start early to avoid fogs, lower visibility and to see better views. In 2-3 hours you should be able to make it to the top and enjoy the views.
Then you can descend to the small river Gorge which has the name of Yayla -Melia Ghele. Then you will be at pass of very panoramic Jeep road from Bakhmaro to Gomis Mta. From there you will go through Adjarian Yaylas (summer settlements). Even mountains have strange names there: Mt Mglis Satsoli which means bed of wolf.  Then You will come across Chinchao alpine lake. Its not the best lake in Georgia but It can be a nice camping place.
The 3rd day The you arrive in Gomis Mta from Chinchao Lake in 2-3 hours time. You can stay there and rest and enjoy the beauty of the resort.
The 4th Day descend to the river gorges twice and go up the ridge for Tbikeli Lake. Explore the area and camp near the lake or on the ridge or sleep in a small hut.
The 5th Day Descend to Khino through beautiful almost tropical forests of Kintrishi. From there you can request a jeep rental from Kintrishi National park administration or continue down to Chakhati the next day and find a car there. BTW its also possible to hike from Kintrishi to Mtirala National Park, but I would recommend to end this trek in Khino village.
The 6th Day: Camp at Kobuleti beach pine forest and watch black sea sunset.
There is another interesting Trekking Route: Goderdzi pass-Green Lake-Beshumi Resort-Khikhani Fortress-Bako Village and waterfall-Yaylas and Alpine Lakes-Chirukhi Resort; This route only touches Adjara Mountains and it involves more interesting sights. It can be done in 4 days. Its quite easy and doesnt involve much difficulty and elevation gains. You can sleep all nights in Adjarian yaylas/resorts.
Day 1: Arrive at Goderdzi Pass, Short Hike to Green Lake, sleep in Beshumi Resort.
Day 2 (The first day of Trek): Descend to Khikhani Fortress (4 hours) and camp at the foot of the fortress. Hike to Khikhani (40min 1 way) and enjoy the views to Adjara and Shavsheti mountains. There is also guethouse of Nugzar Dumbadze 2-3km down from the foot of fortress. 
Day 3: Past the village Bako, ascend through the forest in Alpine Valley with several yaylas where you can stop to sleep overnight and alpine lakes.
Day 4: Cross the ridge and Arrive at Chirukhi Resort.  Get a car ride from there. You can find this map and gps track at the bottom of this post.
Facebook Comments