Wine tour in Georgia can take weeks if you visit all wineries as you can not visit 5 in a day. When you are visiting Georgia it is a great challenge to understand, differentiate between different varieties of grapes, wines. It may be even hard to drink good Georgian wine if you dont have enough information. I am personally born in a family which produces wine, I have friends who produce family wine as well, I know and have tasted over 100 different types of bottled wines, but I can not say that discovery of my favorite Georgian wine is done, I think exploring Georgia just like exploring Georgian wines may take the whole life and that's the beauty of my country.
First of all, there are some good wines/wineries in almost all non-mountain areas of Georgia – in Lower Racha in Khvanchkara area – lets say Chrebalo wine cellar . Since I am from Racha, I can say that those who expect just famous red semi-sweet Khvanchkara wine there, they are mistaken. We have good dry Aleksandrouli, dry white wines Tetra and Tsolikauri, however Tsolikauri is famous  from Tvishi microzone in Lechkhumi – there we can try lets say Miranda's wine. In Imereti there are many choices, but lets try wine from another women winemakers – Baia's wine. Their wine is lighter in comparison to Kakhetian. Anyway, I am the one who likes stronger Kakhetian wine. So from Tropically flavored Adjarian wine, coming to Eastern Georgia you will find some great wine from some wineries wine artisans in Gori,  Ori Marani in Kaspi, where you can try Goruli Mtsvane wine,  or Cheatau Mukhrani near Mtskheta old capital, you can start your discovery of Georgian wine in Kakheti region to understand classical Georgian wine.
Second of all, Take into account that not all wines of one producer are right for you, not all wineries are as good for wine, For example famous stop for many tour companies KTW in Patardzeuli is mass producer of spirits and their wine is not special, while they may have good cogniac and spirits. You should go to Shumi winery in Tsinandali for environment and for photos first, maybe for meal as well, but their wine may not give you full impression on Georgian wine. In contrast some small wineries on tripadvisor have high reviews because of meals served, hospitality rather than great wine. Also, some organic wines which may cost 25 eur may not be much better for a regular user from Kindzmarauli of Khareba company which costs 6 eur, but still there are many low quality Kindzmarauli wines as well on the market for 4-10 eur lets say that I am sometimes afraid what our foreign guests will think of Georgian wine. So I hope I did not confuse you too much. Lets start the virtual wine tour from Sagarejo area.
Velino wine cellar – run by Young and Enthusiastic wine maker Beka Jimsheladze, is about 1 hr from Tbilisi in Kakabeti.
Juso Wines – named after grandkids of famous winemaker Juso Mezvrishvili.
Guyaani winery – located in village Manavi famous for green wines (type of white dry Kakhetian wine) with fancy restaurant and pool can be a good place to stop for white wine and plate of cheese. Mtsvane wine can be a bit strong for European taste but can be a nice to try.
Then we can move to the city of love and great wall and some of perfect wines.
Pheasants Tears Restaurant at Baratashvili st has good wine tasting options. Its recommended and could be expensive/commerialized as well.  There is also Cradle of Wine Marani at the same street. They serve serve natural wines made in qvevri (clay vessels).
Okro's wines are outstanding, my choice would be this. especially famous Amber wine of Georgia – Kisi.
I cant mention all wineries but will go to Kvareli area. My favorite mass producer, Khareba company – Tunnel which should be in every wine tour. Nearby we have Shilda with Chelti winery, Chubini wine cellar and Nelkarisi. Saperavi by Chelti u could like.
After this we could go to Artana wines. Just to try classical Kakhetian wine – Rkatsiteli – amber colored. Also visit Lazagi wine cellars, wine made by Tushetians should be good. I wanted to introduce you Khikhvi wine. Maybe Rtoni winery? Since we arrived in Ruispiri then we can visit s Ruispiri Biodinamic vineyards which also respresent luxury and high quality option for wine and gastronomy tourists. Giorgi Aladashvili is somehow connected to Switzerland and France so it could be great idea to visit him for French speaking wine tourists. Near Ruispiri and Telavi there is Kvevri makers house in Vardisubani which is must visit, You can see how Georgian clay vessels are made and taste wine.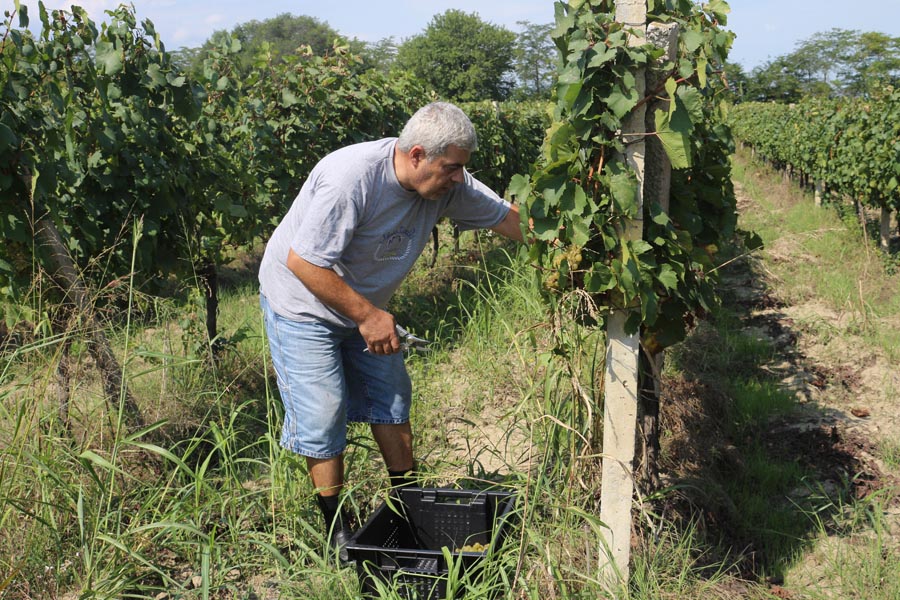 Then we will get to Telavi where we have Teliani valley company, Cheatau Mere and approach my favorite village Kisiskhevi but nearby there is Shalauri village. Togonidze wine cellar can be a great pick for wine tour. Then there is Mosmieri winery and hotel, restaurant and views of Caucasus as well, nice host too. Even for just eating in Telavi area I would recommend it. If you want fancy eating there is Marleta cheese farm as well nearby. Then we have Kisiskhevi village with Teleda Orgo and Dakishvili wine cellars.
In Kisiskhevi there is also German invested hotel schuchmann wine cellar . Wines there are not as strong with tanini in Georgian style but the hotel itself offers wine spa, pools, wine tastings etc all included in very reasonable and affordable package so it is recommended as hotel really much. However, if you want to spend more, Lopota lake resort is the best in Georgia with Cheatau Buera winery in the territory of the hotel. For wine tour, Radisson Tsinandali will be great as well, nice restaurant, park, Tsinandali Palace, pools with views, what u want more? Vazisubani and akhasheni estates offer good accomodation nearby, however Akhasheni is run by KTW company which doesnt represent high quality winemakers. Ampelo hotel in Kardenakhi offers great views comparable of the one from Sighnaghi, nice pool, beautifully designed wine cellar as well.
In Alaverdi u can eat yogurt just like in Badiauri famous Kakhetian cheese, in Chumlaki u can dine with local singer, in Numisi you go for some food workshops, so Kakhetian wine tour is not just made of wineries. Also some museums, some nice views, historical monuments there are plenty. What can be better than fall colors of Zegaani Monastery or meditation in the field near Kvetera monastery in warm sunny days of May. Also, its possible to arrange the tour during wine harvesting season which is in the first half of September in Kakheti and a bit later in other regions. Anyway, as time passes some old wineries and hotels get out of market and new ones are established so wine tours with professionals like us is always recommended idea. It is wine time and Georgian wine is a discovery, it is connected to meaning of life, to love to GOD, as u may already know in Georgia we have chant to virgin Mary written by our king Demetre in the 12th century – you are the vinyard. Gaumarjos!
Facebook Comments