Dariali Gorge
If you continue from Kazbegi to Russian border checkpoint, you can see the beauty of Dariali Gorge – You will find yourself in a beautiful place in the middle of the Caucasus Mountains. You will find many natural monuments in the area of Dariali Valley. In this article I will give you all the information you need about Gveleti Waterfalls, Gveleti Lake and Tsdo Village.
Gveleti Waterfalls
There are 2 waterfalls in Gveleti, which is an option to spend your time in the nature, but like the waterfalls in Arsha, they can not be called the highest or the best waterfalls in Georgia. Gveleti Waterfall descends into a lake which's name is – "lake of love" because of its heart shape.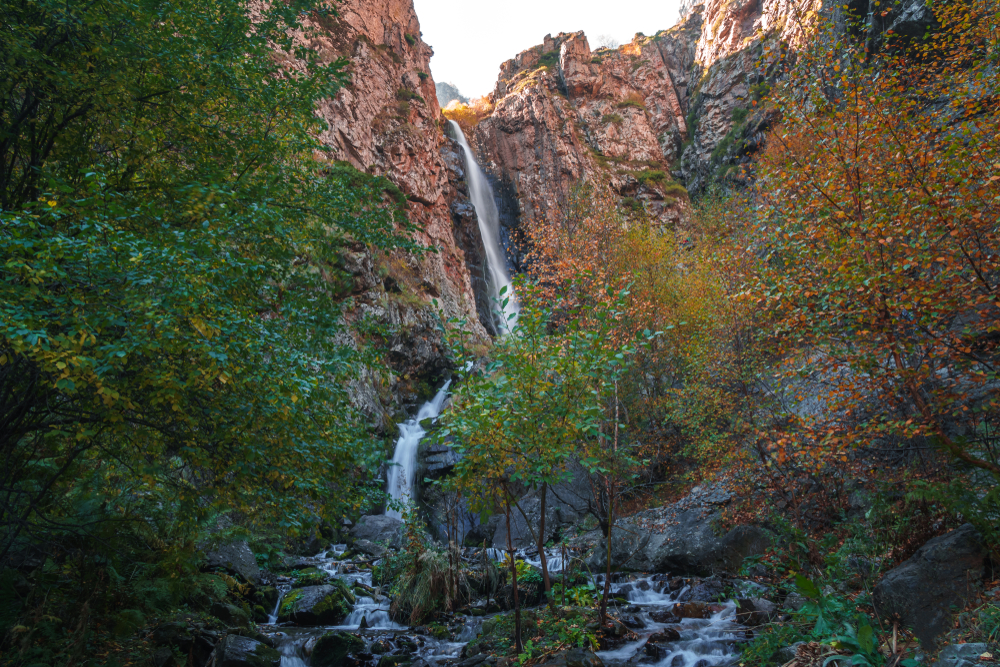 How to get to Gveleti Waterfalls
The waterfalls are located 7 km from Stepantsminda. You can reach them by walking or if you do not want to walk you can hire local off-road cars in the center of Stepantsminda.
How to get to Gveleti Lake
The route to Gveleti Lake is on the opposite side of the Gveleti Waterfalls route, so when you visit the waterfalls go back and start walking to the north side (the waterfalls are to the south). You will reach Gveleti Lake in 4.5 kilometers.
Gveleti Waterfalls and Lake Hiking Route:
Tsdo Village
In Dariali Gorge I would advise to visit Village Tsdo. Small Serpentine from the main road 6km north from Kazbegi will take you to a stunning village, rich in yellow colors, with a views to Mt.Kuro and Mt.Shino from the sacred shrine on the small hill. It is a great and less touristic place to take wonderful photos and enjoy the rural areas of Kazbegi district.
There is monastery complex at the Russian border checkpoint where wine cellar is located. In the complex you can taste their wine. Near the church there is the wildest river flowing down to Terek. From there, after getting a permit in Dariali, you can start hiking (difficult one) to Khde Gorge valley which is almost untouched by the humans. The area used to be more beautiful but it changed lately because of hydro electric station built nearby.
For other things to do in Kazbegi visit:
Around Kazbegi National Park – Juta & Sno Villages, Elia Church and Arsha Waterfall
Facebook Comments