Green Part of Kaspi
Kvatakhevi Monastery
Kvatakhevi Monastery, located around 50km from Tbilisi, is the beautiful place for relaxation, for hiking, bike trip, hitchhiking and more. The Domed church built in 12-13th centuries is fine example of medieval Georgian architecture. Church is built in the forest on the edge of mountain slopes of Trialeti gorge. Just before the monastery, near the Kavtura river or just in the fields near the road there are nice places for picnic where locals make barbeque or just rest,  escape summer heat  or enjoy Autumn colors.
To get to Kvatakhevi you can take mini bus to Tsinarekhi from Didube or drive towards Mtskheta, and then to pass to Route Armazi, then to curtail on a dirt road near the village Tsinarekhi. From here the deadlock road to the monastery conducts about 10 kilometers and comes to an end at Kvatakhevi.
Tavkavta Monastery
If you want to explore the area further, turn right (on the right following the Kavtura river)  roughly 2km before the Monastery and head north to Tavkavta fortress ruins which is located on the top of cliff and offers beautiful views especially in Spring/Autumn. From tavkavta fortress you can cross the Trialeti range to Didgori memorial.
Tavkavta Hiking GPS Map:
Lavriskhevi Monastery
Another beautiful place you can visit near Kaspi is Lavriskhevi Monastery (10th century) – temple located in a forested valley.
Desert Part of Kaspi
Kaspi Burial Tombs
Kaspi Tombs dates back to the late antiquity, I-III centuries and is the only rock-cut necropolis in Georgia. Rock-cut tombs are found in ancient states such as Egypt, Assyria, Urartu, Asia Minor, and others.
The archeological monument is a separate group of caves excavated in the limestone capes of 10-15 meters high. The complex is very damaged. Initially, up to 30 tombs should have been here, but today only 4 are fully preserved.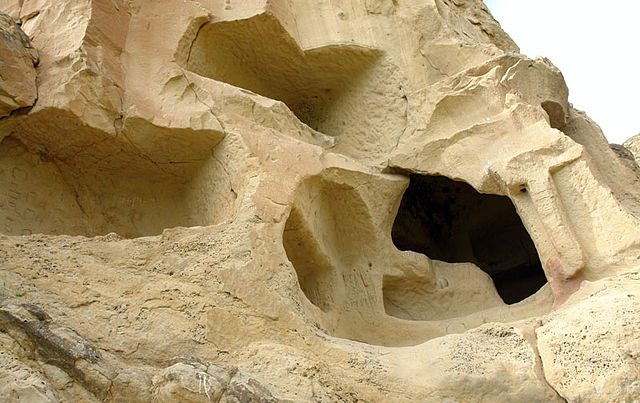 Tetrakhevi Monastery
The church of Tetrakhevi Fathers' Monastery is located on a mountain slope. The monastery was founded here in the VI century by one of the 13 Assyrian fathers – Thaddeus (Tate) Stepantsmindeli.
You will see two caves on the mountain, though there must have been a bigger cave complex here. The caves are currently inaccessible but still an interesting place to hike.
Merebashvili Winery in Kaspi
If you want to leave Tbilisi and visit unique locations near capital of Georgia, Kaspi area should be on your list. Merebashvili Cellar located in Kaspi is a good example of Georgian family winemaking. The family produces high quality Georgian traditional wine using Qvevri (Giant clay pots). Making wine in Qvevri is an ancient tradition. Clay pots buried in the ground ensures that the wine is produced and aged evenly, in a naturally cool state.
Merebashvili Cellar produces very famous and rare varieties of Kartli which you can taste with delicious Georgian food if you visit winery in Kaspi.
Other Things to do in Kaspi
Visit gallery Art Villa Garikula.
Stay in Kavtiskhevi resort and enjoy their pool.
Get involved in community service by supporting Komli.
Try waterfalling/canyoning in Tskhaveri waterfalls.
Visit a Roman style aqueducts in Khovle village.
Discover Gostibe village which is perfect place to visit by October 15 to enjoy autumn colors.
It is possible to visit beautiful Gudaleti village and hike to the mountain Ksilisi.
Visit towers of Noste village in a fresh new snow – The village was a residence of one of the most famous Georgian military commander Giorgi Saakadze.
Take a selfie at Sasireti village banner – the village was a birthplace of the famous Georgian general Giorgi Mazniashvili who fought Russians in 1920s.
Visit Skhvila fortress for its views, in the fortress famous Georgian comedy  "The Eccentrics" was directed and walk down to Romantic tombs of Tamunia below the fortress.
Visit Medivial fortress of Jambakur-Orbeliani in a village of Lamiskana.
Meet local priest in Ertatsminda Monastery – Domed 13th century church and Metekhi Virgin Mary church from the same century.
Or you can also visit Rkoni gorge, Ikvi church, Drisi fortress and breathtaking Saorbisa ruins:
Colorful Rkoni Monastery, Panoramic Saorbisa Ruins, Magical Drisi Fortress & Hike from Kldekari to Rkoni
Facebook Comments