Javakheti
Remarkable Highlands of Lesser Caucasus Mountains – Javakheti  districts is located in Southern Georgia and consists of Akhalkalaki and Ninotsminda Districts, with a border to Samtskhe which lies on Vardzia Gorge. In comparison to Samtskhe's (Akhaltsikhe, Borjomi and other districts which are more Georgian populated) hidden mysterious gorges, it lies on the Vulcanic Javakheti Plateau, with most of the settlements at around 2,000 from the sea level in subalpine and alpine valleys and colder climate conditions.
You may fall in love with Javakheti, but it depends on you, your spirit, depends on the period when you visit it and the time you will spend there. You may compare this region with Felini or Bergman movies, some people love it more. This region has significant Armenian population who resettled here 200 years ago from historical Western Armenia, Turkish Eastern provinces.
The nature of this Georgian land also somewhat resembles to Armenia. For example, Tabatskuri lake might remind you the pearl of Armenia – Lake Sevan.
Lakes in Javakheti
There are many rivers, small and bigger lakes in Javakheti but driving from Tbilisi in 2-3 hours you will first meet Paravani and Saghamo Lakes. Make sure till you turn west in village Koda, digital banner says that the pass to Javakheti is open. It might be closed during winter.
Paravani Lake
I have visited Paravani lake, which is the largest lake in Georgia. I like when the surrounding mountains are covered with snow and the grass is green in May, also yellow and white colors of October and in early spring when the lake is frozen and you can walk or even dance over it.
The area is sacred for Georgians as St.Nino who baptized Georgia came through Javakheti mountains. There are Georgian Monasteries in the area. Paravani Lake has very hospitable nuns in St.Nino Nunnery in Poka which is famous for its cheese production. There is shop where you can buy local cheese and sweets.
Saghamo Lake
At Saghamo Lake you can stop at local restaurant but I advise you to choose Family Corner in Gandzani village where you can drink tea and enjoy hospitality of the hosts. You could stay there or you would better stay in River side hotel in Akhalkalaki or arrive at Valodia Cottages/Vardzia Resort Hotel in Vardzia.
Tabatskuri Lake – the best of all Javakheti lakes.
Great Trekking/jeeptour destination can be beautiful Tabatskuri Lake which is my favorite place in Javakheti.
Khanchali Lake
What I like in Javakheti most is its flora and fauna. Almost everywhere you will see nests of cranes. Also you can observe wild waterfowls in Khanchali lake area which is covered by aquatic plants. Khanchali Lake is just 2km from Ninotsminda but not on the central road so it takes time to visit it.
There are artificial forests near the lake which can be great for camping. If you are in late spring/mid autumn or in bird migration period (contact Javakheti protected areas administration for more info) Khanchali lake might be really beautiful and should not be missed. Bughdasheni Lake must be also interesting point during that period.
Chaplakh Lake
Chaplakh Lake is located near Ninotsminda – small town in south Georgia, Javakheti. From Ninotsminda you can drive to Lake. Distance is just 4 kilometers. You can enjoy this less touristic lake in the sunny days, try fishing or picnic. If you drive further you can reach 12th century bridge in village Kaurma.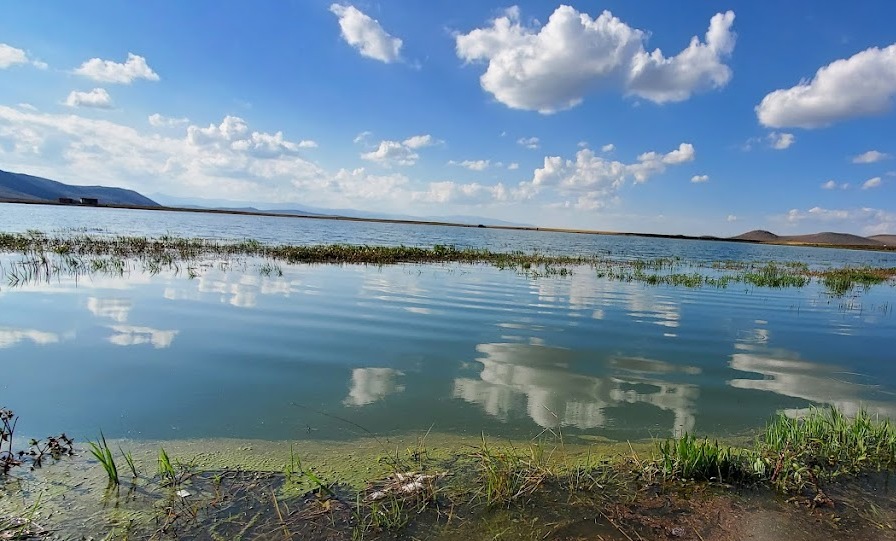 Off-roading in Javakheti
Javakheti is great place for Jeep tour as well as off-road.  You can also reach mount Abuli by off-road car. There may be very big stones on the way so you should have correct GPS trail or a local guide. You will pass many shepherd tents on the way where you can stop and enjoy meeting them. Most of the shepherds here are Azeris from Georgia.
Samsari Rock Church
Samsari rock-cut domed church and the only remaining natural forests of Javaketi just below Samsari range might be also interesting place to visit on the road to Tabatskuri Lake. Inside the church there are Georgian inscriptions from 10-11th centuries. Area is quite interesting in mid-October in autumn colors if you choose the right time. In this period you can observe potato gathering in the highlands of Akhalkalaki.
Doukhobors Church
Javakheti might be paradise for photographers if you find right time, but one more shining spot in this paradise can be Doukhobors church in Gorelovka village. The church (orphans house) which is the color of the sky, belongs to locals from Russian sect Doukhobors who were expelled from Russia in 1841. There are not many families left in Georgia most of them were repatriated to Russia, so don't postpone to visit Doukhobors houses and feel yourself in Krzysztof Kieślowski's movie : Trois couleurs: Bleu. 
Javakheti Jeep Tour Routes
Jeep Tour Route (places not in bold can be skipped) for which Javakheti is ideal as it's on the way to Vardzia: Tbilisi-Tsalka Canyons-Paravani lake-Saghamo lake with stops at Monasteries-(Camping at Khanchali Lake)-Gorelovka doukhobors houses-(Kumurdo)-Gogasheni village-Apnia-Vardzia.
3 Comments about Jeep Trip in Javakheti:
If you are coming from Tbilisi you can always stop for Tsalka Canyons.
In case of hired transport you can descend from Gogasheni to Vardzia yourself and could descend via Apnia road and wait you in Vardzia.
The best camping place in Javakheti area is at Tabatskuri Lake.
Alternative Jeep Route  to see both Borjomi-bakuriani area and the most beautiful sight of Javakheti –Tabatskuri lake: Borjomi-Tabatskuri Lake-Samsari rock-cut church-Vardzia.  Samsari rock-cut church is not must see place, but the area is very beautiful when the forests are in full bloom in late spring or in the first half of October.
Samsari area which is on the cover photo is the only area in Javakheti volcanic plateau where there are natural forests. Old Georgian inscription at the entrance of domed temple says that once upon a time Javakheti was covered with forests. PS. There are so many sights in the Vardzia gorge, as well as in Samtskhe region. You can find it on my site.
If you want to read more about you can read this amazing e-book. You can view photos of Jor Bdoyan here.  The cover photo of Samsari Mt in October by my friend photographer Lasha Margalitadze.
If you are interested in trekking in Javakheti check:
https://georgiantour.com/trekking-javakheti/ ‎
For the map and GPS track please see:
Facebook Comments