Pankisi Gorge
This route leads through beautiful, diverse and highest parts of the mountains which are closing the Pankisi gorge. During this trip you will sleep in shepherd's shelters and also get to know the local cuisine. It is also possible and recommended to hire horses for the whole route as its very long route.
The best idea is to do circular route – this way you will connect 2 routes between Georgia's one of the most beautiful region Tusheti and part of Kakheti – famous Pankisi gorge populated by Chechen Georgians. Circular route will lead to Tusheti via Oristskali gorge and then go down via Alaznistavi gorge to Tbatana and again to pankisi.
This way you will experience the ultimate beauty of the area and stay in the wild for 10 days approximately. The routes are quite long – its like crossing Caucasus mountains from the very below, so horse support is better idea at least if not riding by horse from the very beginning in Pankisi or Tusheti.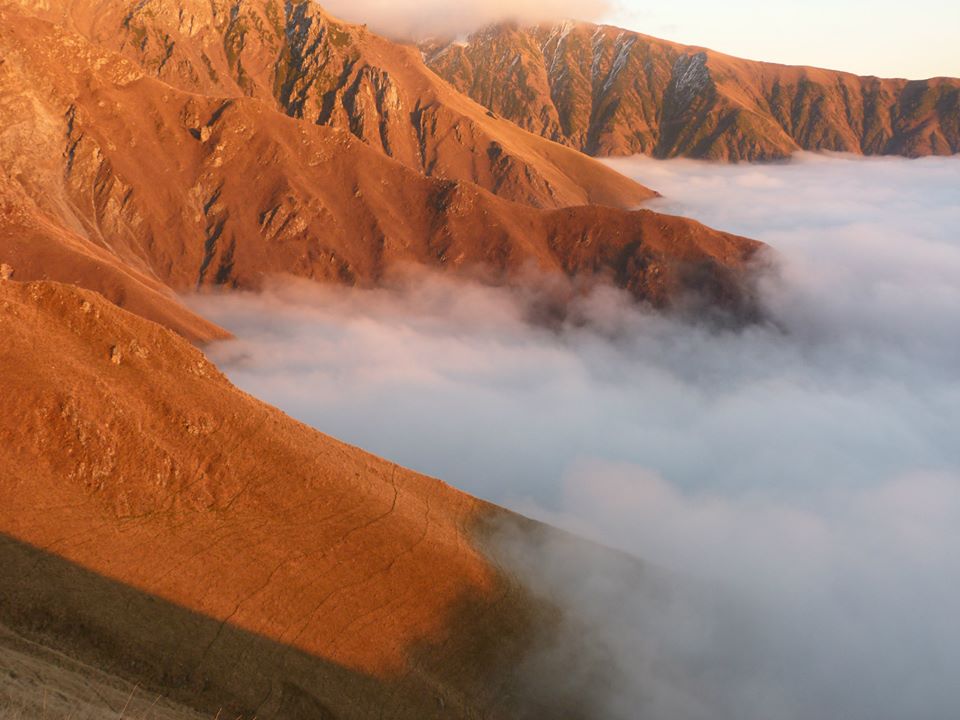 Start point of Oristskali Trek: Chechen villages of Pankisi Gorge
For the Oristskali route the Nakerała pass is the destination, it is situated at the being of the main ridge visible from Duisi, the largest village in Pankisi gorge. Route begins in Omalo, inhabited by Kists, Georgian Chechens. We recommend a walk around the village right before the sunset, when the villagers sit in front of the houses on benches, they chat, tell jokes, comment on the events of the past day and they certainly will notice a group of guests with rucksacks. Omalo village is an example of characteristic Kistinian architecture. There are houses on both sides of road, often ornamented, surrounded with luxuriant gardens. There are small springs in front of many houses, where we can always have a drink. A small mosque is situated in a the central part of village, with somewhat clumsy, dumpy, but picturesque minaret.
From Omalo village of Pankisi to  Kist shepherds Settlement Khorajo
First day you need to cross river Alazani. It may be too high to cross on foot and you may need to cross it on horseback. On the right side of Alazani you go through via beautiful forests. Passing by obalbones and Muslim cemetery with Arabic inscriptions,crossing some streams several times, In some places path becomes rocky and steep (if we are horseback riding we will have to get off).
You also pass mineral water spring with characteristic smell and high sulfur concentration – supposedly it helps to cure lung and stomach disease. A path on the left leads to the spring. We go further by our road which slowly transforms in to a mountain path. Here and there it becomes winding and steep. We cross numerous streams on our way, we have to be very careful if we ride on horseback. After about 1,5h we reach a picturesque village – Khorojan (Khorajo) – (about 2.45h from Alazani river). As in all mountain regions populated by people we have to be aware of potentially dangerous dogs.
Khorojan is an old – 200 years old Kistinian settlement. Only one shepherd's family lives here now, as farmer says he is a representative of fifth generation of Kists living in this place. The hamlet looks like a well kept open-air ethnographic museum.
There are seven stone houses with walls made from stone plates put together. The most important multi-storey house is inhabited. Unusual stairs lead to the first floor, to habitable part – it is a kind of stone pyramid where we climb to a wooden, shadowy bower. All the items in the house have museum value and it is hard to believe, that they are not exhibits, but things used daily. Described farm is situated on the left side from the path. On the right there is a cemetery, with several stone plates put vertically in the ground.
From Khorajo to Chkhatana
After a stop in Khorojan our path leads further up the mountain. Nearby, on the left side, we notice that long time ago there had to be some buildings here. We go through the forest which thins out again – judging by wild fruit trees, numerous blackberries' bushes and terrain form, again we can presume, that we are passing an old Kistinian colony. We enter the forest then again, path rises up the mountain, until widespread meadows appear in the end. The valley which we traveled closes slowly behind us. We reach Chkhatana, shepherds village, in which we will stop for the night (about 1,15 h from Khorojan). There is a nice place take a bath by the stream, close to the shelters.
Two Kist families from Omalo live in Chkhatana from May to September. They raise cattle. Since we stop here for the night we recommend to take a closer look on the buildings. They are shelters made of stone, each consists of one-room living quarter and a kind of a porch.All shelters are really old and full of various tools. Wooden wide benches serving as beds are focal pieces of furniture in the room. Meals are prepared on open fire, outside on the porch. A pot or a kettle with mountain herb tea or coffee is placed on top of wooden logs based directly by a wall of the shelter. Smoked cheeses is hanging over a hearth.
Things to do in Chkhatana, Pankisi gorge
While staying in Chkhatana we can be go on short trips in closest neighborhood. Right behind the village there are two small cemeteries – Georgian and Kistinian. And right in front of Chkhatana there is a path leading to a mountain spring – wild mountain goats chose it for a watering place. We can also hike to a ridge from which we can to admire Didgora lake. There is an old Orthodox church nearby the settlement, in which few of Omalo villagers celebrate shepherd's holiday Peristsvaleba – transfiguration (19th of August). This Christian holiday is, celebrated also by Muslim Kists. Its believed that autumn comes with this holiday, grasses and lives become yellow and villagers go out to the pastures, they feast together thanking for a good year.
In Chkhatana we can also hear legends about nearby places. There is a cave above the settlement in which one can hear the swoosh of sea. Men say, that there used to be a tunnel linking Chkhatana to the sea. Shepherds used to shout loudly near this place, in order keep to animals from approaching this cave. This is well-known place among shepherds, very recently it was covered up by an avalanche. In other place there is Sakwawizgori lake, where a ram drown trying to have a drink. Shepherds tried to stop the animal, but they fell to the water with him and also drowned. Supposedly they were found dead in the Black Sea. According to other tales Chechen guerrillas hiding in the valley from Russian soldiers hid in local "tunnels".
From Chkhatana to Nakerala
Further walk leads to a shepherd's shelter situated at the feet of Nakerala pass. Going out from Chkhatana we cross a stream and walk in to the forest. Clear path gradually disappears more and more, and we climb steep up the mountain. In one moment we pass the border of the forest and enter in alpine valley and finally make it to the main ridge. We see mountain pastures and the main ridge. After a moment we come up to shelters situated by Nakerala pass (about 3h from Chkhatana).
The scenery of this place is completely different, a lot of more harsh and less diverse. First of all it lacks trees, which is noticeable especially in the late afternoon, when coming back with mountain trip, you can't hide nowhere from the sun. From shelter we are walking by a path leading to the main ridge (about 5 minutes from the shelter there is a water outlet – further there is no water at all!). After about 20 minutes we reach Nakerala pass.
From Nakerala Ridge to The lake
A splendid view stretches from here over the whole ridge, reaching 3000 meters, Pankisi Valley and its neighborhood to Akhmeta (the centre of the region). After getting to the ridge we turn left and begin hiking by a well noticeable path leading through higher and higher peaks until reaching to the small lake (about 1.5h). This lake is very beautiful and is famous for fogs passing by so you should be lucky to see the ridge and the lake in its full beauty.
From the lake to Tusheti
From the lake its possible to go back to Pankisi's Omalo or continue hiking towards Omalo of Tusheti via Oristskali gorge and Gogrulta village. The route is not described here but its possible to plan trip there or get a guide. From Nakerala pass and the small lake and continue your way to Tusheti through Samkinvrostsveri pass ( 42°17'23.90″N  45°28'53.80″E) 3160m and Ortslistskali valley to village Vestmo.
The route from Omalo in Pankisi to Omalo in Tusheti is quite hard and involves lots of elevation gains and losses so I would advise you to rent horses. The best time for Trek is from Late June to the second half of September;  You can hike Alternate Route from Pankisi Gorge, you can find info here.  or you can return from Tusheti via alternative and also beautiful panoramic route desecnding to Tbatana.
Please note that I have no gps track so this article is more for direction rather than guiding.
Description of Route Omalo – khorojo -Chkhatana – Nakerała was provided by guide Devi Asmadiredja. You can contact her through fb or email. This is Hard Trek which can be done by hiking and/or horseriding. Devi will be happy to guide you to this wild and panoramic route which is untouched by humans. She is Georgian with Indonesian and German origin who lives in Ethnic Chechen (Kist) village of Birkiani in Kakheti region of Georgia. You can read more about her in this article by bbc. Cover photo by Georgian Hiker from village Matani of Pankisi Gorge Davit Turashvili. Photos of the continuation of the route to Tusheti by Przygoda w Gruzji – trekking club:
Facebook Comments