Seaside Adjara
If you wish to travel to seaside but not exactly in Batumi, then this article may answer some of your questions. What to do in some other resorts, which beaches are good for vacation, which are most exotic. Starting from Turkish border the first settlements you will enter are Sarpi and Gonio.
Some Georgians think the these most southern resorts of the black sea have the purest water and the best beaches. Both in Sarpi which is Laz (sub-ethnic group) village divided between Turkey and Georgia and Gonio, which is home to Georgia's one of the oldest fortress you will find a bed in summer starting from 20-30 GEL, some with nice view to black sea. However, before you reach Gonio there is very popular spot for vacation – Kvariati.
Beach is good, there is some good hotels with views from the hill, there are restaurants and nightlife during season. Places to stay may be more expensive than in Gonio, but it is worth it.
Gonio
In Gonio there is an important historical landmark in addition to beach. Gonio Fortress, which in the I-II centuries was a town of Roman empire, is believed to hold the tomb of the Apostle Mathew – one of Christ's disciples.
It has its walls still standing, also remains of archaeological excavations, small museum inside, might be interesting for those interested in history but if you have to choose between sights, I would visit antique city of Petra near Kobuleti.

Before you reach Petra fortress and Kobuleti resort from Batumi, there are some nice areas to stay, Makhinjauri has nice skyline of Batumi and cheaper accommodations which tourists usually rent for weeks or month and are affordable.  There is very beautiful spot for photos at black sea coast Green cape at Batumi Botanical garden on which I will talk below.
In Chakvi and Tsikhisdziri there is great nature and some nice areas to stay, pleasant exotic and less touristic resorts. There is Castello Mare resort with perfect views which is ideal spot for more luxury and romantic vacation in Tsikhisdziri.
Petra Fortress
Petra fortress is located in Tsikhisdziri on the rocky hill near overlooking the black sea. It was built in the 6th century AD by Justinian I, Byzantine Emperor. The city is in ruins as you can see from the video but it's still impresses its guests. You can access the site everyday except Monday from 10AM to 7PM from Kobuleti (7km) or from/on the way to Batumi (20km).
Batumi Botanical Garden
10km from Batumi there is Batumi botanical garden – perfect place to escape in the nature from Batumi.from there you can enjoy the view of Black sea, flora and fauna from all over the world.An electric bus service is available (cost 3 GEL). No. 150 and No. 31 buses operate between Batumi and the Botanical Garden (20-30 minute journey).
The Garden is open from 08:00 to 21:00. For the map of botanical garden please see. You can also visit Facebook page of the botanical garden for more photos.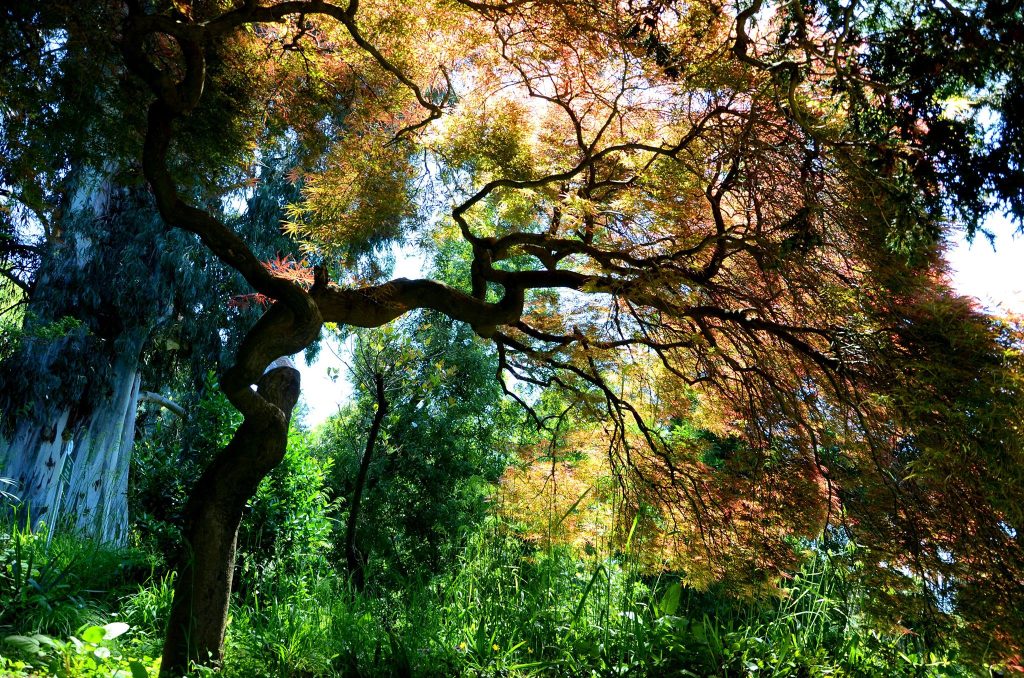 Mtirala National Park and Tsablnari waterfall Route
If you want something wilder you need to drive more and get up to Mtirala national park from Chakvistavi (1 hour drive from the main road). As it's near the black sea, air is kind of moist and might be harder to hike, but you can do some hikes especially if it's not very hot. Mtirala means crying, so this is the mountain with the highest amount of precipitation in Georgia.
Chestnut forest trial which passes through the lake and waterfall is easier hike in nature and will occupy only half of your way (only 7km). Colchic box trees, variety of flowers, picnic spots, exotic villages, you will find yourself in the wonderland if you reach Mtirala NP on a right time. If you want longer hikes you can do longer trail to the top of Mt.Mtirala, or do my favorite Kintrishi national park trek from Kobuleti.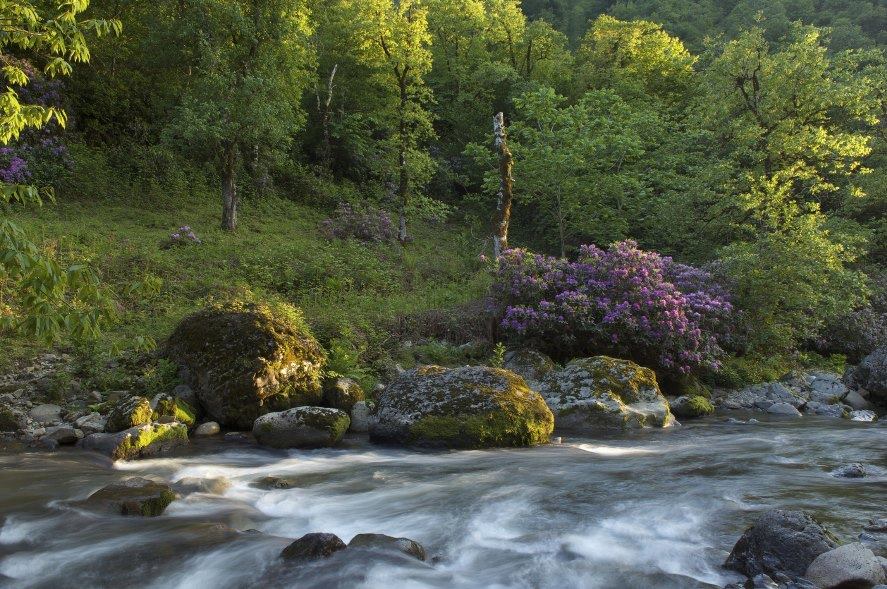 Shekvetili resort, Adjara
One more great spot at seaside is Shekvetili Where you will find Paragraph hotel (to my mind Georgia's best hotel after Lopota spa resort). Nearby there is Bidzina Ivanishvili's house (Georgia's informal ruler) and his built famous Shekvetili dendrological park for which trees where brought from nearby regions by land or even by sea.
Nearby you will find musicians park where you will find sculptures of BB king, Beatles and other famous foreign and Georgian perphormers and there are  speakers at each sculpture so you can enjoy the songs of each performer while walking/sitting in the park.
Kobuleti Resort
Kobuleti resort is great for budget travelers. You can find a cloudless blue sky to set up a camp along black sea coast under pine trees and watch amazing sunset from your camp. Georgians are blessed to have an east coast of black sea as sunsets are more beautiful than sunrises to my mind.
You can even find a basic bed here for 10-15 GEL, eat in numerous cheap restaurants and fast food cafes and dance in night clubs and meet youth from all the countries of South Caucasus, also you can drive to amusement park ,,firefly" which is also nearby.
Kobuleti National Park
Kobuleti Protected Areas is situated 2 km away from the town. There are 3 walking trials on the territory of Kobuleti national Park: Ispani 2; White Moss; and Bot Sundew. The national park is not a typical touristic spot, especially in the hot season, but it can be visited by all guests in Spring and Autumn seasons. Birdwatching in Kobuleti national Park is a popular activity here. It is possible to hire a binocular.
You can also see nice webpost regarding the best beaches of Adjara. Wish you a nice holiday, for the map please see:

Facebook Comments