Kakhisi Lake
Kakhisi lake is the perfect destionation for horse riding, jeep tour and camping, with 1 shore to swim and another shore to pick berries it makes the perfect place for camping relaxation. 4 wd car or 2wd man or horses can access it which are all easily arranged. I have attached gps file and map and you can see the whole route.
Kakhisi Lake can be accessed via village Chobiskhevi by hiking. Easy ascent to the pleatau from the gorge, jeep trial, pine forests, beautiful views, abandoned cable cars from soviet time, beautiful Dabadzveli village, waterfall which can be seen on the way make Chobiskhevi-Kakhisi Lake route enjoying. Total ascent might take up to 4 hours so its possible to do 1-day hike, but camping is recommended. The best time is from the second half of May till mid October.
Horses can be hired via Borjomi-Kharagauli National Park administration. Rates are reasonable and the area is really perfect for horse riding. You will surely enjoy the views from Dabadzveli towards the Borjomi Gorge while riding a horse.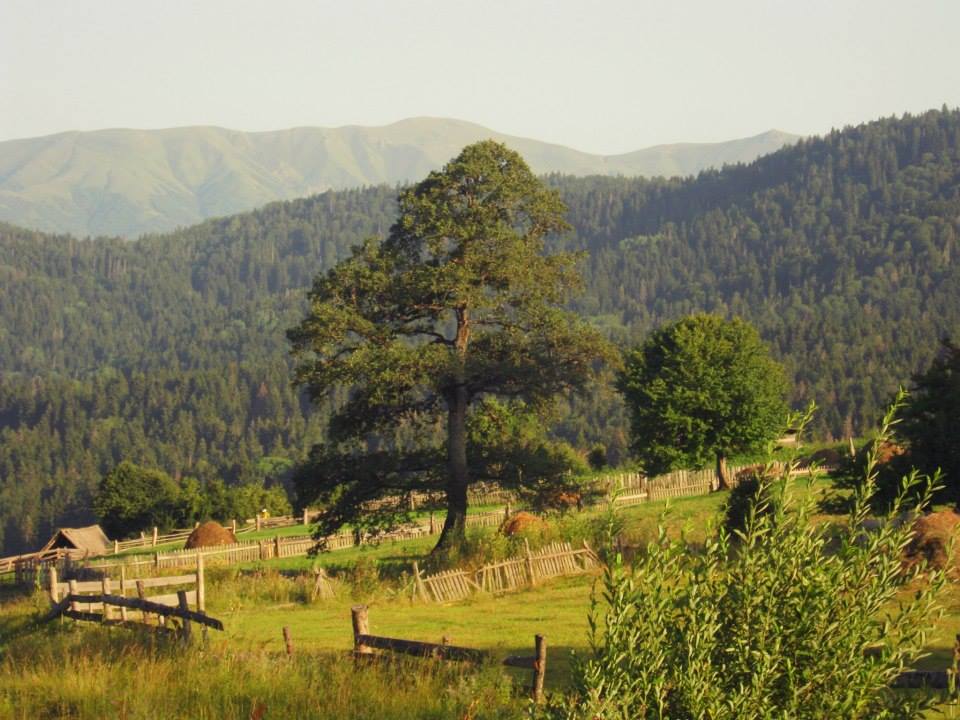 Chobiskhevi
The waterfall on the way to Kakhisi lake can be seen from the road is not MUST SEE. But What I found more interesting is Chobiskhevi ancient settlements which is on the hill when you cross Railway line arriving in village you can ask for directions. It's quite extraordinary megalythic structure, huge stone oval construction from pre-Christian times.
Also there are 2 other lakes nearby which can be explored Tsero and Chito lakes (literally stork and bird lakes). If its a jeep tour you can continue to Bakuriani resort via Tori village and make it to Tabatskuri next day, but if you are hiking be aware that the route from Bakuriani/Andeziti via Tori is not as beautiful as Chobiskhevi-Kakhisi route.
Other Jeep Routes near Borjomi
Some other beautiful jeep routes near Bakuriani include Tsikhisjvari-Tadzrisi-Dviri road which is maintained by BP (British Petroleum) just like Tabatskuri road where you will encounter BP checkpoint asking for IDs. They are protecting Baku-Tbilisi-Ceyhan Oil Pipeline. Another, more impressive but less maintained offroad path (or hiking route) from Tsikhisjvari leads to Ota village in Aspindza where you can visit misterious Shoreti Monastery.
Jeep tours and offroading near Borjomi, Bakuriani
For jeep tours and offroading, you can try road from Timotesubani church (12-13th century, accessible by any car from the road to Bakuriani) to Tsinubani gorge – for offroad cars road further leads to Dzama Gorge. Besides offroading, its also possible to hike to Dzama gorge (Abukhalo) from there to Tana Gorge (Levitana), also to Rekha in Tsalka. For regular jeeps I would advise you alternative road from Timotesubani to Bakuriani via Mitarbi Gorge. Its very beautiful in autumn colors and forests, river, mountains, narrow gorges, half abandoned villages can be quite exotic.
For more destinations near Borjomi, please check:
Trip to Borjomi – Kakhisi Lake and other Jeep & relax routes
Facebook Comments