Kvatakhevi Monastery, located around 50km from Tbilisi, is the beautiful place for relaxation, for hiking, bike trip, hitchhiking and more. The Domed church built in 12-13th centuries is fine example of medieval Georgian architecture. Church is built in the forest on the edge of mountain slopes of Trialeti gorge. Just before the monastery, near the Kavtura river or just in the fields near the road there are nice places for picnic where locals make barbeque or just rest,  escape summer heat  or enjoy Autumn colors.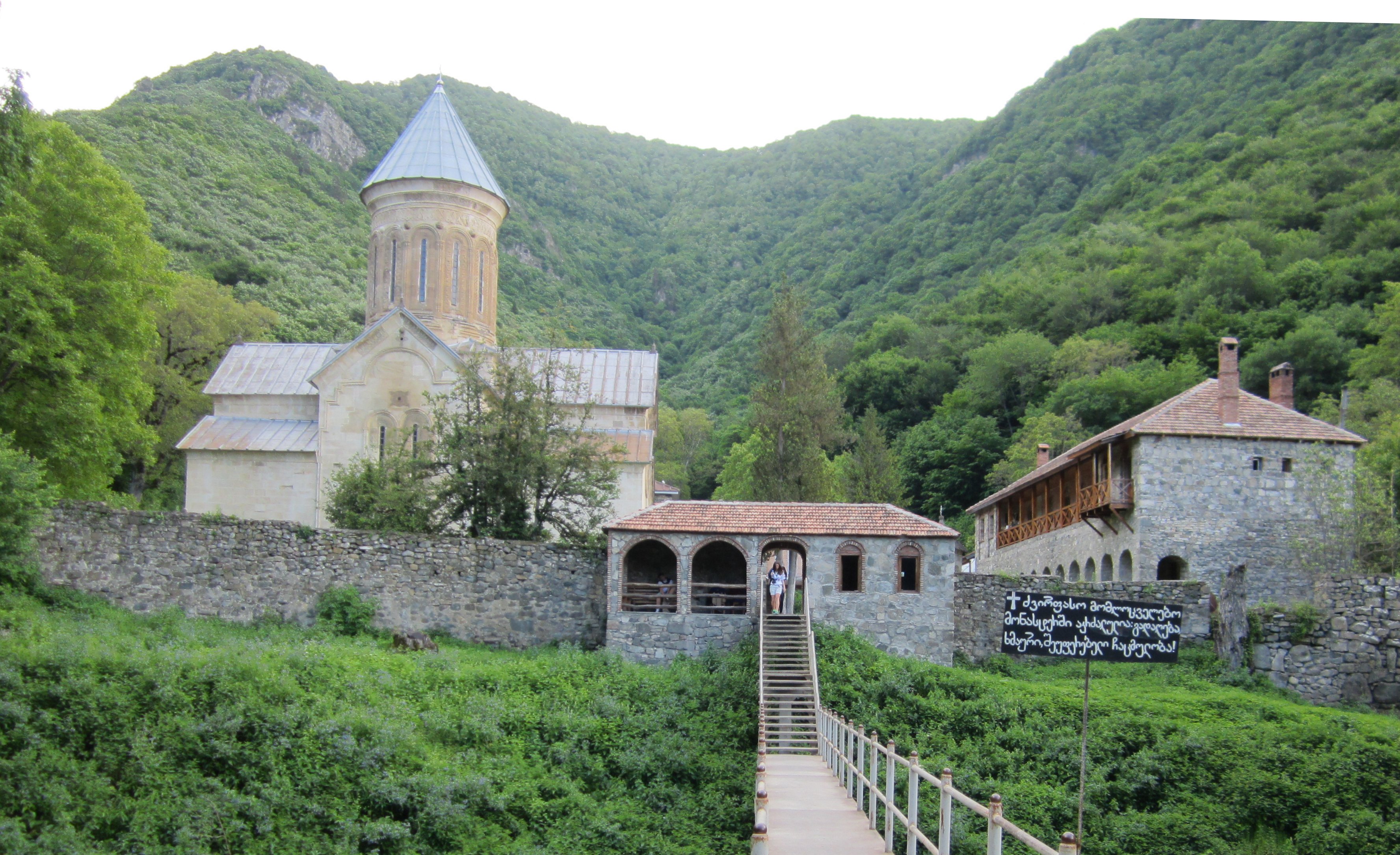 To get to Kvatakhevi you can take mini bus to Tsinarekhi from Didube or drive towards Mtskheta, and then to pass to Route Armazi, then to curtail on a dirt road near the village Tsinarekhi. From here the deadlock road to the monastery conducts about 10 kilometers and comes to an end at Kvatakhevi. If you want to explore the area further, turn right (on the right following the Kavtura river)  roughly 2km before the Monastery and head north to Tavkavta fortress ruins which is located on the top of cliff and offers beautiful views especially in Spring/Autumn. From tavkavta fortress you can cross the Trialeti range to Didgori memorial.
Closer to Tbilisi and Mtskheta there are also some other interesting sights/hiking routes such as Armazi Fortress near Mtskheta, Lavriskhevi and Gudaleti churches, Chili Lake, Nichbisi's Umzeura church but I would go for Skhaltba-Shiomghvime hike. You can download gps track from here. Villages Skhaltba and Tserovani are near the central highway and it is easy to get there from Didube. Near the church in Skhaltba there is nice open field suitable for camping near Tbilisi. From there you can go up the ridge and you will have a view to Shiomghvime Monastery from where you can descend and hitchhike back to Tbilisi/Mtskheta.
Besides Shiomghvime there is one more Monastery near Mtskheta also founded by 13 Assyrian fathers – Zedazeni Monastery. Founded in the 6th century, it was the home of one of the idols of Mtskheta- Zadeni in the pre-Christian area. Now this place is popular among Georgian hikers who can easily get to Saguramo village by marshutkas from Didube and ascend the forested mountain in the colorful periods of the year including winter.
Nearby there are some other sites too, but I would distinguish Skhvilo Fortress which can be reached from Samtavisi and Dzalisi archeological museum. Dzalisi used to be one of the principal towns in Antique kingdom of Iberia.  There used to be palaces, baths, acropolis, swimming pool, administrative part, barracks for soldiers, water supply system and burial grounds. You should ask for a key to see unique floor mosaics, which, together with the mosaics of Pityus, are, by far, the oldest ones found in the Caucasus. The style of the mosaic dates to around AD 300. Its central part depicts Ariadne and Dionysus in a banquet scene. Nearby Dzalisi you can find Chateau Mukhrani palace, garden and winery which was the residence of noble family.
For the map please check:
Facebook Comments