Chuberi
Backpackers' Alaska of Georgia –  Svaneti's Western part – Chuberi and Khaishi area is very untouched and unspoiled, with numerous trekking and hiking routes, alpine lakes, unspoiled environment and untraveled areas. You need more efforts to see the beauty of the nature and villages are less impressive than its in Hadishi or Ushguli, but you may meet some hospitable people and experience what less and yet incredibly beautiful areas may offer. But you need to rely on yourself, not on horse, not on car but on your legs.  Its the area where horses cant carry your luggage, its where you test yourself and then you get deserved heavenly views and rest. Trek needs 6 days in total, 4 for trekking itself and 2 for transportation or you may consider on the 6th day visiting Mestia and do more relaxed routes in more traveled section of Upper Svaneti.
There are many alpine lakes in Chuberi area. Tskhvandiri lakes, which are absolutely stunning, can be reached from village Kvemo Memuli is an area of 3 beautiful alpine lakes and the best trekking experience, many great views reflected in the lakes, many unforgettable panoramas and untouched area, with very low – close to zero number of tourists. The area is very near Mt. Elbrus and also there are so many main Caucasus summits nearby so you can have great views to glaciers. Nenskra gorge itself is very spectacular. Beautiful and giant river flowing in the gorge, tallest pine forests, bears walking around in the forests but all are being changed by building of Nenskra hydro power Dam, so car travelers may not see anything.

How to reach Kvemo Memuli village by car
Entering Svaneti from Zugdidi side, you pass the center of Khaishi community, soon there will be bridge on your left over Enguri, with sign saying Chuberi (Mestia road will stay on the right). This road also goes to Kodori gorge, Abkhazia's Svan populated gorge. The road used to be terrible before, but now they are building Nenskra Hydro Power Dam deep in the gorge (which can be your destination as Memuli is near the Dam which will be built) beyond Memuli village, so the road is fine even for sedan car.
Heading towards Kvemo Memuli village you pass the center of Chuberi community village Kvemo Marghi from where you can hike to Utviri pass. Then you will pass Mineral water source from where soon you can turn left for main post for border guards in Chuberi where you can get border permit unless you took it already in Tbilisi. Getting in Tbilisi (arranged by your guide) is more recommended as they may stop you here for long.
Then you will pass residence of construction workers of Nenskra Hydro Power plant, then there is the last village Tita, after Tita you cross the bridge over Nenskra river and in around 3km you reach Kvemo Memuli. There you will find the last station of border guards where you can show your border passes.  You can park your car there. Public transport to Mestia can only take you to the turn to Chuberi which is quite far and not walking distance from the start of hiking trial, so arranged car is better option or you may hitchhike and take into account more time.
Day 1 (first hiking day): Hiking towards the Tskhvandiri Lakes- Stairway to Heaven (7-8hr): From the border guards post, old wide road still continues for 300-400m and then you will see on the slope of Tskvandiri ridge on your left some kind of stream bed. You need to get on that stream bed from that road and start hiking up. There are some stones which represent your path for at least 4hrs and 1200m vertical – as if you go up the stairs on the top of 100th floor building. Its like stairway to heaven.
The route is for hikers (no climbing) and not very difficult (not sharp inclination) but some sections of stream bed are dry, some have water, some sections may be even ,,water falls" and you will always find a way around those waterfalls. I would recommend checking a forecast and not planning the route in heavy rain as it may cause little stream to turn into monster and even cause landslides.
This route can only be done in August when the whole Eastern Georgian mountains is quite dry and you will have so much green colors and beauty here. Don't try to descend via forest, its impassable almost with low bushes all around trees. At the end Stream bed becomes steeper and you soon see some 10m height cliff (kind of waterfall) and then you head towards the slope on your right (stream bed hike is over).
You pass little stony rock and then you need to hike up harder section, steep grassy slope. From stream bed you still need to hike around 200m vertical and at 2400-2500m you will have great views to Nenskra gorge. You can shout from happiness that the hard road is over and its splendid forests ,,will echo with laughter". Then going up you will find camping spot not far from Tskhvandiri pass.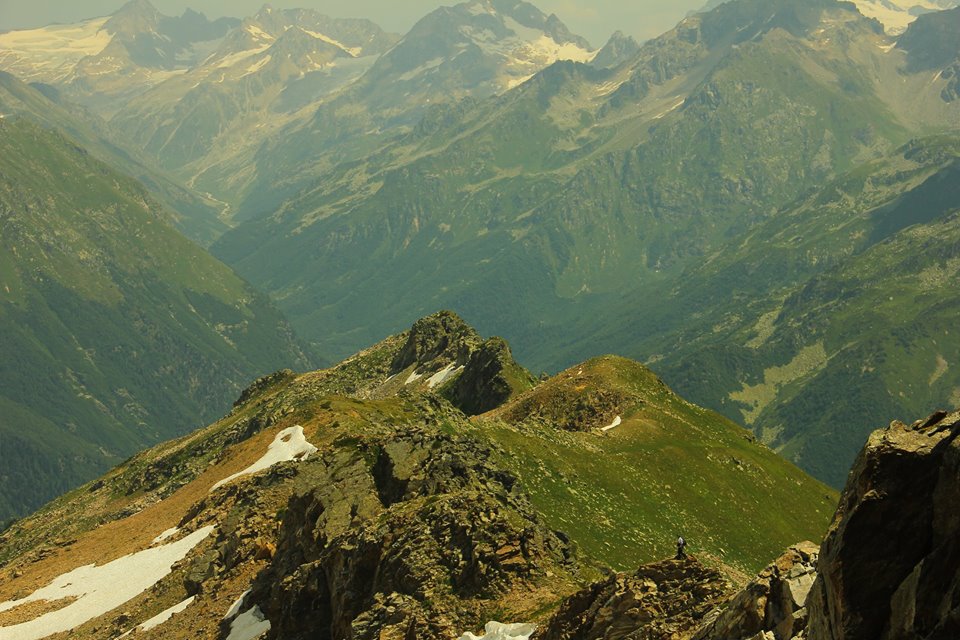 Day 2: The heaven itself – Hiking from camping spot (which is left from Tskhvandiri pass) to the lakes (6-7hr): You will continue across the slope aside right, dont lose height (here also there is no path), you will cross few small streams. You look for the pass as there are cliffs in front of you, which is not passable unless you are an alpinist. If its not foggy, you will see the pass when those cliffs end, hiking right aside that slope you will get below the pass.
You see one partly frozen lake already from the pass which should be your next destination, also you see snowed trial (glacier). Its not glacier which may get broken or where you need crampons, you just need to be careful and select the route using your experience. Then you see the ridge which is between this glacial lake and the promised land –  Tskhvandiri lakes. You need to go below that ridge, go up 50m steep ascent and you are on hunters path finally, follow that path 300-400m and find a way around that ridge from left side. Now you are already at the first Tskhvandiri Lake. Its already very easy to move around between the first, the second and third Tskhvandiri lakes.
Day 3: At The lakes (or possible to camp near the pass) : You are already on a different planet. In front of you there is the main Caucasus range which is made sharper by beautiful Dalari gorge.The most beautiful is the largest one which is the last 3rd lake you will see, it is on the edge of the cliff, water in lake is surprisingly warm in both the second and third lakes unless you try to approach glacier. The first lake is most photoeffective, because there are summits on the background. Its advisable to stay 1 more relaxing day and not worry about anything. You have great views towards summits Trapetsia, Aguri and Dalari gorge is below you.
Below Dalari glacier you see Dalari lake if you look closely. Its quite big but color it doesnt have beautiful color. Incredible and close views to so many summits and glaciers make your stay at the lakes most memorable. List of Summits include: The king – Mt. Elbrus – 5661m, Donghuzorun (4452 m), Shtvaleri (3994m),  Trapetsia (3988 m), Gvandra (3985 m), Aguri (3751 m), Maguashikhra (3853 m), Okrilistavi (3606 m) and others.
Day 4: Way back: If you camped at the pass then you can descend to Memuli, if at the lake then either you divide hike it into 2 days or you can start very early and in 10hr roughly make it to Kvemo Memuli in 1 day. The area of the Tskhvandiri lakes is so beautiful that you will remember till death when we all hope to make it to the heaven with all our close friends both hikers and non-hikers which hopefully God prepared for us as beautiful and pleasant as Tskhvandiri Lakes area.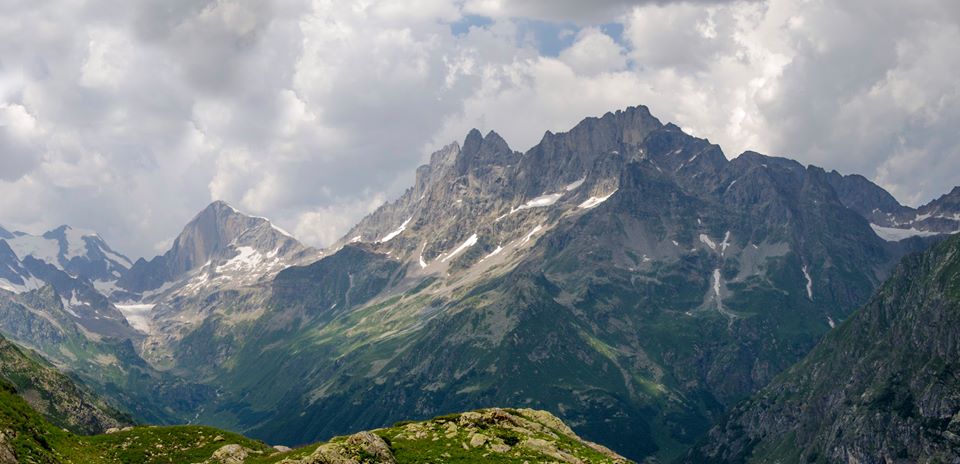 Other Top challenging and wild routes of Georgia in Western Svaneti for backpackers
The area has some great and off the beaten paths one of which is Lakamurash Toba – Its hardly accessed from Tobavarchkhili lakes but you can go up still with some difficulty and a bit of climbing from Khaishi side. Going up mountain slopes, waterfalls, descending from very hard pass you go down to small and majestic lake which has the double view of Elbrus reflected in the lake.
Okrostskali lakes (Golden Water Lakes) is another incredible hiking route – following River Ormeleti gorge village Lakhami jeep/3wd car road will take you to the place from where you can hike to camping place at the high and beautiful waterfall. From campsite without luggage in 1 day you can make it to Georgia's one of the most beautiful place. Golden water lakes are compared to Tobavarchkhili lakes (some claim that its more beautiful) and most alpine lakes of Abkhazia. First part of path if you can call it a path is difficult because of backflies so you need to be covered and the second part of trial is steep slope going up right or left from the waterfall which flows from the lake, other than that this route is easy to medium. Visiting 2 lakes which are divided between each other by snowed passes, you can go up the ridge and have a view over Tkvarcheli district, Abkhazia. This is one of the best route if you want to see the beauty of Georgia and wilderness in very short time and remember the beautiful colors of the lakes forever.
Not between top treks of Georgia like other 3 (Tskhvandiri lakes, Okrostskali lakes and Lakamurash Toba hikes) but if you are crossing Caucasus mountains from west to east – doing Transcaucasian Trial, you can consider Hiking from Nenskra valley to Nakra Valley then continue towards Mazeri and Mestia and Ushguli. TCT trial starts from village Mukhuri in Kolkheti valley heading to Khaishi via beautiful Tobavarchkhili lakes. After this you have an option by car to head to Etseri and hike to Mazeri via Baki pass, then Guli pass to Mestia and do Mestia-Ushguli route.
But you can head to nearby Nenskra valley and start hiking towards Mestia. You will need to hike 2 days (1 day maybe but will be hard unless you have a horse to carry your luggage) from village Kvemo Marghi in Chuberi (Nenskra valley) via Utviri pass (2714) to Nakra village. Crossing river to reach Zemo Maghri village, you will come across few huts of shephards of Tobuldar at 2000-2100m. Then you reach Utviri pass, from there its possible to reach 1 nearby lake (600m) where its not recommended to camp but its possible if there is no other choice. There are some more remote and better alpine lakes as well reachable but not necessary to reach. 3-4km from the pass you cross Utviri river and you will find another huts (possible to overnight), at some point you follow Utviri river closeby, then cross the little ridge and arrive in Nakra.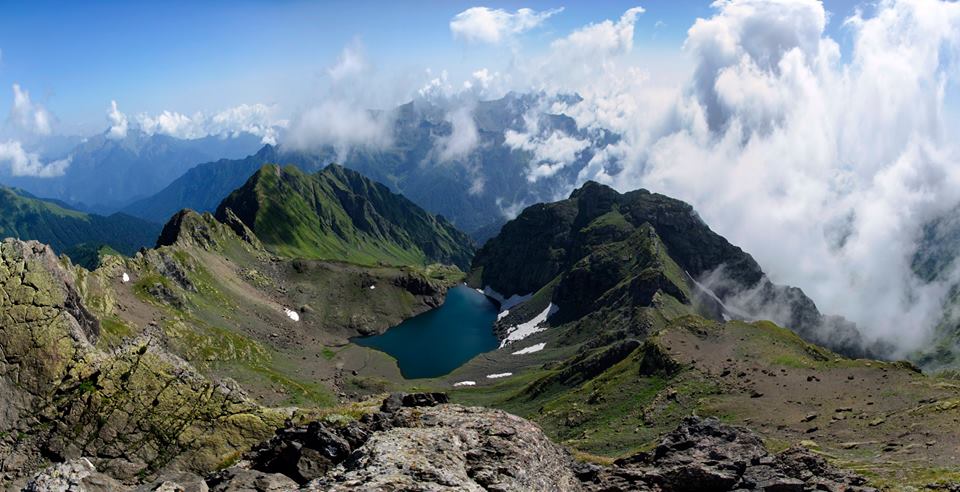 From Nakra you need 1 or 2 days to arrive to Iskari depending on you and horse support. Generally this section is less impressive than Utviri pass hike and cant be compared to lakes treks. The first day may be little boring but you will pass some villages, lower altitudes, some old churches, in August it may be quite hot! First 10km easy dirt road goes to Tsaleri, then you continue towards Mestia passing multiple villages: Kichkhuldashi, paledi and Svipi villages.
Alpinist version of Nakra-Etseri route is far more beautiful as you reach the heights and views which are incomparable. Regular hiking version offers still some unspoiled environment and routes which are not done by tourists yet.TransCaucasus Trial Team is working on trailbuilding here and it may become as part of the main route. The next day you will have better views till you reach the guesthouse in Iskari. To reach Katskhi village from Iskari you need to cross forested area, also river (there may be some bridge), and go down to Iskari and prepare for real adventures towards Mazeri and Mestia.
Overall, I hope I managed to convince you that Western Svaneti 0ffers a lot of interesting hikes to backpackers and I am sure it will never disappoint if planned well. For the map and gps tracks please see below and for topographic map of the area please click here. Special thanks for inspiration to the main explorer of Tskhvandiri lakes and author of most photos Beso Chikvinidze.
For the adventure tour of Okrostskali lakes, visit:
Breathtaking 8 Days Adventure Tour Georgia – Trek to Okrostskali Lakes
For the map and gps tracks of Svaneti generally please see:

Facebook Comments