Rkoni Monastery
Rkoni Monastery is a popular destination for Georgians who want hikes, barbecues, excursions, jeep tours or just a walk in the beautiful nature. About 2 hours drive from Tbilisi, the village at the edge of Trialeti range mountains with mixed forests, your car stops in the village as there is no road ahead.
Only path leading pas river, then through alley impressive during the times of falling autumn leaves, after up to 2km short and easy walk, the gate to the medieval Monastery appears  (its buildings date from 7th, 13th and 18th centuries), then you can continue to walk a little more to a spectacular 12th century stone arch bridge which Georgians call King Tamara Bridge where you can take photos or camp at the field near the bridge.
In winter with fresh snow it is even more beautiful, frozen river Tedzami and frozen waterfall of Sabolia river tributary of Tedzami, tree branches covered with snow, animal footprints and some other exotic things of winter scenery.
By now there is still and old woman staying in Rkoni village in winter where you can get warm at stove drink some Georgian chacha and if you are real hiker looking for adventures continue to the marked route of Rkoni-Kldekari which is usually done vice versa and often in winter (but you must be fully equipped and prepared for winter hikes preferably a group).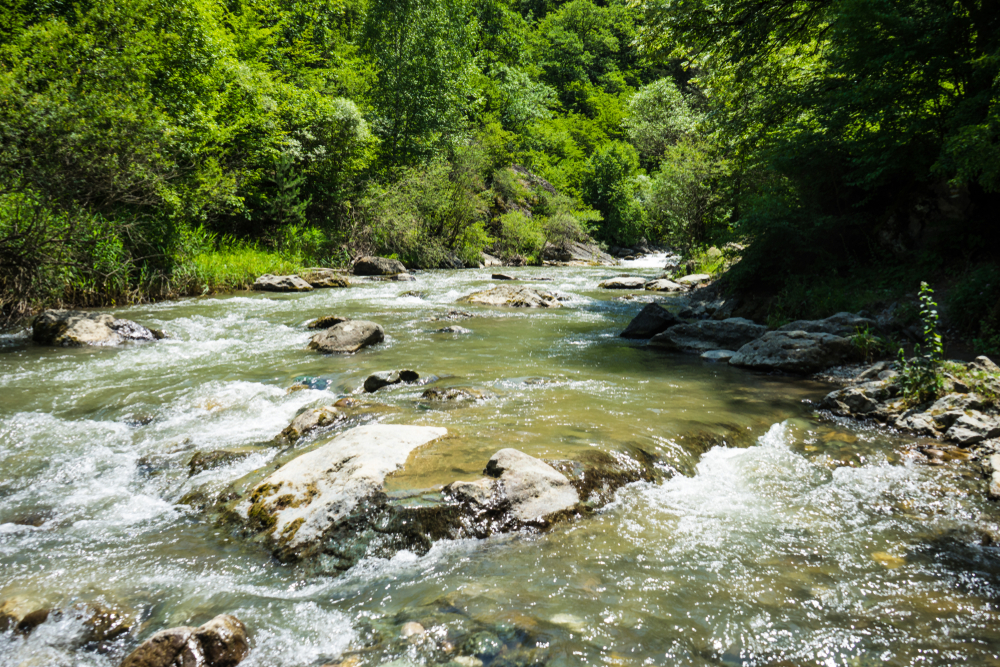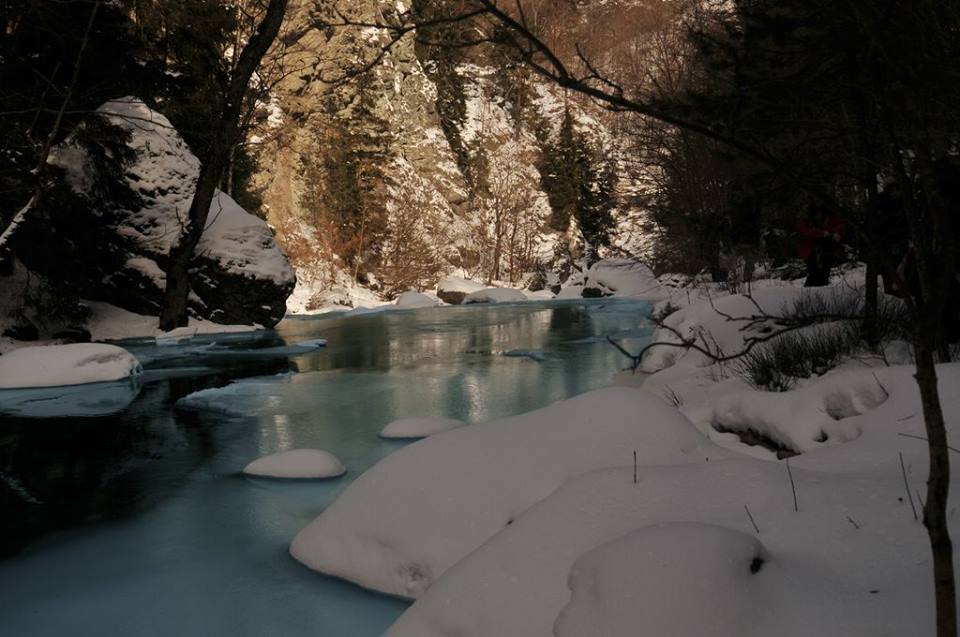 Saorbisa and other jeep or car tour destinations on the way to Rkoni
There are some interesting cultural monuments churches and castles such as Ertatsminda, Metekhi and Chachubeti churches but I find Saorbisa the most impressive. Standing on the hill overlooking Tedzami valley Saorbisa ruins offers magnificent views and exciting sceneries. To get there (coordinates:  41.844653°  44.221004°)  you either need to find a path uphill across the river (1-hour ascent) or you need to take a jeep ride from Khovle village which is not in Tedzami gorge.  In snow or in fall/spring colors your effort will be rewarded with magnificent panoramic views.
Drisi Fortress
Drisi Fortress is also quite impressive preserved historical monument of the feudal era of Georgia which can be reached from Chkopiani village of Tedzami valley. There you can see ruins of wall, church, tower and palace. Drisi fortress overlooks the river Tezami and its surroundings.
Ikvi Church
Ikvi church can be reached also from Rkoni village but it is different direction – additional short walk in the forest. 11th century church is distinguished by its frescoes. The facades of the church are richly decorated with beautiful carvings. St. George Monastery – Ikvi has been granted the status of a national cultural monument.
How to get to Rkoni
Drive to village Rkoni, or If you are hiker you can descend from Tsalka side (Kldekari fortress), or you can take a train (e.g. 06.45 borjomi train) from Tbilisi central station to Metekhi and then taxi to Chkopiani/Rkoni. There are no public transportation directly to Rkoni village. Roads are moderately good but unpaved in the most of the Tedzami gorge.
Rkoni is just 800m from the sea level (saorbisa 1100m) so you will enjoy it more in colorful seasons while in summer you can head to the mountains. If you want to explore Tedzami gorge in more detail, you might be interested to meet famous guide and photographer Nikoloz Javakhishvili – author of some of the photos posted here – photo credits also go to photographers Kakha Khimshiashvili and Ivane Goliadze.
GPS track of Kldekari-Rkoni Hiking Route:
For the map of the sightseeings please see:
Facebook Comments