Guria
Guria, part of Western Georgia has many remarkable sights, starting from mountain resorts – Bakhmaro and Gomismta which are highlights of the region, as well it has some historical monuments and tradition of playing Lelo. Thanks to this tradition Georgia considers itself as the oldest country playing Rugby. The region has mostly humid subtropical climate, especially Ozurgeti district has some special charm during Early May/End April when spring starts and Lelo is played on Easter Sunday, so I advise jeeptour to lowlands Guria in this period.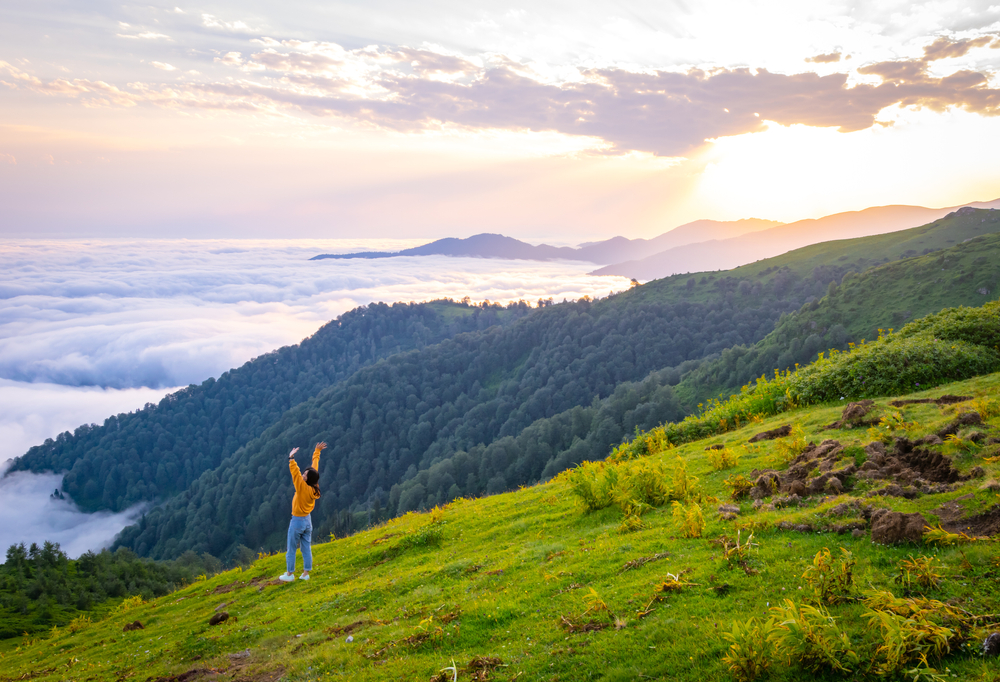 Famous Georgian Poet Galaktion Tabidze dedicates his very famous poem Guria Mountains to spring in Guria, he mentions blossom of trees of life, crystal clear sky where you can even see angels, singers on the hill with sweetest voice ever heard and passionate kisses by Georgian women.
Jumati Monastery
You might have seen lots of monasteries in Georgia,  Jumati Monastery is not similar to any. Ascent to the Monastery by jeep or horse starts from almost sea level and you rise to 500m via small villages and orchards of this tea and hazelnut making region. Nature and views get double the more you rise. From the top of hill where monastery stands you can see the whole Kolketi Valley, Caucasus Mountain range in clear weather and Adjara-Guria black sea coast. Historically the church is quite interesting, its historical medalions are stored in New York's metropolitan museum of Art, St. Petersburg's Ermitage and Paris's Louvre.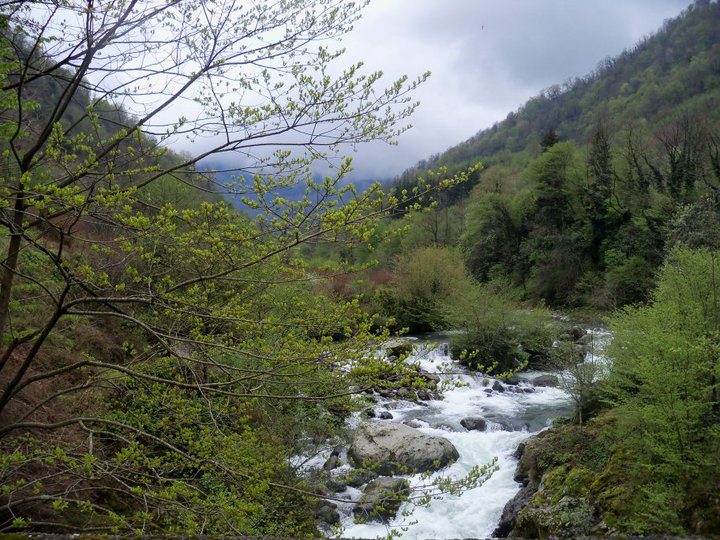 Achi Nunnery
Out of other Monasteries unless its a piligrimage tour/or special interest in old churches and Monasteries, I would select Achi Nunnery also in Ozurgeti region, in a beautiful river gorge, at the edge of mountains, unique frescoes, history, legends and miracles are associated with the st,George church. Shemokmedi the cathedral church has also unique frescoes, nice location and interesting cemetery surrounding it. Other less interesting sights include: Jikheti nunnery with domed church and miraculous healing spring, in Chokhatauri district – Udabno monastery with main church in rock, Erketi nunnery with hospitable nuns. There is Goraberejouli garden also with soviet time abandoned buildings and garden.
Except for churches there is one interesting spot in Ozurgeti – Brewery Ozurgetludi where you can try beer with locals, cant promise the best quality but its surely worth a try if you are there. Farm in village Makvaneti, another in Bakhvi village represent interesting options to explore countryside and live with locals. For example, the one in Bakhvi has wine cellar, vineyard,  very exotic well, small bamboo plantation, own spring, kiwi and flower gardens, beehives, traditional storage for corn and lot more for those interested in ecotourism and Georgian rural life.
Traditional Rugby – Lelo
And the last part about traditional Georgian rugby – Lelo – its played on every Easter Sunday afternoon in Shukhuti village, where central highway is closed by the crowds. The whole district of Lanchkhuti participates supporting either lower or upper Shukhuti. Its violent, crazy game, which starts after priest blesses the ball and send it into the game. At the end of game, the ball is taken to the grave (selected by winning side) where there is traditional Georgian supra (table) and everybody drinks for the memory of the man who will have the honor to have the trophy over his heart.
For the map of Guria please see:
Facebook Comments