Roadtrip to lechkhumi region is great idea if you have happen to be in Kutaisi area or in Racha region. Any trip to Racha can be continued to Lechkhumi (Tsageri district). Besides, if you are doing a jeeptour towards Ushguli, or to beautiful resorts of Lentekhi area – Muashi and Zeskho you can visit Lechkhumi. In addition to sights (waterfalls lakes, old churches), recommended jeep tour/offroading routes are resorts Akhalchala and Dzughuri resorts.
Khvamli Mountain
There is a separate post for Khvamli where Prometheus (Greek mythological hero) was enchained and where according to legend main treasure of Georgian kingdom was kept in the hidden cave during the Mongol invasion of rich and flourishing Georgian state in the 13th century. This mountain can be easily reached by car along with Usakhelouri vinyards below in the village Okureshi. On the height of 2000m there are great views to Caucasus mountains.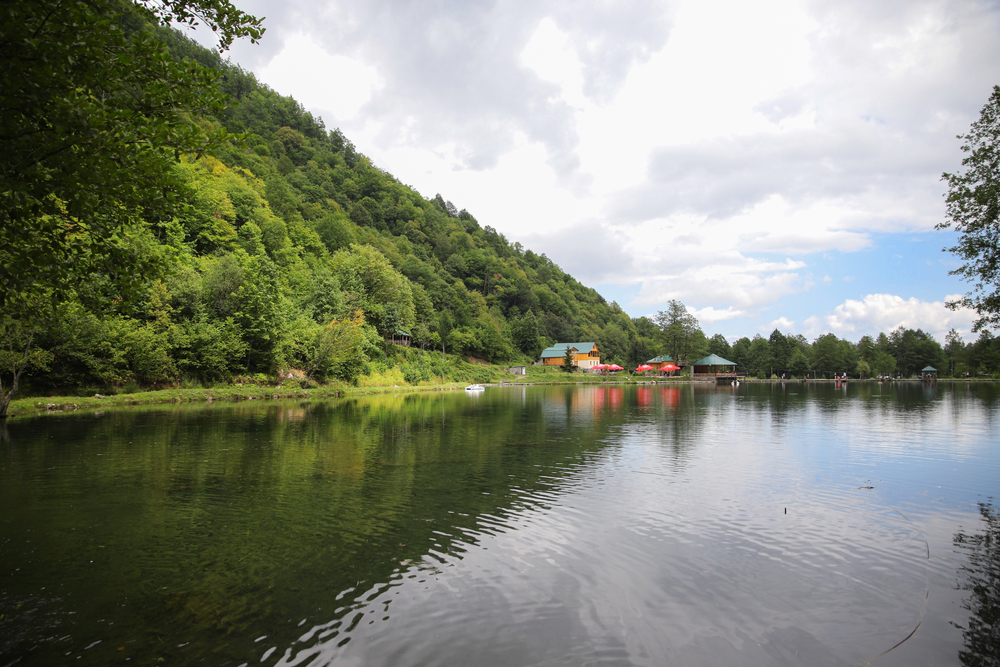 Kulbaki Lake and Jonouli Gorge
Next and must detour from main road is Kulbaki village and green lake. You can get trout fried at Kulbaki green lake and have relaxing swim in heavenly Jonouli river. For more information about this amazing places visit my blog:
Trekking in Lechkhumi – Hiking From Kulbaki Lakes, Akhalchala Reserve and Askhi Plateau
Nakuraleshi st. George church and Ghvirishi Waterfall
Nakuraleshi st George church and Ghvirishi waterfall jeep route is another interesting, exotic and less touristic detour from the main road. Road turns from Alpana village towards Kutaisi via Rioni gorge, then from the main road you head up to Ghvirishi village. Road is spectacular, as you drive at the edge of beautiful cliffs.Then you reach the point from where you can look down the waterfall.
Ghvirishi waterfall is very high and by car you make it above the waterfall, but May-June is more impressive period for it as water levels are higher and green color is more sharp. There is glass viewpoint built above the waterfall where you can stand to take photos and enjoy the views. Here in Ghvirishi area you can visit Zanduris Sakhli – family which grows very unique type of wheat and makes delicious food.
Then road continues to Nakuraleshi st.George church. Why its impressive – first of all, from the area of the church (beautiful field and camping place and huge sacred oak) you can have view to Askhi massif, Mt.Tsikuri and surrounding mountains. The church itself has very rich colors and unique paintings which are even on the outside walls. In Georgia apart from Labechina and Nakuraleshi churches outside painting is only in Svaneti.
Third, there is an impressive cemetery in the churchyard with funny bareliefs describing interests of people burried there (like guitar, sewing machine etc). If you are hiking you can continue to Mt.Khvamli from here and then descend to Okureshi side. In Pilgrimage/historical monuments tour I would suggest going down Rioni valley visiting Goni, Derchi and Zarati churches, but in a roadtrip with some sights I suggest continuing towards Orbeli pass and Tsageri and then to Kutaisi via Usakhelouri vineyards of Okureshi.
Even before you reach Alpana you could visit Sairme Pillars.  Those places are not must see but offers great opportunities for photographers. Visit my blog about Sairme Pillars and Lailashi pool at Lajanuri Reservoir with amazing view:
Sairme Pillars and Picturesque Lailashi Pool – Places to visit in Lechkhumi, Georgia
Crossing Orbeli pass to Tsageri is always some kind of sight, especially at night it can be great view to Tsageri. There are 3 towers visible from above names of which sound like battle scene: wait for, hit and dont let it go.Canyon below heading north towards Lentekhi is called Green theater and there is a tomb with grave of St.Maxime. On the road towards Kutaisi there is nearby sight: Rachkha waterfall in village Makhura. 
the one iThere is another interesting detour from Tsageri. 8km from the town there is Dekhviri medieval fortress ruins and open air archeological museum with some of the monuments dating back VIII-IV centuries BC  including ancient wine cellar. 1km from Dekhviri you can visit Tskheta church which is the only domed church in the area.
How to get to Lechkhumi
The best would be arranged car from Kutaisi, roundtrip of Racha and Lechkhumi sights. If you plan to arrive specifically to some area for trekking by public transport, then you can also take afternoon bus to Tsageri from Kutaisi station (near Mcdonalds) and get off at Okureshi in case of Khvamli, or at turn to Kulbaki in case of trekking from Kulbaki. You can see Lechkhumi fb page for more photos.
For the map and GPS tracks of Lechkhumi please see:

Facebook Comments