Khvamli
Once upon a time, I had planned trekking in Arkhoti with friends (one of my favorite gorge in Georgia) but some people canceled at last moment, so I changed a route and went with 2 other friends in West Georgia. The route was decided in the bus. By the end of the day after some hitchike were invited to eat beans (funny but beans are typical for Racha-Lechkhumi region and drink wine with shepherds.
Then we were invited to sleep in their hut. At night mice woke us up, they have decided to attack our backpacks and eat our food. I angered at mice and scared my friends as they though it was bear attack. The next morning we had great view over Caucasus main ridge but views disappeared soon after fog appeared from nowhere.
We could not see panorama well but what we could see was very beautiful. Fog meeting the sky, running behind clouds and and spaces were appearing and disappearing around us. When you are above Mt.Khvamli which starts almost from 0m from sea level and rises above 2000, you feel feel meeting with God, power of your prayer at this very special and sacred place. Then we descended watching some mystic forests, beautiful flowers and mushrooms and eating berries on the way.
Now new Road built is suitable for any car. You can still hike via shortcuts but its no longer trekking but more like few km dayhike route from the upper camping site towards the edge of mountain from where you could see the views in good weather so it is like sunset or sunrise hike but beware of terrain with many holes in the ground (as its vulcanic).
Here according to legend Prometheus (Greek mythological hero, Amirani in Georgian mythology) was enchained and tortured. Also according to old Georgian historical sources, main treasure of Georgian kingdom was sent to be stored in the hidden cave after Mongols invaded Georgia in the 13th century.
The wine we tried was Ojaleshi. Generally Lechkhumi area is famous for Ojaleshi wine, but in Okureshi, one of the last villages of the region, there is Usakhelouri wine production which is most expensive brand of Georgian wines (100 gel+) so maybe you dont miss a chance passing by the road turn to the Usakhelouri vineyards and then descend to the village even if you dont go up Khvamli.
Road to Khvamli sacred mountain
The road starts from Okureshi village. Easy to make circular route as alternative roads to Khvamli are from Lakhepa village in Rioni gorge or from village Nakuraleshi on the ridge. Passing several flower fields, high forest, famous spring at the bottom of tree, shepherds huts (not used regularly), you make it in the alpine zone where you can camp (there are lots of wood available to burn) but alternatively you can camp at the small church with the great views towards Imereti, Lechkumi, Rocks of khvamli, few caves empty with no treasure and of course Caucasus main ridge and Kolkheti valley is seen.
Mt. Khvamli can be nice destination during 4 seasons, only if it doesnt rain. As its the first mountain meeting sea breathe from Kolkheti valley, make sure you check the forecast as it can be very rainy or foggy. In fog it can be really dangerous to hike over the plateau of massif (you may fall in somewhere) so beware.
Khvamloba holiday could be interesting as someone may give you ride to the top (but better walk down) and share some wine and food with you.  The holiday usually takes place on 8th Saturday from  Orthodox Easter and its great period to visit Khvamli unless its rainy and muddy.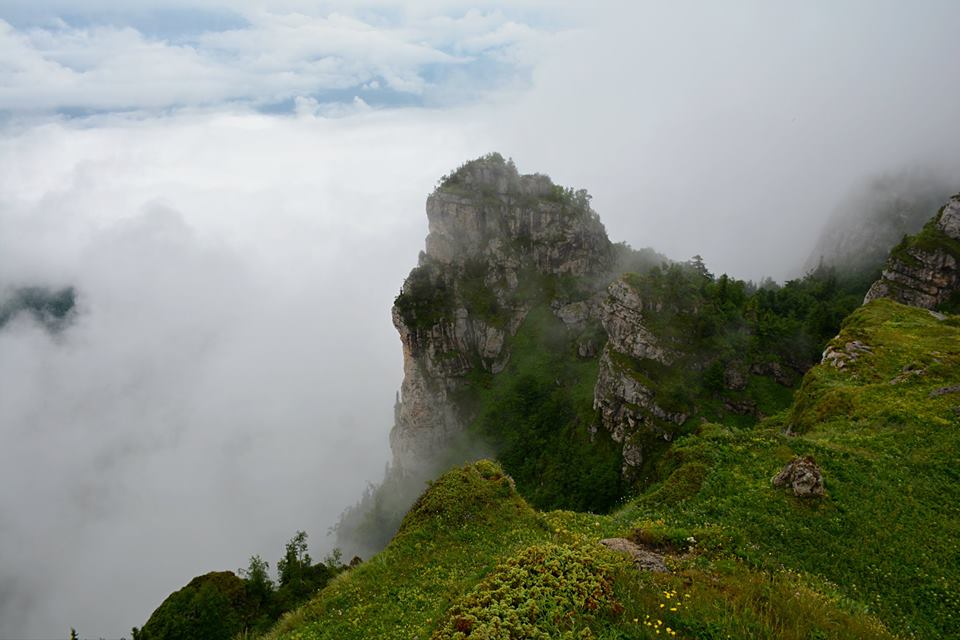 How to get to Khvamli
You can ride your car all the way up (road is hard in terms of elevation gain only) or take afternoon bus to Tsageri from Kutaisi station (near Mcdonalds) and get off at Okureshi then hitchike or use local car. From Khvamli mountain you can hike down Nakuraleshi or Lakhepa. For more info on Lechkhumi region please see our article. Please see Lechkhumi fb page for more photos. Special thanks to Maiko Lukhumaidze (Pertskli) and Tamar Letodiani (cover photo displayed in this article belongs to her) for photos.
For the map with GPS trial please see:

Facebook Comments