Mountain Kazbeg trek is for the people who wants to touch the sky of Georgia, reach the snowy peak of Kazbegi region and breath the fresh air of Georgian freedom soul. While hiking to the Mt.Kazbeg you will reach basecamp – Meteo Station where you can rest and recharge your energy and acclimatize for the summit trek.
Hike to Kazbeg mountain is easy and one of the most popular trekking route in Georgia. You don't have to be professional to experience amazing atmosphere. Only thing you need is experience, motivation and purposefulness.
Stepantsminda destinations to make it on the top of Georgia:
Rooms hotel terrace with views to Gergeti Trinity (1800s).
Gergeti Trinity (2200s).
Sabertse (Gergeti Glacier) and Altihut (3014)  which is more comfortable and expensive than meteo station.
Betlemi Hut – Meteo station (3653).
Iron construction (church ) 3930.
Lower Plateau (4300 m) or  Higher Plateau (4450 m).
Mt Kazbeg 5047 m , 5033 m or 5054 m. You can measure when you go up. So its the top of Sakartvelo – Georgia.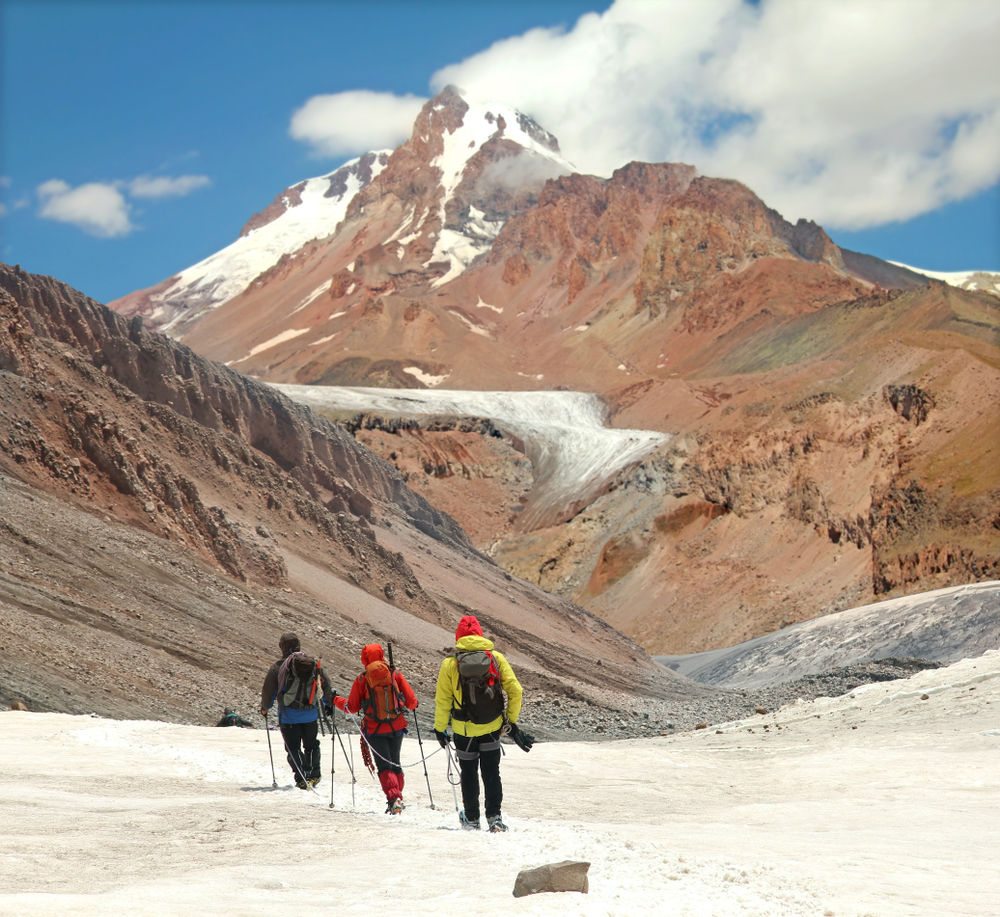 Program for Ascent Mountain Kazbeg
Day 1: transfer from Tbilisi to Stepansminda. (Night in stepansminda)
Day 2:  Hike in Juta till 2600 + (night in Stepatsminda)
Day 3: transfer to Trinity. hike up to meteo (3660M elevation) 6-8HR (night in meteo) if in altihut (3000M)
Day 4: Walk to Betlemi chapel and continue walk up to 4000m Elevation and afternoon training session on snow slope showing people how to use gear. acclimatization day; night in meteo
Day 5: summit climb day. 10-14H (Night in Meteo)
Day 6: Second try; night in Meteo
Day 7: Walk to Stepansminda. drive to Tbilisi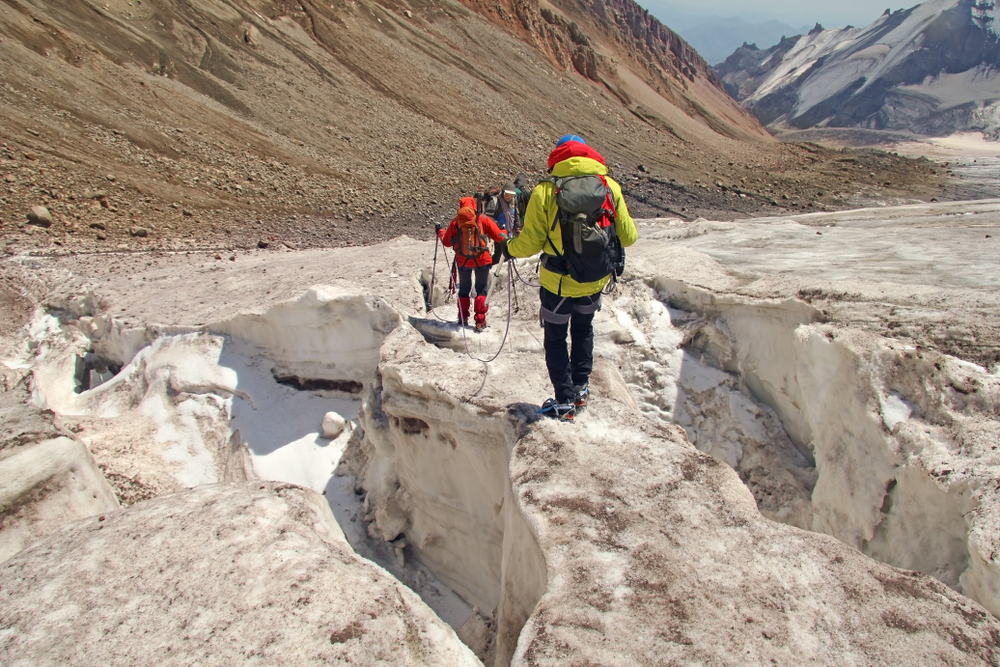 There is cafe in Meteo station. But its good idea to bring food. You can always get an alpinist in meteo station but its better to organize in advance. 3 alpinists can be taken by 1 guide/rope. In big groups there is always a chance that someone falls behind, too slow /does not want to continue/ altitude reasons / filling sick etc. You will need gas. It is possible to rent jetboil locally in Stephantsminda and buy gas tanks.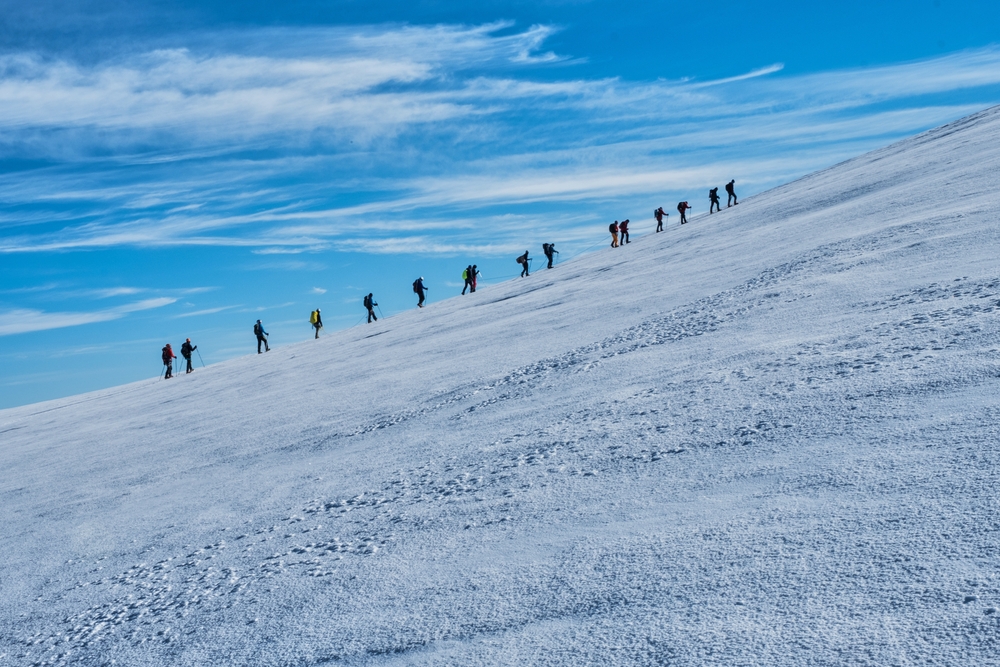 Rental Gear for climbing to Kazbeg Meteo Station:
crampons
ice axe
helmets
carabiner
harness
This you can get in Tbilisi or Stepatsminda.  You can always hire horses to carry luggage to meteo station but it may be expensive. You can always rent sleeping bag there so no need to bring. Cooking place may be very crowded.
The best season to climb is middle July till End of August. Maybe also first half of September.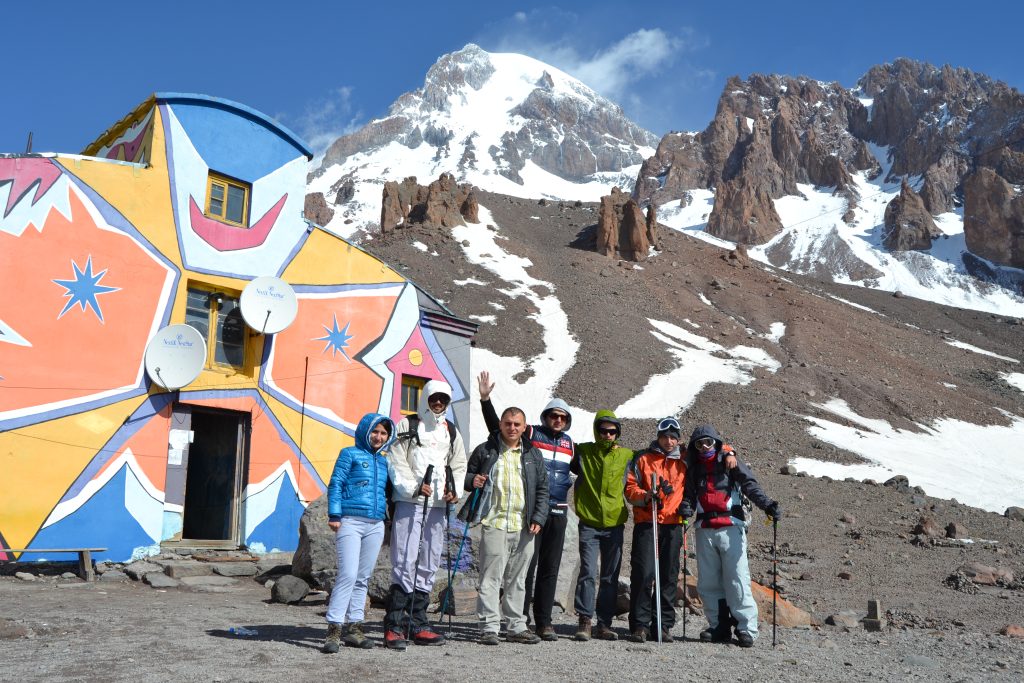 How to get there
You can take a car or marshutka to Stepatsminda (150km) from Didube station (cost 10GEL). Alternatively you can take shared jeep directly to Gergeti church (200 Gel for a jeep) and camp at Gergeti church (2200)- better for acclimatization.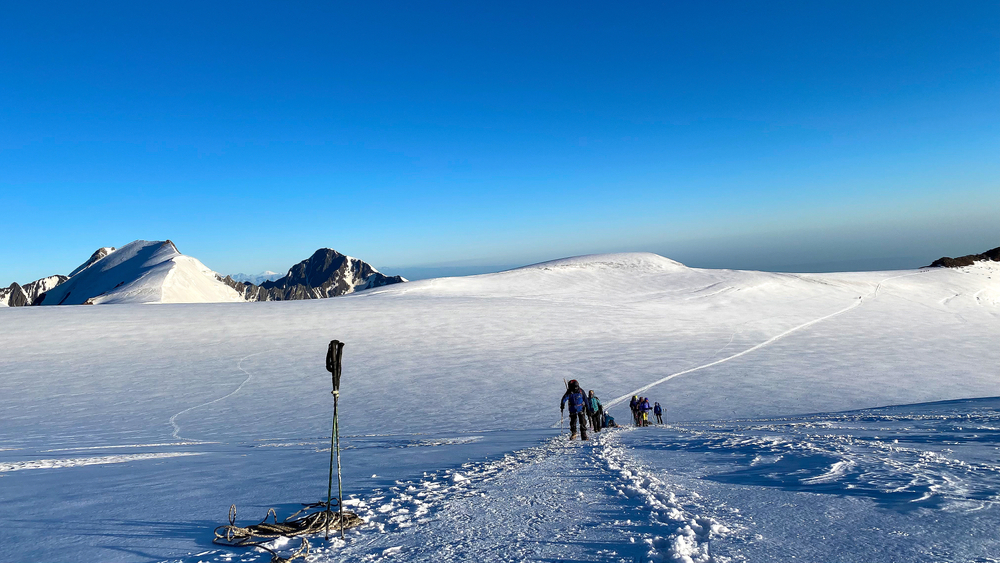 Useful Info
There are several options: You can camp in the field near the Gergeti Trinity Monastery (2200m) or in the early morning take a jeep from Kazbegi and start hiking to the Meteo station. In average, in 8 hours you can climb up. Alternatively you can camp at Sabertse (half way) and continue next morning.
After Sabertse you will need to walk on the glacier which might be dangerous as it has holes. You can either hire a guide or follow other tourists and take some risks.
The best season is August/September for Mt.Kazbeg, but it's possible (with or without equipment) almost all year when it's not too much snow. Check weather in advance.
For only Meteo station no special equipment is necessary if you dont intend to go up to the Mount Kazbeg.
From Meteo station you can climb to Small iron construction (church) at 3930m sea level.
The last ascent till Meteo is called Boghma which means disguise (anger).
It's possible to camp near the basecamp but for overnight stay fees check with Beltemi hut page.
For mountain Kazbeg climbing tour, please check:
For the map and gps track please see:

Facebook Comments