Trekking in Tusheti
Tusheti is beautiful and panoramic area so its pleasant destination for hiking and trekking. It doesn't have glacier routes like Svaneti and Racha but villages of Tusheti are the most beautiful, least civilized and panoramas are everywhere so hiker could have this in mind when planning trekking here even the main roads where jeeps pass can lead you to very impressive scenery for which you would have to hike till mountain tops somewhere else. In Tusheti you can do village to village hikes staying in guesthouses as well as wilder routes with camping or mixed stays.
My suggested route which will help you to see the best of Tusheti can have many variations but I will discuss the longest option step by step which can be shortened and then suggest alternative routes in case you have less time.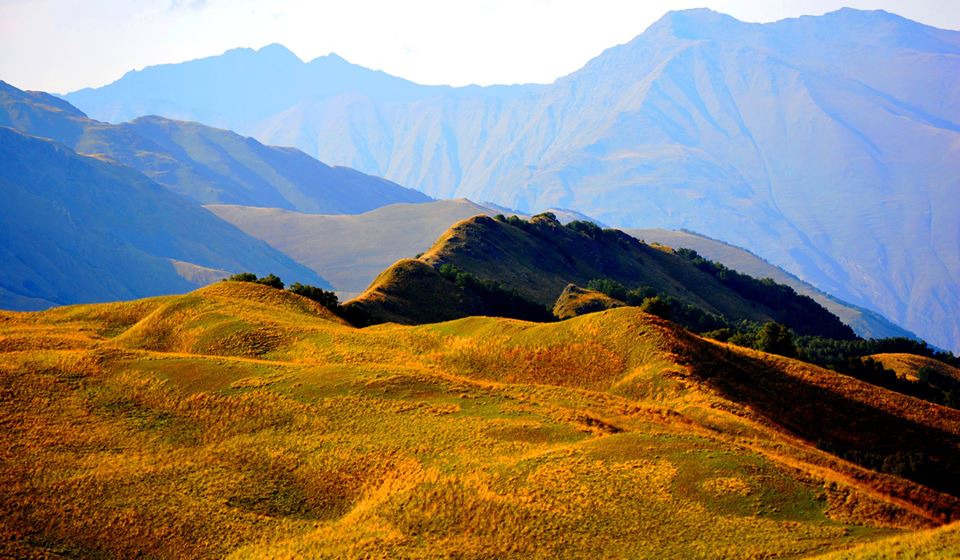 Suggested route of trekking in Tusheti
Day 1: Hike from Omalo to Diklo. Just getting to Dartlo not visiting Diklo and coming back would mean that you skip picturesque villages of Chaghma community. You can even get a car ride to Diklo the day you come to Tusheti and shorten your trip, but Hike to Diklo can be great start as its easy route and you can test yourself. You can have view to Daghestani villages from the old fortress. 3-4 hr (night in Diklo); You could actually start with Oreti lake hike as its near Omalo, but its not the easiest dayhike and for starting its always better to do an easy one.
Day 2: Hike from Diklo to Dartlo via Chigho via impressive panoramas of river gorge, some elevation gain and sometimes steep pass. You can get a car ride from Chigho to Dartlo if you get tired. Its impressive, interesting and challenging part of hike. 5-6 hrs (night in Dartlo)
Day 3: In case of time I would make it as a relaxed rest day, stay in Dartlo, visit Dartlo Cafe, do the best short walk in Tusheti, hike up from towers of Dartlo to the village Kvavlo above and then descend to Dartlo via Dano village. and then later in the afternoon get a car ride (10km) to Parsma, do 3km walk to Girevi and visit Hegho as well. Surely enough for 1 day, for just a perfect day. Sunset and Sunrise in Parsma would make it even unforgettable if you stay there at shepherds or locals or tent. You can stay in Girevi guesthouses anyway.
Day 4b: In case you have only 4-5 days for hike, then you could return from Parsma to Omalo by panoramic ridges – Hike to Ghele from Parsma. Just doing this hike and skipping Dartlo and Kvavlo villages from Omalo would have been a crime. But now if you have done all above, you can do it.  8-9 hrs; then car ride from Ghele to Omalo and night in Omalo. In case you have 1 more day and its not middle August you could do Oreti lake hike or horseride.
Day 4a: Nakaicho pass hike from Parsma to Verkhovani just follows the same road as Parsma to Ghele till the ridge so you still see panoramas to both Pirikita and Gometsari gorges and then you descend to Gometsari gorge. Villages Chesho, Parsma and even Girevi you can see from the pass. Then trial leads down towards Dadikurta and Verkhovani. 5 hrs – night in Verkhovani
Day 5: Optional – Hike to Tsovata Gorge – After crossing the river by footbridge in the lower part of Verkhovani turn right and follow the car road to Tsovata gorge, first you visit massive and impressive – city of the dead  – Tsaro. Its much bigger then the one near Shatili – called Anatori necropolis. Please check status of Tsaro landslide which was active in 2017. Since there is no bridge over the river so you may need to cross it by foot. At the end of Gorge there is main village of Tsovata community – Indurta, then there is Etelta ruins nearby. Since I have no other article on Tsovata gorge which was home of Georgians speaking Bats (one of Ingush languages) assimilated with Tush people, I will tell you that in Indurta there is a tunnel leading from the tower to the river. There is a legend that during one of the invasions the enemy surrounded the fortress. They hoped that The Tush had no water supply and would surrender later or sooner. After a week and a half waiting one of the men from the tower threw alive trout to the camp. The enemy lost any hope, pulled down the camp and went away. — -Night in Verkhovani tower-guesthouse or get a ride from Verkhovani to Omalo that or next evening if you lack time.
Day  6-7 (Or day 6):  2-day trip is route: Verkhovani – Jvarboseli – Iliurta – Bukhurta – Vestomta – Gogrulta (night in Gogrulta) -Khakhabo-Omalo and you will not need a car. But if you want to see the best in 1 day then there is 8km road from Verkhovani to Dochu which you could cut by car and descend to the pearl of Tusheti – Panoramic village of Dochu. Start early as it can be long hike with elevation gains and losses roughly 7hr. Caucasus trekking's post on this hike only to Gogrulta recommends to check condition of Dochu-Gogrulta bridge at visitors center. But in case you have horses to carry luggage neither this hike nor crossing the river shall be a problem.
You actually see Gogrulta village from Dochu. Its on another hill. After crossing the river by horse or bridge you can go up forest and reach Gogrulta. From there you pass ruins of the house you descend to Oristskali river where you need to find a shallow place to cross it. Then you go through meadows, then streams and apakurta pass from where there are nice views on Gometsari valley. Descending through the forest you will go down to Khakhabo village. If its late maybe you could stay there too – I have heard there is guesthouse functioning there. Nearby there is a holy place Mariamtsminda. There are some beautiful meadows in Khakhabo as well and road going to Chiglaurta then Shtrolta and Khiso or just main road but thats another hike idea. Then you need to hike forest down the hill to the wooden bridge then up the hill forested area also and you are in Omalo.
Day 7/8: Hike or horseride to Oreti lake: Better to reach start of the hike by car rather than hike all the way to Omalo and ride a horse. Hike may take 8hr depends where you start. Kumelaurta is preferable rather than Omalo. In August and in the beginning of September lake trip is less advised. In the end of September you should still get there for yellow-white views.
For ideas of trekking routes connecting Tusheti with other regions please see the article:
Trek or horseride from Omalo to Shatili via atsunta pass and its alternatives
For the hiking tour in this area, please visit:
For the map of trekking routes please see:
Facebook Comments