Arkhoti
If you are trekker and you want to feel Georgia, experience its mountains and its soul you should visit Arkhoti. According to the famous Georgian song – Arkhoti is the motherland itself, its the home of mountain goats and eagles, and it is a honor to be buried in this land. This part of Khevsureti is located in the North Caucasus, once connected to Ingush villages local Georgians were symbol of bravery, honor and unique hospitality which still amazes me. Road construction has almost finished recently but it has the most exotic villages of Georgia, the best of which is Akhieli –  local Hydro power plant villages lit by street lights, no phone coverage no internet,  People are special – young people who had to be real hikers/horse riders to come here in summer  (road construction was finished only by 2018) hospitable and warm hearted locals who treat guests with love, maintain tradition, make tasty food, have tasty cheese.  Lots of fish in the fastest river Asa which flows to Ingushetia and its name resembles Georgian dances of National Ballet Sukhishvilebi. There are Traditional festivals like Atengenoba when they make special food and drinking till the end. I have never felt something similar anywhere. Its one of the ethnographically richest part of Georgia so far.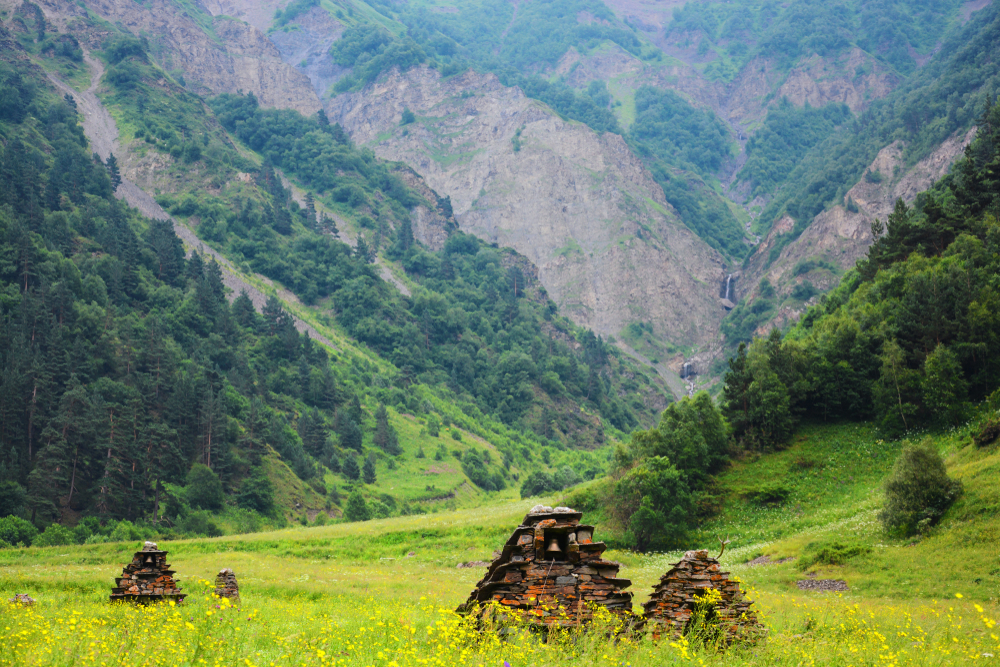 How to get to Arkhoti?
Since 2017 you can get by jeep via Roshka.
Jeep tour itenerary
Day 1: drive to Roshka, hike to Abudelauri lakes, night in Roshka
Day 2: Drive to Akhieli from Roshka (night in Akhieli)
Day 3: Best to stay in Akhieli for 1 full day or you can skip it
Day 4: Either depart to Tbilisi or to Shatili where you can stay next day and explore Shatili and Mutso.
The Best Hiking route to Arkhoti
From Juta (which is near Kazbegi -20km by car)  via Arkhotistavi (3287m) pass.You can make it there in 1 day, but the easiest option is via Tseltgza pass from Roshka which can be crossed by jeep or hiked. Roshka can be reached from Tbilisi by jeep, or from Juta by hiking via colored Abudelauri Lakes.  Staying in my paradise – Akhieli village you can continue via adventurous river gorges to Tanie lake where you can cross another 3000m pass to Atabe and then head to Tbilisi by jeep or Barisakho-Tbilisi bus after some more hike. Instead of arriving to Atabe you can make your hike harder by crossing Isartghele pass (3486m) which is one of the highest hiking passes in Georgia.
  You can do lots of combinations for trekking:
Main choice is Hike from Juta to Akhieli then descend to Tanie Lake and cross another pass to Atabe village. This is 4-5 days version of trek. You can look at map below as it may be confusing to understand alternatives of my suggested route. If water levels are high to do this adventurous section from Taniestskali confluence till Tanie Lake, then you can make it to the main Caucasus ridge via Kalotana valley and then descend to Tanie Lake; In all cases easier version is  to cross pass from Tanie lake to Atabe but there are alternatives. From Tanie lake you can ascend the ridge and hike down to Kistani or Datvijvari pass. You can also cross legendary Isartghele pass (3486m) to hike directly to Shatili. Isartghele is one of the highest pass in Georgia you can cross by trekking. To help you understand what you have just read itinerary can be like this:  Day 1: Drive from Tbilisi, some sights or without, Night in Juta or Roshka;  Day 2: Hike from Juta/Roshka to Akhieli (there is a car road already from Roshka so Juta is preffered); Night in Akhieli  Day 3: Free day in Akhieli (must) or  late afternoon hike to Military post and sleep there  Day 4: Hike from Akhieli to Tanie Lake via Taniestskali gorge or Kalotana valley (night at Tanie lake) Day 5: Hike from Tanie lake to Atabe (where jeep waits for you) or use 5-6 days to hike to Shatili or Kistani/Datvijvari pass and get a transport there.
Easier version which doesnt depend on water levels is to Hike from Juta to Akhieli then hike or get jeep ride to Roshka, visit Abudelauri lakes and cross Sadzele Pass back to Juta if you have a car waiting for you in Juta (or taking horses from Juta)  (4-day version of hike);
Less recommended but if you want to visit Tanie lake only, you can drive by jeep to Atabe and camp there and next day cross pass to Tanie lake and sleep there as well. On third day you can cross back the pass and get back to Tbilisi by arranged jeep. This is 2.5 days version of trek only to Tanie Lake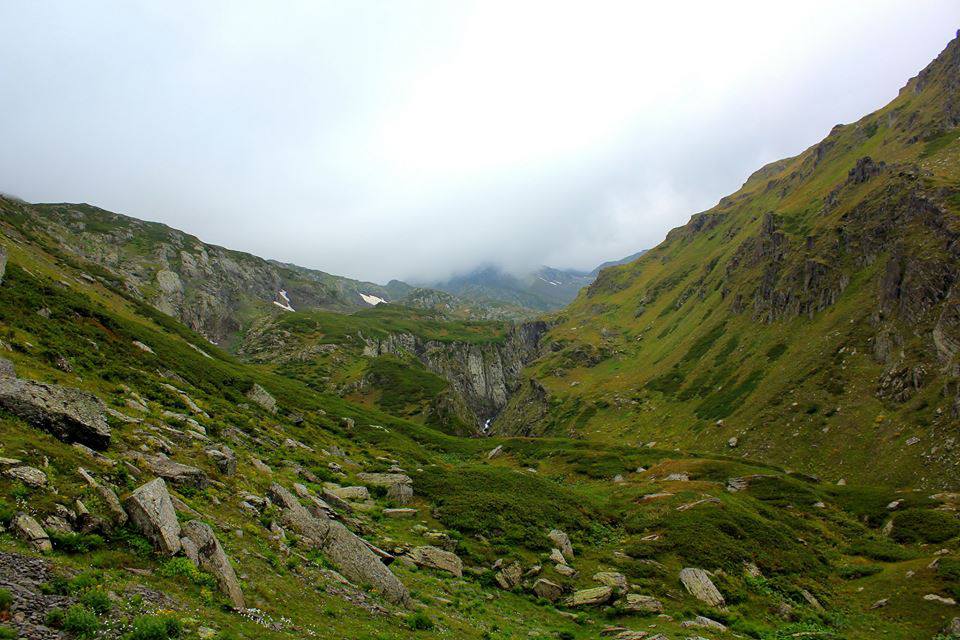 Passing cold and tasty mountain spring, beautiful landscapes especially spectacular in early July when rhododendron blossoms, descend to the point where Juta and Roshka pathes meet and enjoy watching beautiful canyons and waterfalls, then cross river Asa which sometimes has frozen snow bridge over it in early summer, pass by the turn to Chimgha and watch majestic rocks of Chimgha, get tired by endless road and finally arrive in Akhieli.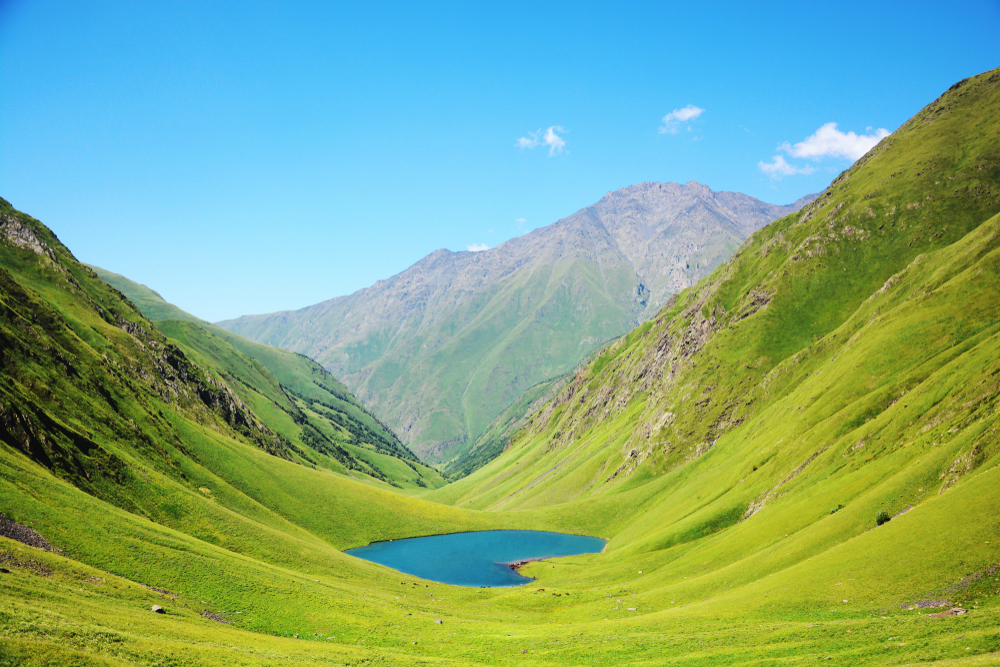 There are no special sights in Arkhoti, its more mountains,hiking,ethnography and wonderful people. Besides Tanie Lake, villages can be considered as sight, even though there is just 1 tower in Akhieli. Also,Kaviskari fortress and narrow canyon around it several km south from village Amgha can be regarded as sightseeing. Besides, its worth to visit border guards post down in the valley.They are usually very welcoming and hospitable.
Caution
Passing through River gorges when hiking from Akhieli towards or back from Tanie Lake can be quite hard. Path is lost sometimes and you will need to make detours, going up and down from the gorge or paving your path, There are bridges which can be often destroyed in early summer. So the best is to avoid Tanie Gorge till End July at least and use detours via Kalotana valley or be ready for damaged bridges and hard river crossing using ropes.
After you have chosen to trek in Arkhoti you can read more info on Caucasus Trekking website on different routes discussed here, including classical Juta-Shatili, Juta to Roshka via Arkhoti (even though I prefer adding a day and staying in Akhieli, no matter what you cant miss that village), Kistani-Akhieli. I created a map in google maps to give you full impression on all routes, some of the gps trails and borrowed from Caucasus trekking.

For the gps trek (version Roshka-akhieli-Tanie-Atabe) please see:
Facebook Comments