Hiking from Omalo to Shatili
One of the most popular treks of Georgia – You can visit the most beautiful villages of Georgia in Pirikita range of Tusheti and sleep there, make it to 3400m Atsunta pass and descend to tower villages of Mutso and Shatili which are very impressive. You can't compare Tusheti and Khevsureti easily. Even towers are different, people and nature also differ from each other. Tusheti is more spaces, panoramas – flight of Poetic spirit to the eternity, while Pirikita (north Caucasus side) Khevsureti is deeper Gorges and magnificent towers standing, just like man and woman, Prague and Vienna, lovely Tetnuldi and irresistible Ushba summits.  Therefore coming 2 weeks in Georgia lets say, you have a motivation to visit both. However, spending more time in Tusheti could bring enough passion to last.
Which way to hike?
Doing the other way around, starting from Khevsureti could bring more emotion and you could rest in Tusheti few more days but if you are doing horse assisted trek then you should start from Tusheti as renting horses are cheaper. Ending tour in Shatili after you have seen another most remarkable sight of the region and generally Caucasus mountain architechture Mutso there is not much to do there to extend your rest unless you reach by jeep Roshka and Akhieli villages which offers more nature and views than Shatili area.
On the other hand if you are unable to manage to cross Atsunta pass, you will have seen Tusheti and in Khevsureti you will need to get to Roshka. Anyway, I will describe the route from its classical Omalo to Shatili direction and then offer you more wilder alternatives to explore the region rather than Atsunta trek or inside Tusheti trek.You could see some guaranteed group tours on this link that may fit your dates which may include some of my favorite options.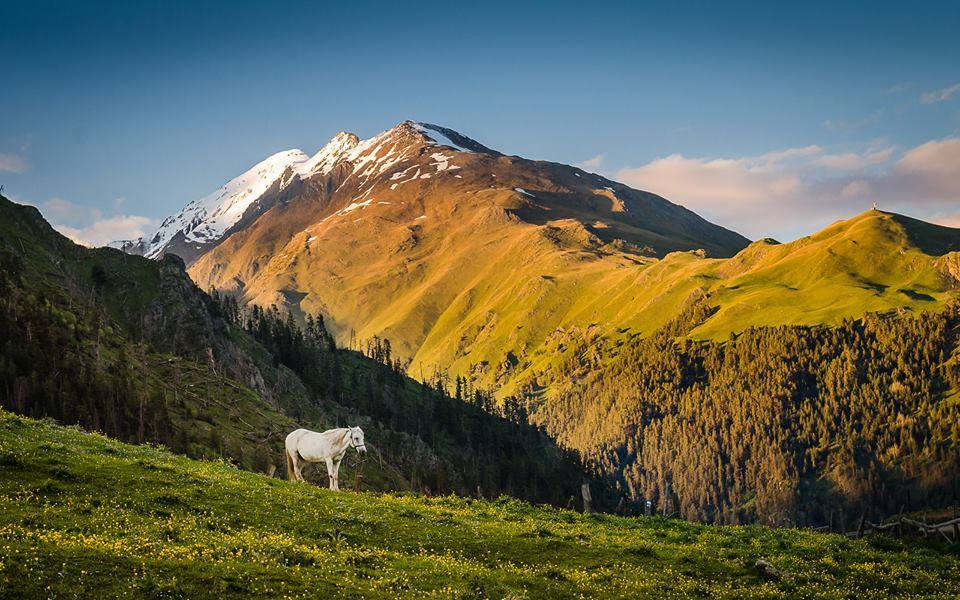 Time to trek is July, August and the first half of September. You can arrive in Alvani by bus and get a local jeep ride to Omalo (or maybe directly get to Diklo so you can hike to Dartlo via Chigho and have less car roads and harder hike). If you have an arranged car you could do 2 days jeep tour exploring Dochu, Shenako, Diklo, Dano, Dartlo and Parsma villages of Tusheti with jeep drives on main road and short hikes to sights.
You can sleep in the guesthouse in Omalo. The 1st day you will do easy hike to Dartlo. Basically following main  road with one detour in blue on the map, still 14km hike could be a nice start to test yourself and acclimatize. It surely offers some sights such as alpine meadow with flowers in early summer and berries later, pine forest and feeling to arrive to Dartlo by your own foot. You are in parallel universe. To feel it even more, going up Kvavlo and descending through Dano is must. You can also visit cafe and relax.
The 2nd day of Hike is towards Girevi. In Girevi you need to overnight in the guesthouse last time and also get border permit so dont live passport. This day you must turn up from the main road To visit Parsma and maybe have a lunch up there and if you have time and horses to cross river or levels are low you could visit Hegho as well.
The 3rd day passing abandoned village Chontio, some sheep farms and crossing mountain streams you will reach Kvakhidi which is nice camping place at river confluence.
4th Day you will hike from Kvakhidi to campside below Atsunta pass. If you are lucky to have great views both sides (maybe sea of clouds on 1 side would be also nice) and not fog then you can enjoy views to summit Tebulos mta – 4493m.If its too early period of the day maybe you could descend to Ardoti and then the next day you would have calmly explored Mutso fortress and Anatori Necropolis. But generally for 1 day it may be too much.
The 5th day Still you have an option to prolong your stay sleeping in Ardoti campsite which is perfect, but if you are fast trekkers then you could get to Shatili via Khonischala village. Still you will pass Mutso Fortress, its recommended to go up.
You can get a transfer from Shatili by arranged car to Tbilisi from here, another option is to get minibus on Thursday and Sunday 12pm. Still visiting Shatili doesnt count as experiencing full beauty of Khevsureti region. You can get a ride and pleasant stay in Roshka and hike to Abudelauri lakes.
After a steep descend behind Atsunta pass you will enjoy a wide view over Khevsureti alpine rhododendron meadows aswell as mighty snow covered Mount Tebulo (4,493 m asl.) on the Chechen border. The trail continues along Andakistskali river valley, crossing the villages of Khonichala, Mutso and Shatili. (From Mutso you can request car pickup and drop off to Shatili. Its 12km and if you are tired and limited in time not to hike next day is also possible to do this. It will save you some energy and you can get some food in Mutso some place to get a food.) From Shatili you can reach Tbilisi by car or Mashrutka (two times per week) in around 5 to 6 hrs.
Omalo to Shatili trek Itenerary
(for info, there is water in mountain streams and its safe to drink water in Tusheti)
Day 1: Village Omalo – Village Dartlo- Kvavlo, Overnight stay in guesthouse in Dartlo
Day 2: Village Dartlo –Village Parsma- Village Girevi.  Overnight stay in guesthouse in Girevi
Day 3: Village Girevi – Kvakhidi campsite.  Overnight stay in tent;
Day 4: Kvakhidi – Khidotani, camping place below Atsunta pass on Khevsureti side
Day 5: Khidotani – Mutso or Ardoti, overnight stay in tent; Ardoti is better for camping.  (If you are fast trekkers then Khidotani-Khonischala-Shatili route is ok but tiring in 1 day). YOU can get back to Shatili by car and sleep there as well. 
Day 6: Ardoti/Mutso – Shatili by car or walk, overnight stay in guesthouse or tent. Transfer to Tbilisi the same Day.  Alternatively, you can get a transfer to Roshka where you can hike to Abudelauri lakes and get back to Tbilisi or stay overnight and next day hike to Juta via Sadzele Pass. 
If you can ride a horse, you have an option to finish in 3 or 4 days upon your desire. From Girevi you can reach Shatili in 2 days so you decide how many days do you want to ride horses in Tusheti. Generally, guides and horses ask for 2 days extra compensation as they need to come back from Shatili home. To save costs you could do horse riding between villages of Tusheti. You can contact me if you are interested in horse tours, I will be happy to organize.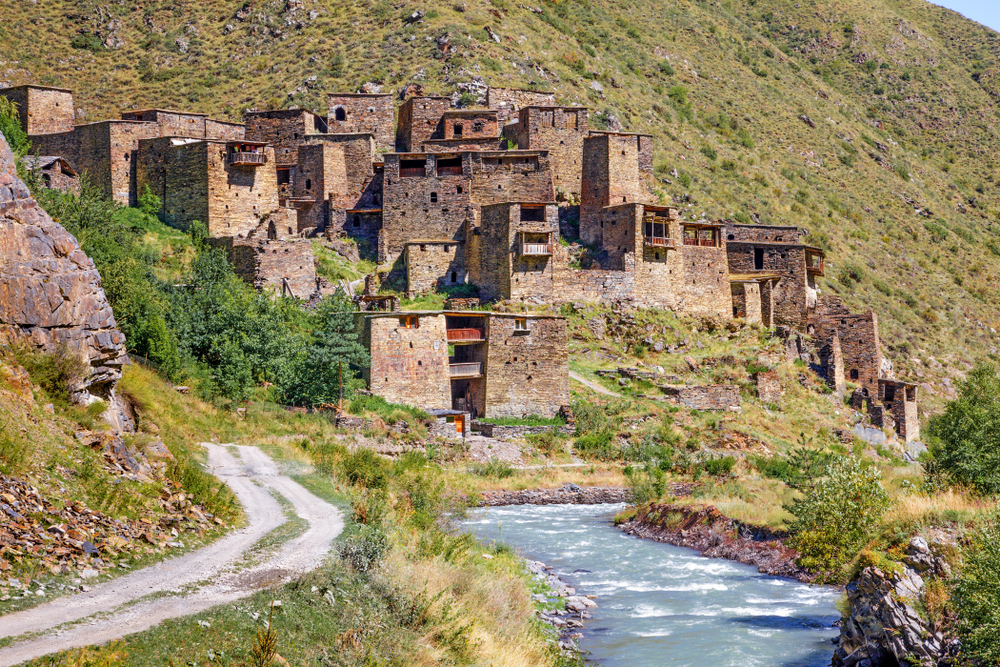 Alternatives
a) Number one alternative is inside Tusheti trek itself which I have covered in another post.
b) Khevsureti offers more nature based, and wilder routes in the area which is called Arkhoti. More remote and challenging trek which will leave greatest emotions you can read here about options to travel there.
c) One more alternative which I can suggest is trekking from Tusheti to Khevsureti by Borbalo pass, already described very well by Jozef. Its less touristic (It doesnt mean that atsunta is very touristic), harder and more interesting and wilder, but you dont see much of Khevsureti and end up in Pshavi region. However its worth doing it.
d) Or from the area of Borbalo you could go down to Pankisi Gorge. There are two routes both very panoramic bringing you into different world, I have talked about it in the post which you can read here. Then you will be already in the valley and it would mean coming down from mountains.
No matter which trek you select, I hope you will bring back passion back from the mountains and there will be a reason to come back. Then above the clouds, Mountains of Tusheti and Khevsureti will wait for you.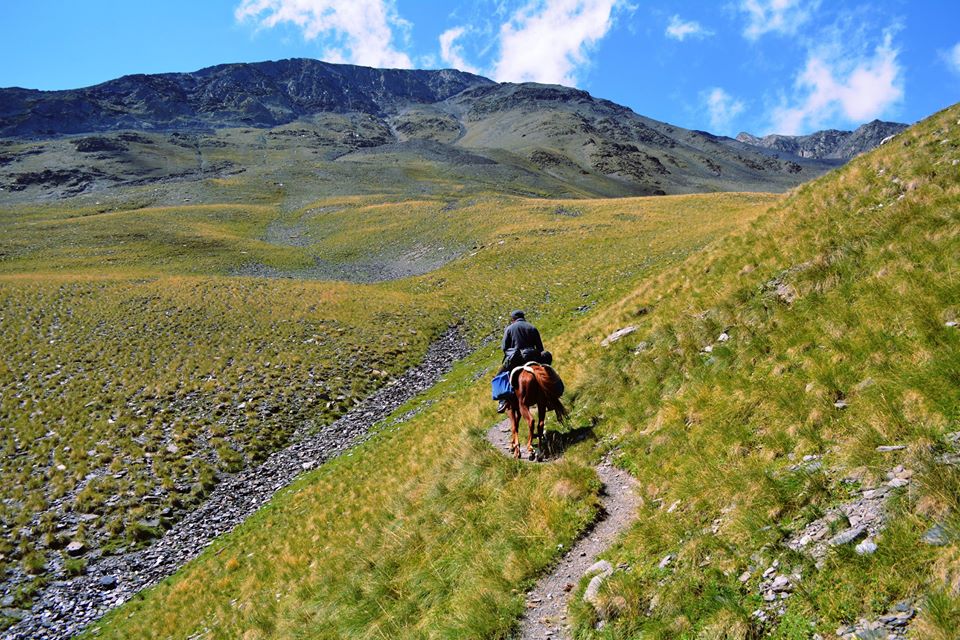 For the hiking/horseriding tour from Omalo to Shatili:
For the map of trekking routes of Tusheti and most of described here please see:

For the map of Arkhoti area trekking routes please see:

Facebook Comments