Mestia To Ushguli Trek
The most Popular trek in Georgia among foreigners. There are several reasons for that:
It is a village to village route, you can stay in very authentic villages overnight, no need to camp, there are guesthouses in each village and there is no need transportation either. Adishi especially has very middle ages feel.
There is no need for luggage transfer as well. You can leave your extra luggage in Mestia guesthouse and just walk light. In the end of the route there are shared cars from Mestia and this all makes trips affordable and enjoyable.
Nature is very beautiful. Views to 4-5 thousand meter summits Ushba and Tetnuldi dominate the skyline the first days while the other days Shkhara summit and Benzengi wall – above 5,000 meters. The most important is Chkhutnieri glacier – this is the one of the most beautiful glaciers which you can see right from above.
The route has possibility to improvise! To make it wilder, to make it less touristic, more interesting! This is what I am going to discuss in this article, so you dont arrive and say – the third day was great well and I visited Ushguli – tower village with Shkhara summit behind it and thats it. Just consider some changes to make this trip a lifetime experience! In Svaneti you can do some more interesting combination of hiking including some of the sections of this trek and some other hikes and treks depending number of days. I will discuss the trek itself and its alternatives here. Generally if you are looking for a trek where you can meet other tourists, which will cost least, the most convenient route with exotic villages, then Mestia-Ushguli classical version is the one.
The Best Mestia-Ushguli Trek Itinerary
I will write more days and give suggestions what you can skip so you customize your perfect trip:
Day 1: Mestia to Tsvirmi (by cable car or taxi to Hastvali resort then hike to Tsvirmi); This route has more panoramas in comparison to Mestia to Zhabeshi which means walk through villages and dirt road, unless its bad weather. If you have car support I would stay in Zhabeshi again or skip the second day of classical trip completely and start the second day from Adishi). Level of guesthouses is lower in Tsvirmi than in Zhabeshi however, so you could totally skip first 2 days as well and drive to Adishi and hike from There.
Day 2: possible to skip – just start the second day from Adishi if you want to do Mkheri dayhike lets say and you are limited in time:  Tsvirmi to Adishi ;
Day 3: Adishi to Khalde via Chkhutnieri pass (highlight of the trip – dont skip it);
Day 4: Khalde to Ushguli via Lagem pass. Lagem or kareta passes are hard but rewarding. If it is too early or too late for this hike or you are not fit enough for this route, then you need to do the lower route, but my advise is that instead of lower route, you can completely skip it (take a car to Ushguli) in this case to have a chance for better hikes.
Day 5: Ushguli to Gorvashi pass, then come back to Mestia, alternative can be Shkhara glacier horse ride, or jeep ride closer to glacier then short hike, if you hurry back from Ushguli to Tbilisi.
Day 6: Ushba glacier hike or its shorter version Shdugra waterfalls horse riding in Mazeri to see Mazeri area as well.
Day 7: Mkheri dayhike – in one day reaching the most beautiful place in Georgia, having the view towards the glacier of Lahili which is compete with Chkhutnieri view – this is something I would not miss.
Day in Mestia is always great as well, as it has great museum, nice cafes and people, hatsvali resort, Chalaadi glacier which will occupy a few hours – 1.5km to reach the glacier leaves lots of time to explore the city. If you are not limited in money, I would advise early morning clear weather jeep ride to Koruldi lakes as well (it is well worth approximately 200gel for the jeep) and if you want harder hikes you can try hiking from the lakes to the Koruldi ridge to have a great view on Ushba! Or if you dont have money for the lakes jeep ride, then you can hike to Chkhuti ridge.
You could see some guaranteed group tours on this link that may fit your dates which may include some of my favorite options.
Practical Information:
Classical 4-5 days trek starts from mestia, where you can get by arranged car, cheap flight to mestia (vanilla sky) or train to zugdidi + bus/taxis to mestia which waits for train (there is no need to reserve taxi from zugdidi in advance).
You can reserve the first night in mestia, other nights will be reserved by mestia guesthouse or your guide if you will get one. All the guesthouses on the route offer 2 times food + lunchbox for 60-80 gel per person including 3 times food depending on guesthouse's quality and location, but some nights especially in high season some of the guesthouses might be crowded by tourists and there is always chance that you get in the guesthouses which are kind of network of relative's guesthouses.
You will need to pay for river crossing in adishi by horse (which is 50 gel for shared group or 20-30 gel per person).
Quality of lunch boxes are often low and lacks variety, so if you have an arranged car to carry luggage between villages, just buy some snacks in mestia or other city.
Flights to mestia are not reliable. It is hard to buy ticket and it gets canceled once there is a bad weather which is not very uncommon in the mountains so train to zugdidi then taxi is the best option.  Here is the LINK for flight tickets. Here is a website for train tickets. Train tickets can be reserved easily HERE, once they publish tickets it does not get sold fast, while plane tickets get sold instantly.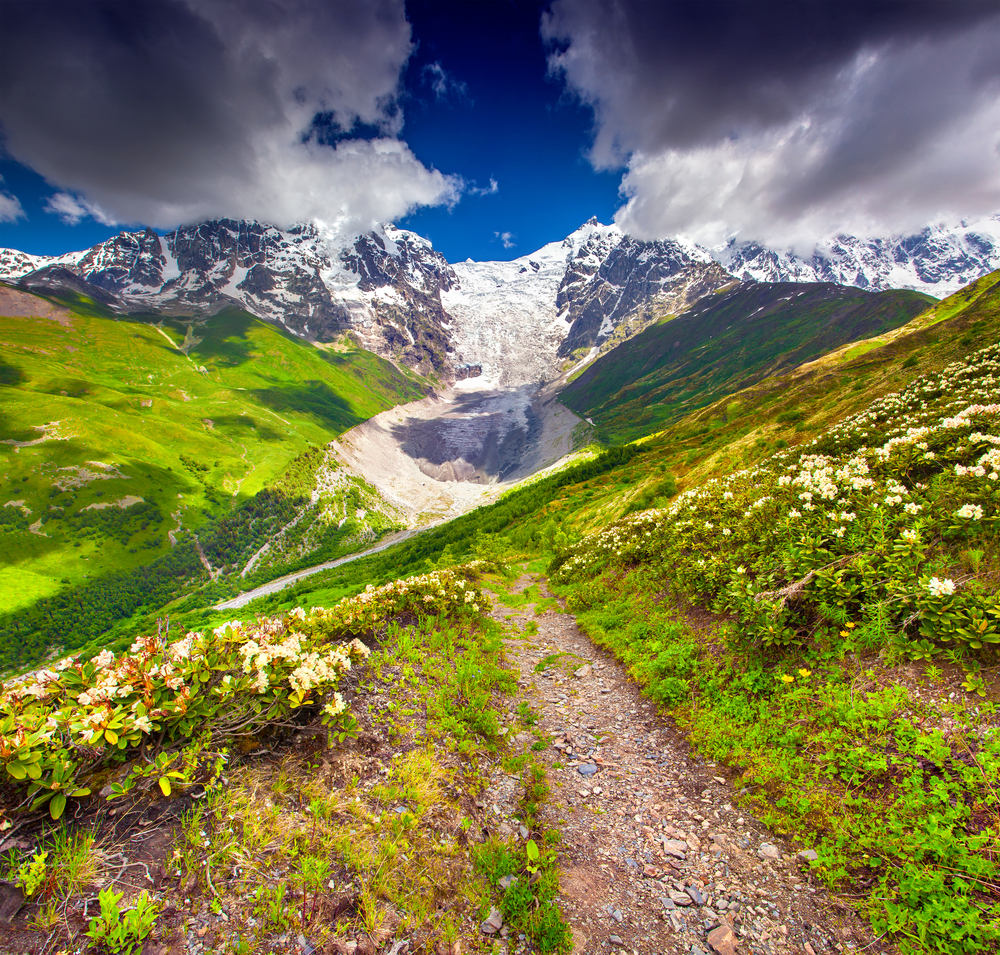 The other cost you will have is to take shared taxi from Ushguli which costs 40 gel per person (but 200 gel for the car), so if you see you are traveling with some extra seats ask driver to take extra passengers in Ushguli. So overall,  as you do not need transportation from and to start of hikes, then its surely the most convenient and cheapest trek possible.
You do not need to carry your luggage as you sleep in guesthouses and not in tents, and you can leave some of your luggage in Mestia guesthouse where you will return to sleep for the last night before departing to Tbilisi/Kutaisi. Regarding guide, of course, its not must, but with guide, its more convenient, of course if guide speaks enough language to explain about summits and glaciers, elevations ups and downs, some culture and history of villages, also help you with guesthouses booking and finding, arranging car etc.
More About Some of the Sections of the Classical Trek of Mestia-Ushguli
The first day of the hike is Mestia-Zhabeshi. 16km route is just 700m up, 1 pass crossing still + some flat road between beautiful villages, so its an easy start of trek to get used to elevations, hiking. But there is also an option to skip it, and devote 1 more day to some more impressive hikes (or hike to the panorama ridge and descend to Zhamushi village – expert level ). 50 gel is tariff for taxi to get to Zhabeshi and start hiking from there.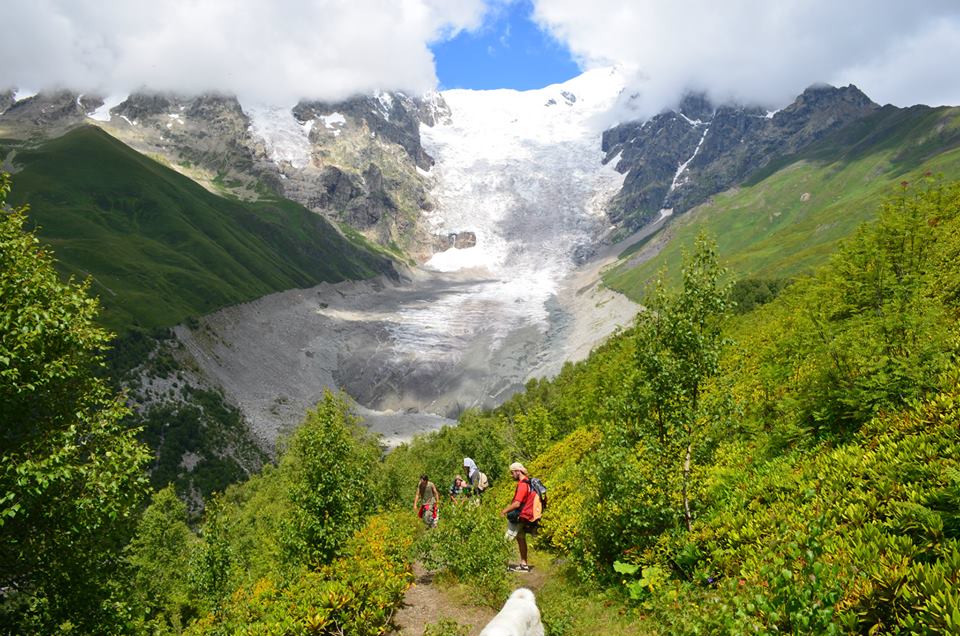 The second day which can be the first if you start from Zhabeshi, has more elevation gains. The distance is 10.6km, 909m up and 527m down.  But the route passes through Tetnuldi resort so some car road need to be crossed. Personally I would start from Hatsvali to Tsvirmi, then take a car to tetnuldi resort the same day and descend to Adishi so you could do the most impressive first day descend to Adishi in the end, this descend is quite impressive.
Third day (for the the second one) of hike is the most impressive. Leaving beautiful, exotic village Adishi from the middle ages, beautiful river gorge, crossing river, ascending Chkhutnieri pass, where 360 degrees panorama waits for you and you see most beautiful glacier from above.
Then you descend in hero village Khalde. In the 19th century village alone decided to resist against Russian empire. Then it was prohibited to settle there. Distance is 16km (860 m up and 900m down) if you sleep in Khalde or car waits for you in Khalde to take you to Ushguli for overnight.  As I said above classical Iprali to Ushguli is a waste of time when you have so many nice hikes in Svaneti, so do Lagem pass which is distance 14.5km, 1070m up and 1118m down.
More Impressive Alternatives of Mestia to Ushguli Trek
If you want to go wild and do camping, you can always do Tobavarchkhili lakes trek or other route of alpine lakes, or hiking/non-professional alpinist route towards summit Lahili. It has enjoyment version of 3-day camping, or hard route of summit climbing also in 3 days. All these need camping and carrying luggage/horse. And in case of more time, other dayhikes or sections of guesthouse-to guesthouse trek can be added.
If you do not want to carry luggage and still do something very impressive, you can take into account that there are some really impressive hikes with possibility to sleep in guesthouses:
Guli pass (Mazeri to Mestia) and Ushba glacier (including Shdugra waterfalls hikes= 2 days; Starting from Meziri (Baki Pass) = 3 days to Mestia. You could even start before like Transcaucasus trial does, but i recommend it less. Etseri to Mazeri, Mazeri to Ushba glacier and Mazeri to Mestia is great enough and if you add Mkheri dayhike in Latali it can be a perfect trip.
Mkheri dayhike which is very impressive hike and very recommended.
Koruldi Lakes hike (or take car to the lakes and hike to the ridge for those who want to conquer heights).
Latpari Pass hike (from Ushguli to lower Svaneti) or from Ushguli to Kala community via Latpari pass in upper Svaneti. In this case you hike on the ridge. Or just hike to Gorvashi pass from Ushguli and back.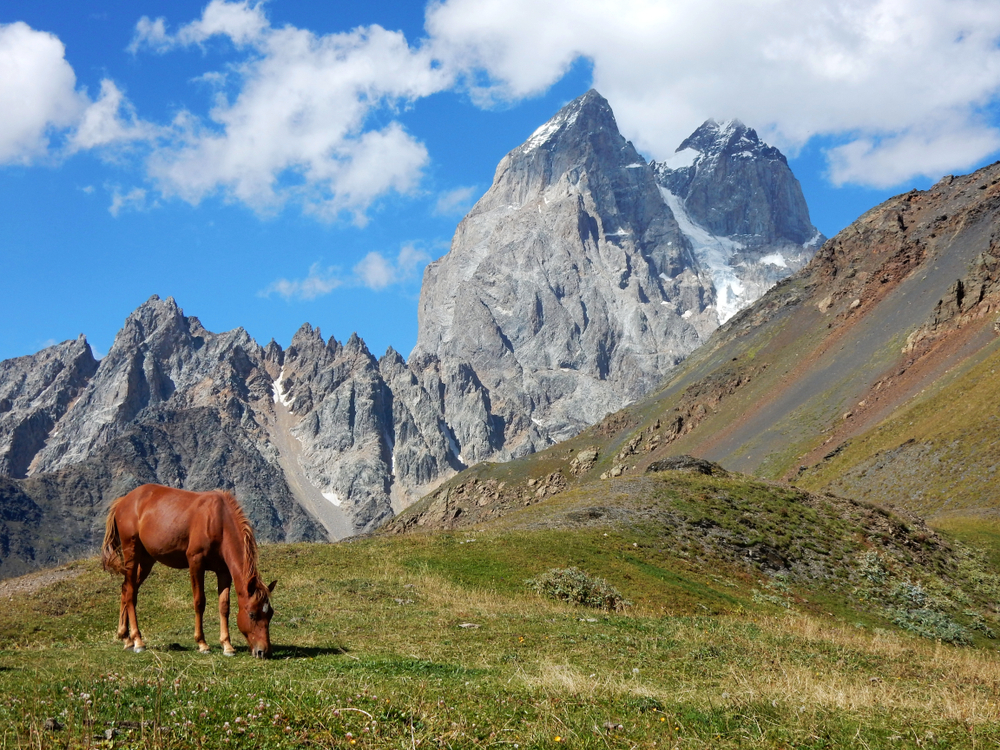 Generally its up to tourist to decide what he is going to do in Svaneti, there are easy routes for family (even easiest) such as Chalaadi glacier, Shdugra waterfalls (fully or partly only flat elevation), also walk from Tetnuldi resort for the view to Tetnuldi summit or descend to Adishi from there, Hike from Hatsvali to Tsvirmi village etc. Also there are moderate routes abovementioned, and harder routes which involve some climbing as well, Tetnuldi and Lahili are usually reachable summits.
Remember that those altered routes are associated with some little more costs. Meanwhile Mestia-Ushguli route is still recommended alternative, with possibility to change first day only with some dayhike or change last day with Shkhara glacier or Gorvashi pass hikes (or adding Shkhara glacier as 5th day), but whatever you decide please  remember that without hiking Mkheri in the appropriate weather, Koruldi or Guli pass, Chkhutnieri or Latpari passes, please dont downgrade beauty of Svaneti or exclude it from the list of the best areas of the world for hiking and glaciers.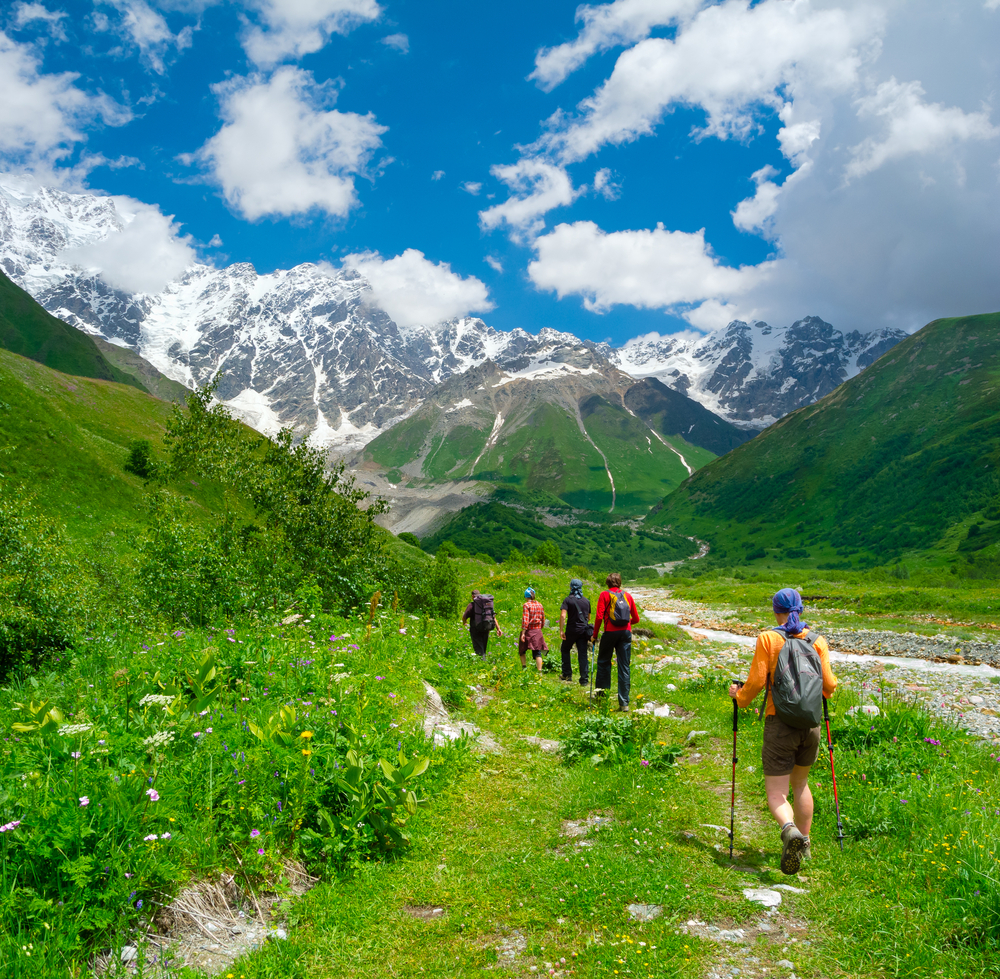 Special thanks to Travel blog for photos. For the map and gps tracks please see and download here:

Facebook Comments