Armenia
There are lots of historical sights as well as natural wonders to see in Armenia and you should spend a week or more to feel it, but the post is meant to give you information how to get to Armenia from Georgia, also give you general info what you can do if you have short time and want to mark Armenia on your map.
Yerevan is more near Tbilisi than some of the cities of Georgia like Batumi or Mestia. So Yerevan, Sevan lake, Garni and Geghard Monastery and some other famous highlights can be managed in 2 day organized tour, but even with a hotel in Tbilisi, you can see a bit of Armenia, drink Kilikia beer and enjoy the views from the oldest churches. There is a region Lori with famous sights such as Haghpat and Sanahin Monasteries or even 1 dayhike in that area possible to get done in 1 day as the area is in 100km from Tbilisi.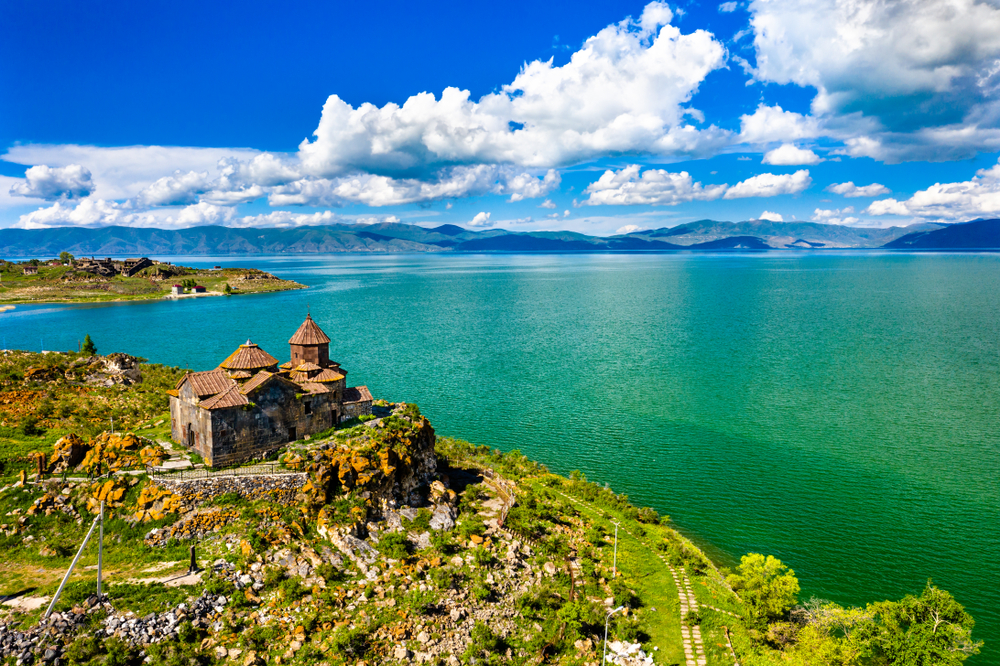 How to get from Tbilisi to Armenia
By train
You need to buy ticket in Railway station only and price varies based on exchange rate. Train leaves on odd days from Tbilisi 20.20 evening and arrives at 06.55 in the morning. From Yerevan it leaves at 21.30 even days and arrives at 07.50 in the next morning.
Other options
Buses from Ortachala and vans from Avlabari and Central train station (Vagzal). Vans leave at 09.00, 11.00, 13.00, 15.00, (also midnight from central station and 5pm from Avlabari). Its the best way to get to border as well, not to change buses in Marneuli. Please note that schedules may be changing.
Some more practical issue to get to Armenia
You should check here whether you are eligible to travel visa free or can obtain visa at border etc.
If you have own car or whether you are entering with organized car, you should know that at border there are some payments to be made. Local insurance which car owner needs to get may cost 30-40 gel or more depending on car, and also there is entrance and exit little fee for car.
If you have traveled to Azerbaijan before, you may have some conversation with border guys, its not a problem, just some people may get more questions because of this.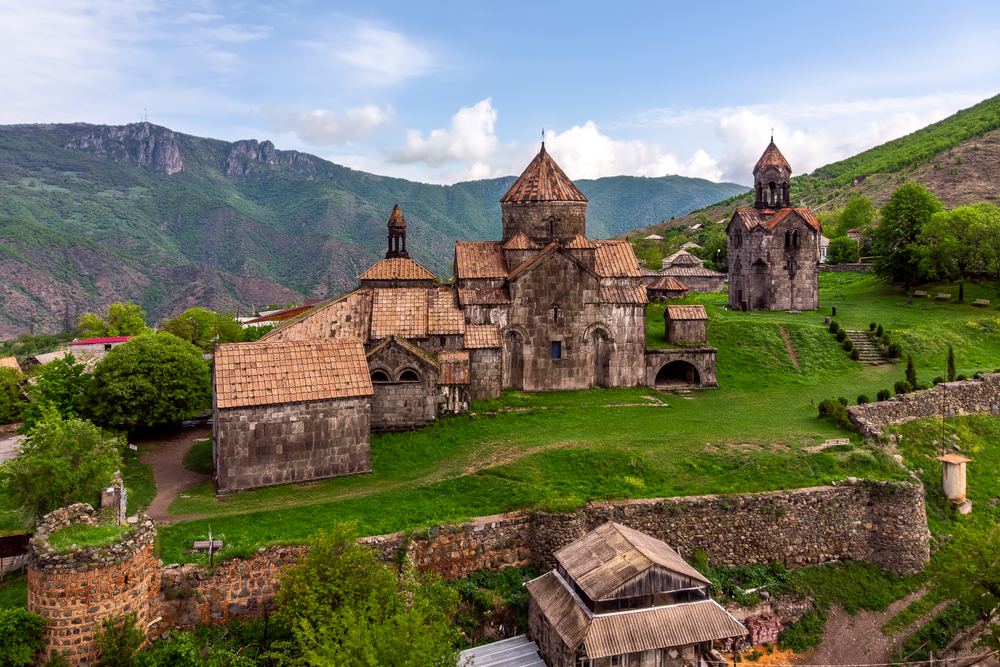 Rather than 2-3-4 day trips to Yerevan and some main landmarks I will focus on nearby border. First most important sights of nearby Armenia is Haghpat and Sanahin unesco world heritage Monasteries. Those monasteries built in 10-13th centuries represent the best examples of Armenian architecture. Both on the hills in small town of Alaverdi (mining town) which looks interesting in deep cliffed river gorge look at each other, have great views around it and feeling of something unique and old, like feeling from the movie – color of the pomegranates.
There are 2 other churches in the area both in Armenian villages  which have remaining Georgian frescoes. Akhtala Monastery has a great location as well in the village and some spaces around it, views from the castle above it.  Kobayr Monastery is located in deep gorge and has cave behind it. Its unbelievably beautiful area with water flowing down above cave, making frozen waterfalls in winter.
You can do hike between Odzun (old and huge church in nice Armenian village over the canyon) and Kobayr. Trial also passes by Horomayr Monastery at rocks. Its 8-9km 5hr hike. From the plateau down to the river gorge and  to the monastery in the very beautiful nature except for a hot day in summer. Best time will be in September-October or May-June. You can view more info here.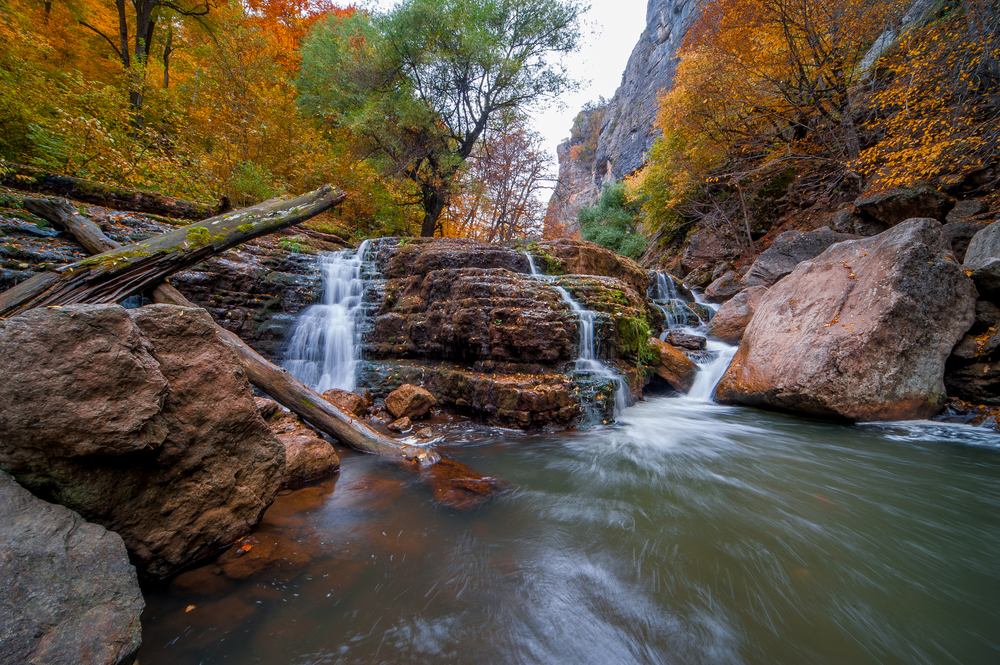 If you will not do hike and have more time there is alternative way to return to Georgia via Guguti border crossing, but road is not as good, its only worth if you can visit Lori fortress in a daylight. Another interesting nearby route can be Kirants Monastery jeep route which is also near Georgia. Deep in the river gorge there is abandoned monastery and people who live around seem to be friendly. For relaxation and nature (only and exclusively, because Alaverdi area also offers views and nature in addition of old Monasteries) still I would recommend hike/walk in Lastiver.
You can view all recommendations and pics in tripadvisor and decide whether it is for you. Cascade, waterfall, cave, views, river gorge all about nature. It can be done alternatively as 1 day tour (not together with Alaverdi area). It would be longer drive, but starting from early 6am you could also visit Dilizhan area (Goshavank, Haghartsin monasteries and Parz lake) in 1 day, maybe even sevan, or do a daytrip to Yerevan Restaurant – Yerevan Pandok and eat tasty Armenian Tolma and come back but thats not what I recommend. I would recommend to visit Armenia and enjoy it.
For the tour in Armenia please check:
welcome2caucasus.com/tour-item/weekend-tour-of-armenia-from-tbilisi/
For the map please see:
Facebook Comments