Shkmeri, village of Racha
Georgia has some villages you may find exotic. Shkmeri is not at the footsteps of main Caucasus range unlike Glola but it can be interesting destination to stay, camp, hike or just drop a visit before heading to glacier areas like Notsara, Buba or majestic Udziro hike. Shkmeri is a home of famous Georgian meal Shkmeruli which is made from chicken and garlic sauce. The community consists of 3 villages: Usholta, Shkmeri and Kharistvali.
Usholta has most sights we will mention here, however Kharistvali is on the way to trekking towards Sachkhere-Chiatura region which is around 40km easy hiking route. Dont go to Shkmeri with highest expectations, but you will be rewarded with one nice day in lets say your 4-5 day Racha-trip and maybe a flowers crown, or you can make one for your someone special at the edge of  beautiful and safe cliffs overlooking Racha.
Update Notice
Shkmeri road is newly made so the village is reachable from Sachkhere Chiatura side  as well as from Oni side via good road. Asphalted road means that Khikata route is shortened, u can hike west from the pass however. But most recommended Hiking/offroad route is still untouched and easily accessible – from Shkmeri to Queen Tamar Cliffs and potskvrevi mountain 42°30'30.0″N 43°26'19.0″E  which is at 2393m from the sea level. 
Queen Tamar rocks
I was impressed by the hike, flower fields, and especially spaces in front of you, you are just walking across panoramic cliff with many photosession stones, you can reach to the range from where you can see villages of Jejori gorge, but till you reach it, you have all Caucasus mountain Range summits (Racha and Svaneti), Shoda-Kedela range, Oni and its surrounding villages in front of you but not very near, so days /or period of day with good visibility is recommended.
Go little beyond the point  It shows on GPS route (see gps trail in the main map below) to reach highest point of the ridge: Mt. Potskhvrevi. Just for info, somewhere below and hidden from you over the rock there is cave which used to be a temple.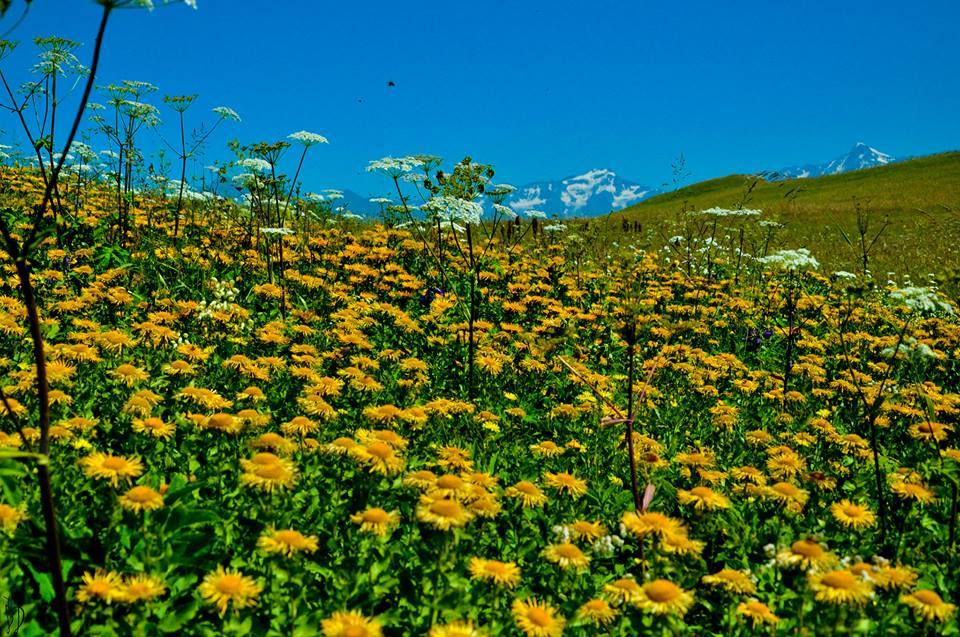 Kheori canyon
the canyon is located in Usholta village, its waterfall going down in the cave and river completely disappearing and its re-appearing again coming out below the cliff. You will need a local or gps track below, to find it, maybe you can also swim there as well, but dont go only or primarily for it, maybe it can be an additional place to see with others, it takes little time too. 150m very careful hike down to the river gorge is needed.
Another interesting destination if the source of Kheori river which needs more time and some hike and for more flowers and inspirations and you can hike to Mt. Khikhamta. There is also a  cave in Usholta not modernized unlike Prometheus and Sataplia caves in Kutaisi but you can enter with flashlights and wear high boots.
Hiking in Shkmeri, Racha
Besides, if you have visited Shkmeri and fell in love with the area, I advise to come back to do some trekking. Shkmeri is center for exploring Imereti range trekking routes, you can do trekking towards Sachkhere as well as towards Putieti and Skhvava villages – I have some of my childhood memories connected to the area of cold rivers and warmhearted people so I cant say firmly that its must and the best hiking routes but you will like it. Those routes unless you will hike 10-12 hr a day can be quite relaxing and enjoying treks, there should be marking and anyway taking gps is still good idea.
How to get to Shkmeri
Oni-Tbilisi buses which run daily from 7,30am – Didube metro Okriba station pass Shkmeri from Tbilisi via Sachkhere. Also the way back from Oni. Ride may cost up to 30 gel  per person.
For more photos: please follow Shkmeri fb page. Cover photo by Rati Gagnidze.
For the routes of Racha generally and Shkmeri routes such as Kheori canyon or Queen Tamar Rocks please see (please notice -Khikhata route till the ridge is not hiking route anymore, its asphalted – However u can hike from the pass towards Shaori reservoir and it will be still memorable trip):

For trekking routes around shkmeri and generally Imereti range and Sachkhere Chiatura please see:
Facebook Comments