Kojori Fortress
When you want to get out of Tbilisi, somewhere really close, with some views, some short hike near Tbilisi, even for half day, for really cheap, somewhere at high altitude and fresh air -as high as 1400m – Then Kojori Fortress is for you.  Get in a regular city bus from Kolmeurneoba flower market (near liberty square) and in half and hour you can see the views of Algeti and Khrami river gorges in Kvemo Kartli and mountains of Armenia from the top of the fortress.
How to get to Kojori Fortress
From the bus stop/where you will stop your car you will need only a short walk and a bit scary but not difficult ascent with iron ladder (1 or 2 steps are missing so be careful). During the Red Army invasion of Georgia in February 1921, the heights of Kojori saw heavy fighting between the Georgian and Russian SFSR forces. A monument to the Georgian junkers who died in this battle was erected on the site in the 1990s.
Kojori – Ghoubani (Ormotsa) Church Hiking
If you want a real hike and you have the full day you can hike down to Ormotsa (Ghoubani) Church which lies in the forest South-East of the fortress and can be seen from the top. The route starts in Kojori. Kojori is located close to Tbilisi but it is a cool and pleasant environment even in the middle of summer. The difficulty of hike is easy.
You can reach below Azeula Castle by car. The area used to be one of the defense points against Russian invasion in 1921 when Georgia lost independence. You could go up to the fortress by a ladder and enjoy the view over lower Kartli and surrounding mountains. From there you can descend to Monastery of 40 martyrs if you wish unless you prefer to go back to your car and return to Tbilisi. You will reach Ghoubani after a few kilometer hike.
Kojori Fortress like many of the sites of Lower Kartli, are marked with informational banners of Griffon Way. The network of bike routes near Tbilisi was funded by Czech Embassy in Tbilisi. Banners are yellow and look like this: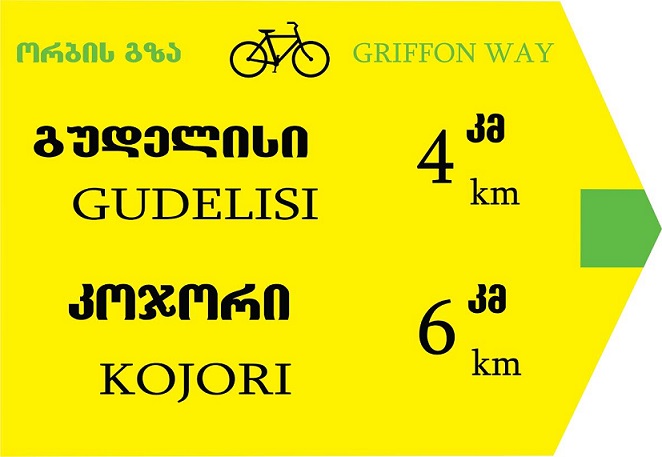 Bevreti Nunnery
The next nearby site is my favorite Bervreti Nunnery with a superb architecture and amazing location. Even though it is built only in the 21th century,  architectural style is taken from one of the most exotic churches of Georgia Kvetera (XI cent.). Meeting with nuns of Bevreti is one more reason why you must visit this place. They together with beautiful surroundings of the Nunnery can fill your spirit up with joy.
How to get to Bevreti Nunnery
Public (yellow) buses run from Delisi Metro station to Tsodoreti, village from where you need to walk/hitchhike (easy ground-way in the forested gorge, but hot days of summer may not be the best for hiking) 10km to Bevreti Nunnery.  Make sure you take a map or GPS device as there are some other monasteries in the gorge where woman can not enter.
Besides, Nunnery does not accept guests always – especially in the evening (I have visited personally 3 times at weekends and in the first half of a day and it was open).
Didgori Memorial
If you want to continue hiking from Bevreti return 3km back to the gorge and continue to the right another 8km to Didgori Battle Memorial which is above 1600m from the sea level. Road to Didgori Memorial was recently renovated so the monument is easily reachable.
Didgori battle (August 12, 1121)  was a very special event in Georgia's history when Georgians led by David the builder defeated the forces of Turk-Seljuk Empire. From the memorial you can see Caucasus mountain range including Mt.Kazbeg in case of good visibility. From there you can return by Manglisi-Tskkneti road to Tbilisi. On that road besides Resort Manglisi which is also nearby spot from Tbilisi with beautiful nature, you can find Tsveri st.
George church on the cliff which offers interesting option to spend your day. Betania is also one more popular destination which can be reached from Tskneti side. 8km from the main road by car, Betania (XII-XIII cent) has unique frescoes of Queen Tamar and graves of Saints and quite nice location.
Martkopi Monastery
The next quite popular destination among Georgians is Martkopi Monastery east from tbilisi, only 30 minutes drive. The Monastery was built by Anton Martkopeli – one of the 13 Assyrian fathers who preached Christianity in Georgia in VI. c. A.D. On top of a small rocky ridge, through the forest stands an old stone tower where St.
Anton used to live alone for 15 years. The tower, which you'll reach in a 15 min walk, offers great views of the monastery in midst of the lush green forest. The meadows around the monastery invite for picnic and play. One idea for making your hiking/bike trip longer is to go to Lelubani village from Martkopi Monastery. Marshutkas to Norio village which is 7km from the Monastery leave from Navtlughi station.
Another idea can be east from Martkopi – Khashmi Monastery which is 8km from Khashmi village and is preferable for jeep/offroad trips after rainy weather if you are fan of muddy roads. 5-6th century church now an active nunnery stands in the open field in the middle of forest and has old frescoes. For other ideas of trips near Tbilisi please see the next post.
Turtle Lake – Udzo Monastery Hiking
Another route you can try near Tbilisi is from Turtle Lake to Udzo Monastery. roundtrip distance is 16 km. The road is not difficult, the car will go to the temple freely.
Udzo Monastery is located in the middle of nature. You can enjoy the beautiful views from the temple. Especially in summer, nature is green and the temperature is cool compared to the central part of Tbilisi.
Rustavi City
Another cool idea to spend time outside Tbilisi is undoubtedly Rustavi city next to Tbilisi. Especially Headquarters of Metalurgical factory, also the city's main park near the lake. It is one of the best parks in Eastern Georgia.
For the map please see:
Facebook Comments