Prometheus Cave
Legendary Prometheus who under Greek mythology stole fire from Gods was chained to Khvamli Mountain which can be seen from Prometheus Cave, one of the most colorful place in Georgia. Here you can observe stalactites, stalagmites, underground river and lakes, nice 1.2km walk in mysterious and cool atmosphere and short boat trip if interested.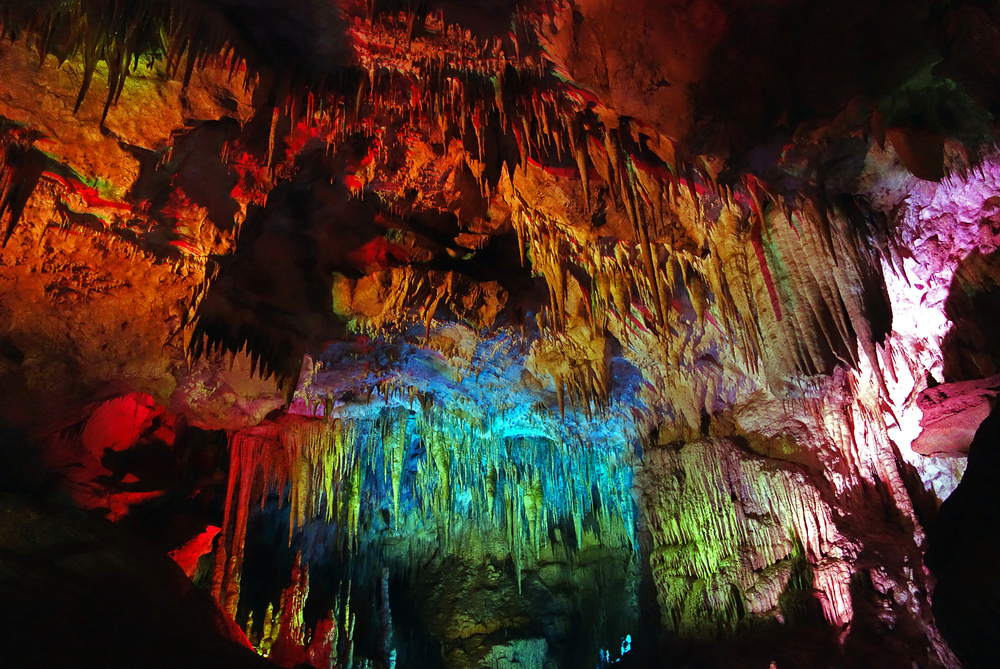 formation about speleo and wine tour prices you can contact their fb page.
Prometheus Cave is longer and more impressive than Sataplia Cave but in the latter you can also walk in the woods – enjoyable if its not hot weather, have views to Kutaisi thanks to glass platform overlooking the city and You can also see millions of years old footprints of dinosaurs, take picture with the models of dinosaurs, visit the small museum, see a nice heart-shaped stalagmite. There is a restaurant and some attractions.
In short, tourist infrastructure is developed enough. But it is still not comparable to Prometheus cave if your primary interest is to see a cave. You might find both worth the trip, but if you have to choose one, I would go for the first one. Sataplia's name is derived from wild bees which lived in this territory.
How to get to Prometheus Cave:
Prometheus Cave: Take a bus from the main station to Tskaltubo, from there there are buses to the cave.  For information on entrance fee and boat ride costs please follow this link.
How to get to Sataplia Cave:
Sataplia Cave: Mini bus N 45 leaves every day except Sunday from Kutaisi Central Agricultural Market to Sataplia ( 50, 40 min.) For information on entrance fee please see.

Tetra Cave
There is another cave opened nearby called Tetra cave. It is always 14 degrees there and wine degustation is offered inside. Tetra means white and it is also name of famous white wine from Georgia. So you can enjoy drinking naturally cool white wine in hot days.
Map:
Facebook Comments