Davit-Gareja Cave Town
Extraordinary site with fantastic semi-desert landscapes – Davit-Gareja cave city,  located 100km south-east from Tbilisi (70km by shorter partly unpaved road), was founded in 6th century by David (St. David Garejeli), one of the thirteen Assyrian monks who arrived in the country from Mesopotamia to strengthen Christianity and built many monasteries across the country.
You can do one-day or half day trip from Tbilisi to Davit-Gareji, or you can combine it with other sightseeings of Kakheti region (Sighnaghi, Kvareli, Telavi). There are many monasteries spread over very remote area but most visited monasteries are functioning Davit's Lavra and on the hill above it, Udabno, which has lots of cells with amazing frescoes and views on Azerbaijan.
Please note that Hiking area towards Azerbaijani border may be closed when you arrive so you will only see the main monastery. For hiking and photos, I advise you to  hike to colored desert near Mravaltskaro reservoir. It is 2km from the lake. Coordinates: 41.537032 , 45.238755 – Check our photo post about Mravaltskaro:
https://georgiantour.com/mravaltskaro/
Main Site which compromises Davit's Lavra and Udabno's Lavra on the hill (what tourists usually mean when they say Davit Gareji) takes around 3 hours to explore.  To reach Udabno Lavra's caves you can follow the path starting behind the church shop, that goes on the top of the small mountain.
It's not hard to walk there, just wear comfortable shoes, take water if it's hot (generally summer is not the best season for Davit-Gareja), beware of windy weather and snakes as it is deserted site (generally snakes are not common in tourist places). The site is at the border (you will see the fence) but there is no problem if they let you up.
The best time to visit David-Gareja
The best time to visit is April/May when it is all green and late November-March period when there nature is not green anywhere and This unusual desert turns yellow, red, white, etc. There is no entrance fee but some caves in the main Lavra are closed only for the monks: you can see : no entrance signs.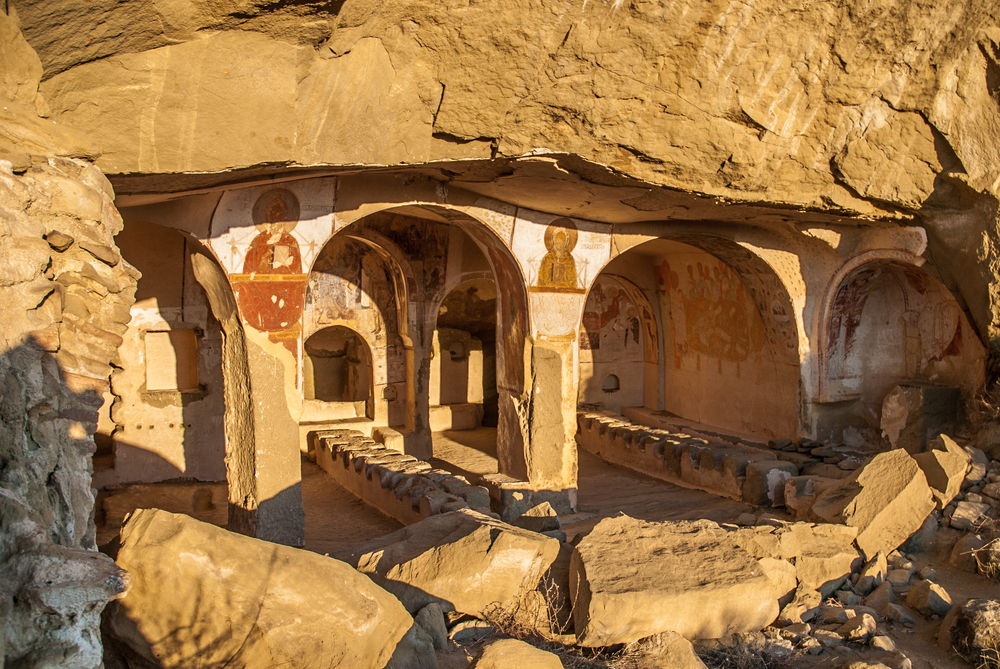 This monastery has been an important center of religious and cultural activity for hundreds of years and this reached its height between the 11th and 13th centuries.It has seen many ,,nice" tourists to come and visit it: Mongols, Iran's Shah Abas, Soviets who has military base here.
Natlismtsemeli Monastery
10km from the main Monastery there is John the Baptist's (Natlismtsemeli) Monastery, founded by the disciple of St.Davit Garejeli which can be visited on the way back from Davit-Gareji if you are by car, have free time and want to use shorter unpaved road through Rustavi on the way back. This Monastery has hospitable monks and beautiful location (area is all yellow in Autumn/Winter).
Sabereebi Caves
Finally, my favorite place, which can make very interesting and exotic jeep tour is Sabereebi caves which is located east from the main site. Frescoes in the main cave church are rich in colors, remarkable and beautiful, but I will still not compare it with Udabno's lavra. But if you want to further explore Davit Gareji this trip is an option.
How to get to Sabereebi
There is no paved road, you will have to go through the deserted area with few shephards by jeep. Frescoes date back in 9-10 cc. You can also visit Kolagiri in this jeep trip with remaining frescoes. It is also possible to reach Sabereebi from the main monastery site but you may get lost.  Also make sure its not rainy/muddy. Sabereebi monastery contains 5 cave areas. One of those caves has one of the finest and impressive examples of Georgian fresco art remaining. If you are interested, you will not regret visiting Sabereebi especially in other seasons except summer.
How to get to David-Gareja
Drive or take a taxi for up to 100 GEL from Tbilisi or 50 GEL from Sagarejo. Or you can take some organized tours from many spots in Tbilisi. In this case combined trips will be better. Usually you don't need 2-day trip to Gareji. You can see the main site in 1 day but there are hostels near gareji, village Udabno. You can watch the video about Udabno hostel by Polish tourists.
For the map please see:

For the gps track of Sabereebi and Kolagiri caves jeep tour

Sabereebi Desert walk GPS map:
Facebook Comments