Telavi
Telavi, historical and administrational center of Kakheti region, is located 100km from Tbilisi. The city and its surroundings is famous for its wineries such as Tsinandali winery and some of the historical churches, among them the magnificent Alaverdi church. Telavi be a place for base travels to explore Georgia's Kakheti region.
You can make 1, 2 or 3 day trips from Tbilisi to Telavi and combine it with other regions of Kakheti. You can even come from Tbilisi for 1 day to eat some traditional Georgian food, walk in the market to taste local fruits and other specialties, visit famous Tsinandali winery and some other wineries of neighboring Gurjaani district which is home to famous wines such as ,,Gurjaani", "Akhasheni" and "Mukuzani".
Things to Do in Telavi
The most interesting experience would be to meet local Kakhetians and their families, Drink with them! Experience Georgian traditions of Supra. You can even help them during vintage season and attend and participate in the process of wine-making -collect grapes and after some work participate in Georgian supra (feast).  You can also see old earthen crocks ("kvevri"), where different types of wine are stored.
You can take part in bread baking, "Mtsvadi" (pork shashlik) and "Churchkhela" (Georgian sweets) making and of course in Khinkali preparing. Vodka-making can be also very interesting for many tourists, how Georgian home-made vodka is made and try to drink some warm Chacha and eat Kakhetian style pork barbeque (shashlik).
Places to visit in Telavi
It has some nice streets such as recently restored Cholokashvili street. Also there is Nadikvari park where you can rest. You can find some interesting museums in the city as well. Batonistsikhe (17-18th century) castle is inside the city  with the palace of the king Erekle the 2nd. Nearby you can find out more about the famous Kakhetian King and some history of the region in Telavi State History and Ethnography Museum. But first of all, you should get in Telavi market and buy some churchkhelas.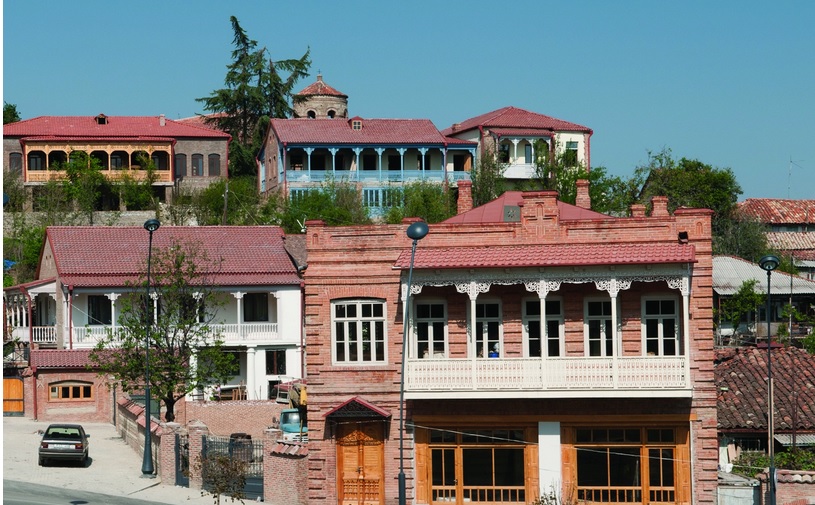 Churches to visit in Telavi
Not all Georgian churches look the same. Within 10km There is Shuamta monastery and old Shuamta church (7th century) and Ikalto Monastery  (the other direction). But my recommendation goes for the one of the tallest churches of Georgia (height of over 55 meters): Alaverdi. It is located 20km from Telavi in the plains of Alazani valley, surrounded by vineyards, with a view to Caucasus mountains and picturesque architecture it obviously makes the difference.
One more church which I would advise if you visit Alaverdi and have some time and want to visit something more exotic and less touristic abandoned site then you drive 30 minutes north west to Kvetera church, in sunny days of spring/autumn it is very beautiful and inspiring. 10th century church is included in the Unesco tentative list, has impressive blue dome, open field, old walls and is amazingly beautiful.
Best wineries in Telavi
Tsinandali Museum and winery which offers wine cellars with unique collection of wines with an opportunity to taste, nice garden where you can relax, Georgian nobleman's palace in the 19th century style which belonged to Georgian poet Aleksande Chavchavadze who belonged to romanticism genre. Here there is Radission Tsinandali hotel which is great hotel worth dining in. It has both indoor and outdoor pools with views.
Park hotel Tsinandali is nearby and shares some of the services for lower price. There is wine factory Shumi in Tsinandali which you can visit. There are some wine cellars which offer some services to tourists. Within Telavi itself there are Telavi wine cellar" (Marani wine company) and "Teliany valley" company also has wine-tasting and harvest tours in its factory.
There is also German invested hotel schuchmann wine cellar . Wines there are not as strong with tanini in Georgian style but the hotel itself offers wine spa, pools, wine tastings etc all included in very reasonable and affordable package so it is recommended as hotel really much. Mosmieri hotel and restaurant nearby also represents great option for fine dining.  Kisiskhevi village has anothe recommended winery  Teleda Orgo.
Near Telavi there is Kvevri makers house in Vardisubani which is must visit, You can see how Georgian clay vessels are made and taste wine. In the nearby village there is Ruispiri Biodinamic vineyards which also respresent luxury and high quality option for wine and gastronomy tourists.  Near Alaverdi there is yogyurt's house and you can try different yogurts.
Vazisubani and akhasheni estates offer good accomodation nearby, however Akhasheni is run by KTW company which doesnt represent high quality winemakers. Ampelo hotel in Kardenakhi offers great views comparable of the one from Sighnaghi, nice pool, beautifully designed wine cellar as well.
There are many options for wine tasting and hotels as well in Kakheti. On the way from Tbilisi you will first encounter Kachreti Ambassador hotel, Tasting of Kakhetian cheese and bread in Badiauri, Gyuaani cellar which has great white dry wine (kakhetian green), KTW in Patardzeuli which is good for spirits and cogniac and wineria kakheti restaurant by another mass producer Dugladze company.
Nearby Vellino can be recommended small winery. Anyway, as time passes some old wineries and hotels get out of market and new ones are established so wine tours with professionals like us is always recommended idea.
Useful Information about Telavi
You can not visit the sites of Kakheti walking or hitchhiking. It would be impractical and time-consuming. All of the sites are located 10-20km far from the other. It is better to arange taxi in Telavi or Tbilisi and arrange a trip like Telavi-Kvareli with night in Sighnaghi or if you plan to visit Tusheti taxi may drop you at Alvani at last- in case if you want to visit Lagodekhi or Vashlovani National parks- then Lagodekhi and Dedoplistskaro respectively.
Please see the map for recommended sightseeing of Telavi here:
Facebook Comments