Lomis Mta Hike
Borjom-Kharagauli national park stretches across Samtskhe-Javakheti and Imereti regions of Georgia, covering more than 1% of the countries territory and more then 85 000 hectares of the most attractive pristine forest land the park is one of the largest in Europe. The huge area of mountainous forest has been preserved here in its pristine and untouched state. A number of endemic and relict species of flora and endangered species of fauna can be found in the forests as well as among sprawling sub alpine and alpine meadows of the Borjomi-Kharagauli National Park. The highest peak Sametskhvario is at the altitude of 2642m.
Park offers 9 trials, among those this post is dedicated to short version of  Trial 1, to the Lomis Mta tourist shelter and mountain on the ridge of Meskheti with views to Greater Caucasus Mountain range. It's the most popular trial along with Atskuri-Marelisi trial's short version called ,,panoramic route". This route is marked like most of the routes of the National Park. Difficulty is average.
Overnight accommodation is available in Lomis Mta shelter at the height of 1780m. There is water source nearby the shelter.  There are some some beds with no mattresses which you should reserve in advance while you register. Visitors are reminded to bring food, sleeping bags and dishware to the shelter. There is wood-burning stove in the shelter which makes it possible for extreme hikers to get up in the snow-covered mountain in cold winter day and sleep at the shelter. There is also camping places nearby if you prefer to pay for camping site only.
Rent a Horse
You can rent a horse to get to the shelter. Renting horses is cheaper in Georgia as compared to Europe, 60 GEL per day means that it will be less than 50 EUR for 2 days for horse + guide. You don't have to worry about not being an experienced rider. It takes 6 hours to reach the shelter by horse where you can stay and come back by the same route (!) not though Kvabiskhevi which is too steep descent for horse.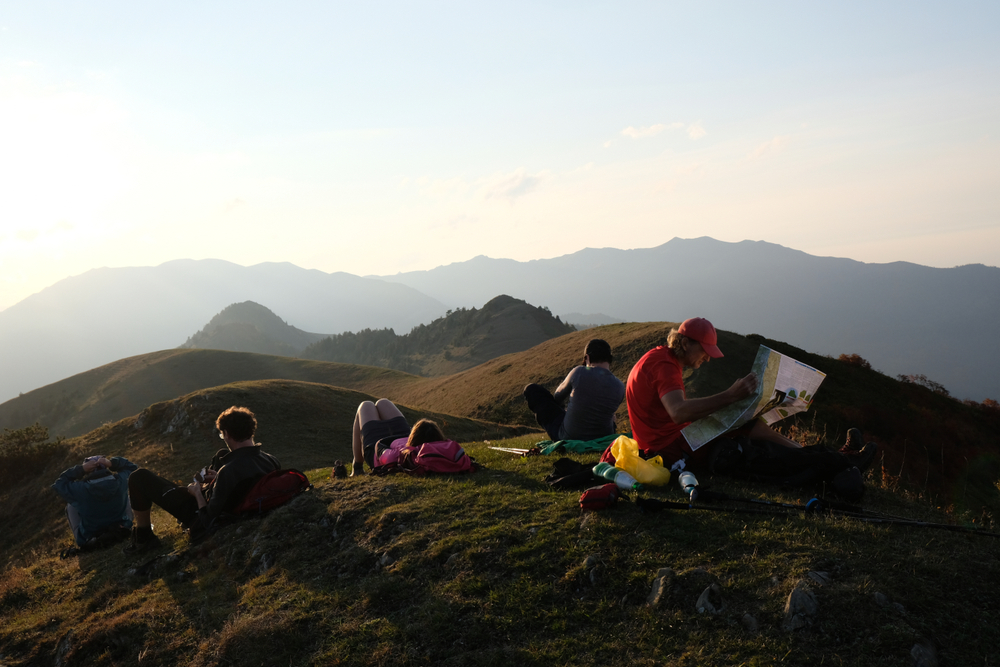 First Trial
the trial is long: 39-41km and takes 3 days to finish, but the short version (Lomis mta route) takes only 2 days. The route is around 11-12 km one way, vertical 1150m; but the second day early morning you should walk up to the Lomis Mta peak (2187m) from the tourist shelter. It adds extra 3-4km and 400m vertical.
Going up the peak is absolute must if weather is nice. In some days you will see the peaks of Great Caucasus range,  including views to Elbrus summit, beautiful landscapes of Imereti and Javakheti regions, in some cases you may see the sea of clouds if it's rainy weather on Imereti side.
Footprint trial
However, footprint trial – which is 1 day hike version of Lomis Mta trekking doesnt need any accomodation stay. You could just descend to Kvabiskhevi the same day from half way to Lomis Mta cottage, on the intersection of routes Number 1 and Number 6. The routes are marked so u will be able to see it clearly.
In case of 1 day route it will be around 13km (6 to 8hr) route, with one hard ascent and harder descent to Kvabiskhevi side. Note that if you dont want to hike at all, just arrive in Kvabiskhevi and camp there, play, make barbeque etc. End point of the route is the perfect place for it.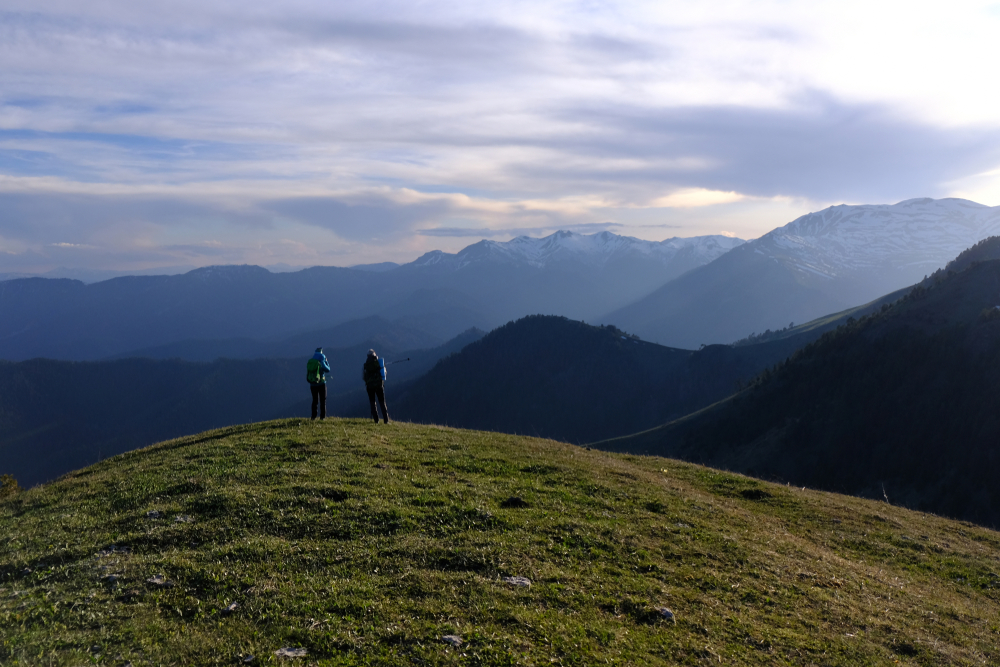 St. Giorgi Church
St. Giorgi church is located on Lomismta. In addition to beautiful views, there are flourishing rhododendrons in May and June. The second day you can turn down Trail 6 (if you prefer- it's steep but not dangerous path at some point of trial 6) to come out on the Akhaltsikhe road at Qvabiskhevi.
In this case you make sure not to miss the turning (next to a large park map) where Trail 1 heads off left uphill from the vehicle track. By the way if you have only one day it's possible to do a day trip combining 1st and 6th trials, but in this case you will miss the possibility to stay at the tourist shelter, beautiful views and alpine valleys.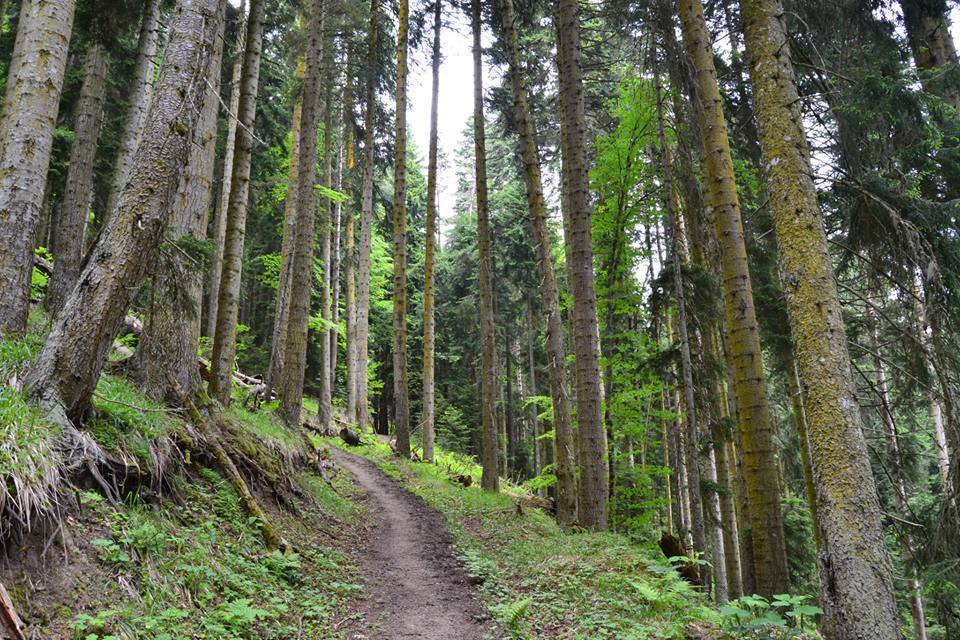 Till you reach the shelter you will walk through very beautiful pine forest which I am sure you will enjoy it especially if it's spring (late May-Early July) or Autumn season (till the second half of October). Generally this route is open from May to November but you can check conditions of snow at the visitors center.
How to get to Lomis Mta
 You need to drive 160km to Borjomi's visitor's center (1km from the center) or take Borjomi or Akhaltsikhe bus from Didube Station. You need to get to the visitor's center for registration, maps, permits, explanations on the route, etc. Also if you want to rent a horse, tent, sleeping bag, etc.  Rates are low and affordable. Then you need to drive to Likani at the checkpoint of National park or take taxi.
For the tour in Lomis Mta visit:
For the map and gps track of the full trial 1 (for 2-day trip you just to need to walk up to the mountain from the shelter for views and small church):

for the 1-day trip called footprint trial please see the map and gps track:

Have a nice journey!
Facebook Comments