Stairway to Heaven – Notsara
Serpentine Jeep road going uphill to approach glaciers starting from mountainous Racha's typical ordinary village Chiora. Chiora is located few kilometers before you enter Ghebi. The area is great for jeeptour/offroading  or dayhike from Chiora to the highest point on the ridge and back. Also for trekking 2-day camping trip to Notsara or 2-3 day trek towards Glola with night at Notsara hut where there is a spring.
Besides this area is part of  main trekking in Racha route which cosists of Udziro Lake trek  2-3 days (from Shovi to Glola), Buba and Tbilisa glaciers trek (2 days or Buba dayhike),  Notsara trek from Glola to Chiora and then Ghebi village. In addition there are great extensions of this impressive trek such as Buba and Tbilisa and Ghurshevi glaciers route in Shovi area, village Gona and Kirtisho Glacier  or Lagora and Mukhameshi mountain hikes or Zopkhito and Edena glaciers in Ghebi area.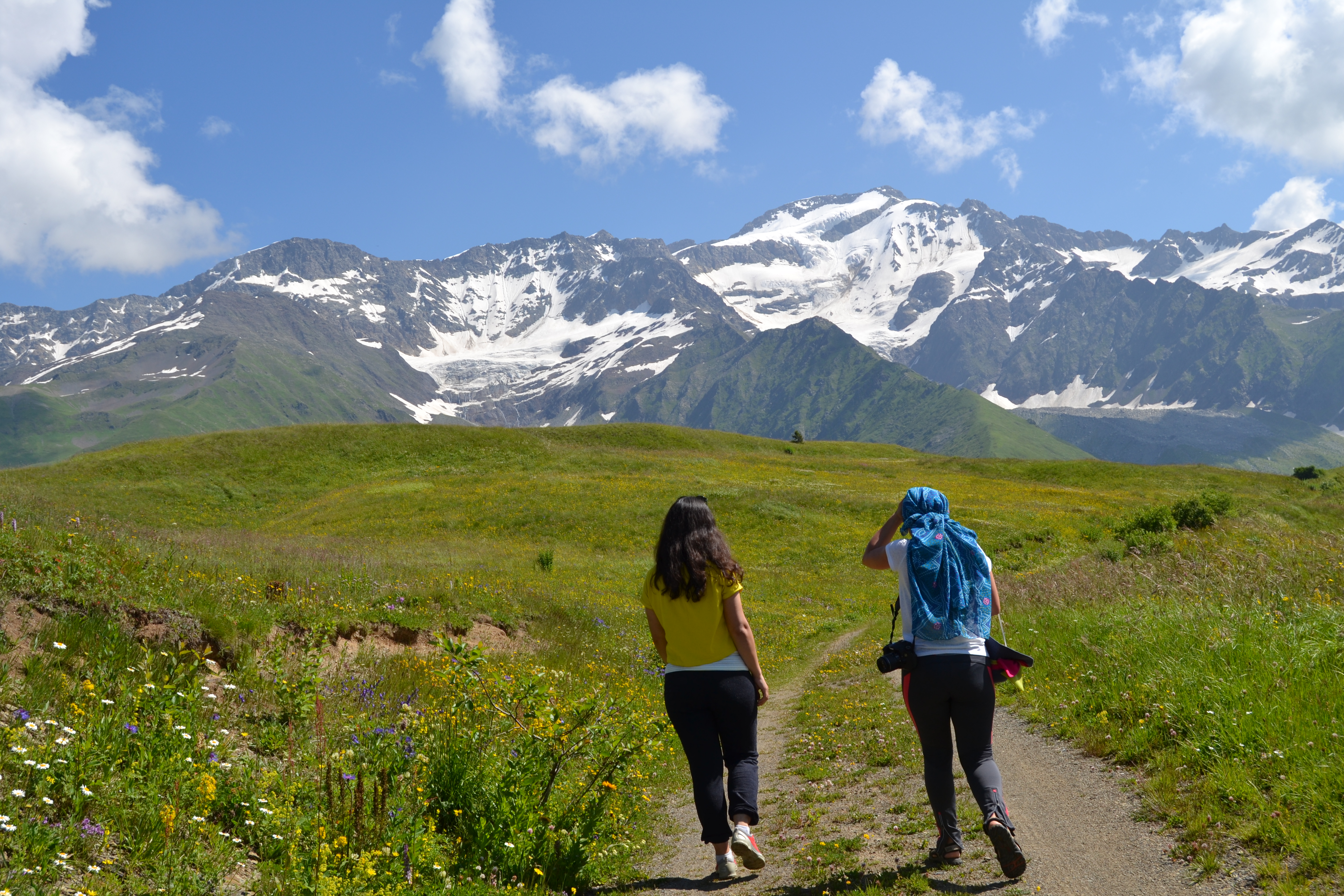 Ascending Notsara
first you will see surrounding Ghebi and Gona villages, Shoda-Kedela range. Even lagora huts also can be noticed from very far if you look closely. Road up seems to be promising, sometimes entering more or less forested areas and you feel that views are beautiful enough. But once you cross some kind of pass, and more different – fairy tale land appears, You cant see  Ghebi area and Shoda-Kedela range already but you still see Gona and summits behind it.
On your west and in front of you, there are majestic summits raising to greet you. After Laboda and Tsitela summits (4317m) you see Tsikhvarga (4140m) in front of you and the third and most beautiful summit in front of you is Burjula (4364m) – in Ossetian its called Karaugomi. You are already at 2300-2400m and you see all glaciers coming down from summits which look and are very close from you.
There are roads going up to highest point – road turns east towards Glola – and from the viewpoint you can see (but not as near) Buba (4419), Chanchakhi (4462) and even Mamisoni meteo station. With farsight (which is not as beautiful) you see Geze (4009) – the summit in Ghebi with beautiful glaciers of Zopkhito and Edena and also Svaneti summits.
Jeeptour to Notsara is more than suggested. However you should make sure you have reliable car and experienced driver with jeep + working breaks as the way down it is not as easy as going up. Another suggested activity is horseriding – you can get horses from Ghebi village. Also in winter skitours are done here organized by Sergii Potapenko. If you hike and dont have arranged jeep from Tbilisi/Kutaisi you can get a taxi to Chiora village (or market bus on Thursdays).
How to get to Oni you can see at the last section of this article. Beware that there is no mobile connection at the ridge viewpoint of the greatest panorama, no good spring, However you can find some water sources or hike to glaciers, also valley is abundant in various beautiful flowers and vampire flies.
Notsara can be the main part in Racha trekking routes as it connects 2 main hiking areas of mountainous Racha.
Suggested Trekking tour in Notsara can be:
Day 1-2: (after night in Oni/Ambrolauri) take a taxi early morning to Shovi and start trekking circular route to Udziro lake (camping), descending to village Glola the On day 2; (possible your stay in Shovi by 1-2 days hiking to Buba glacier or doing circular Buba-Tbilisa glaciers trek 2 days.
Day 3-4: Trek from Glola via Notsara to Chiora/Ghebi; Night in Ghebi.
Just remember that You may need border permit for some areas like Tbilisa glacier and border permit can be done in Oni.
In Case You Have More Days
You can do 1 day hike to Lagora huts  or extend it into 2 days (crossing pass to Khideshlebi village only with help of locals as its hard hike. then you will end up exploring the whole area.
Alternatively you can do another dayhike in Zopkhito gorge.
From Ghebi visit Gona and do glacier hike.
Continue to Svaneti (zeskho) from the upper Rioni Valley above Ghebi for extra 3 days and from Zeskho-car to Ushguli-Shared jeep to Mestia-Flight to Tbilisi.
Trekking in mountinous Racha can be moderate to hard level. While easy hikes and treking options are available on the ridge between Racha and Imereti. However, doing just Chiora-Notsara and Lagora hikes can be quite easy, and starting from Ghebi side you can simplify trekking by hiring jeep to Notsara and then starting trekking already from 2400s should be easy too and then Udziro lake's 1 day of hard trekking will remain only as a little challenge.
for GPS Track for Notsara Jeep ride please see:
For the gps tracks for trekking please see main map file, hope you can easily find Chiora, Ghebi and Glola.

Facebook Comments