Kvareli
Kvareli, located in Kakheti region 130km from Tbilisi and 40km from Telavi,  is a small city off on the forested slopes of the Greater Caucasus Mountains.
Things to do in Kvareli
Kvareli is charming town – place which to my mind, can perfectly describe Caucasus and all what tourists like about Georgia: Gremi and Nekresi churches on the mountain slopes with nice forests, fresoces and amazing views, wineries including Khareba winery which is one of the big and spectacular, 2 artificial lakes at the edge of mountains and surrounded by forests with of the best hotels located in Georgian countryside.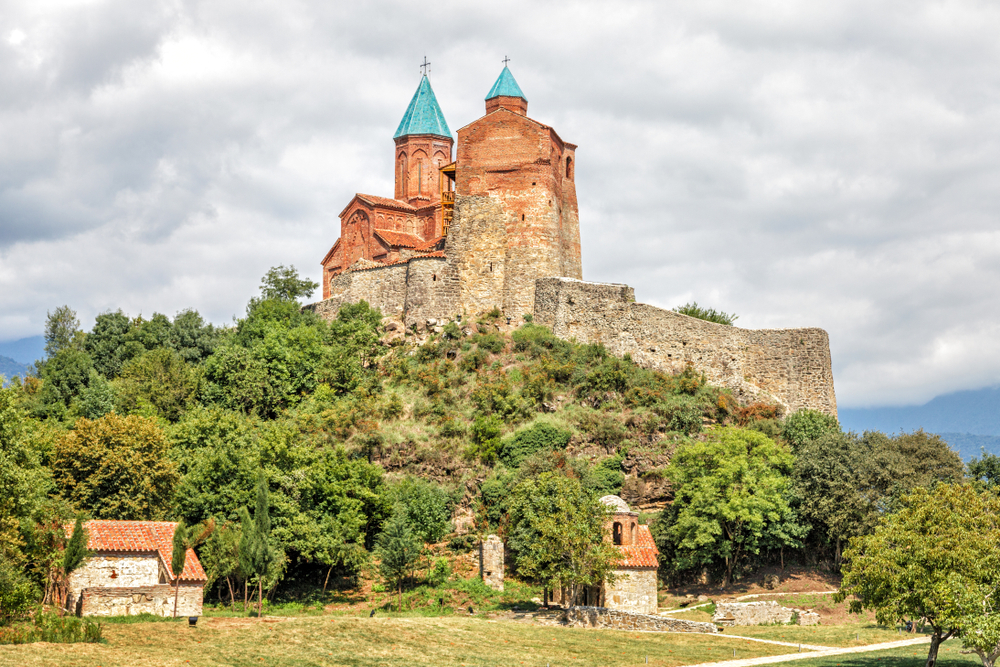 Gremi Church
Gremi Church an be visited on the way from Telavi to Kvareli (20km). The fortress with church, built in the 16th century by King Levan and a tower standing on the small hill near the central road looks magnificent any time of the day and any season. It is included in the Unesco tentative list. There is recreational zone at the church with some souvenir shops and camping places.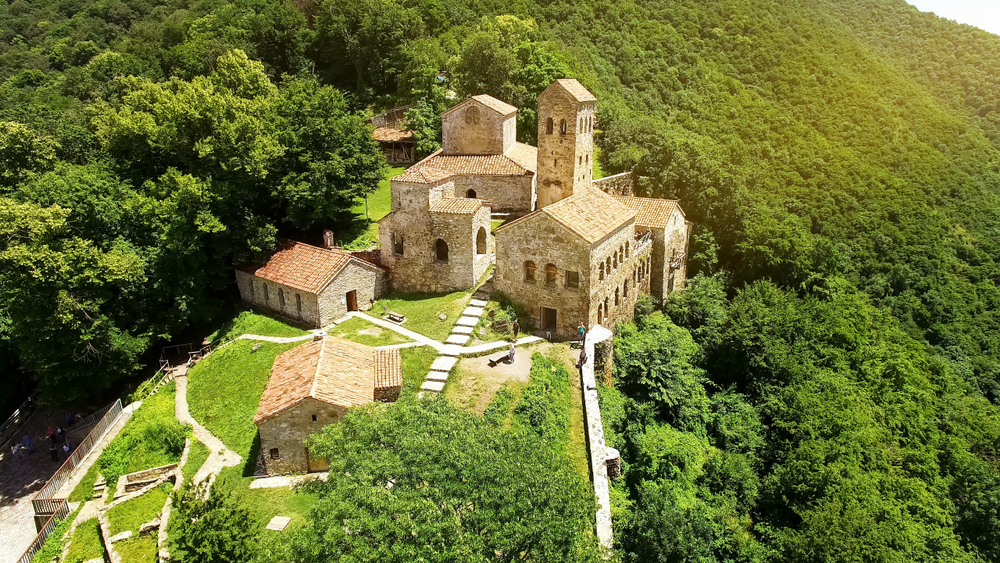 Nekresi Monastery
After Gremi church you can drive 10 minutes to Nekresi Monastery which is also impressive but its more famous for its views over Alazani valley and the autumn colors of the forest on the hill where it is located. Last 1.5km you need to take local marshutka (mini-bus) to the Monastery's very steep ascent.
Marshutka operates till 5pm. Like Alaverdi, Davit-Gareji, Ikalto and other churches Nekresi is also founded by 13 Syrian fathers in the 6th century who came to Georgia to strengthen Christianity. There is wine cellar and tower in Nekresi. Across the church in the valley there are ruins of Fire-worshiping (Zoroastrian) temple.
Khareba Winery – Wine Tunnel in Kvareli
"Winery Khareba" wine cellar is next recommended sightseeing of Kvareli. There is some section of Gvirabi (The tunnel) used for wine tours. The tunnel which was opened in 1962 for the World Wine Congress, has total 7.7km lengths. In the beginning, it belonged to the government and wine from the entire Kakheti region was stored here.  Nowadays, it is the "Winery Khareba"cellar, used to age wine.
There are wine and Chacha (Georgian vodka) making facilities as well as Tone (Georgian bakery) represented here. You can do some wine tasting too and take part in some traditional and enjoyable activities. There is a restaurant also serving guests with a view to waterfall, tower and some other recreational facilities of the tourist complex. Information about tourist packages can be found here.
Khareba's wine can be the best among wine produced by big companies. Especially semi sweet wine Kindzmarauli is the best in its segment. Other wines unless its cheaper tunnel series are good as well.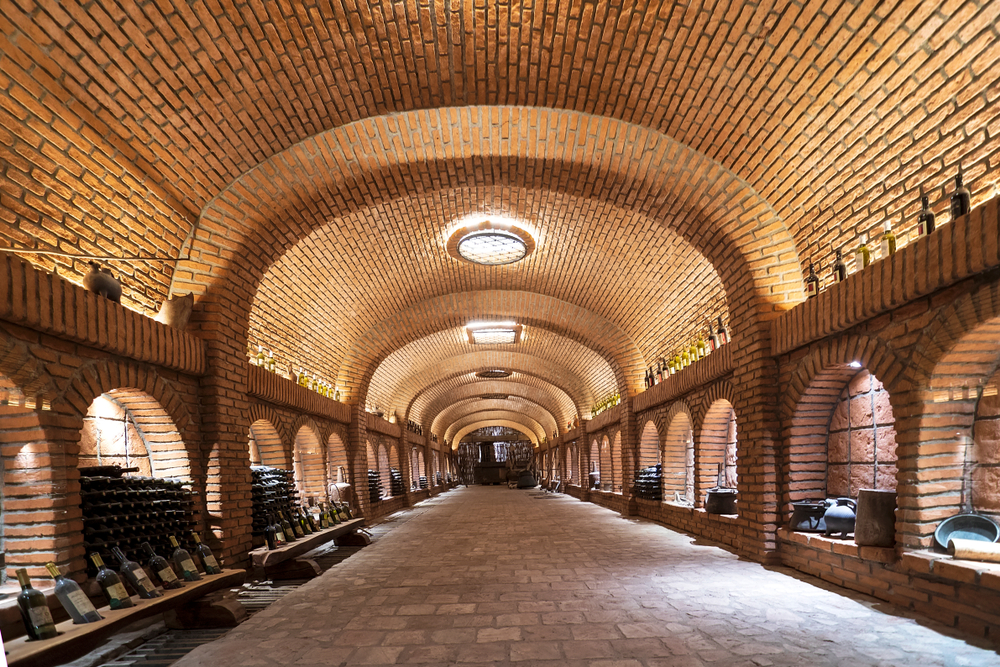 Other cellars in Kvareli
There is another cellar in Kvareli. Kindzmarauli Corporation is also a big factory, very traditional and large producer. Tour to the factory is very interesting and inexpensive. Wines can be better at some authentic and smaller producers but this factory is still worth a visit. Kidzmarauli wine (red semi-sweet wine) which the factory is named after is very famous wine. It used to be Stalin's favorite wine just like Khvanchkara. Kvareli is in Kindzmarauli Microzone.
Where to stay in Kvareli
There are some nice hotels in Kvareli.  In 2006-2010 it used to be the best area for cheataus. However, now it is overshadowed by nearby Telavi district. One of them- Royal Batoni, which is built in a style of medieval castle,  located on the hill and has outdoor terrace and swimming pool overlooking publicly open Ilia Lake recreational park and Alazani valley, is currently closed just like Kvareli Eden.
Kvareli Lake resort which is still open has a wonderful location- by the lake, surrounded by forest is located near another lake which only belongs to the hotel with huge recreational area. However, you will find some nice cheataus nearby, Cheatau Kvareli, Gremi hall, Nekresi estate, Shaloshvili cellar hotel. Besides in village Shilda you will find Chubini wine cellar and Nona's guesthouse which are really nice. Those places can be visited for lunch or dinner as well just like wine yard no1.  Wine tasting is possible in various wineries nearby and small cheataus. Participation in wine harvesting in Kakheti is possible during in (mid) September.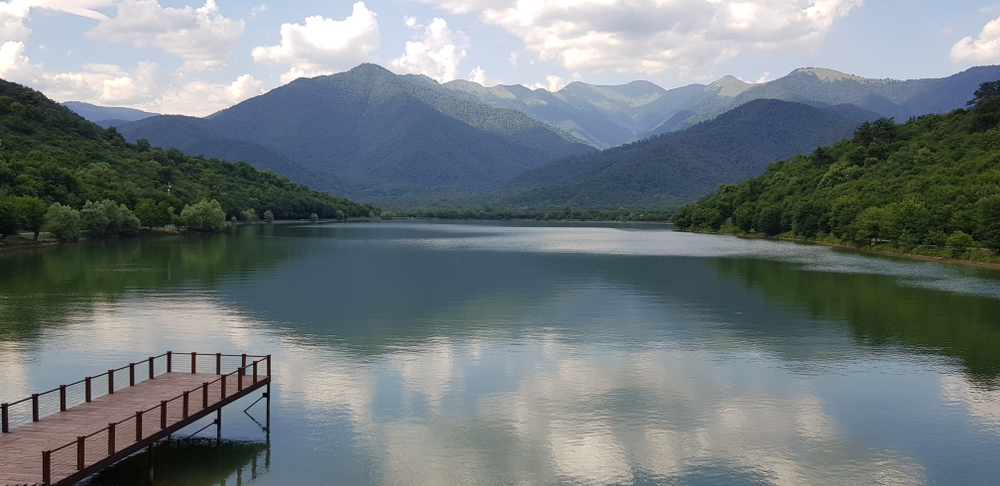 Kvareli – Ethnographical Town
Kvareli is also interesting ethnographically. Georgians from Kakheti (Kakhetians) are very generous, nice and hospitable people. You can visit some rural areas too to experience traditional life, food and something not touristic. You can contact me if you want this kind of trip. There are also ethnic minorities living in Kvareli. Zinobiani village is famous for Ancient Albanian people, Udi Tribe will Chantliskure village has lezgin (Daghestani) population.
For the map please see:
Facebook Comments