Lagodekhi National Park
National park of Lagodekhi is located in north-east edge of Kakheti region on Southern slopes of Caucasus mountains bordering Azerbaijan and Dagestan (RF).  Protected in 1912, under the Russian Empire, it is the first nature preserve in Georgia.  Located at an altitudes ranging from 590 to 3500m, its area extends to 24,451 hectares.
Lagodekhi is a treasure for nature lovers: preserved forests, glacial lakes, waterfalls, deep valleys and access to a wide variety of Kakheti's wildlife. Nearly every corner of the park reveals new stunning imagery. Hiking trails are plentiful as are a number of guesthouses that put your right in the middle of Kakheti beauty.
Currently the national park offers 5 trails: Grouse waterfall, Ninoskhevi waterfall, Machi castle, Black Rock Lake and knowledge of nature trail. Out of 5, the most popular hikes are one we are going to talk about (2/3 day hike to Black Rock Lake) and the second is to Ninoskhevi waterfall from village Gurgeniani which makes one day nice trip in summer, just 8.5km few hours hike to 40m long beautiful waterfall. Find more about Gurgeniani and Rocho Waterfalls in my post:
Gurgeniani & Rocho Waterfalls – Great Waterfalls of Lagodekhi National Park
How to get to Lagodekhi: 
You can drive 170km (2.5hr) or take marshutka (mini bus) from Isani station (near Isani metro); You can take a shared taxi from Isani metro station (price between 10 and 20 gel per person). You need to arrive at visitors centre and main entrance of the National Park by car (agree with a driver in advance about this, also about your way back).
You need to check in at the visitor's center. There you can become familiar with the specifics of Lagodekhi protected areas, existing tariffs, safety rules and to choose desirable route from existing tourist trails with appropriate services. Also you need to pay fees if you are renting camping gear/horse, also to pay overnight stay fee. Please see the fees here. You can also visit National park museum and learn some interesting facts about national reserve.
Lagodekhi National Park Hiking Trip Information: 
This is one of the most interesting trails in all of Georgia and is distinguished by its astounding views of the Alazani valley and the Caucasus mountains. The route starts from the visitors centre. You will first follow the plain path through beautiful forest till you start ascent. The route is well-marked so don't worry about getting lost somewhere.
The path is quite good technically and safe. But be prepared for endless ascent of around 1.5km elevation difference the first day till tourist shelter Meteo.Make sure you carry some water to meteo station which has its spring nearby. You can stay in tourist shelter which accommodates up to 16 people or camp outside.
The second day you need to start walking in the alpine valley. Be prepared for breathtaking views. Soon you will come across specially designated spots from where you can observe animals: deer, chamois and wild goat; as well as birds such as grouse, Caucasian snowcocks, bearded and various eagles.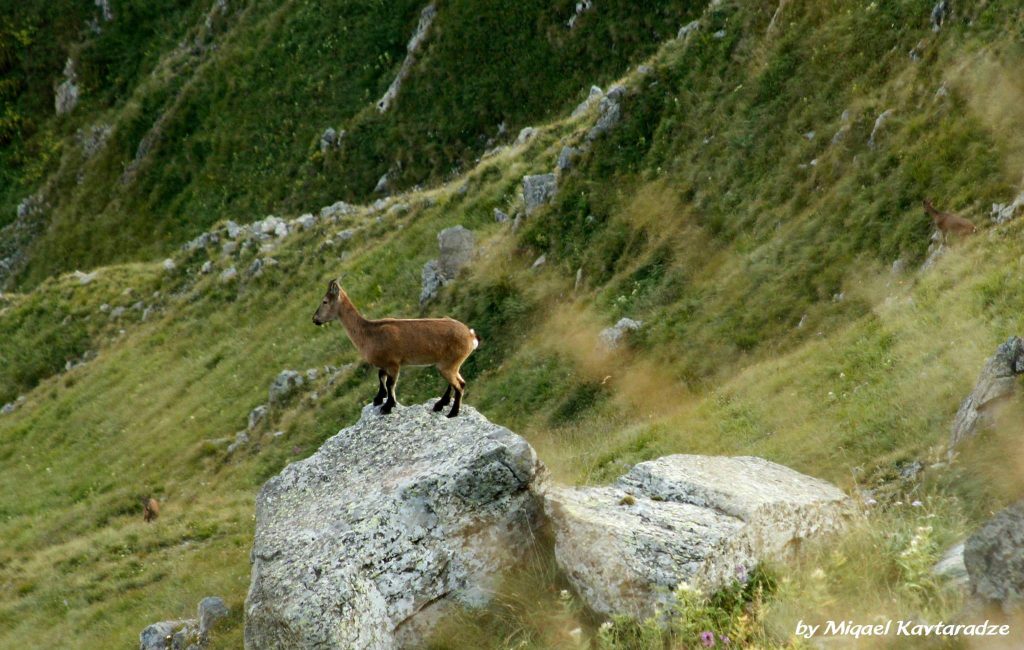 After few hours hike you can reach the borderguards post. They are pleasant and nice people- you need to have your ID so they can register you as visitors. There is a new tourist shelter (called Demidov shelter)  built recently in the area so you can stay instead of Meteo station in the area near the border post and the lake and then you descend to Lagodekhi the third day starting from early morning. But if you prefer you can go down to Meteo station the second day to gain half day and make the trip for the last day less tiring.
After border post you can walk about 30 minutes and Black Rock Lake spreads in front of us. Located on the height of 2780m it serves  a natural border between Georgia and Daghestan, the Russian Federation. It is very beautiful especially in sunny days. Especially if it is June or September months it will be reach in colors. It is still possible to hike in any period from the end of May till the first half of October. Depending on the time of the day it may turn blue or beautiful rocks around it might be reflected in the lake. There are some other small alpine lakes nearby also but currently it is not permitted to visit. But what waits you for the third day was not very pleasant for me – more than 2km vertical descent to the national park administration building. It will not take more than 6 hours, but your legs may hurt.
For the map please see:
Facebook Comments