Martvili is located in Samegrelo region of Western Georgia, 280km from Tbilisi. On its highest hill there is a Monastery. The site upon the hill where the monastery stands today was used in ancient times as a pagan cultural center and was a sacred site. There once stood an ancient and enormous oak tree that was worshipped as an idol of fertility and prosperity. Infants were once sacrificed here as well. After the conversion of the native population to Christianity, the ancient tree was cut down so as not to worship it anymore. A church was originally constructed in the late 7th century upon the roots of the old oak tree and was named in honor of Saint Andrew who preached Christianity and converted the pagans across the Samegrelo region. The main Martvili-Chkondidi Cathedral (Mingrelian: Chkoni translates to "oak") was reconstructed in the 10th century after invasions that destroyed the prior church. Preserved in the church are frescoes of the 14th to 17th centuries.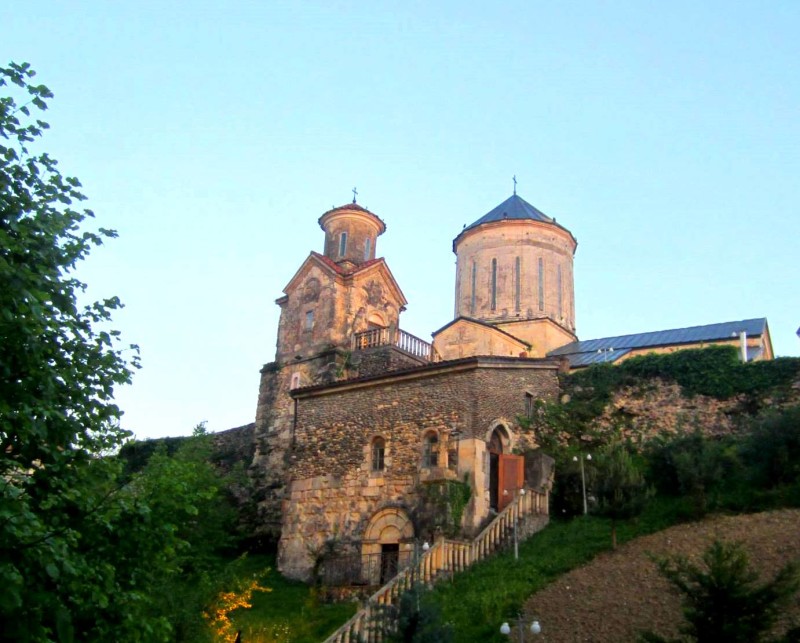 Martvili canyons used to be a bath place for Dadiani family. Now people visit it to enjoy the scenery, its waterfalls and take a boat trip in the river with deep green color. New visitors Centre was built in Martvili in summer, 2016 and updated prices and conditions are as follows:
-Entrance fees and boat ride fees please see on the link.  There are walking routes in the canyon (around 300-500m) and boat trip including stoppage time lasts around 15-20 minutes. Walking routes are must and not less impressive than boat trip.
-Balda canyon nearby in village Balda may cost 2 gel entrance (its not state owned and there is no boat ride). There is Kaghu waterfall accessible by any car in village Balda, perfect place for relaxation swimming, barbecue and no entrance fee. You can contact me to organize a tour if you wish.
-Work hours: from 10 am to 6pm  For more info: (+995) 579 80 28 42 ;
Salkino used to be Dadiani summer residence and rest place. It offers wonderful atmosphere with its beautiful alley.
Please see the map here:

From Martvili you can do great dayhike to Oniore waterfall. Besides you can do real trekking to Askhi massif, mt Migaria massif, also resort lebarde and its alpine lakes.
You can see some gps tracks on wikiloc.
Facebook Comments