Stalin Museum in Gori
If you are interested in the history, life of one of the most famous Georgians, one of the main authors of great purges and red terror, the leader of Soviet Union who made the country a superpower after WW2 win, you have an option to visit Stalin's museum in his birthplace Gori.
There you can learn some information about Stalin, his life, see his office, his personal items including his pipe, cigars, telephone, ect the house where he was born in, railway cabin and more. Besides Stalini museum you can visit Uplistsikhe Cave City in Gori, so it is worth visiting if you are really interested.  (for exact entrance times and cost please see the museum website: Stalin's museum Opening hours are: 10am-6pm Apr-Oct, 10am-5pm Nov-Mar; To get to Stalin's Museum: take mini bus from Didube metro or shared taxi )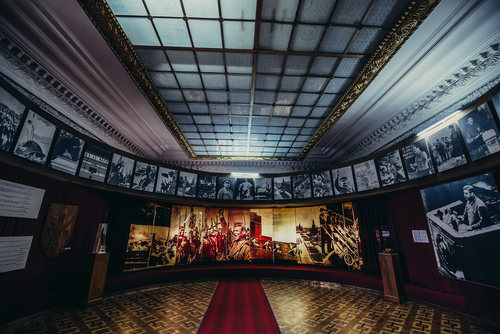 Stalin Museum in Akhalsopeli
Our posts focus is not Stalin's museums in Gori, but less famous museums dedicated to him. 35km east from Tbilisi in village Akhalsopeli,  its resident Temur Kunelauri has a private museum of Stalin. In his own home, as well as in his green and beautiful garden, Kunelauri has placed a lot of portraits, at least 12 busts and monuments of Stalin. He has also created a 'mausoleum' with a statue of Stalin in the tomb, strewn with red carnations and a wreath on his head.
Even soviet Jeep Niva is decorated with Stalin's head. To enjoy the place even more, I suggest you try to pretend you admire Stalin and meet Temur with respect as a soviet comrade like in the old times, avoid speaking about deportations and negative facts about this tyrant and instead try to quote Soviet newspaper – Pravda's some propagandist staff: such as enemies of Proletariat, corrupt capitalism and eventual victory of communism.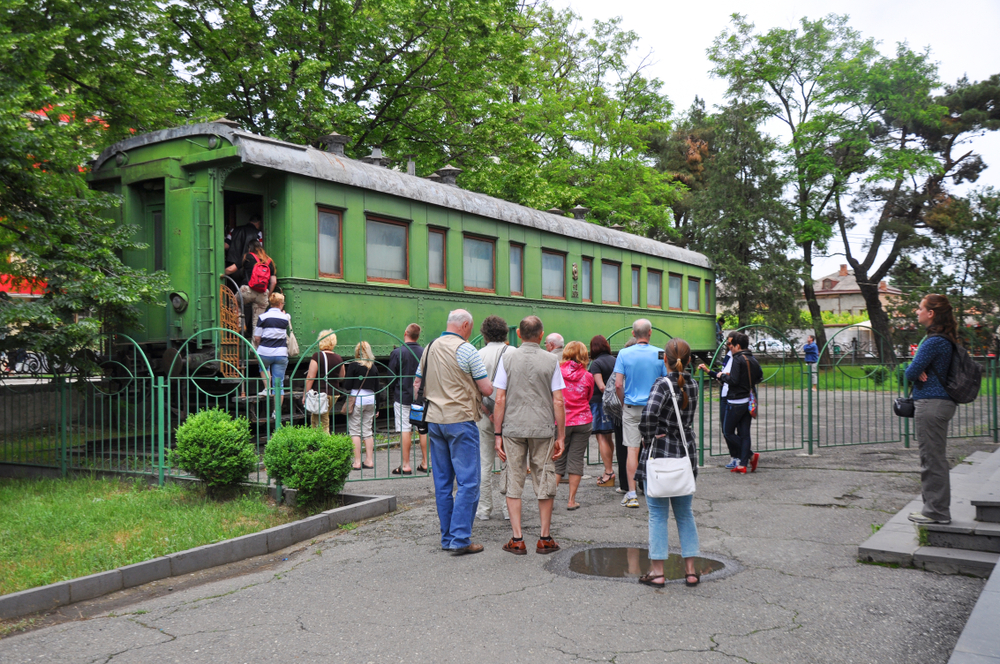 Even in Tbilisi there is Stalin museum
Illegal Typography museum of Stalin in Avlabari. It is all about illegal printing house which was set up by Joseph Stalin in 194-1905 in order to compile, publish and disseminate illegal literature and spread revolutionary messages. The newspapers and proclamations produced in that printing house were published in Russian, Georgian, Azeri and Armenian languages;
The revolutionaries used to get down to the printing house by means of two burrows – 17-meter-wide and 15-meter-deep tunnels through which they reached the room via the entry located at the height of 8 meters. It is worthy to mention that design and construction of the premises was done by non-professonals – members of proletarian committee. It functioned till its discovery in 1906 by Intelligence services.
The guide and guard of the museum, comrade Soso got very interested whether I was member of proletariat or one of the bourgeois  and showed us recent editions of newspaper ,,communist". Meeting old people who still live in the past is interesting way to get the touch of the history. But if you want to get the better idea of great purges and how it affected Georgia, you should visit Museum of Soviet occupation museum in Tbilisi, near liberty square and Rustaveli cinema in the building of National history museum. For more information about opening hours please visit the webpage.
For the map please see:
Facebook Comments