Uplistsikhe
Uplistsikhe, literally 'Fortress of God', is an ancient rock-hewn town which played a significant role in Georgian history over a period of approximately 3,000 years.  Archaeological excavations have revealed extraordinary artifacts dating from the late Bronze Age all the way up to the late Middle Ages.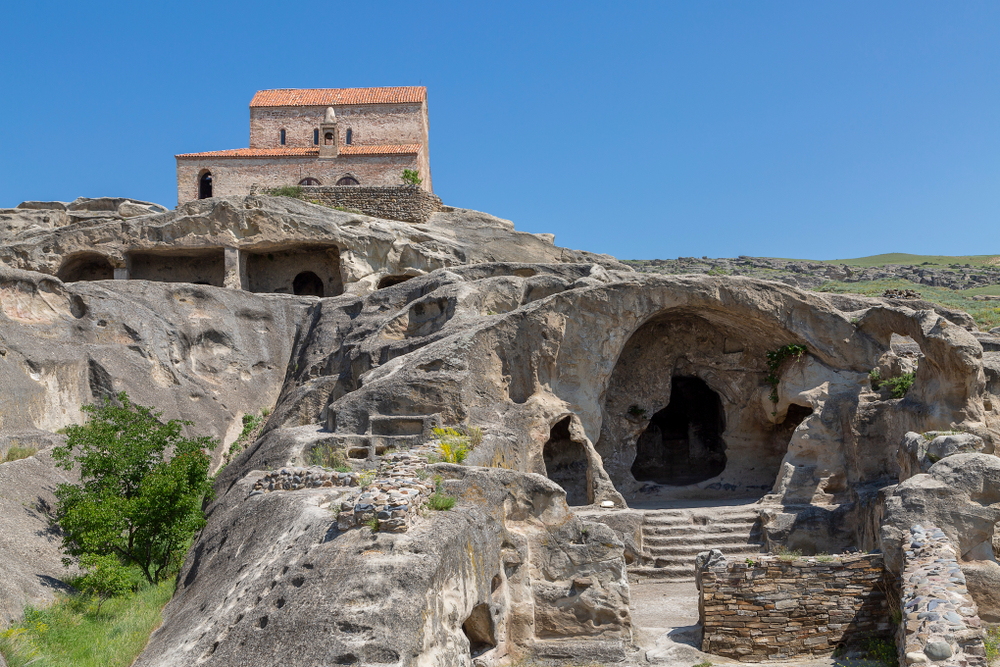 Accoring to Unesco, Uplistsikhe Cave Town-Fortress is situated on a rocky massif in 15 km eastwards to town Gori on the left bank of the river Mtkvari. The fortress is mentioned in chronicles from earliest times. Its history begins in the I-II millennium B.C. Uplistsikhe was an important religious, political and cultural centre in the Hellenistic and the late Antique periods (IV c. B.C. – IV c. A.D.).  The town was in its heyday as far back as the 9th – 11th centuries. In 13th century, it was ravaged by Mongols.
How to get to Uplistsikhe
It it possible to do a one day trip to Gori and Uplistsikhe from the Georgian capital – Tbilisi. you can drive 75km to Kvakhvreli village or take a marshrutka (mini van) or taxi  to Gori. Buses leave from Didube metro station in Tbilisi. From Gori, you can eaither make a biketrip or take a taxi to Uplistsikhe (around 10 km – return trip with the driver waiting while you are visiting  or you could just use some application taxi service).  1.5 hour should be enough to visit the site. If you want, there are guides near the entrance (most probably they will speak English) who will explain the history of the place.
You can also visit Kvakhvreli cave church in the village near Uplistsikhe with Armenian Khachkars on the wall: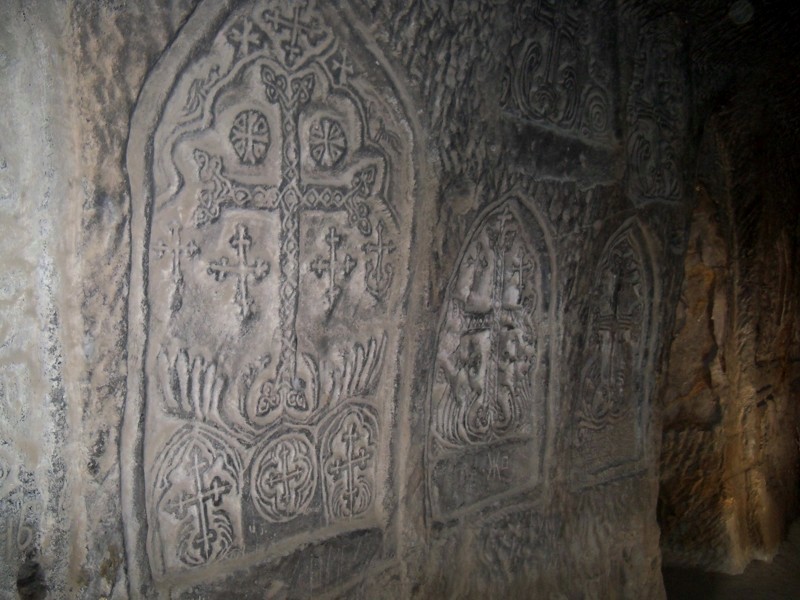 Places to visit near Gori
In Gori you can also visit Ateni church and Tana gorge and most notably the museum of Joseph Stalin. There are some nice restaurants near Gori. There is one near Uplistsikhe cafe-bar gamardjoba. Nacharmagevi restaurant is also very famous near Gori. You could explore nearby fish farms for some good fish and food including fish house and Rancho Variani. You could also take a trip to visit Nikozi village near Tskhinvali town (South Ossetia).
Staying in Guesthouse Nitsa is highly recommended. My suggestion is to hike from Uplistsikhe (Going up the ridge) Towards Nadarbazevi lake to enjoy unusual landscapes of the area in winter – in summer it may be too hot to hike there.
Facebook Comments