Truso Valley
Truso Valley, source of Tegri (Terek) River is quite mystical and spectacular , worth hitchhiking+hiking if you happen to be in Kazbegi for more than a day.
Truso valley is known for its mineral water springs, white/yellow travertines, mineral lake with bubbles, towers of middle ages, -most notably Zakagori castle, villages on a very high altitude such as Resi (2350m), tasty cheese and Ossetian Khabidzginas (khachapuri with cheese and potatoes) and nice people.
Unfortunately, conflict between Ossetians and Georgians and border closure by Russian government (Locals had winter pastures in the lowlands of northern Ossetia) made this gorge abandoned.
Truso Valley Hiking Routes
Easy to hike/bike, if you want to reach abandoned tower villages of Zakagori, Ketrisi and Abano but experienced hikers can find it extremely interesting and unique experience to visit Alpine Lakes of Keli pleatau – Kelitsadi Lake (3100m or smaller one at the altitude of 3300m) or alpine lake on the other slope in Mna gorge (3300m).
You can also get a border permit to travel beyond Zakagori fortress. There are abandoned beautiful villages which are worth visiting especially in October when its yellow and water levels are lower as you will have to cross the river. There you can visit empty villages near the border: Karatkau ,Tsotsolta, Bumargisi – which are very beautiful and worth visiting.
Best Time to Visit Truso Valley
The best time to visit is from May to November for the valley which is very beautiful in spring bloom and yellow/white in late autumn. Sunny weather with a blue sky and Mt. Kazbeg and ,,Mna Fang" – (rock with a a particular shape is called მნის ეშვი -Mna fang – among Georgian hikers) could be seen is the best time to visit Truso.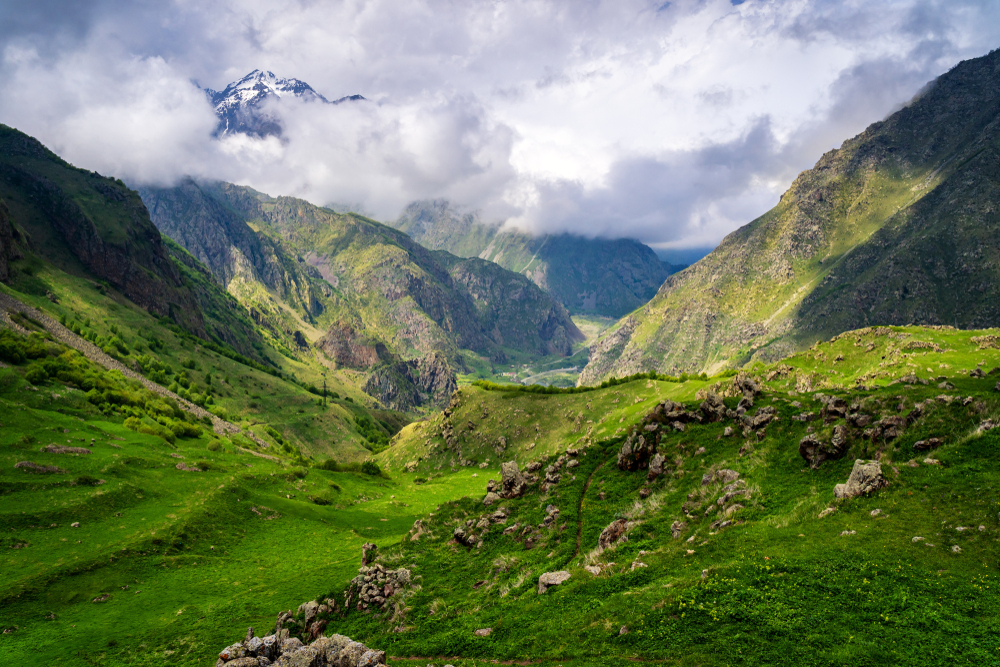 How to Get to Truso Valley
To reach Truso either you take a jeep from Kazbegi or hitchike/take a taxi (Marshutka from Tbilisi) to Kobi village on the central highway – it is just 17km. From there you will have a long and enjoyable journey in the gorge.
Disclaimer: Both treks are difficult so be fully prepared and request some information from border post and locals about current conditions of snow/etc
Mna Gorge Lake
Mna Gorge Lake is on the other side of Tergi river, in the valley of Mna which flows down from the glaciers of Mt. Kazbeg. I have not personally visited that lake but I am planning to, only my friends did and as I know there is no path leading to that lake but it is very spectacular! Coordinates :  42.633794° 44.501112°;
You can further go up to Sherkhota vulcano (3570m) from the lake. On the way to the lake you can visit waterfalls of Mna valley. For the waterfalls and to reach Bethlehem Hut (Meteo station) from Mna valley you can download the gps tracks provided by Geoland. But you should be specially prepared for the last one as there is a glacier to cross on the way to meteo station.
Photo Credits go to photographer Giorgi Chubinidze and Green Zebra Hiking Club.
For the map of Truso Valley please see:
Facebook Comments