Atskuri Village
Easily accessible and one of the most interesting non-touristic villages with many sights to explore. It used to be one of the main towns of Southern Georgia in the middle ages. So if you are looking for an unusual vacation, staying in a village and wondering around it for a few days or just a day trip from Tbilisi (appr. 180km 2.5hr) or in Borjomi (28km 30 min drive), then you can explore Atskuri, feel the history of this authentic village, meet locals, try locally produced healthy food and enjoy its unspoiled environment.
According to the legend, when selecting countries to convert to Christianity Virgin Mary got Georgia. She was unable to leave for Georgia, so she crafted the icon with her face and gave it to Apostle Andrew. The icon finally ended up in Atskuri. Many miracles and stories are connected to the famous Virgin Mary Icon of Atskuri (now in National Museum) and locals will gladly tell you about them if you ask. There is 13th century cathedral of  Virgin Mary (original church was built in 10th-11th century). It was in ruins till 2016. Then they started restoration so Atskuri village will have one of the cathedrals in Georgia.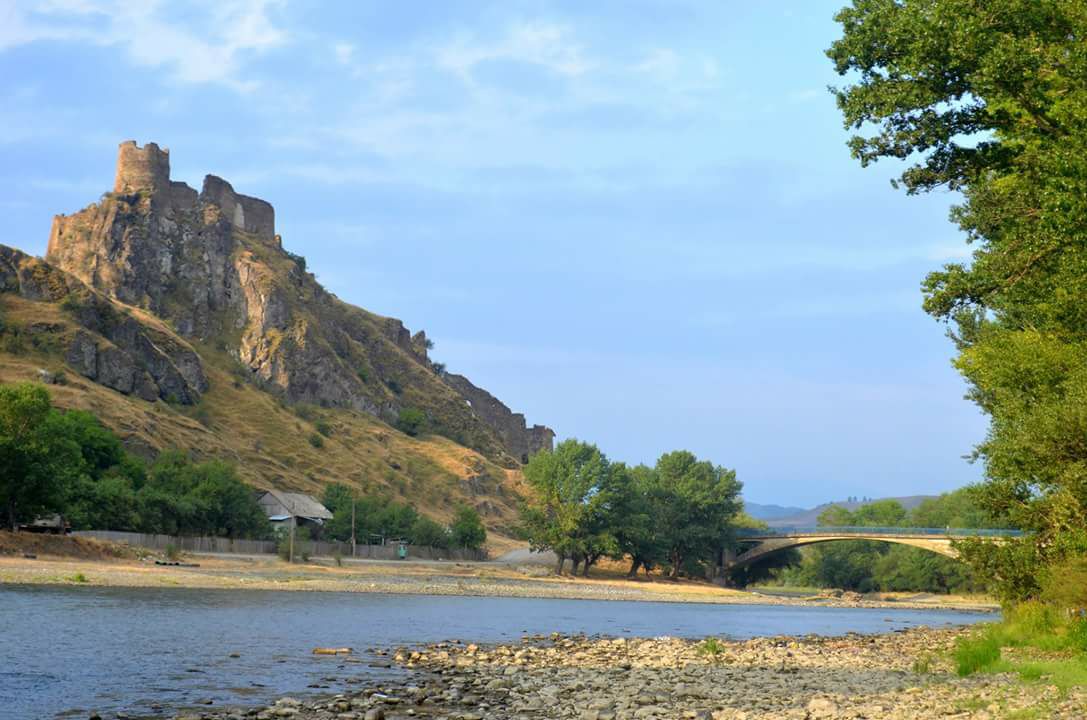 2 Good Reasons to Stay/Visit Atskuri
You can stay at Nick and George guesthouse. Wonderful people, example of Georgian hospitality, greeting tourists with love. They also have horses and possible to ride horses from their ranch to the Borjomi-Kharagauli National Park. Besides, famous Bioproducts producer Barbale is based in this village and you can try their Churchkhela, honey, homemade fruit jams, cornbread and cheese, buy Georgian spices and other specialties, drink wine at their almost century-old fireplace and even take part in agricultural activities.
Historically Atskuri was the center of this part of Georgia – town in historical Samtskhe region which literary means 3 fortresses – one of which is spectacular Atskuri fortress in the village itself – you can see it from Borjomi-Akhaltsikhe road. X century fortress is on the cliff accessible by tunnel and has views over village and the river.
From the same period in the village there are ruins of Virgin Temple which was seat of Atskuri bishop and Virgin Mary icon was kept there. Inside village you will cross century old bridge (from 1903 -1905) still functioning and safe. Besides, the town used to have 2 synagogues destroyed by Ottomans, but now as a symbol of history, only Jewish cemetery remains.
Tsriokhi Fortress
The second fortress which can be reached from Atskuri by short hike or horse ride is Tsriokhi (Sakanape) fortress. Some people call it even Queen Tamar fortress. I think its one of Must see places in Atskuri. Queen Tamar's bridges and fortresses are so many in Georgia that you can guess her popularity among Georgians and their love towards her (she might have had construction business 😀 ). The third fortress is Slesa at the gates of Atskuri from Borjomi controlling deep gorge of Mtkvari (Kura) river.
Bieti Church
On the left side of Atskuri you can visit Bieti 14th century church ruins which has wonderful frescoes. In the same area you can visit Tsinubani hot water spa. Its non-touristic area and I would prefer to swim in Borjomi hot waters rather than here but possible to visit. You can continue further deep in the gorge to visit waterfall. It is impressive especially in spring season when water levels are high. Recommended to have a guide.
Tiseli village
On the right side of the river you can reach Tiseli village which is quite exotic, at a higher altitude, pine forests, village almost in the middle of nowhere, has old church and Fortress. If you are an experienced trekker from there you can hike to Georgia's one of the highest (altitude) fortresses Chitikibe (bird's ladder) which very few people could have visited (best way from Oshora village). On the way to Tiseli you can visit Ugareti st.George which like most of the historical monuments in Atskuri lies in ruins.
Panoramic trial of Borjomi-Kharagauli NP
The last and most important reason to visit Atskuri especially for trekkers is one of the best routes of Borjomi-Kharagauli National Park. As some tourists who go to the national park complain that its more about beautiful forests rather than views, panoramic trial offers beautiful views. Even a rock to take an extreme selfie below. This circular trial (34km 2 days) starts and ends in Atskuri. You can sleep in the beautiful location – Amarati shelter with not just romantic name but also location. For this you will need 6-7 hr of hike in national park forested ascents. You can get all camping gear in Borjomi.
On the way you can visit bezoar goat cage, also you can try cheese of local shephards. If you have 3 days you can make it to the highest point of Borjomi-Kharagauli NP -Sametskhvario peak (2642), its alpine valleys and views to the Caucasus mountain range. If you have even more time you can descend to Marelisi village in Kharagauli following St.Andrew route (According to the legend, the apostle of Christ who brough Virgin Mary icon to Atskuri have erected the cross on the slopes of Trialeti range).
I want to thank Maiko Lukhumaidze (Blogger) for great photos. You can see her blogpost on panoramic trial here, only in Georgian.
Thanks for the cover photo to Zaza Gogoladze Toreli. For the map please see:
Facebook Comments