Abastumani
If you are visiting Akhaltsikhe or passing it on the way to mountionous Adjara you can visit Adigeni district. Adigeni is most famous for Abastumani resort. Abastumani resort which is half an hour drive from Akhaltsikhe or several hours jeep ride from Sairme near Kutaisi (1300m from sea level) was another favorite of Russian Emperor's family (Romanovs) together with Borjomi.
Abastumani is not well developed, however with Pine forests, perfect climate, Observatory, sulfur baths its a place to visit especially if you are doing a jeeptour crossing to Sairme in Imereti. But my favorite place in the district is Golden fortress and favorite hike to Jaji lake from Dertseli settlement.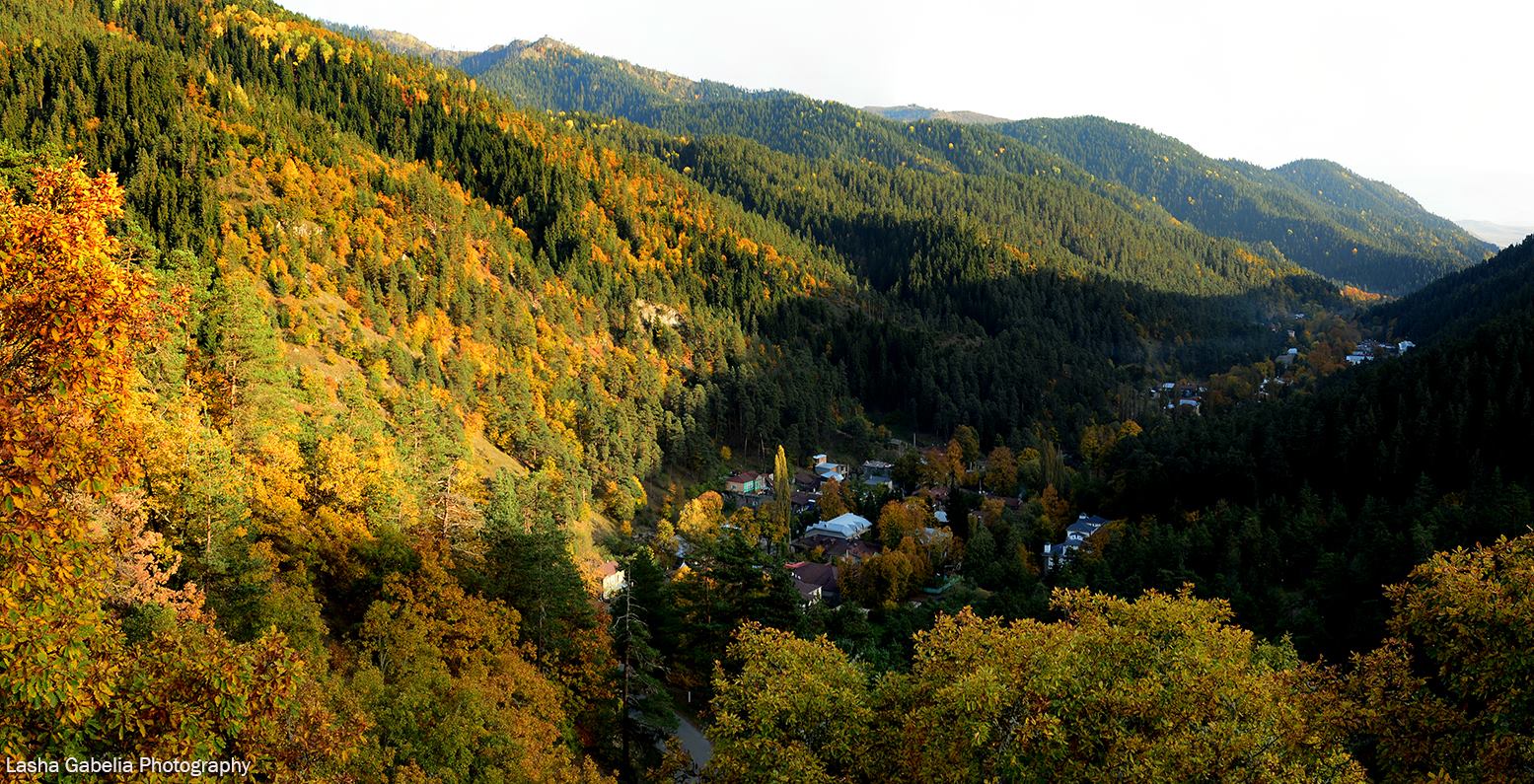 At the end of 19th century Giorgi, brother of Russian Emperor Nikoloz was healing here from tuberculosis in a wooden palace built for him here in Abastumani Resort. You can visit that palace which is abandoned now, fire in 2008 affected it.One of the main sites of the resort, the observatory is located 5km from Abastumani.
Founded in 1930s, it was selected as the best location in the area as the sky is clear here during 200 nights out of 365. A number of world-class discoveries were made in the Abastumani Observatory, such as: two comets, several minor planets, 6 new, one recurring new and 8 supernova, 17 planetary nebulae,  3 collection of planets, lots of emission stars (among them 2 Wolf-Rays type stars). You can visit the observatory at night and take an excursion which costs up to 20 gel, observe sky and watch the stars. For the Detailed prices and admission times please see the link.
Zarzma Cathedral
Alexander Nevel Church (New Zarzma church) was also built by the order of prince which was buit as a the prototype of the Zarzma Church. Zarzma Cathedral itself is on the way to Goderdzi pass – should not be skiped if you are driving nearby even if you have seen already Georgian churches. Its one of the largest domed churches of Georgia with richly decorated exterior and well preserved frescoes. Besides, you can see the bones of monks who had served here inside the church.
Golden Fortress
My favorite place to visit in Adigeni is still Golden fortress  (ოქროს ციხე). Its one of the largest fortresses of Georgia, located on the huge cliffs. In the end of 16th century it was one of the main citadels of the defense of Samtskhe region against Ottoman Turks. It can be reached from Kvemo Enteli village. The road is asphalted till turn to the last village Shoka (შოყა). The fortress is easier accessible from the left side. Allow several hours (half day) to visit the fortress. It can be best under autumn sun during sunset when sunshine makes it look yellow (golden).
14th centry Chule church is worth visiting as well. Also, its not the next ordinary Georgian church. The monastery is in very beautiful surrounding cliffs and forests, especially beautiful in spring/autumn season. And it has small waterfall behind it.
ITriala Lakes
Triala Lakes for hiking or camping purposes. The lakes are in pine forests.Nothing special but depending on the season and on the purpose you should enjoy it. On the way you should take a look at Ijareti medieval church ruins. Ude and Arali summer pastures and hidden churches could be a destination if you happen to stay in any of these villages.
There is one more sight in Adigeni – Goderdzi Petrified Flora which I cant be expert off. Its near Goderdzi pass – ,,Remnants of under-Tertiary period plants (palm, magnolia, laurel, birch, hornbeam, beech-likes and other) are represented here in the form of petrified and half-petrified trees and traces of leaves".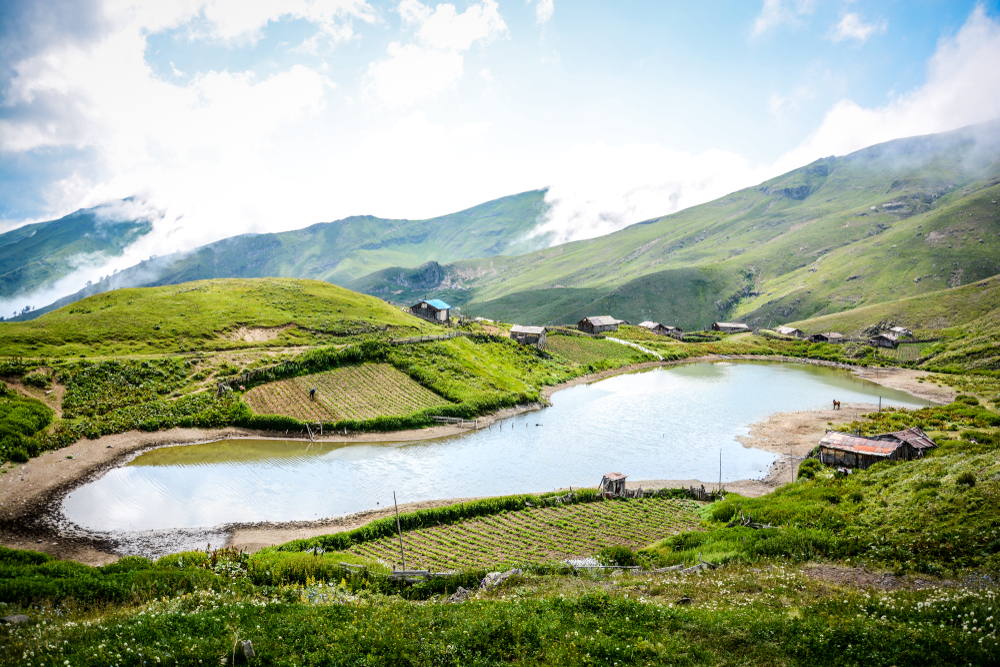 Jaji Lake Trek
The last thing I wanted to mention is hiking trials, the one I mentioned above is to Jaji lake trek and possibly you can continue to mt.Mepistskaro 2850 m (highest summit of Meskheti range) if you want to see the best panoramas and summer yaylas. You can hike from Abastumani Observatory area and descend to the village Dertseli from the lakes, but easier would be to take a jeep/truck to Dertseli and hike up the lakes camp there and then go back the same way. For more info please see georgiantravelguide's article.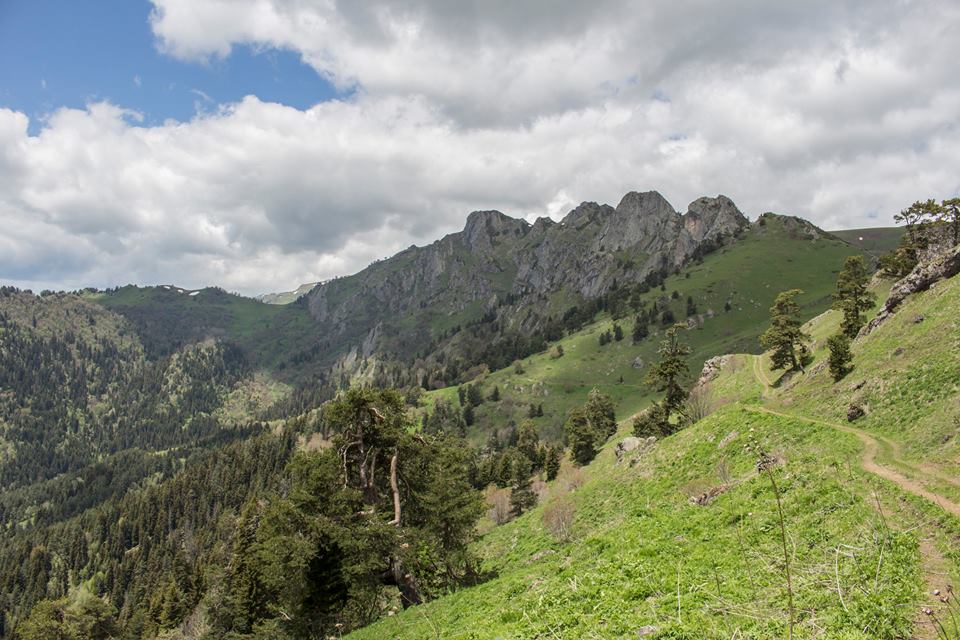 Zekari Overpass Trial Hike
The other hike is in Borjomi-Kharagauli National Park area. Its called Zekari overpass trial. It starts from Abastumani. Please note that its not the same as jeep road from Abastumani to Sairme. Didmaghala tourist shelter (4hr hike) where you will sleep is a special place, more special are the huts of shepherds where they will greet you with hospitality. This is not the most crowded/popular trials of the NP so better to take gps/guide and get water in the beginning of the trial as you may not get till the cottage. For more info please see the page.
For the map please see:
Facebook Comments