Things to do in Batumi
Batumi is the city which I really enjoy visiting with so nice walking area, long boulevard, new glass and fashionable and old 19th century buildings and elegant squares which will make you feel in Europe, green parks – nice relaxation areas with lakes, fountains, availability of all range of services if you have some money to spend, starting from restaurants and hotels ending with numerous casinos and nightclubs, aquapark, diving club and yacht club.
1) Enjoy a walk, ride a bike or just relax in the Batumi Boulevard
Laid out in 1884 it's now stretching 6km along the coast. On the way see some of the most notable sights of Batumi, such as Ali and Nino Monument – metal structure of man and women who meet and love each other beautifully lit at night. Ali and Nino were Azeri-Georgian couple from Kurban Said's famous novel. Then you will find large Ferris Wheel and the 145m-high Alphabet Tower – monument to Georgian old and unique script.
Passing past many cafes and attractions you can watch many new towers on your left, new Radisson and Sheraton hotels and Georgia's tallest building, the 200m-high Batumi Tower. Also you will find nice viewpoints to the sea, spots to take photos, old boulevard with many fountains, etc. Most importantly, its the place for relaxation, to watch people, take a walk, run in the morning, bring your dog, watch the sunset of black sea, watch the mountains, rent a bike, play with kids, etc.
2) Visit Europe Square
Batumi has not only new buildings, its best buildings are 19th century buildings, from the period when the city was free port on the Caspian oil route to Europe and was flourishing thanks to investments from the likes of Nobels and Rothschilds.
On Europe Square you can taste delicious European dishes and buildings with distinctive architecture. Renovated old buildings and new ones in old style surround the square where you can find castle with astronomical clock and Medea monument in the middle. Medea is a first world-known Georgian woman from Argonauts myth who took Golden fleece to antique Greece from oil-rich Georgian state of Colchis.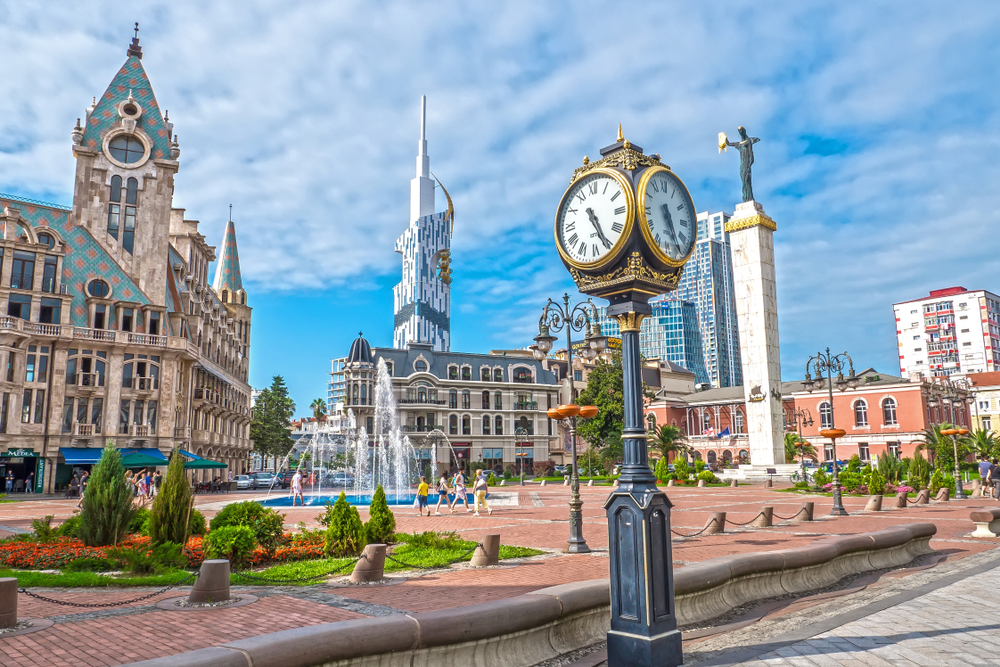 3) Explore Art nouveau Architecture of Batumi and Feel yourself in Europe at Piazza Square
You can wander the streets of Batumi and discover the beautiful buildings, distinctive architecture and picturesque destinations. You will find newly renovated and pre-century buildings that magically merge with each other.
If you follow the narrow streets you will find yourself in the heart of Europe, in the middle of Italy, it's nice place with fancy restaurants, live music and  the ,,bell" which rings (plays music ) every hour after 3 pm.
A distinctive example of typical Batumi architecture is the Apollo Cinema. It is still active today and you can watch movies running in cinemas around the world.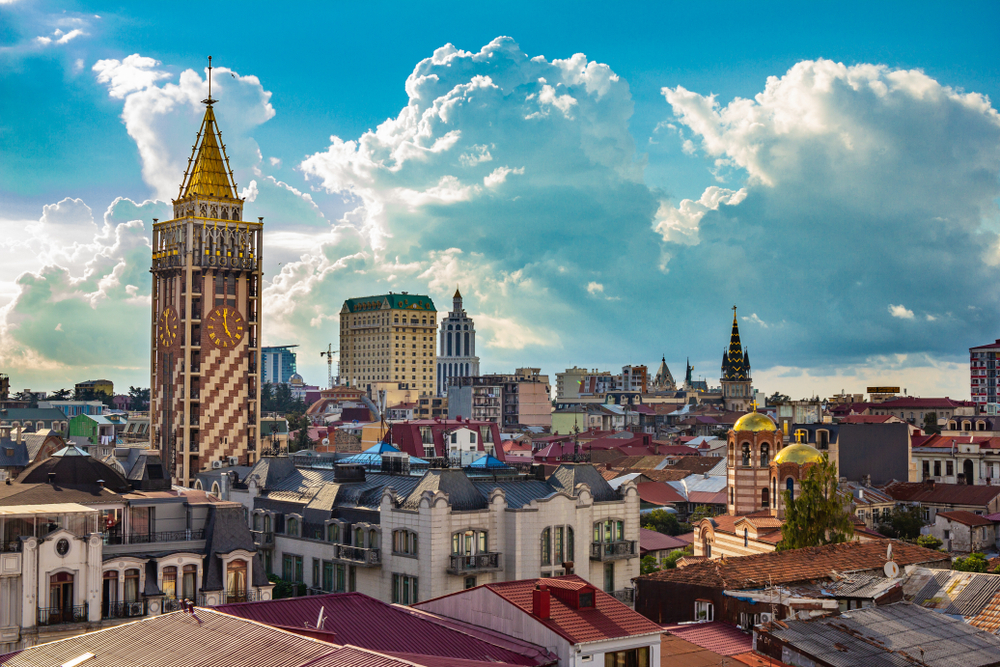 4) Play with dolphins, enjoy the recreation space of 2 lakes at/near 6 May Park
You can find here lots of attractions – zoological corner, a dolphinarium, and an aquarium. The beautiful Nurigeli Lake is located in the middle of the park and offers an exciting place for relaxation. The dolphinarium is one of the most popular attractions in Georgia.
It offers exciting show – Lovely and clever dolphins are doing so nice and cute things: dancing and singing, kissing and hugging. Excellent Master of ceremony conducting the show in three languages: Georgian, Russian and English. If you approach the dolphinarium building from the lake side, there is a great chance to see the seal, which will look at you curiously from the top of the building.
Beyond 6 May park there is one more lake – artificial one, with dancing fountains, restaurants and views to new part and towers of Batumi.
You can view Justice house and new McDonald's which won building of the year nomination in 2013. You can view more information about it on Business Insider.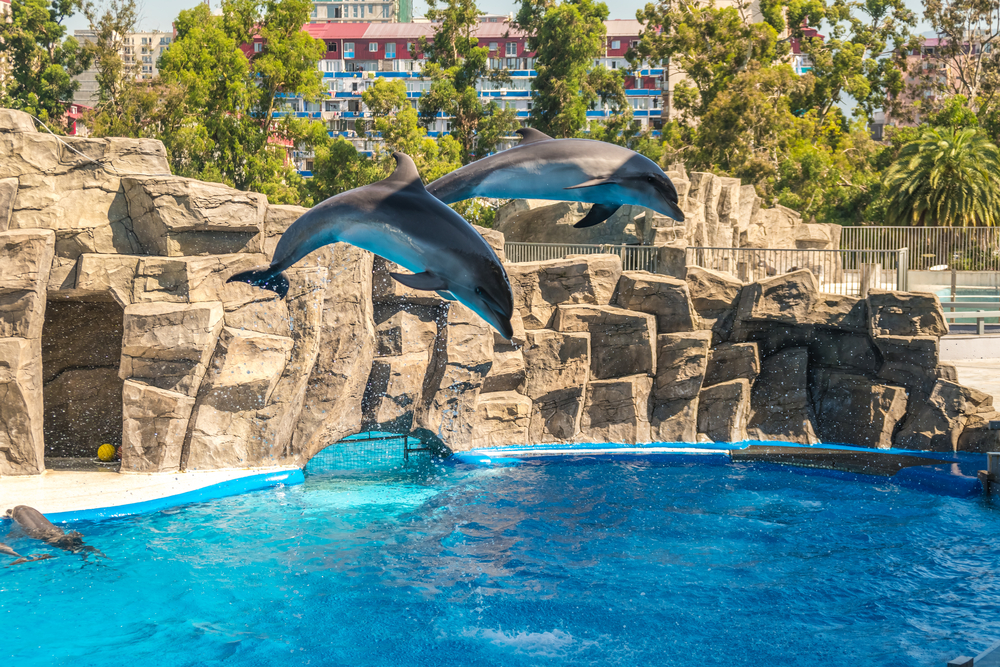 5) Discover Street Art of Batumi
While walking in the streets of Batumi, you will definitely notice the modern street painting. The size of the works can be found from small walls to large buildings. You can find girl taking selfie in the water, man on the horse,  mermaid and other amazing artworks.
One of the most outstanding works is the painting of the fat and lovely dog "Kupata" raised by the locals, which proudly looks at the tourists and expresses the symbol of warmth and care of the people of Batumi.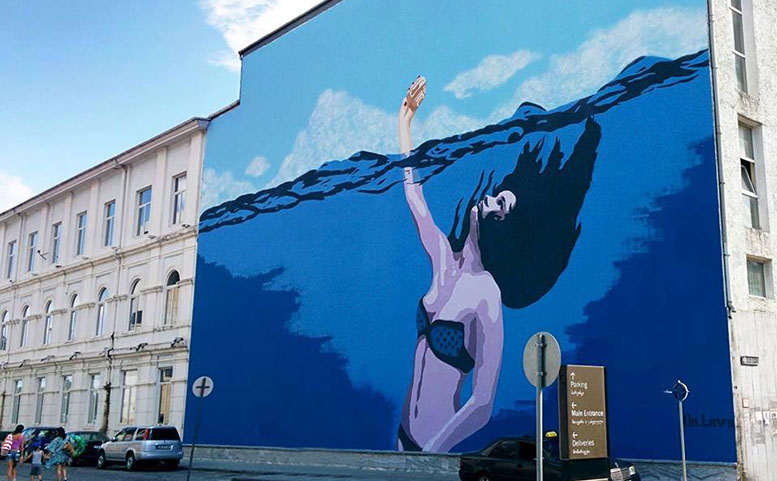 6) Find Soviet Mosaics in Batumi
You will feel a slow wind of the Soviet Union while walking in Batumi. The main reason for this will be the eye-catching mosaics around the entire city. Here you will meet mosaics of the mighty Neptune as well as the huge octopus that with its body formed the roof of the Café Fantasy during the soviet time. You are advised not to pass the octopus from a distance, because if you approach it you will see tiny beautiful mosaics.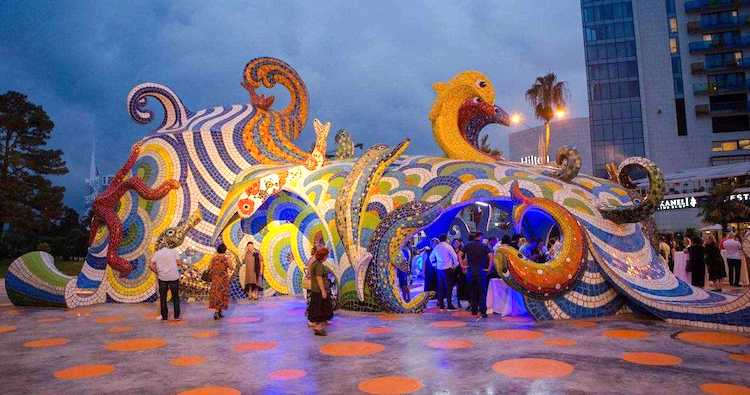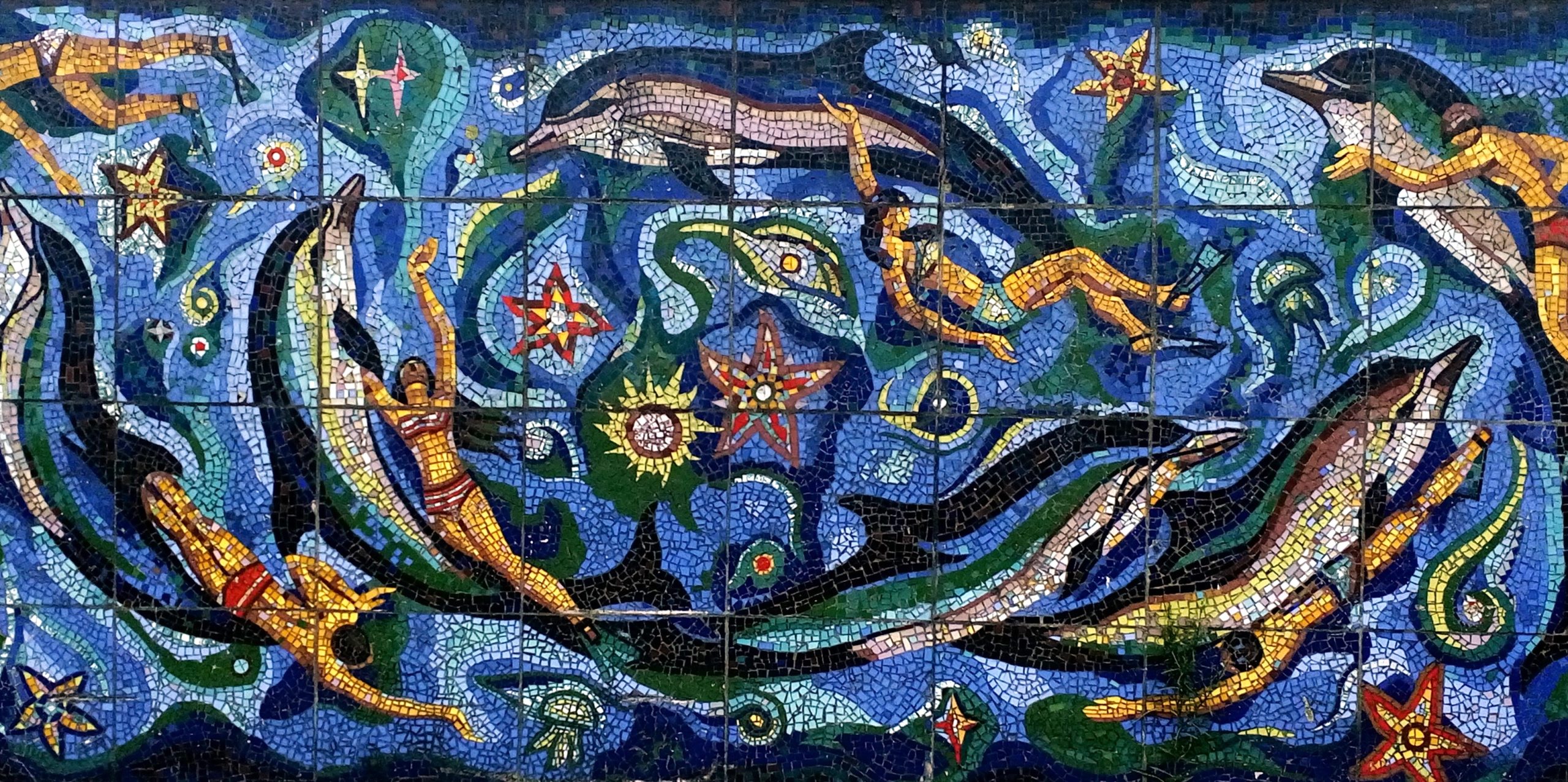 7) Visit Batumi fish market to eat fish and Batumi Port for a boat trip & more
You can take a walk, or motor boat trip, visit a restaurant with a sea view, also you can visit Batumi Technological museum of Nobel brothers to learn about the city's development in the 19th century and oil pipeline.
The most important advice is to get sea bass fish and other fishes in Batumi fish market between port and railway station and eat (if you take what you bought in the near restaurant with a sea view for example blue wave they will fry for you) in the restaurants nearby! It could easily be my meal each week if not every day!
8) Visit Botanical Garden of Batumi and Enjoy the Nature anytime of the Year
Batumi can be enjoyed in every season, so even when you can not swim in the sea or sunbath on the beach Batumi will not let you get bored. You can see snowed Batumi which is impressive – the paradise for photographers or view Caucasus summits and visit beautiful flower gardens in springtime. Early Spring is very beautiful in Batumi even if you cannot swim in the sea. In the days of good visibility you can observe Caucasus mountain range from the boulevard, even Elbrus summit might appear at times.
Near Radisson hotel Sakura trees were planted so in a few years we will have a nice Sakura garden worth visiting in the season of bloom. Ilia Chavchavadze's (Georgia's one of the founding fathers) monument stands nearby. Nice place to take photos. Batumi is also quite beautiful in winter after fresh snow.
The most beautiful spot anytime of the year is Botanical Garden of Batumi. I put more details in my other post which you can read for more info.
9) Wander in the streets and bars of Old Batumi
Don't Limit yourself with the boulevard. Batumi is not very big city. There are many areas with 19th century styled houses and nice restaurants. One of those is Kutaisi Street – where you may feel yourself in Turkish Black sea (karadeniz) part.
There is an old Mosque, Turkish restaurants (lokantasi), bars, stores, night clubs, casinos as well as Munich and HB bars for German beer. However, Restaurant Bern is my choice from non-Georgian restaurants of Batumi.
10) Enjoy Panoramas to Batumi
Argo cable car leads you to some nice panoramas. You can also take taxi to Sameba Monastery on the top of the hill overlooking the city, but to my mind, Batumi skyline is better seen from Makhinjauri seaside than from the top, but it can be still nice experience. You could also visit some other sites near Batumi such as Mtirala National Park.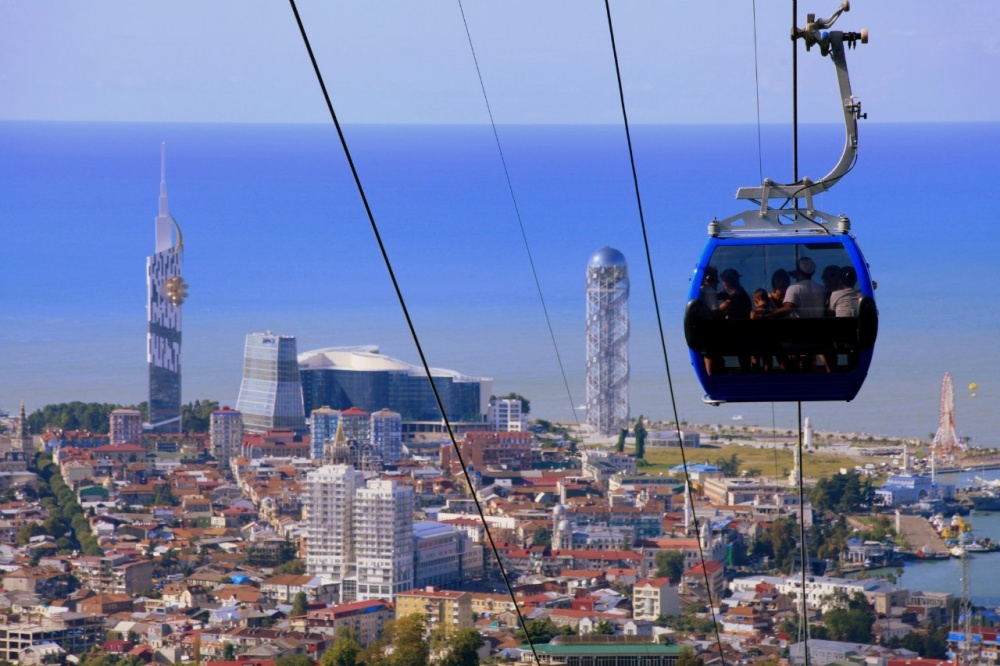 11) Try Adjarian Cousine
You can taste Adjarian Khachapuri and some other Adjarian dishes. The most popular local dishes are: borano (cheese melted in butter), chirbuli (breakfast with eggs and walnut) and sinori (a dish with cottage curds and dough plates – my favorite). Varieties of local sweet pastry are also famous, especially baklava and shakarlama (sugar pastry).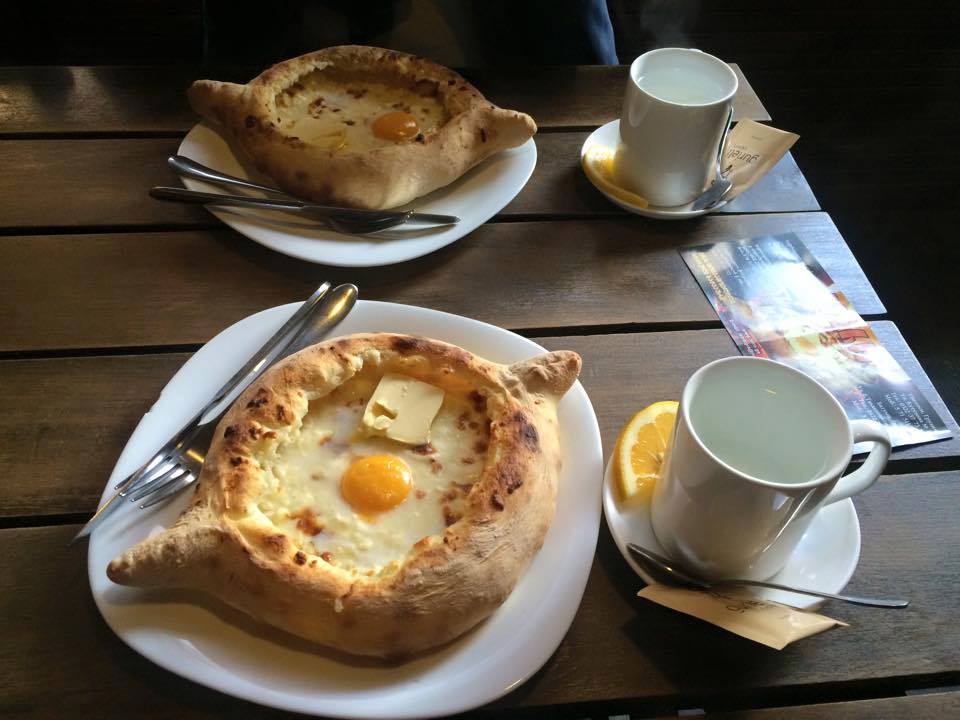 12) Watch the Magnificent Sunset in Batumi

 12+) Get out from Batumi and explore Adjara 
This post is not about other sites near Batumi. However, you can always enjoy to visit:
How to get to Batumi
Getting to Batumi by public transport is very easy. The easiest, most comfortable and cheapest way is to travel by Batumi double-decker train, which offers tickets of different classes according to your budget.
If you want to visit Batumi by car, you can rent a private taxi, public minivan or minibus from the big stations of Tbilisi (Didube-Okriba Station, Station Square, etc).
Direct flights to Batumi Airport are possible from Tbilisi Airport.
For the sightseeing map of Batumi please see:
Facebook Comments