Kazbegi
Kazbegi  (officially known as Stepatsminda) is one of the most popular destinations for tourists famous. Iconic Mt Mt.Kazbek (5.047m) peak -3rd highest mountain in Georgia is worth the trip from Tbilisi and short walk to Gergeti Trinity church (1.5-2 hours 1 way) is top on to-do list if you come to Georgia – to feel the country, see it from the top, from its symbolic viewpoint and feel the tranquility, the magic of the Caucasus mountains, gorgeous panorama, best in any season.
Things to do in Kazbegi
To feel it the best thing is to walk to the trinity church but if you are not able to, you could take taxi. The best way to reach the church is  the path through cemetery in Gergeti (village across the bridge over River Terek). Even if you have only 1 day, even if you are visiting other mountain regions such as Tusheti or Svaneti, it is still worth visiting Kazbegi in any time of the year when the road is open.
As there is marshutka (for 10 laris) or taxis (for 70-100 GEL per car) from Didube leaving at 8AM morning and the last back to Tbilisi around 5PM, you can still manage to walk to Gergeti and drink a beer in a restaurant near the main square, but it is more appropriate to stay for 2 days. There are many small hotels and inexpensive homestays in Kazbegi as well as hotels such as Rooms Kazbegi so it is possible to stay for 2 days. If you are heading for Meteo station you could stay at 3653m from the sea level.
Kazbegi offers some interesting options for both amateur and professional hikers also for hitchhiking/jeep trips and active leisure. Including Truso Gorge where you can take an easy, enjoyable walk through river valley of mineral springs and abandoned villages or you have an option for difficult and rewarding hikes – to visit the alpines lakes.
Juta Village
One more interesting spot in the valley would be to visit Juta village. Hike option across Chiukhi pass to Khevsureti I have already described in the article. But Juta is also a great destination if you are not planning to hike. You can ride horses, stay in the homestays or just camp in Juta and feel the beauty of the mountains with your heart – listen to the mountain rivers, take photos with a background of Mt.Chiukhi, arrange a party with your friends in 5th season mountain huts or Zeta camping  (2300m). I have even seen wedding parties there (also religious wedding in Gergeti Trinity or even in a cabin above Meteo station at 3930). What can be better than to be disconnected from the civilization in Caucasus mountains?
Sno Village
Near Juta, the village of Sno is located in Kazbegi municipality, at 1760 meters above sea level.  Sno is a small beautiful village with amazing views. In the village you can visit the residence of the Patriarch of Georgia.  There is a small church in the courtyard of the residence. In 2017, the Georgian Patriarchate opened a hotel in Sno, where you can spend time and enjoy the view – fresh air and beauty of the nature around will amaze you. Village Karkucha is Located near Sno, experienced hikers can trek from Karkucha to Gudamakari. The route is full of beautiful landscapes. You can also hike to Abandoned village of Artkhmo . The route starts from Akhaltsikhe village near village Sno.
With Sno you will find the Georgian analogue of the Easter Islands – Gigantic Sculptures by Merab Phiranishvili. As the artist says, the sculptures display "faces of the true patriots who saved Georgia."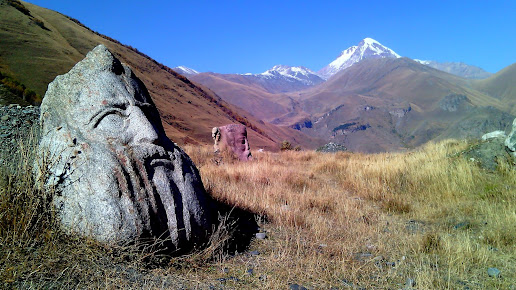 Elia Church
If you want to enjoy the view of Kazbegi, glacier and Gergeti trinity church you should visit Elia Church, which is located 3 km from Stepantsminda. Elia Monastery is located on Mount Elia, at 2000 m above sea level.  The complex includes two churches and is painted with icons. If you visit hotel Rooms restaurant from there you will see good view of the church.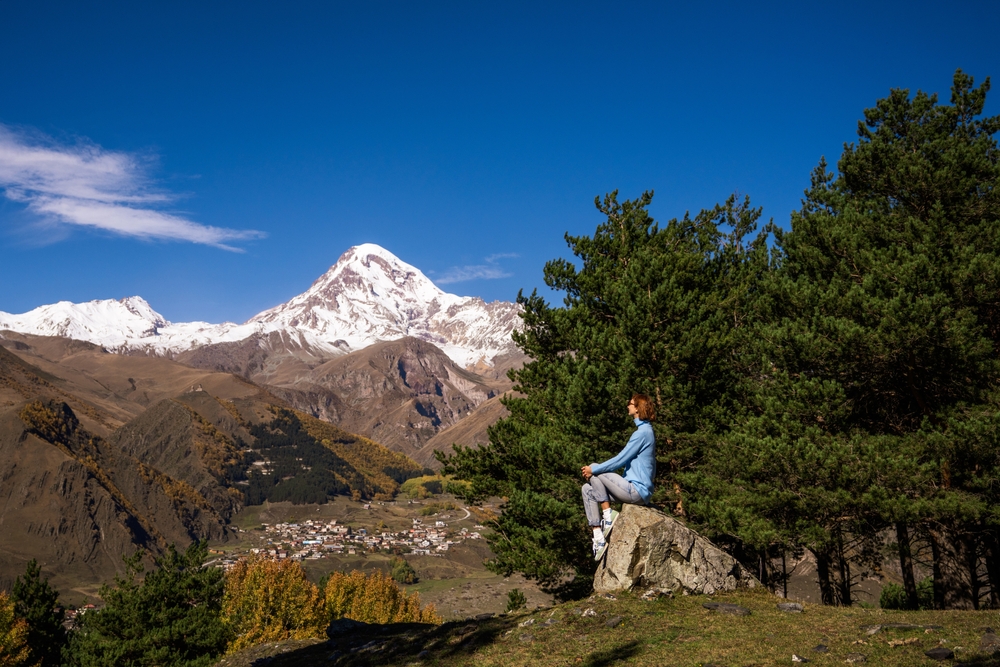 Arsha Waterfall and Village Toti
5 km from Stepantsminda the village of Arsha is located, which is popular for Arsha Waterfall. 2 km from the village if you walk you will suddenly see this waterfall where you can relax, cool down and take beautiful photos.  The village Toti is located near the village of Arsha. It is located at 1860 meters above sea level and is 8 kilometers away from Stepantsminda. Currently no one lives in Toti but if you visit the village the breathtaking mountains surrounding Toti will host you.
Pansheti Swimming Pool and Mineral Water Spring
On the way 2.5 km from Stepantsminda you will meet the sign "Pansheti", which will point you to a pool full of cooling and mineral water on hot summer days.
There are not many buildings and hotels around which make the environment calmer and more natural. You can take photos against the backdrop of the Kazbegi Mountains and spend time in the Pansheti mineral pool.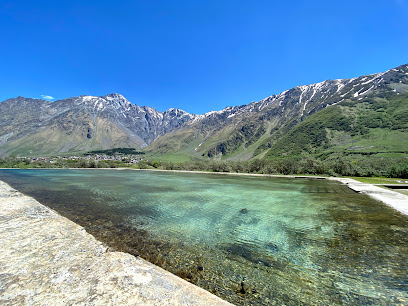 For more things to do in Kazbegi visit:
For the map of Kazbegi please see:
Facebook Comments