Shenako
Shenako is surely one of most beautiful villages of Tusheti. There are no towers but there are old beautiful houses with unique balconies, stony roofs, stunning views from balconies and church beautifully standing on the hill which changes color during each season – gradually turns from green to yellow and then white. Behind church there is Khati (Shrine) and again (not empty) spaces and pine forests. On one of the houses there is a banner with poem (hard to translate) – ,,who said Tush disappeared – who said that the shore of the sky shattered down".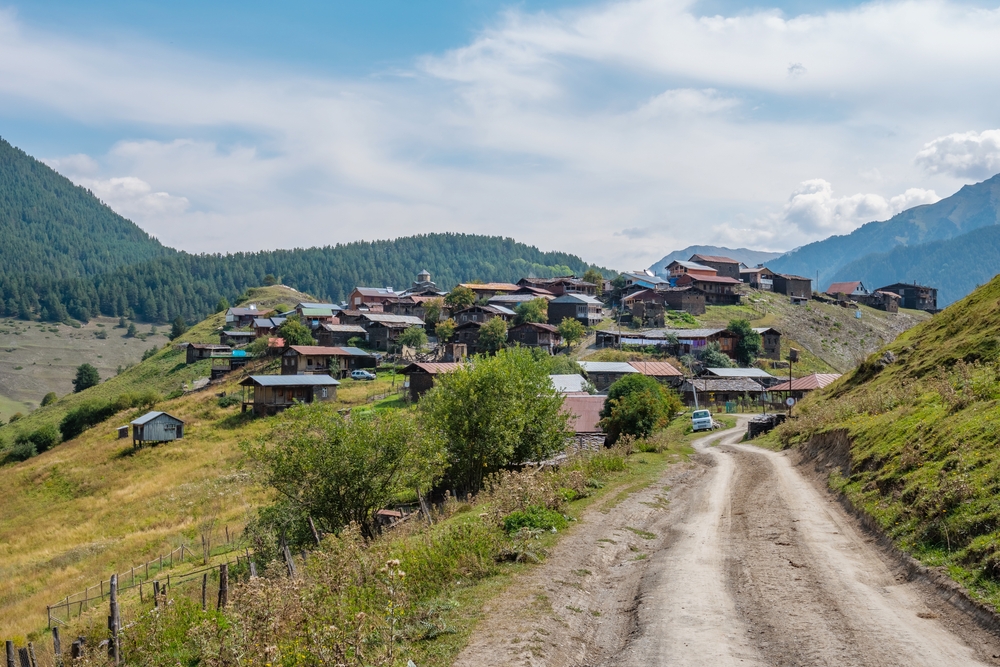 Diklo
The same dirt road you came to Shenako goes forward to Diklo. The area from Diklo to Omalo is pine forested and beautiful. But in rain and mud jeep may have a problem. Fresh air and cold nights even in summer, Diklo has view to Summit Diklosmta (4285). Its one of the coldest villages of Georgia.
Borderguards are there all seasons. And its a great place to take photos of the start, milky way photo shooting. There are guesthouses both in Shenako and Diklo. I think Shenako is a great place to stay but if you are trekking to Darto from there then better to sleep in Diklo. From Tbilisi arriving in Shenako and Diklo you can hike that evening to Diklo fortress. Continue the same direction (right) as you came, path will lead you to border guards which may ask for your id-s and let you see Dagestani villages from binocular.
Technically its still territory of Georgia, but those 2 villages are bothered by either Georgians or Russian government. From borderguards post you will go down a bit and there is a fortress worth visiting. Legend say that once  sixteen brave warriors were defending the fortress for 2 weeks against the Thousand of North Caucasians.
If you want harder hike, but beautiful landscapes, then You can hike to Chigho then Dartlo which is 1 hr from Chigho already car road which was built in 2017. Its 1-day hike 4-6 hours depends whether you carry luggage or not. Without horses which carry luggage the route may be difficult. It doesnt need significant elevation gains but path is not easily walkable and sometimes steep, however it follows river gorge from the height where you can enjoy the best views to river, to the surrounding mountains, you also visit tiny village Chigho which is very beautiful.
From Chigho you can walk on dirty road to Dartlo (my gps track doesnt show car road, instead it shows an old path) or get pickup from Dartlo by car if you feel tired. Actually I was not unhappy to hear road was built to Chigho – there were some scary sections (path washed away from floods) on the road especially if you are afraid of heights.

Path starts from village Diklo
You just need to ascend mountain above Diklo this time on your left. Its not that high and even though I did this hike in 2012 I remember that it was the easiest part of the route. Soon you will find Borderguards building where you can ask for directions. Going up the ridge there is sign to Chigho also you will find information banner about the route. You will also pass shepherds hut from where you follow path left.
Then you can follow the path down to the forest then you descend to river where there is a bridge. From that bridge you go up again continuing towards Chigho. Then you will meet crossroads, path going up right which goes to sacred place for the village. Here is turn to lasharis Jvari sacred place (2km) – You will continue straight/left and then you will see village on the mountain slope. There is a guesthouse in Chigho where you can stay but also you can hike on dirt road (1hr, 1hr 20min) to Omalo or get a car to Dartlo.
Only 1 family lives in Chigho while there was no road it looked so romantic, just like Dartlo, Parsma and Shenako. During Lasharis Jvari Holiday which like other holidays in  Tusheti falls in 100th day after Easter there is beer brewed, they will have meat of sacrificed animal, Tushetian cheese and bread. There are some traditions associated with this holiday so it could be hard to describe but interesting to attend.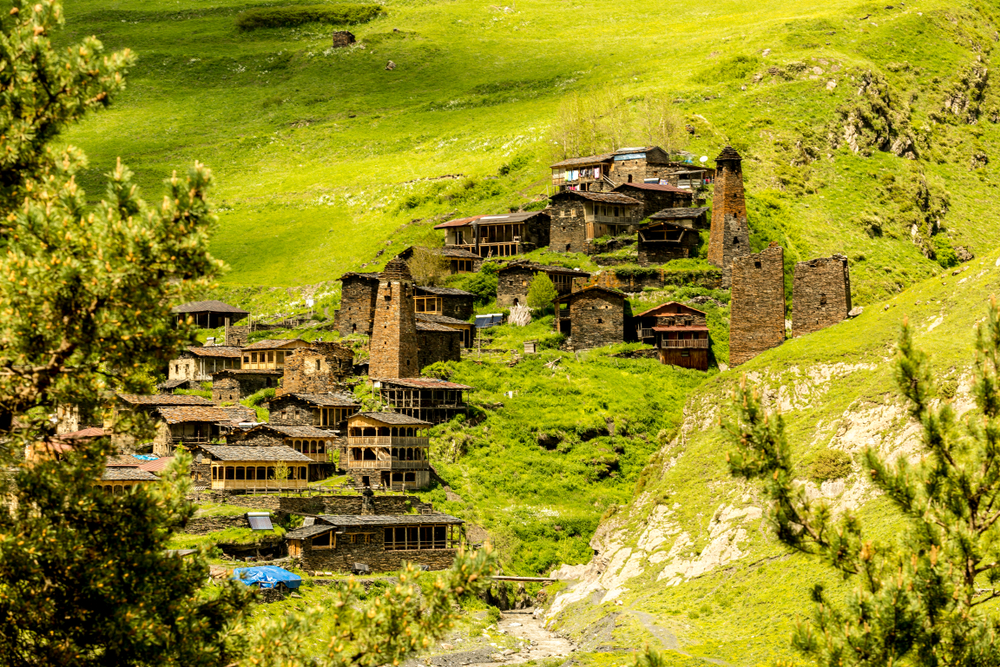 for the gps track (not exact, but directions based) of Diklo-Chigho hike you can see:
For the map of Tusheti and its routes please see:
Facebook Comments