Lakamurash Toba
Georgia has lots of mysterious and new wild hikes. Egrisi range's diamond – lake Lakamurash Toba is not the one where many hikers have made it. The lake is on Svaneti side of the range between the region and Samegrelo and is not as traveled and easily accessible as Tobavarchkhili (Silver Lakes); You can have great views to Elbrus from the lake. Its one of the hardest treks to do, no matter whether you reach it from from Greater Tobavarckhili lake or from Khaishi (Svaneti) side.
Its like invincible unconquerable fortress and dream for many Georgian hikers to reach this lake. This article discusses how the lake can be reached from Svaneti side. I dont take responsibility for any actions what you may do following the path I describe. Its extreme trek, expert level (at least 1 super experienced hiker or guide is needed in group), you can try only in August, only in the best weather and be prepared for the worst each time.
Literally no path, dark and humid jungles which will make you all wet, inhospitable high plants, thorns of berries, landslided sections and chance to lose your path, steep slopes where you need to count on slippery rhododendron bushes and grasses, almost alpinistic section where you need to hike up the cliff using natural footsteps in cliff.
If you are strong and lucky enough, if you win against yourself, have courage, patience and passion and dont break down spiritually, you will get reward -Incomparable beauty of the lake, beautiful sceneries, best reflection of highest summit of Europe Mt. Elbrus in the lake, untouched nature, beautiful waterfalls flowing down to the lake in front of you and feeling of doing something magical which not all can do.
Lake is fed by glacier water of Lakamurash mountain and its name is derived from that summit of Egrisi range called Lakamurash Dudi which is one of 3,000s summit (Literally Head/top of Lakamurash Mt), Toba means lake in Megrelian. In Svan language the lake is called Chipsta Varchkh.
Start of hiking, Into the Jungle
You can take a bus towards Mestia from Zugdidi or Tbilisi (you can get to Zugdidi by night train). Then if you have an arranged jeep you could make it to Kvemo Vedi village which is 4km from the first community center in Svaneti – Khaishi. Sleeping in Kvemo Vedi you can start hiking next day. From the village first you follow the route of Tobavarchkhili lakes for 8km, then there is river's confluence from the right and you you will follow old road of 1km.
You will need to cross stream which meets the river from left and find a path in the forest, soon this path turns into old damaged jeep road, on the road there are already some trees, plants and some stones, landslides, leftover tires which may be tens of years old, small and 1 larger streams and fallen trees as well. Its basically some type of forested jungle where nothing else is visible for orientation. Its around 1200-1300m, climate is humid so its great perfect for plants like nympaheas and hogweeds.
You need some intuition in the jungle and forest to follow the car road, as road is not often visible and you don't follow the river banks until the end (you are 50m higher than the river bank). There are huge cliffs around you but you don't see anything.Landslides make the route harder – you need to detour those landslided sections  where there is no path visible, not going down to river too much, also not going up the forest and then you see the path again.
You may find a camping place at some point if it gets late and harder near one of the largest landslided section. Its recommended to camp here if it gets dark (it may be dangerous in the dark) – its not recommended to camp if you have time to reach the hut or camping site near the hut.
Out of jungles,  into high plants
Then at one point path goes down to river, then you go up little bit and already see what jungles were hiding from you. Summits of Egrisi range Didghali-Dudi (3169) and Lakumurash-Dudi (3111m) are standing in front of you. You see the area where you need to go up, and waterfalls which flow down from the lake. But its still many obstacles in front of you still. The main obstacle now is high plants of 2 meters height which you need to pass. There is no path already. Its recommended that you don't start cutting those high plants or you will get very tired and late.
Soon you will make it to some old hut where you can sleep if you are small group, but if you are bigger group, you can continue from the hut again in high plants, cross stream and you will come across almost flat field where you can camp – there is space even for 10 tents (300-400m from the huts). End of first or second hiking day depending on the group.
Survive
Since morning you still have high plants, now another obstacle to test your superpowers – berry canes which try to block you from moving and try to scratch you. Then you approach the first waterfall (cascading waterfall) which is not coming down from the Lake, but from the parallel gorge of right side. You will cross stream which comes down from that waterfall and continue bravely to meet the next obstacle.
You now have a stony path and between those cliffs + there is grass and rhododendron bushes and its all slippery. Its very hard level already for superhero hiker – regular stony paths which all hikers are used to is piece of cake in comparison to this – You need to grasp those bushes which are slippery and hold yourself on stony slope so you dont fall down.
Then your orientation should be between 2 waterfalls coming from Lakamurash Lake. You should not get to waterfalls itself, you need to go up slopes which have some forested zones. Trees have branches so low and you have to bend between those branches and its very difficult considering that you are going up the slope.  Sometimes those forested zones are changed again by high grasses and its even less convenient. Then you turn around small mountain from left side. Soon high grasses end, rhododendron prevails and you follow steep bed of river (kind of canyon) coming down from Lakamurash lake.  You need to get left from that canyon.
The pass
In the end you will get to cliff ridge and you need to go up between 2 cliffs. Its not alpinistic and doesnt need climbing. Its some kind of eroded section (gully) where you can put your leg in some kind of footsteps, hands on rhododendron bushes and very carefully go up the cliff. It will be dangerous only if its raining and wet and groups do it without ropes but you can take if you think you will need. After you cross that cliff pass, you can go down to Lakamurash Toba.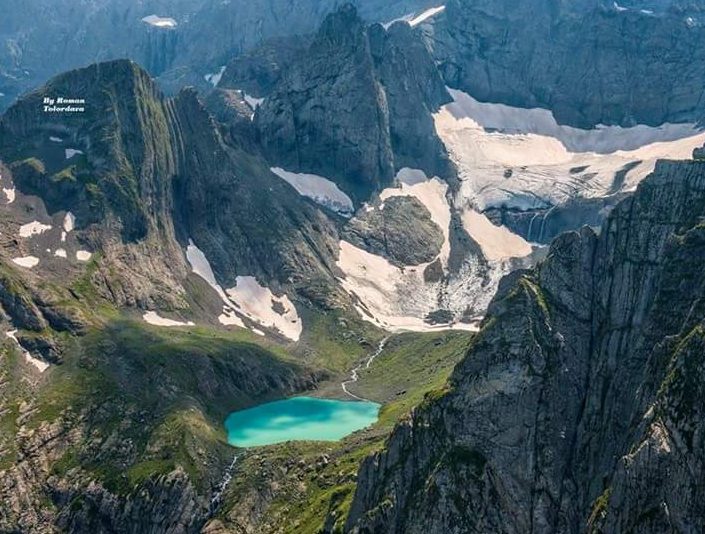 Wonderful world of Lakamurash Toba
You are already in different world, cliffs around you, 2 beautiful waterfalls, glacier flowing down the lake which is one of the biggest glaciers of Egrisi range, green and white colors and in good visibility you see Elbrus. When you are camping if you look towards the lake you see the lake and Summit Elbrus on the background. If you look back you see cliffs and beautiful glacier and waterfalls. Above the lake, there is some smaller newborn glacier lake.
Waterfalls flowing down from the glacier make this smaller lake which is partly covered with ice, and then water  goes down to Lakamurash Toba lake. Staring at mighty Elbrus you can go up mountain on your right and have views towards Khobistskali gorge and the area of great silver lakes. You dont see bigger Tobavarckhili lake as one mountain is covering it, but you see Kaliashi lake below that mountain. Its possible that you continue on the ridge and very carefully descend towards Tobavarckhili lakes or you can get back the same route.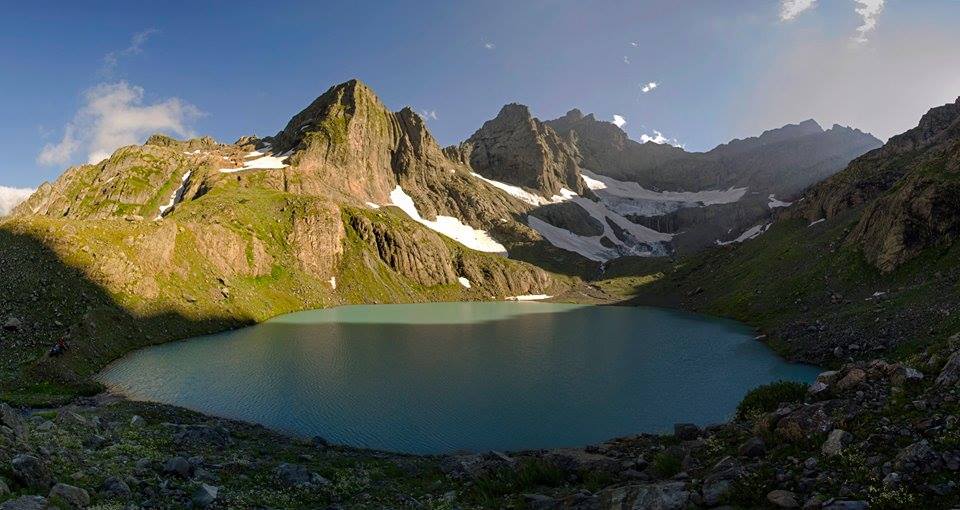 Planning a trip
You can only do this route in August and you need to be physically and mentally ready for challenge. You must have great weather so check forecasts carefully. Even if you have nice weather, in the jungles you get quite wet and if its rainy it may be quite hard in the humid forest, also if its foggy you may not find your way and moreover, you will be in danger ascending the ridge. You must have guide, or head of the group who is extremely experienced.
It may be hard to find the route in forest in the beginning so you need to be friends with God's of weather as well as intuition and have faith, even if you are non-believer, you will need it. You need 1-2 days for transportation to and back (unless you decide to explore Svaneti on last day), 2-3 days to reach the lake, 1 full day to spend at the lake, 2 days to descend, so in total this trip needs 6 days, max 7.
For the GPS track please check:

For the map please see below (direction based gps track) and for topographic map please click here. Special thanks to Beso Chikvinidze for  information.
Facebook Comments