Shoreti Monastery
Besides Vardzia you can discover Shoreti Monastery ruins located 5-km north from village Ota in a beautiful pine forest of Tetrobi Managed reserve and Saro village with its megaliths, small church and breathtaking panoramas in Aspindza District of Georgia's region Samtskhe-Javakheti which is rich in historical heritage. Update: Shoreti church restoration is completed.
Hike to Shoreti
You will not regret short hike to Shoreti. It is always green, beautiful at any season. There is water and nice camping places near the church. Alternatively its possible to do jeep tour. If you are hiking it's better to use hiking path which is very beautiful. This area is great for picnic, preparing shashlik (barbeque) or just to rest in the beautiful nature and have a glance to ruins of the church which once flourished.
There is also old fortress just above Shoreti which need to climb for beautiful views. In case of interest there are some other hidden churches and fortresses in the area including red fortress, Chitikibe fortress and Gharta Monastery ruins. Besides you can do offroading/hiking trip from Tsikhisjvari village in Bakuriani to Shoreti.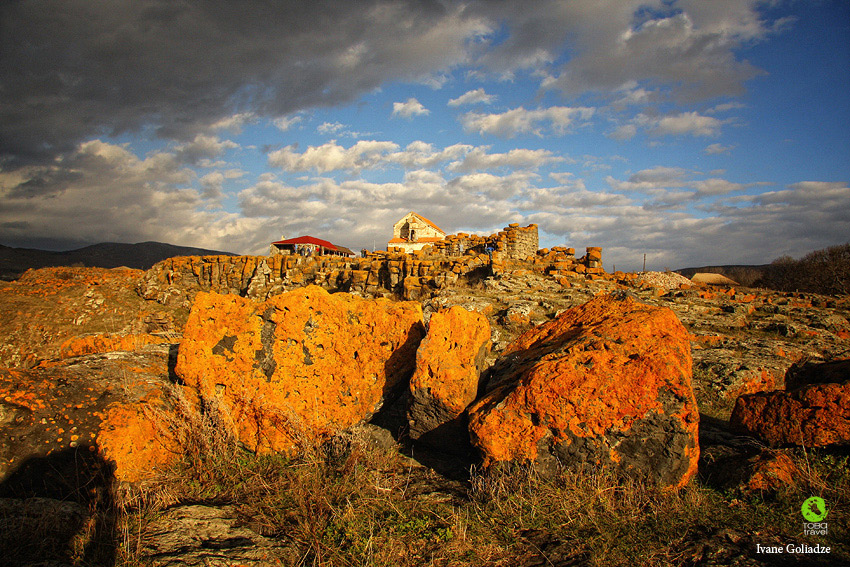 Saro village
Saro is located just a few kilometers from Aspindza-Vardzia road. Cobbled road goes up to this beautiful megalithic village.  You can find there megalithic building  of pre-Christian epoch, 3 -metre stone blocks, underground shelters, beautiful small church which dates back to VII-VIII centuries, old Meskhetian houses. Most importantly, Saro is all yellow with a beautiful panoramic views in sunny weather.
You can get local fruit vodka in the village, meet locals and see real Georgian small village which is not very touristic. You can even visit catholic church and community in the nearby Khizabavra village if you are really interested. This is the trip to take great photos in the sunny weather in any season. This is a place where you will want to stay for hours and you will leave your heart there.
See the map of Aspindza here:

See the GPS Track of Shoreti Jeep Route
(hiking route is shorter and more impressive if you dont plan a jeep trip)
If you prefer Longer hike (2 or more days) you can start your hike in Tsikhisjvari (near Bakuriani)and cross the ridge to Ota and the next day hike to Shoreti. You can see GPS track here:

Facebook Comments