Khada
Khada is tiny and hidden gorge below mountains of Gudauri at the edge of Caucasus mountains. If you think that you have seen most of the area of Ananuri/Gudauri/Kazbegi and you have enjoyed it – there is something still missing – it is less touristic, calm and breathtaking Khada Gorge which was hidden from your sight. It was historical ethnographic part of Mtliuleti Region, stronghold defending the road between Northern and Southern Caucasus with 60 towers.
Now there are still some old towers, interesting graves, beautiful waterfall and tasty mineral water spring – everything for soul-healing and delighting walk in spectacular mountain  nature and rural Georgia with medieval towers and it is just 7-8km long offering you nice spots for picnic and relaxation : near Mineral water spring, near the waterfall or near the river somewhere. Update:  New Road is being built towards Kazbegi via the gorge so not sure what will be current conditions of the route when you arrive,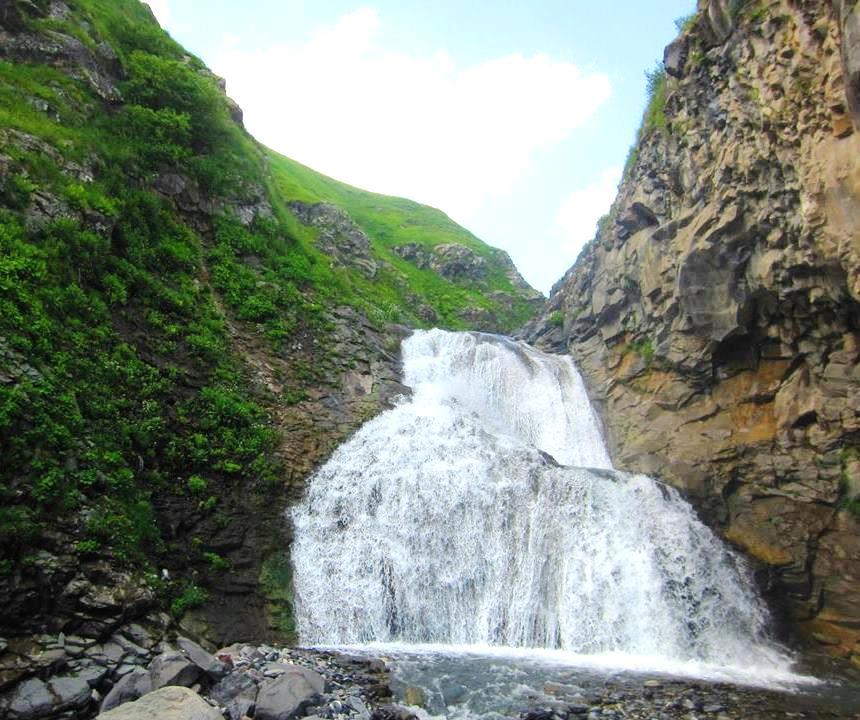 Hike/Walking/Jeep or Bike Trip Options for Khada gorge
Just Drive 100-110 km from Tbilisi on Georgia's military highway connecting to Russia or Take Gudauri Marshutka from Didube station (5GEL) and get off at Kvesheti village's bridge. From there you can walk around 8km to the one of the most beautiful villages of Georgia – Tskere. If you have a jeep you can reach Tskere and ask for directions to waterfall, short walk from Tskere (from the bridge take a path on your right, then go down in the main river gorge) and ideal place for relaxation and cool weather in summer. Regular car can reach at least mineral waters spot beyond Kvesheti. Don't Forget to taste it – It's the best mineral water in Mtliuleti region.
There is one more alternative way to get to Khada gorge – in Village Seturebi which is part of Gudauri you can see Tsetskhlisjvari Tower, you need to walk less than 1km to ascend it and you will see the kingdom of green ridges.  Tsetskhlisjvari literally means cross of fire – it was used to transmit fire signals to other towers of Khada down in the valley in case of approaching enemy. Easy and enjoying mountain path goes down to old church Korogho. It has a great location and unique decorations (stone bareliefs) how the church was build by villagers in medieval times. From there you can go down to the villages including the most beautiful mountain village in such a short radius from Tbilisi – Tskere.
Harder hiking option from Khada can be going up to Slopes of Winter Resort Gudauri (2800-3200m) and descend then to the resort. You can download Geoland track here.
For the map please see:
Facebook Comments