Mkheri
If you want to see something unforgettable and unique, have 360-degrees panorama of Caucasus mountains for very low effort, then Mkheri must be in your places to see list when you come to Georgian in summer. Just take your hat, some food, 2 liters of water, get prepared for 5 hours walk up in the forest,  reach the Europe's one of the highest churches of Mkheri at the height of 2500m, get on the knees to pray to Mkheri's archangel and to hear Svan traditional song: ,,Lileo" and you will be born again. Mkheri is actually one of the most beautiful places in Georgia.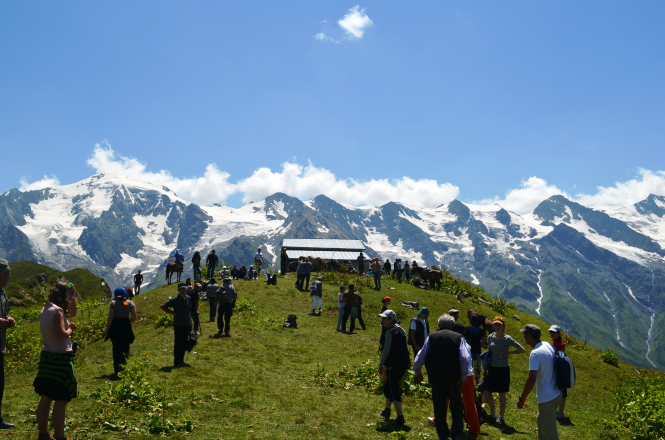 Mkheri church is located  on the top of panoramic alpine hill on the edge of beautiful summit Lahili (4,000m) with a view to all Svanetian summits of Greater Caucasus mountain range on the other side. It can be reached from Latali village of Svaneti, Georgia just few kilometers till you reach Mestia from Zugdidi/Tbilisi.
From Latali it's around 5km walk (1.5km altitude vertical), technically good and easy path (5-6 hours walk mostly in the forest). It's recommended to choose sunny day when the summits: Lahili, Ushba, Tetnuldi, Shkhara and others are visible.
I first visited Mkheri in July, 2012 on the holiday of the Mkheri Archangel together with my friends including beautiful Georgian photographer and blogger პერწკლი ( pertskli) who took all the photos of this post.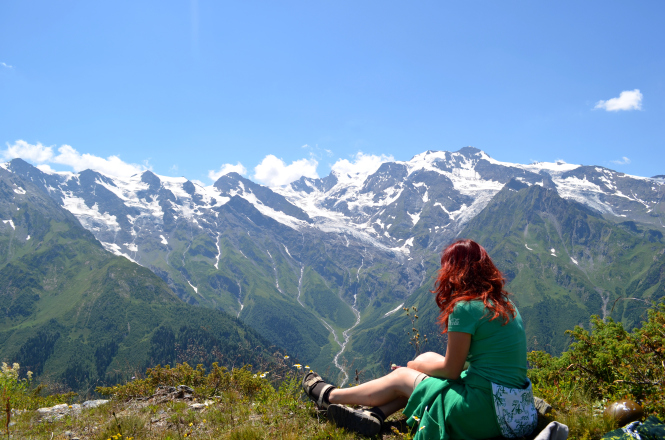 Legend of Mkheri
According to the legend, to take stones for construction of the church, villagers made a kilometers long chain from Latali to the church, passing each other stones. The first and the last villager died.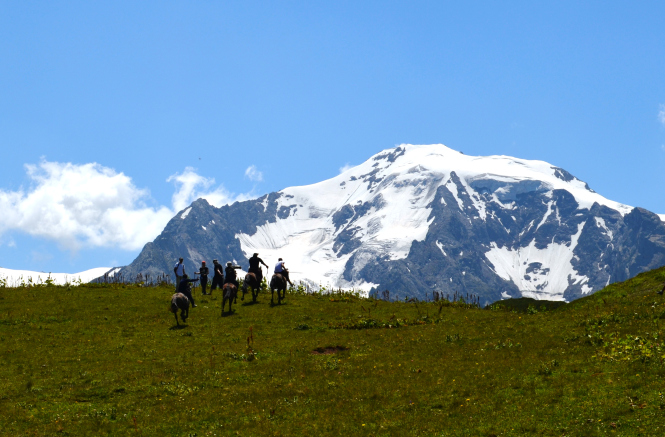 Holday of Mkheri
For Mkheri holiday, villagers collect money, buy big bull and take to the church the day before and then they boil the bull in a huge pot and the next morning when all villagers come to Mkheri for celebration they share their portion of meet. They also bring Svan traditional dishes, some vodka and the party begins.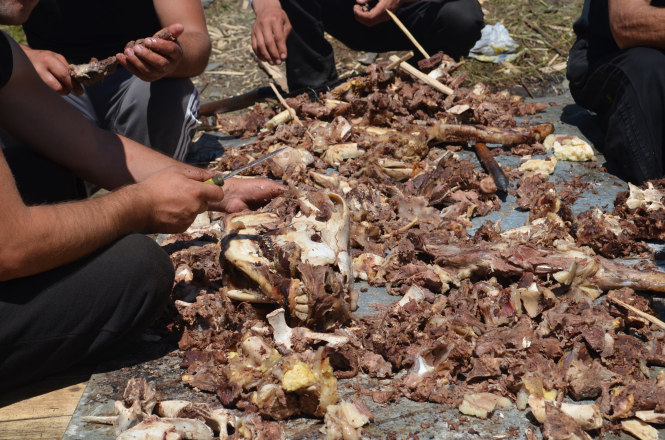 On Holiday, here you can watch people dancing Svan dance (Perkhuli), listen to Svan songs, eat and drink with Svans.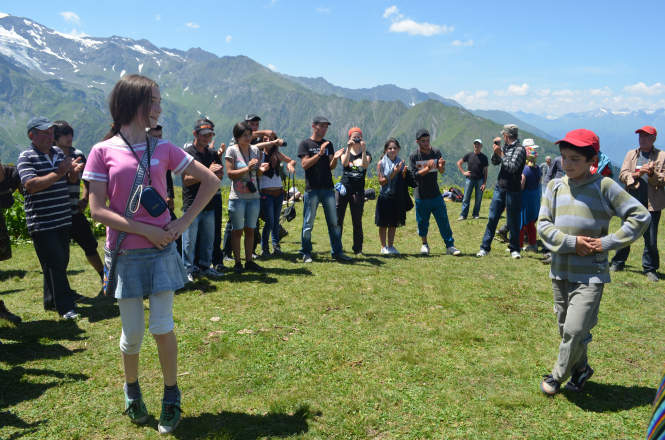 You can also watch horse racing, even little kids are riding horses. Panoramic views are so beautiful that it seems as if the horsemen are riding to the sky.
Now you are ready to experience real Svaneti, Georgia! Pack your luggage for summer, put some patience in your backpack for long ascent, till you get out of forest, and see incomparable panoramic views of Mkheri!
Update
This is how wonderful and mystic was Lahili peak during my second visit in July, 2015. In 2015 Boredpanda also visited Mkheri -They call it Mheeri Mountain.
National tourist administration published recommended hard trek crossing icy sections and arriving from Mkheri to lower Svaneti. You can see it here.
For the map and gps track of Mkheri hike route please see (please note that locals made circular version of this hike starting from the same spot but descending in Lakhushdi or vice versa, You can ask Ecohouse Svaneti manager Data Nikoloziani for more info if you are staying there which is really recommended):
There is another way to approach beautiful Lahili peak but not in 1 day, you will need 3 days. You can read the post here.
Facebook Comments