Laila, Lahili
There is a real story of Georgian hiker who admired Lahili (Laila) Summit so much that he walked from Tbilisi to see this summit of 4,009m on the Svaneti ridge without taking any public transport. I remember how he called it ,,Divine Lahili" – ღვთაებრივი ლაჰილი. I also remember my first closest approach to this summit when I hiked to-
Mkheri
 -to my mind best dayhike of Georgia. Then I learned that
in Svan language Lahili means flames of the fire.
I express my love towards Lahili which Svans often call Laila by writing another piece of description. This is three-day trekking route which summit climbers may extend to 5-6 days.
This is untouched and marvelous part of Georgian mountains
which some trekkers compare to himalayah – off the beaten path compared to some more popular treks of Svaneti.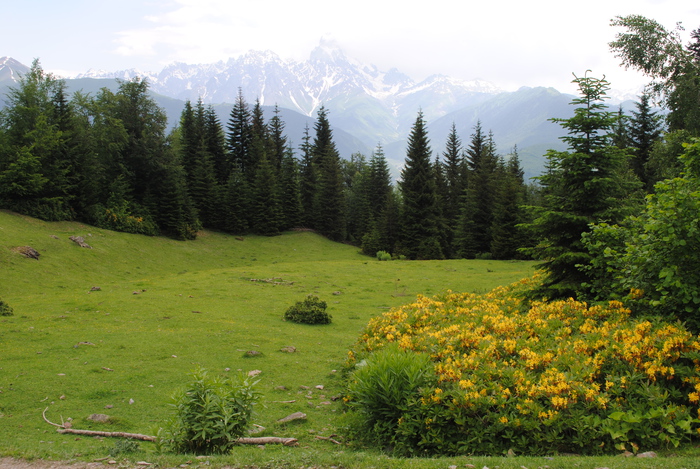 Start of the trek to Laila
trek starts in village Lezgara of Tskhumari community (on the other side of Enguri river opposite of Mazeri). To get there you should get off 12km earlier than Mestia or take a taxi from Mestia (if you are 4-5 person it might cost you around 10GEL per person). Village is 1250-1300m from the sea level. You can get some local cheese in the village and start hiking or or take a horse from the village and ride. Soon you will need to cross the bridge over river Lezgaratvibi. After the bridge, some nice green fields and crossing another smaller stream, the path slowly goes up the forested ridge.
You will start to see the devil of Georgian mountains – double summit of Ushba (in Svan language the name means the mountain which brings misfortune). The more you go up the better the views is. You will also view the central road and Tskhumari community villages quite well. At the end of trial of pine beautiful pine forests and exotic mountain flowers, above 2200m you will see shepherds hut (actually there are 2 huts) and you can camp nearby. There is water source nearby where you can drink tasty water and clean yourself after tiring hike.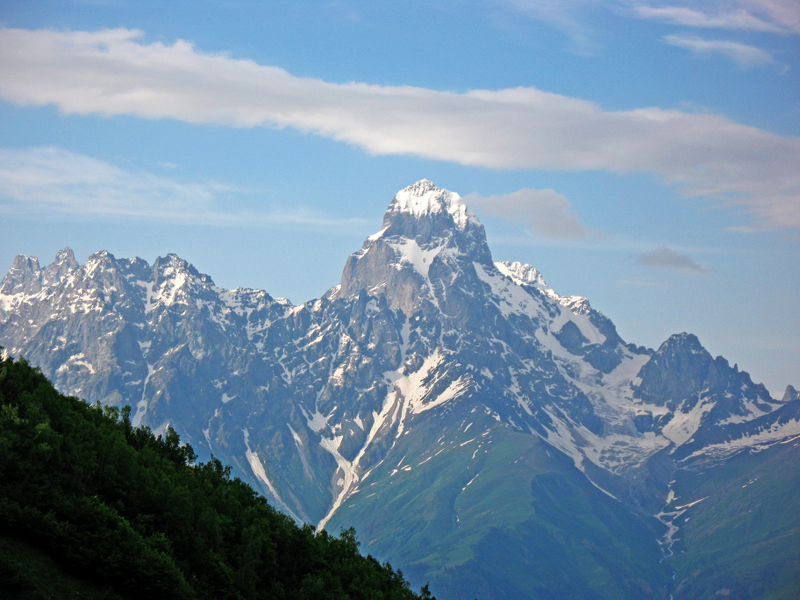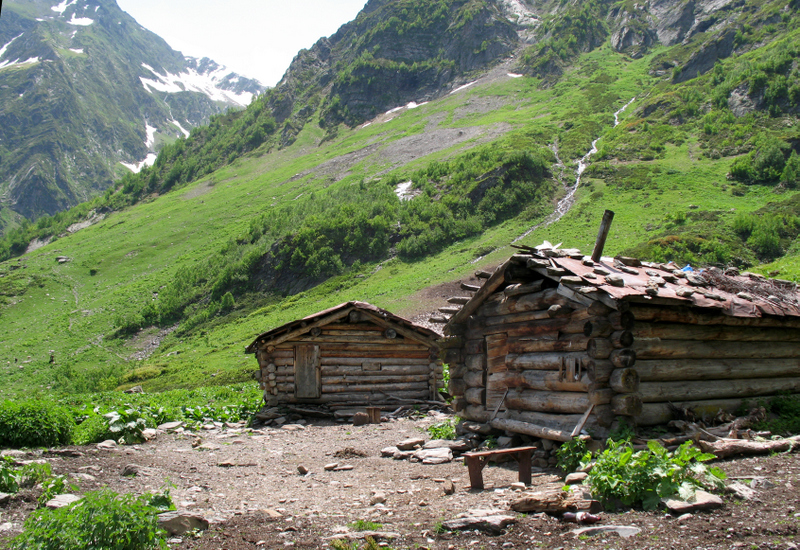 The second day
hope you have a great weather and start hike or you will have to stay drink vodka in the huts. Starting your hike you will be able to see the source of the river Lezgaratvibi – in cascading waterfall style and again you will have a great view to legendary summit Ushba and other summits of Caucasus mountain range. It can be alternative camping place if you have more energy in the first day. Then the hardest part begins. You will have to cross Chizhdi pass 3123m.  Depends on the period, there might be some snow on the path. Stony paths (sypuhe), grassy slopes or snowy fields change each other  after you start to descend.  Rhododendron might be extremely beautiful if you are here at the end of June during blossom.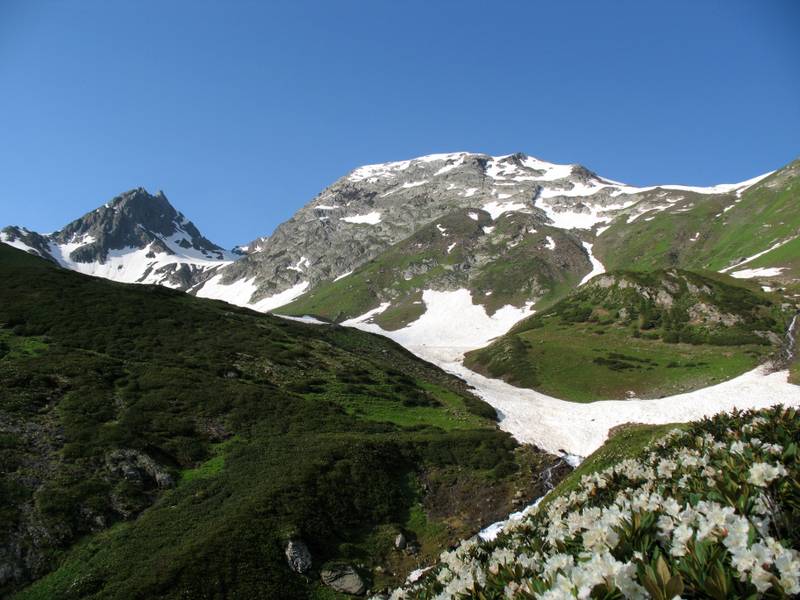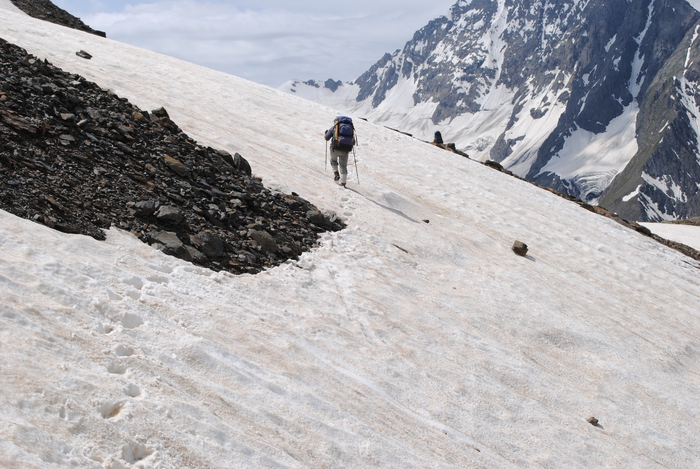 Also in case you are lucky, the king of Caucasus summits Mt. Elbrus appears too in case of good visibility (visibility is better in the early morning). Then you reach the basecamp for Mt.Lahili ascent – you will be in front of Lahili glacier (2850m). You can camp there and enjoy sunset.The next day if you can try to ascend Lahili further up, making your way to the feet of Laila peak. Alternatively you can pack as fast as possible and at sunrise start walking to see Elbrus and other summits from the pass. Even if visibility is not great you will have the long way back to Lezgara.
 Possible extension of the trip
-If you prefer and are able to you can hike the whole path in one day you can camp at Laila glacier the first night and enjoy mountaineering-hiking mix the next day for as long as you dont need a special equipment.
-After going back to Lezgara, you can continue to explore Svaneti in Becho community (crossing the Guli pass or ascending the waterfalls).
-In case of mountaineers the route continues like this: in the 4th day you can go up to Djvari pass, (3400 m) and camp there and the next day ascend to Laila and go down to the campsite at 2850m.
Most Photos are taken by Ukrainian trekkers in late June. Anatoly Smolyaninov is author of the
post
where you can see more photos.
-You can read more in Russian about Laila trail (as well mountaineering route) and view more photos on LiveJournal of
73Misha
(
Michael Bykov
).
-IF you are interested in taking this route you can contact me so I can find you guide. Starting from end of June (for example 27.06 it would be possible to do this route).
  For the tour of Laila Glacier Trek please check:
https://welcome2caucasus.com/tour-item/climb-mt-laila/
For the GPS track please see:
For gps tracks of Lahili summit (from Latali to Lentekhi via Lahili range) and From Laila summit to Mananauri you can see:
Facebook Comments