Mtskheta
Georgia's old capital and one of the main spiritual centers, Mtskheta is just outside Tbilisi and makes a nice day or even half-day trip. Buses from Didube station run regularly in every 15 minutes (cost less than a dollar) and you can enjoy visiting Unesco world heritage sites: elegant and mighty Svetitskhoveli Cathedral and 6th century Jvari Monastery with a panoramic views to Mtskheta. If you have some extra time in Tbilisi, even just 1 evening – it's absolute must!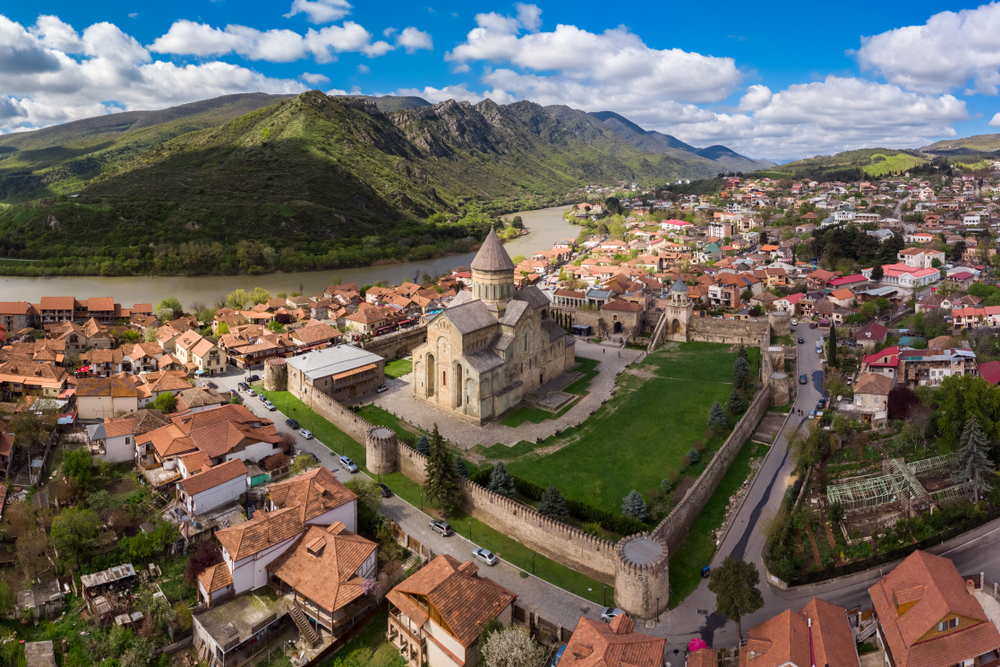 Things to do in Mtskheta
1) Take a walk in the historical streets of Mtskheta.
Upon entering Mtskheta, you will notice its historical architecture. Red-roofed houses and stone fences. While strolling the streets you can browse the shelves of handicrafts, taste freshly squeezed juices, sweet desserts and hot drinks.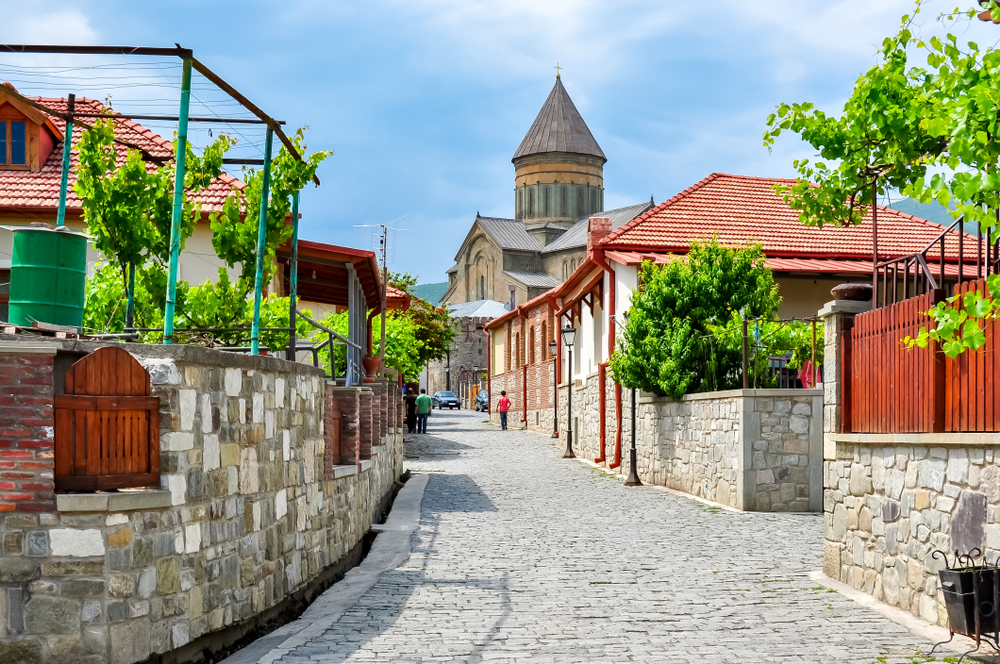 2) Visit Svetitskhoveli Cathedral
In the center of the Mtskheta town you can visit Svetitskhoveli Catedral – The most important monument of Georgian culture and architecturally distinguished by its artistic dignity. As the scriptures tell us, the Holy Robe of Christ is buried here.
Svetitskhoveli Cathedral was the religious center of Georgia. Coronation of Georgian kings and baptism of Georgian princes took place in Svetitskhoveli. The temple is painted with beautiful frescoes and icons.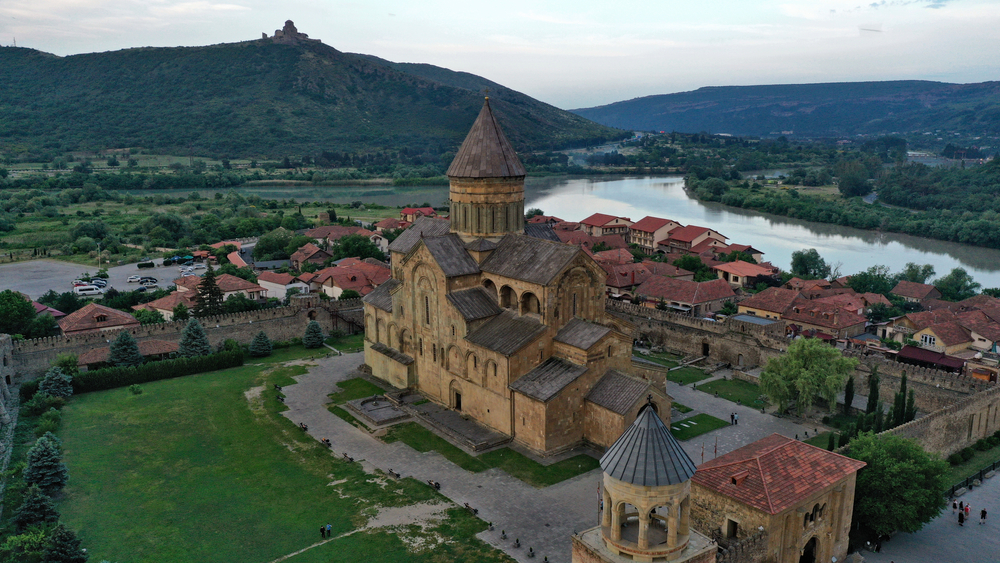 3) Discover Shiomghvime Monastery Complex
Shiomghvime Monastery Complex – built in the 6th century by Shio, one of the Assyrian fathers, who spent the last two years of his life in a dark cave in the monastery and was buried there. Assyrian fathers were saints who came to Georgia from modern day Syria to strengthen Christianity and built 12 most notable monasteries in the vicinity of Zoroastrian places of worship.
The oldest building is the Church of St. John the Baptist, part of which is carved into the rock. Near the monastery, there are more than a hundred caves, which were the settlements of monks.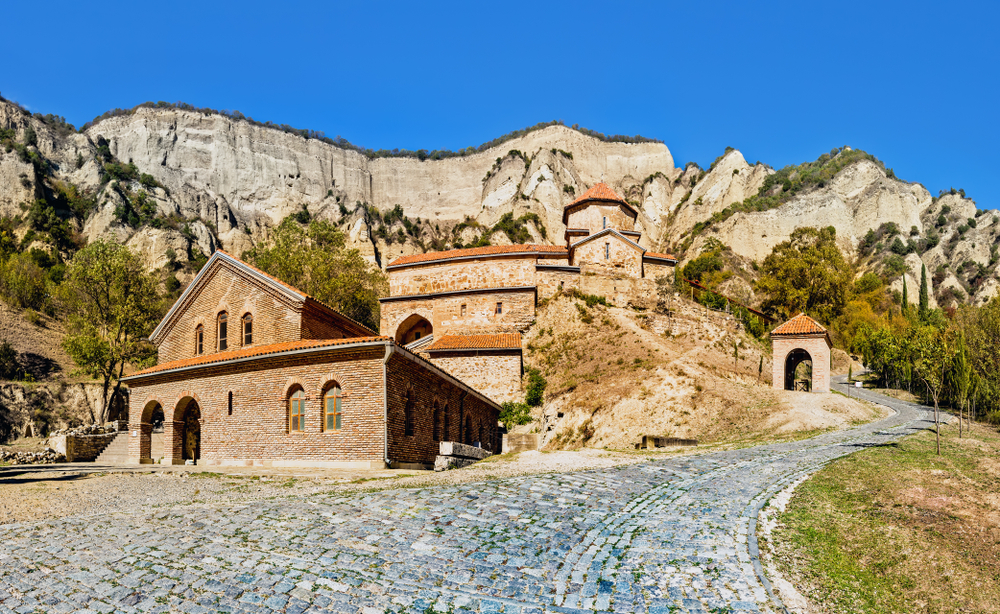 4) Enjoy amazing panorama from Jvari monastery
One of the most popular sightseeing near Tbilisi is the UNESCO protected Jvari Monastery from the 6th century. The name of the church means the cross because as soon as Georgia became Christian, King Mirian erected a high wooden cross in this place. The temple is the oldest example of cross type architecture.
Jvari is very popular because of its magnificent view of the two rivers merging with each other.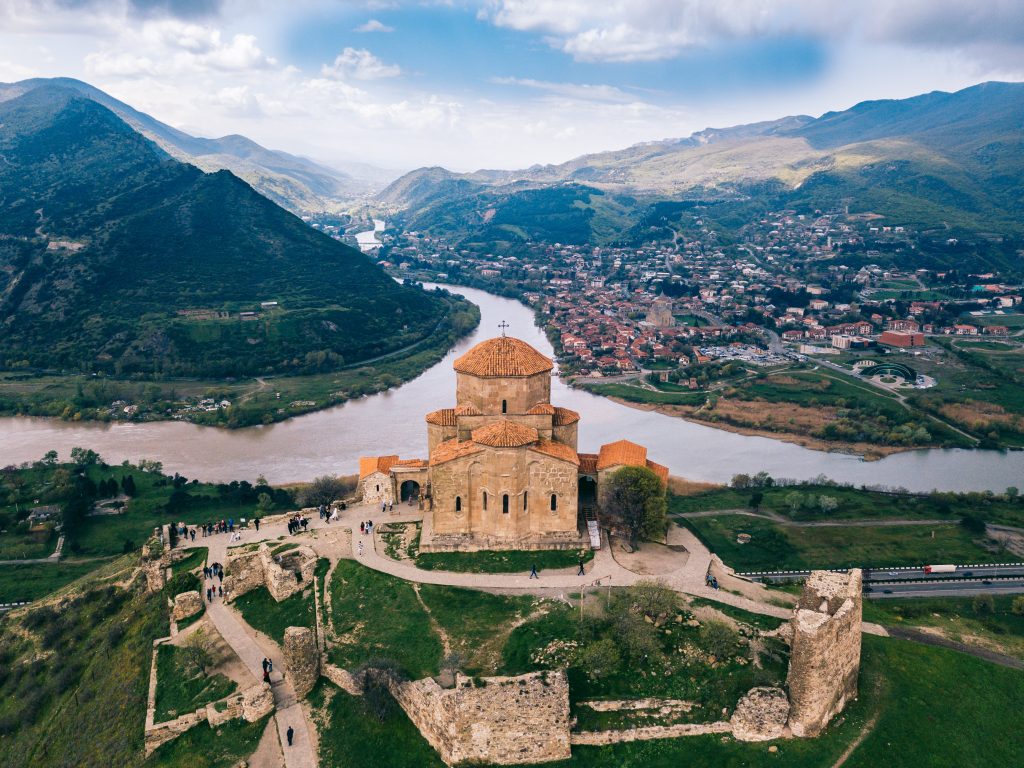 5) Take a boat ride on the Kura River
Mtskheta is located at the confluence of the Kura and Aragvi rivers in Mtskheta. Walking through the historic streets you will reach the shore of the river Kura where if you wish you can rent a motor boat, from which you will be able to see beautiful views of the town and surrounding mountains and take amazing photos.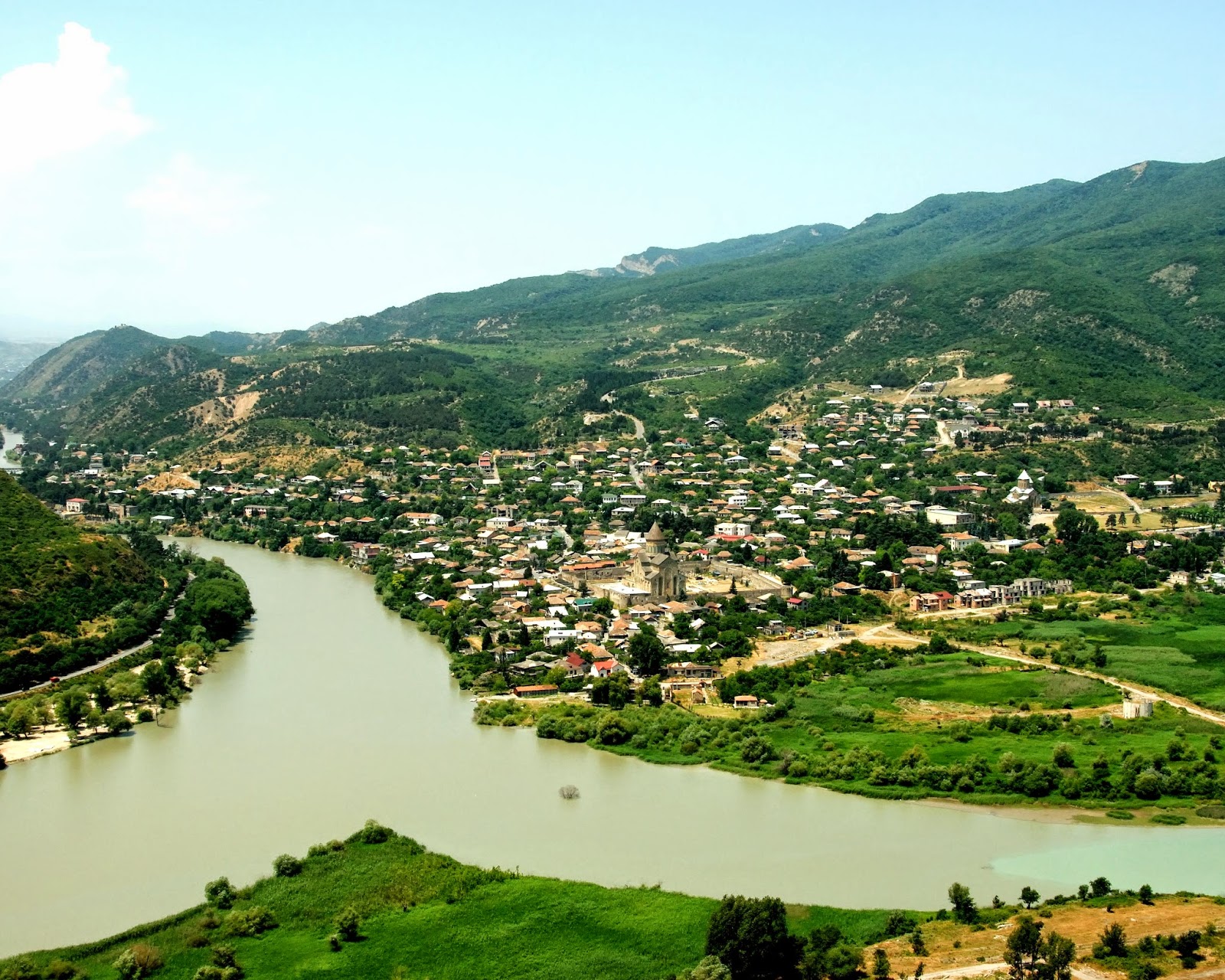 6) Taste Georgian dishes in Salobie Restaurant
Mtskheta is famous not only for its sights but also for Salobie restaurant. The restaurant was opened in 1947 and is one of the oldest not only in Mtskheta but in the whole of Tbilisi.
Here you will be able to taste their most popular dish – beans prepared according to Georgian recipes, which will be served to you in a clay pot.
7) Explore Pagan Temple of Bagineti
Near Mtskheta you can visit the mystical Bagineti, pagan temple of ancient Georgia.
As you can understand, Mtskheta is a city full of Christian sights, but Bagineti will take you to a completely different culture. Here you will step into the from where
In Bagineti you can walk in a pagan temple where once a huge idol of Armazi was erected. After passing through the ruins of the palace halls you will see an amazing view of the old town Mtskheta and Jvari monastery.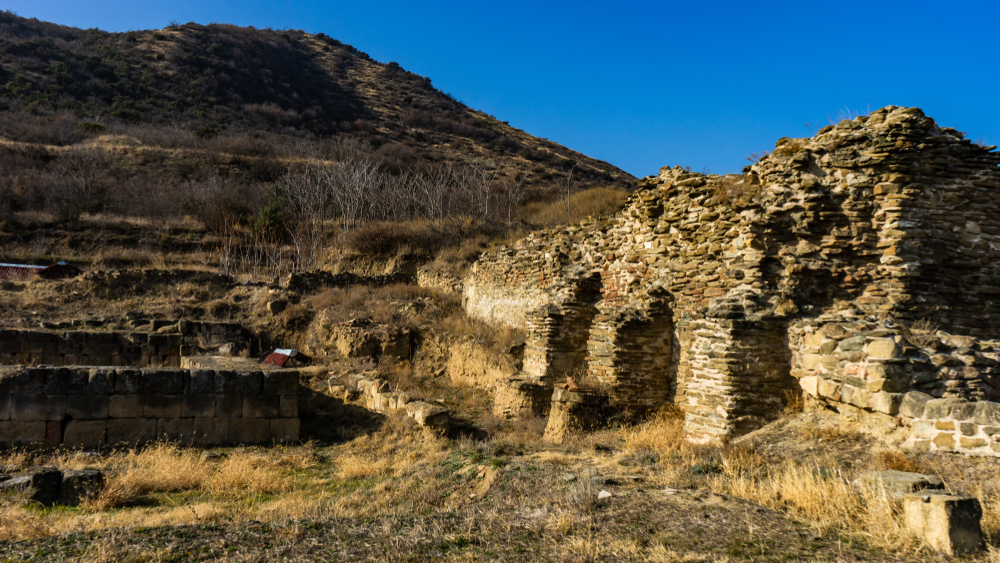 8) Visit Guramishvili Winery
Mtskheta is not all about historical sightseeings. There you can also explore Georgian traditional Winemaking. Guramishvili cellar restaurant is located in Saguramo area near Mtskheta. Guramishvili Winery has good food and enjoyable setting. There are several nice hotels nearby as well, such as Sevsamora. You can go up Karsani village and see its monasteries and walk from karsani to Armazi. Cheatau Mukhrani and some other wineries nearby could also good idea.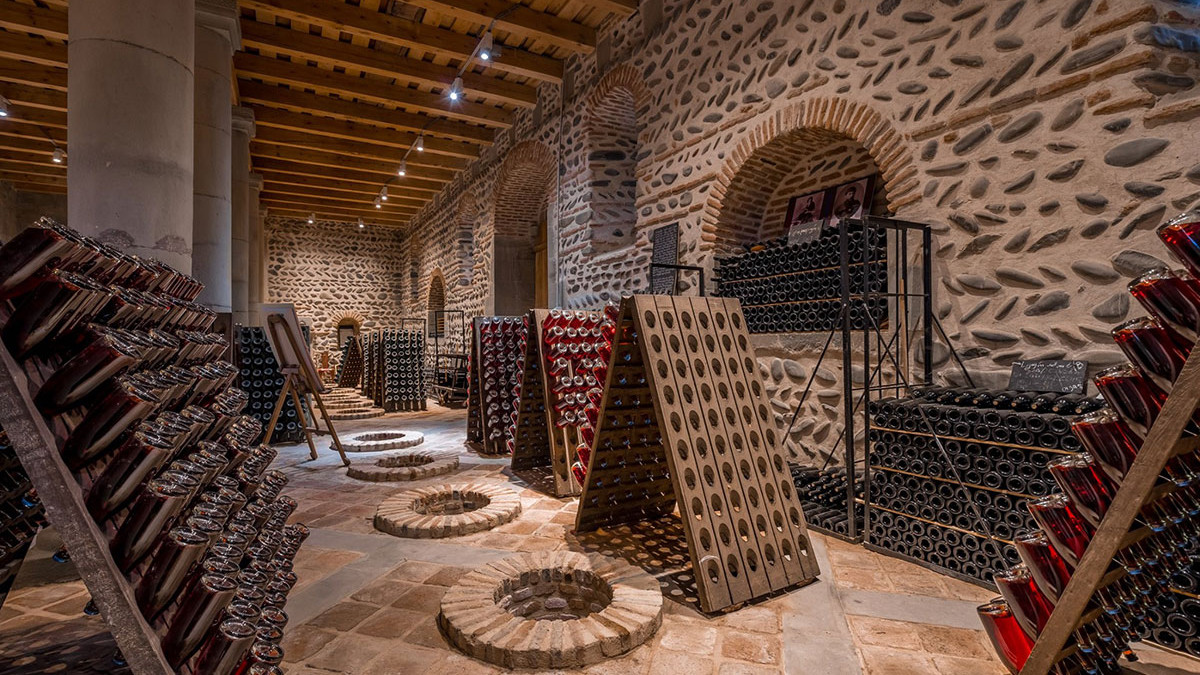 Legends of Mtskheta
Now let's start with the first legend. It's connected with Svetitskhoveli Cathedral which was first built in the 4th century when Georgia received Christianity, but the current cathedral was built in the eleventh century by the architect Arsukisdze in 1010–1029 (during the reign of George I) A relief sculpture on the external northern wall shows  a right arm and hand holding a chisel – symbol of the stonemason.
According to a legend and Konstantine Gamsakhurdia's novel ,,The Hand of the Great Master" which is based on the legend, the King loved the same woman as the Master  and he had ordered to cut Arsukidze's hand. The official reason was not building the Cathedral properly. But the Cathedral still stands after nearly 1,000 year proving that the King George was wrong.
Another legend relates to Armazi fortress/Palace – Bagineti, founded in 3rd century BC by semi-legendary King Parnavaz, located on the other bank of kur river opposite to Svetitskhoveli, short walk up from Tbilisi-Mtskheta highway. Armazi remained the holy city of Iberian paganism (place of famous Armazi idol). The fortress was captured by the Roman general Pompey during his 65 BC campaign. A ruined structure over the Mtkvari River dates from that time and is still called "Pompey's bridge".
Legends are associated with Serapita which became a legendary princess thanks to Archeological excavations of Armazi. According to the Armazi bilingual (Greek and Aramaic) epitaph Serapita who lived in the 2nd century, was beautiful, short lived princess: ,, she was  so good and beautiful that no one was like her in excellence; and she died at the age of twenty-one." You should visit Bagineti not only to honor beautiful princess of Serapita, but also this is very interesting archaeological monument. There are numerous archaeological objects within the site including burial places, roman baths, pagan church, etc.
Other Places to Visit Near Mtskheta:
Places To Visit In Kaspi – Kvatakhevi Monastery, Tavkavta Hike and Other Exotic Destination
Map of Mtskheta tourist places please see:
Facebook Comments