Shkmeruli
a chicken dish from the village of Shkmeri, Racha region of Georgia. Chicken in a special spicy sauce with garlic and milk, often cooked on a clay pan.
Ingredients of Shkmeruli
Chicken
Mashed garlic
Milk
For the recipe please see.
Dish could have originated in Village of Shkmeri, Racha.  If you decide to try Shkmeruli In Shkmeri, I can tell you that this quite exotic village (elevation 1700m) is home to Usholta Caves and even more interesting tourist site: river Kheori canyon which locals will be happy to show you.
You can, of course, try Shkmeruli in the most restaurants in Tbilisi or other cities. Locally it can be tried in some other places of Racha, along with other food which is Racha famous for: smoked ham (Lori, Vichina), bean pie (Lobiani) and local wines such as Khvanchkara. One of the suggested option can be family hotel gallery in Oni, decorated in Georgian colors offering full board meals covering full range of local Racha cuisine. Or in winery Chateau Dio where you can try Shkmeruli with local Khvanchkara wine.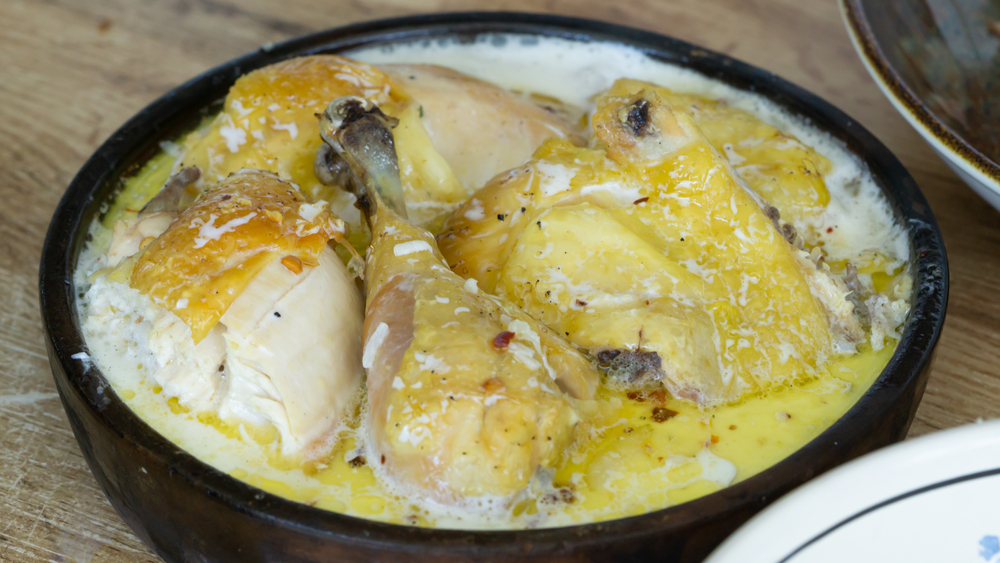 Facebook Comments