Kinchkha Waterfall
One of the tallest waterfall of Georgia – Kinchkha together with another water abundant waterfall nearby, Okatse Canyon natural monument (just a few km from Kinchkha in Gordi village) with recently built high quality tourist infrastructure – stairs, footpaths offering magnificent views to the canyon and its surroundings make a nice day out in the nature especially in spring when water levels are high and nature is in blossom with flowers all around and smell of yellow azalea and with still snowed Askhi Pleatau;
Also in summer when you can swim, relax or just find a really cool place for picnic and to taste some homemade Georgian wine with locals.
You need to enter from Dadiani Garden in Gordi. After the checkpoint there is little walk down (then up!) to arrive to Okatse bridge. Locals rent jeeps for 20-30 gel 1 way for lazy tourists especially for the way up. The bridge is 800m long and you are about 50m above the canyon so make sure none of you are so afraid of heights. From there you can continue to explore the area by visiting Lomina small waterfall/lake in the forest, which is perfect place for camping, just 2km from the main waterfalls site.
After you are done with Okatse bridge you can visit Kinchkha Waterfalls (most of the photos are of the waterfall!) – It's not really good idea to walk to the waterfall – its boring car road which reaches village Upper Kinchkha center. From there part of the road is unpaved ascent. Then you will see long and shallow waterfall and cross short path to it. From the longer waterfall you need to walk down to main water-abundant waterfall following the river and you will be over it.  You can take photos and enjoy the place.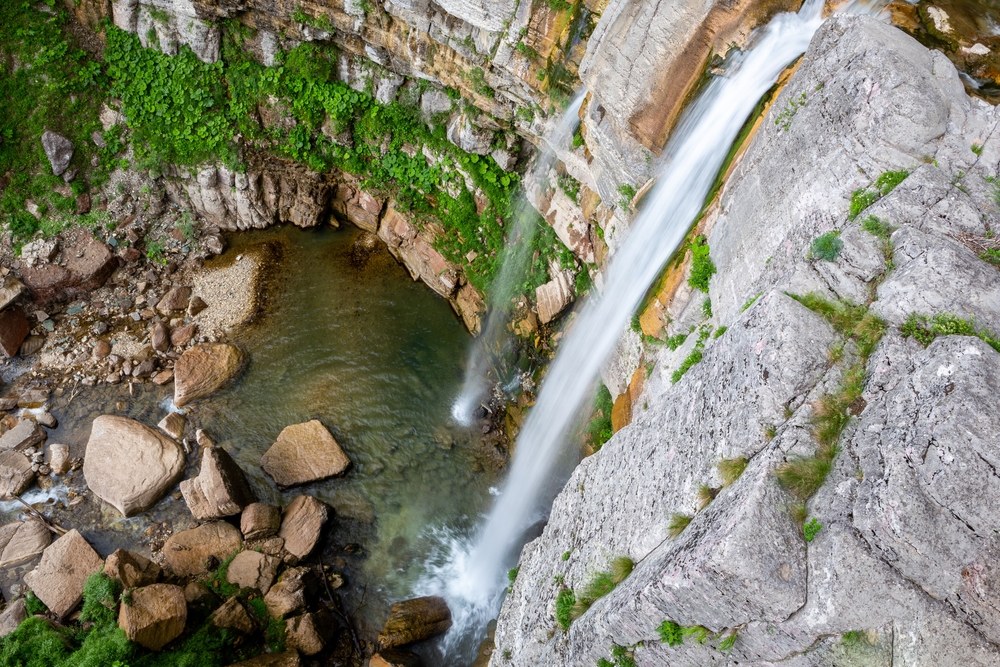 How to get to Kinchkha Waterfall
Its around 50km from Kutaisi (1 hour) to Gordi ; By bus you cant make it directly to Okatse, you need to take bus to Khoni  which leaves from Kutaisi (bus station at McDonalds) ; From Khoni there are buses to Gordi for around 1 gel. From  Okatse Canyon it is 4-5km to Kinchkha Waterfall where you can take a taxi for 20-30 gel or walk.
Kinchkha Waterfalls can not be missed if you like hiking in the nature (Only the first 5 photos are for Okatse, the rest for Kinchkha)! So plan the whole day. As new visitors center is being built in Kinchkha trip to Lomina lakes is advised.If you want real trekking into the wild you can hike to Askhi massif or hike to Martvili canyons via wild route, camp near gorgeous Oniore waterfall (not recommended without guide).
Entrance of Kinchkha waterfall and Okatse canyon
Both Kinchkha waterfall (can be also called Okatse waterfall) and Okatse canyon have entrance fees. Please see on the link information on pricing on Okatse canyon and as for Kinchkha waterfall you can see here.
For those tourists who dont walk to walk down Okatse by foot from visitors entrance it costs 40-50 gel to go down to bridge and come up by local jeep (otherwise you will need 20 min to go down to the bridge and maybe 30min to come up – depends how much Khachapuri you have eaten already).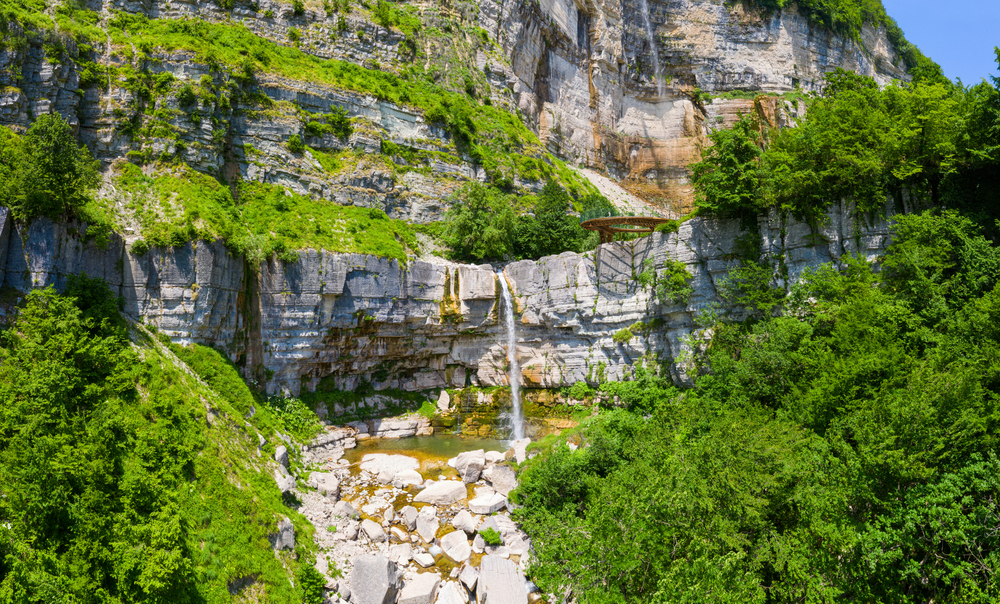 Useful Tips
It's worth to arrange a car trip with hired driver from Tbilisi or Kutaisi to visit both Martvili and Okatse; The best time to visit the area is spring when water levels are high. Also, dont plan to visit Okatse canyon during days of heavy rain and fog when its usually closed.
Extra Activities
You can even get up to the mountain above (cross) for the nice views if you have enough extra time and passion. There are plenty of camping places in both Kinchkha and Gordi. Gordi used to be a Dadiani (Megrelian principal) summer residence so there is a royal garden in Gordi which you can visit. Also it is advisable to explore less touristic areas of Gordi canyons and if you are interested continue exploring the area by visiting Martvili canyons.
Lomina lake
Its actually waterfall which makes some kind of lake is beautiful and exotic destination from Okatse waterfall. Please check it out for good photos, more walk and swimming. There is no entrance fee there (yet).
For the GPS trek please check:

For the website of Protected areas please visit. For the Map please see:
Facebook Comments