Imereti has a lot to offer, including resorts located at the edge of Borjomi-Kharagauli National Park. Surrounded by forests of NP, Nunisi is one of my favorite. You can guess why as I am not big fan of soviet style sanatoriums and rest in the forest cottages with hot curing water, too young for this yet.
The best camping place in Georgia
There is one marvelous spot near Nunisi, right in the middle of forest, small beautiful field, far enough from civilization, with water streams nearby and tasty spring, with lots of wood for fire, just fantastic place for relaxation, it's my favorite place, arguably the best camping place in Georgia. I have camped in front of Shkhara or Chiukhi summits, at the banks of alpine lakes where the stars and the moon are reflected at night and summits double view in the morning, but Nunisi forest might be even more unforgettable. Just look at the map, small field in the middle of forests and its beauty lies in its simplicity.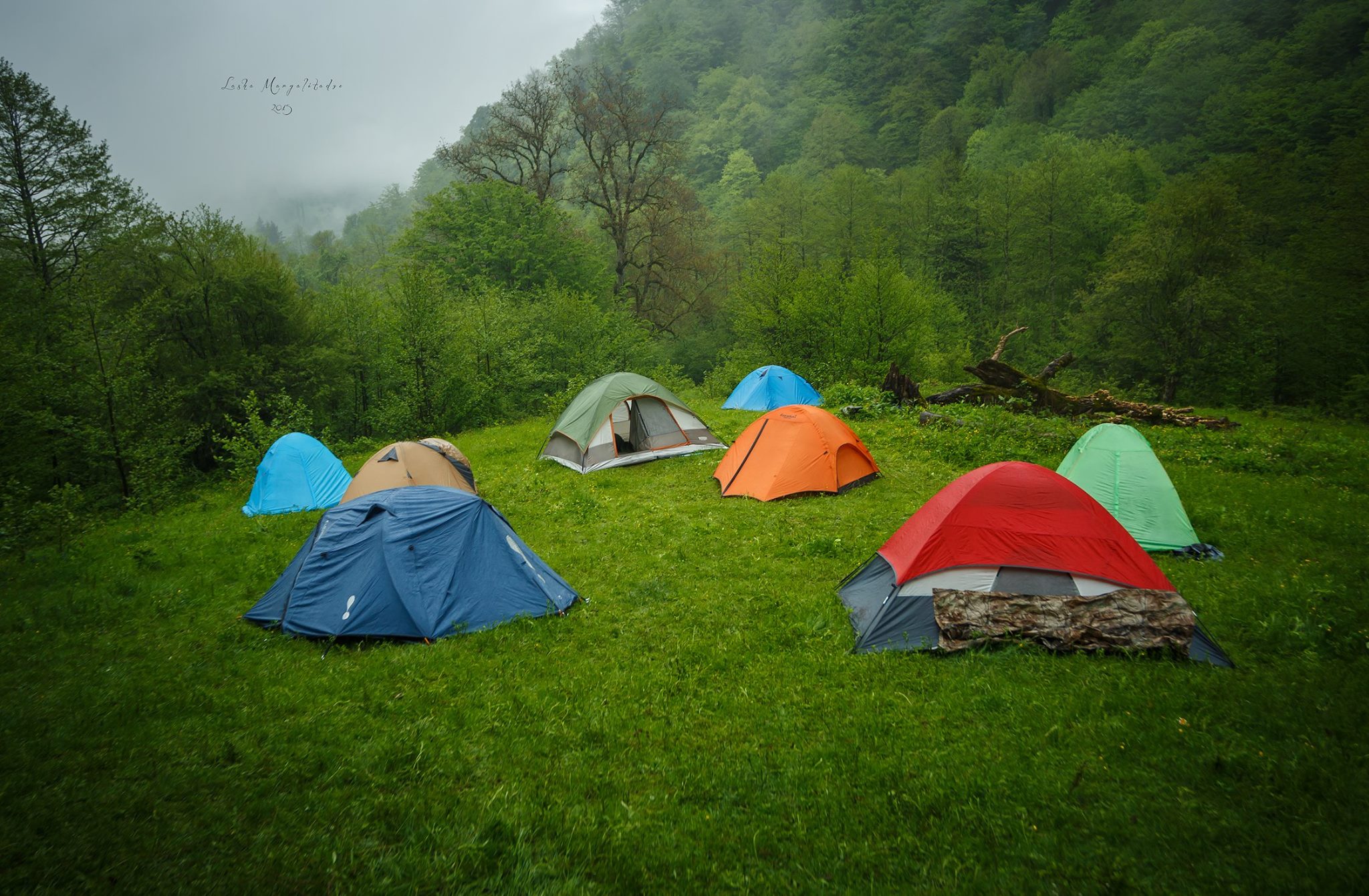 How to get to Nunisi
To get to Nunisi, you need to take a train to Moliti station from Tbilisi/Zestaponi/Khashuri and walk/hitchhike 7km to the Monastery in Nunisi, buy tasty cheese from locals and head to the camping place provided on the map. You will enjoy your stay, even if you party with your friends there in a spring rain. It's quite funny that Nunisi and small underdeveloped town of Kharagauli are called as navel of the world and Nunisi's caves (5m walk from the camping place) a place where Noah has arrived 🙂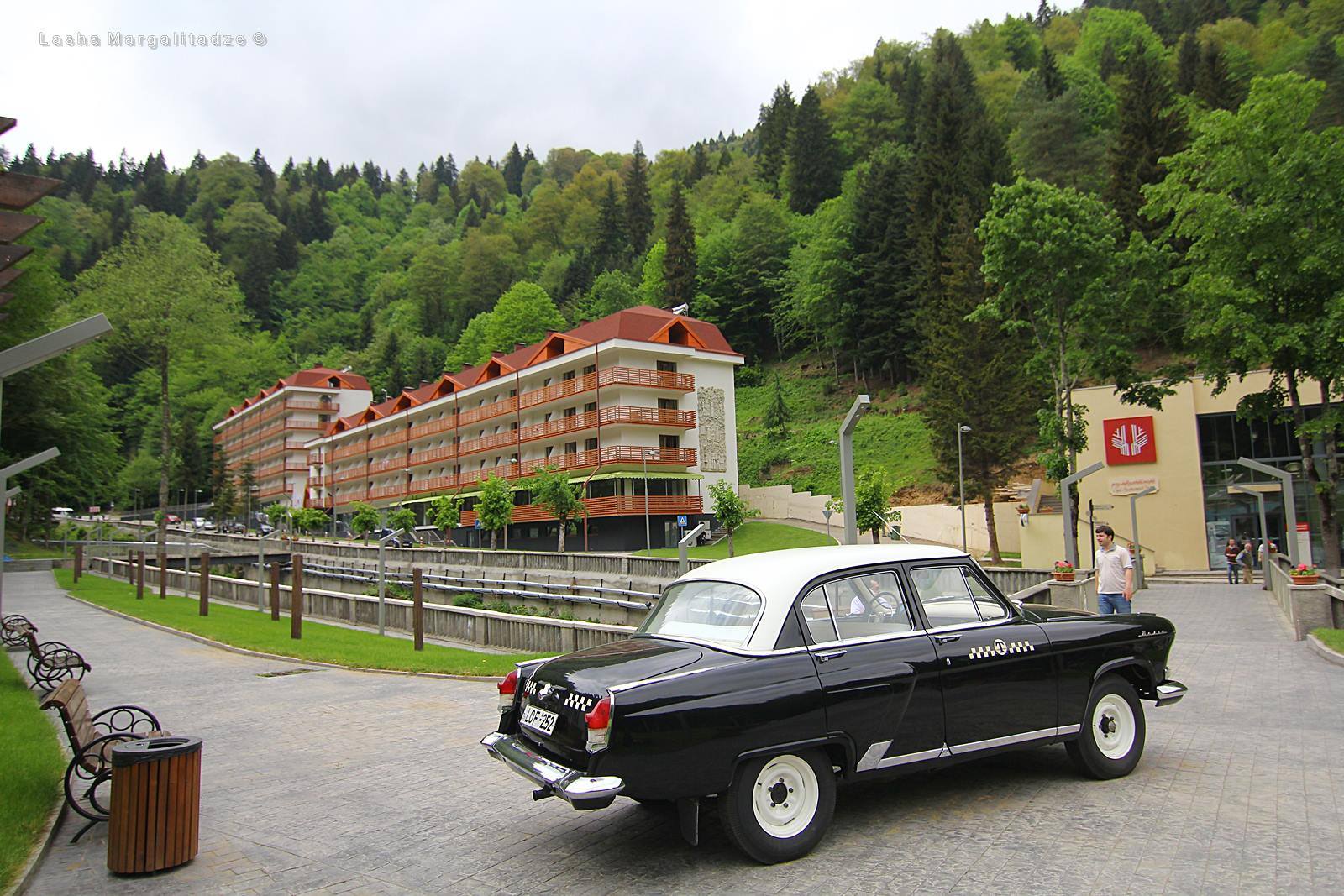 Sairme
Another mountain resort you will enjoy is Sairme. It has modernized hotel facilities (2 hotels with restaurants and  pools which you can use) and many different and tasty mineral waters. You may be interested to rest there with your family kids, etc. The road from Kutaisi/Baghdati to Sairme is nice – in summer time its regular mountain road, but in late April/May/late September/October it is very beautiful due to mixed forests.
In Sairme new modern hotel has been built recently where you can find modern European style restaurant with open pool of hot thermal waters. While in upper (old) Sairme the hotel is usually very crowded with lots of people. It offers 3 times food with excellent choices. Has beautiful surroundings and is actually soviet sanatorium converted into modern hotel. However thermal pool is several kilometers below in new Sairme. Buses between new and old Sairme run hourly and service is included in the price of accommodation. The new Sairme is recommended for those who need pool and relaxation and older Sairme is recommended for those who dont want active rest. However, there is a zeepline and there is a route to the cross and you can hike up for the view. There are a few fish farms and local honey producers and one peaceful monastery as well. It is possible to use doctor's service and determine which mineral water will be suitable for treatment of lets say stomach.
Sairme is not as good for camping as camping places are quite limited but if you are planning to cross the pass to Abastumani (jeep road) you will find interesting camping place in the alpine zone. There are alternative hiking option through Zekari pass. Whether you reach by Car or by hiking there is great camping spot at Zekari pass with huge stone formations nearby and great views. You could camp and watch great Caucasus summits and Kutaisi city and airport lights from around 2000 meters above.
Khani Waterfall
Baghdati region, home to famous Russian poet Maiakovski, has more to offer. It is Khani village with unique people, cheese, nice Imeretian village  surrounded by forested mountains and several waterfalls. It's often called as Imereti's Khevsureti. There are four waterfalls very near the village where locals will be happy to guide you. You can view the video about Latvian tourists staying in Khani.

Not far from Baghdati, you will find Vani district, which is famous for archaeological excavations and as a home of Georgians' most favorite poet Galaktion Tabidze. Vani museum has a great significance, but if you are not interested in archeology, you can skip that (especially in hot days of summer) as you will find the museum's most notable exhibits in Tbilisi National museum.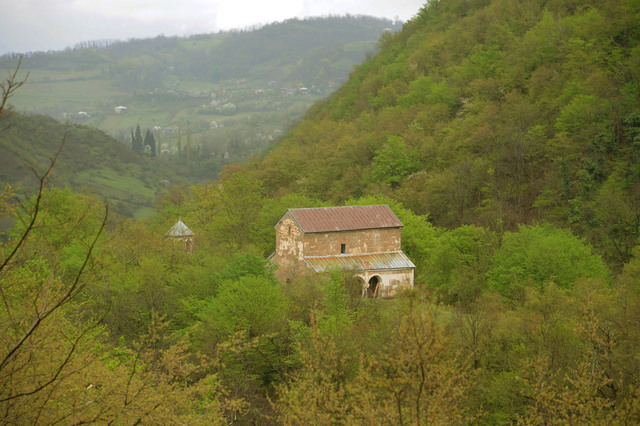 Tabakini Monastery
There is not much to visit in Zestaponi except for fantastic people, but you can find 10th century Tabakini monastery in green forests. Besides Monastery you can find Caucasian sheepdog breeding, which was founded by Monastery Monks in 1992 and the dogs have international competitions
Caucasian Sheepdog is the rarest pedigree, which is characterized by original features. It is considered that old ancestor of the Caucasian Sheepdog was a Tibetan dog. However, because of climate conditions it turned into a unique pedigree, having specific features. It is characterized by thick bone, attractive long hair, and massive structure.
In Georgia Caucasian Sheepdog was used as a guard of cattle and houses, often meet tourists on their way in Tusheti and some other parts of Georgia. If interested, you can visit dog breeding and even buy one of the dogs. The price differs for each. Tel Number is +995 599 504 861 and they also have a website. You can view more photos of Tabakini sheepdogs at this blog.
GPS Map of Khani Waterfalls:

Photo Credits – Photographer and my friend Lasha Margalitadze. For the map please see:
Facebook Comments