Tobavarchkhili Lakes Trek
Tobavarchkhili lakes trip is one of the most impressive alpine treks what you can do in Georgia. It takes average 5 days to complete, goes through fast river gorges, forests,  even tropical jungles in case of descending through Magana gorge, beautiful alpine valleys, snowed passes of an altitude up to 3,000m , 2 big alpine lakes surrounded by stunning rocks reflected in the lake, from 2 to 4 smaller alpine lakes in case of interest, waterfalls, canyons, glaciers, caves, shepherds huts where you can try delicious Georgian cheese: sulguni and dish Elarji, stunning views, panoramas, views to summits in good weather and beautiful unreal landscapes painted by mystic fog flying over the passes, lakes, mountains…
Magic of living outside the civilized world, with no mobile connection, no availability to reach a settlement in at least 2-day period, living to breath the nature, to study and test yourself,  camping in the heaven, in love with sun, mountains and life… Cheering with a shot of hard Georgian vodka to your friends around you and to the moon and stars reflected in the beautiful lake….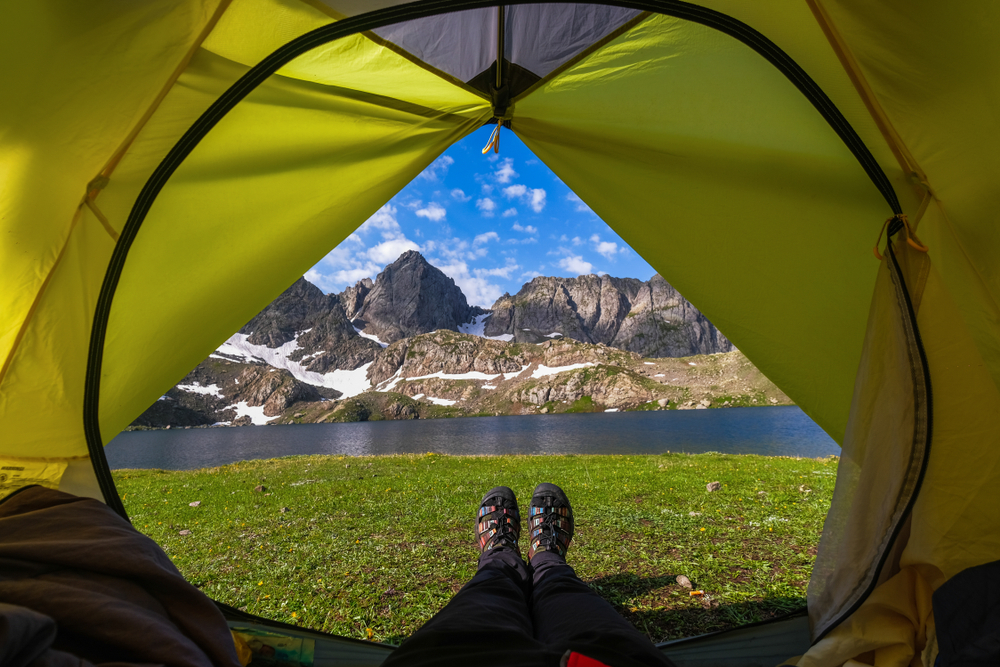 There are many possible variations for this trip, especially regarding the way back from the lake, but obviously you should start your like from the easiest and yet beautiful way, from village Mukhuri.
Trek to Tobavarchkhili Lakes Itinerary
Day 1: Arrive from Tbilisi to Mukhuri. Since road is made till Natipuru hut, you should reach the second hut at Natipuru mountain by jeep. There is not much to see on the way and it is around 8 hours hike, so it is advisable to save your energy and enjoy your way up to the second hut.
It's possible to make fire, drink and rest here. You also have an option to rent a horse, horse can carry some of your food and heavy camping gear, or if you prefer riding you can make the trip 1-2 days shorter. Generally renting a horse in Georgia is 50GEL per day/per horse but locals in Mukhuri might try to charge you more.
Day 2: I wish you to have a sunny day on Day 2 not to miss some breathtaking views, in 4 hours you can walk through some alpine fields with flowers, small river gorges, strange shaped rocks, shepherds hut and even more till you reach the pass from where you can ,,ski" down to the first lake.
There are 2 big camping sites and some ,,caves" (place below huge stones) near the lake where you can sleep and plenty of water to drink but no trees to burn unless you are lucky to find remains of some wood brought here by horsemen.  You can explore surroundings of the lake and enjoy its beautiful and mystic atmosphere.
It is advisable to camp at least 1 night at both lakes and wait for a sunny day in case of ugly weather with thick fogs. In sunny weather lake changes the color throughout the day. Reflections of Rocks in the lake are even more beautiful than the lake itself.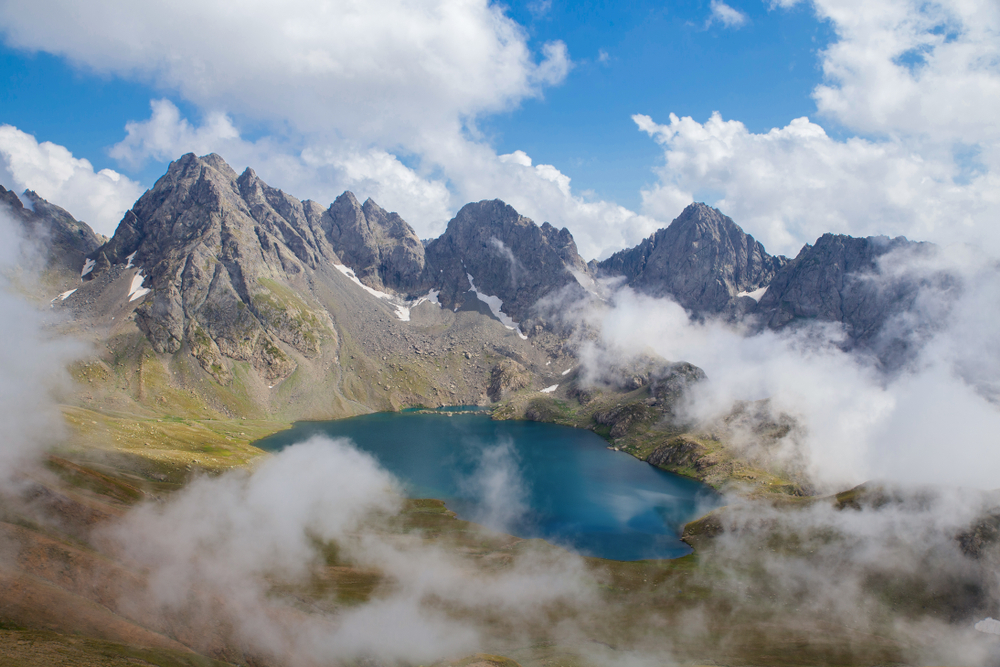 Day 3: 1.5-2 hour walk up and down to another pass you are at Greater Tobavarchkhili Lake: Chitagvala Mountain's Toba. Chitagvala means red mountain in Megrelian language. This Lake is rather larger in size, and more open with wide fields. You need to get up to any of the summits or hills around it to see the full view of the lake and feel it with your heart. Beautiful rocks around it reflected in the lake in different parts of the day. I have enjoyed staying 2 nights here and watching unforgettable sunset above the clouds.
Day 4: Trip to smaller lakes. Across the mountain north from the camping place west from the lake there are 2 small lakes: Didghele and Kaliashi, one of which is frozen at most times and another has the form of heart. You should visit it without luggage and come back unless you plan your way to Khaishi, Svaneti.
In the latter case you will pass these lakes anyway.There are 2 other lakes in the area, one of those is reachable by crossing 1 pass from the 2 small lakes, if you have time and interest.
Days 5-6:
On the way back from Chitagvala mountains Tobavarchkhili lake (big Toba) you can try several different options:
Through the famous shepherds hut where you can try Elarji down to Magana river to Jvari.
While following Magana river you can take left turn when Jolora river enters into Magana; from there you can continue to Naguru or Skuri resort. Alternatively it's possible to go up to Kvira mountain to see Kuakantsalia (shaking stone) and descend into Chkvaleri.
Go north through small lakes, cross 1 more pass and descend in Khaishi, Svaneti.
Go back the same way to Mukhuri. The only obstacle here will be that you will cross back 2 passes. Otherwise, this is the easiest option.
I personally tried the 2nd option for my way back, I enjoyed eating Elarji, but it was tiring to make our way to Naguru due to tropical jungles, hard river crossings and a few mountain ranges  where you loose and gain height.
Day 7: I did the same way as Toba Travel does: we had a car waiting for us in Naguru which took us directly to the black sea! Anaklia is the fastest way to swim in the black sea after mountains and camping at 2600m; But you can also continue your way to Batumi if you want to see the best of Georgia or Svaneti if your passion for mountains is still alive at that moment.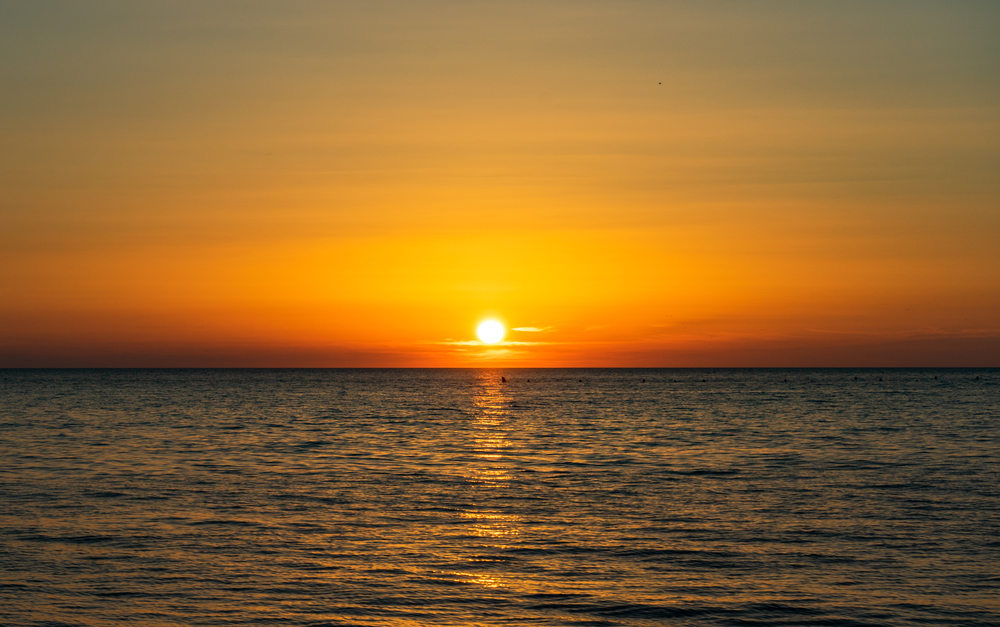 Tobavarchkhili Trekking Useful Info
You need to drive 330km from Tbilisi (or up to 100 from Kutaisi) To reach Mukhuri. Buses to Mukhuri leave from a bus station near Station Square Metro.
The best time to travel is from the second half of July till the second half of September. Make sure you have some sun! In foggy weather you may see nothing. You should have 1 extra day in reserve to rest, in case of bad weather,etc.
If you are descending through Magana river you in case of rainy days/big water levels in rivers take 1 horseman from the shepherds hut to help you in river crossing otherwise it might be dangerous.
Enjoy hiking, you will not regret this trip and will remember throughout your life!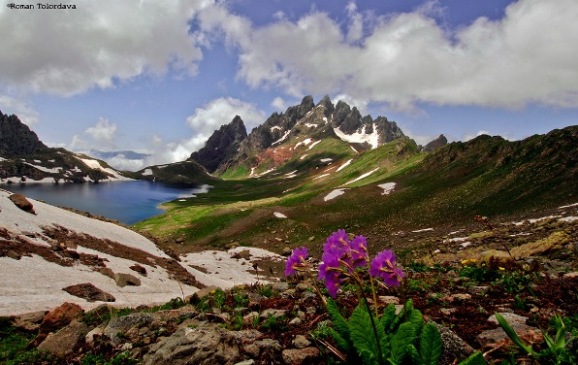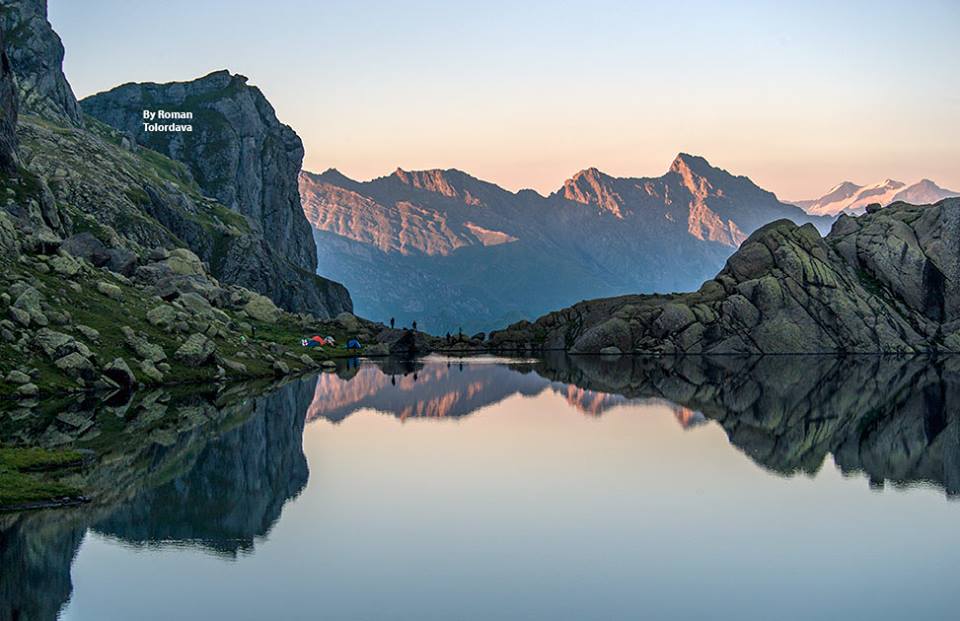 Tobavarchkhili Trekking Tours
Original Tobavarchkhili Trekking Tour
Tobavarchkhili Trekking tour, simplified for the families and inexperienced hikers
You can download GPS track to reach the lake here.
For Mukhuri-Khaishi route click here. 
For your way back to Naguru you can use:
Facebook Comments