Kutaisi
Historical capital of Old Colchis Kingdom and the second largest city of Georgia, Kutaisi is famous for Gelati Monastery and Bagrati Cathedral which are both UNESCO world heritage sites and most importantly for its hospitable people with a great sense of humor.
Located 220 km from Tbilisi, it can be a base city to explore western Georgia as it is 240km from Georgia's favorite region for hikers – Svaneti, around 140km from Batumi (black sea coastline), near from Racha, Guria and Samegrelo regions. If you are flying by wizzair (low cost airlines which flies from Europe for around 30-60 EUR), then Kopitnari airport is just 32km.  But before you pack your bags for Beautiful Mountains of Svaneti or have fun at Black sea resorts, it's worth exploring Kutaisi.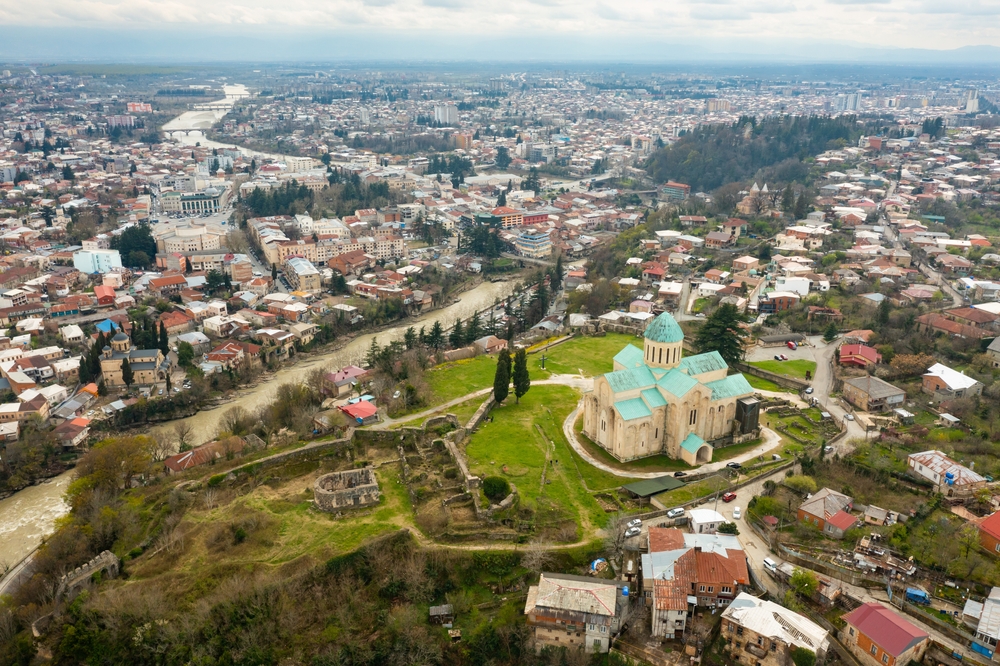 Things to do in Kutaisi
Gelati Monastery
Let's start from the mandatory sightseeing, Gelati Monastery which can not be ignored unless it's not extremely hot like 40c. Main Church of the monastery was built in 1106 by the King of Georgia David the Builder (the king who freed Georgia and Armenia from Turks and was author of many important reforms and the greatest victory in Georgia's history – Didgori battle in 1121).
By that time starting from Arab occupation of Tbilisi, Kutaisi was the capital of Georgia till it was moved to Tbilisi by the same king who is buried now in Gelati Monastery. Georgia's greatest king's wish was that everybody could step on his grave as a symbol of his repentance. Near his grave are the gates of Ganja (the capital of Azerbaijani Khanate), which were taken as trophies by his son king Demetrius I in 1138. Gelati is famous for its architecture, frescoes and one of the oldest scientific and religious academy.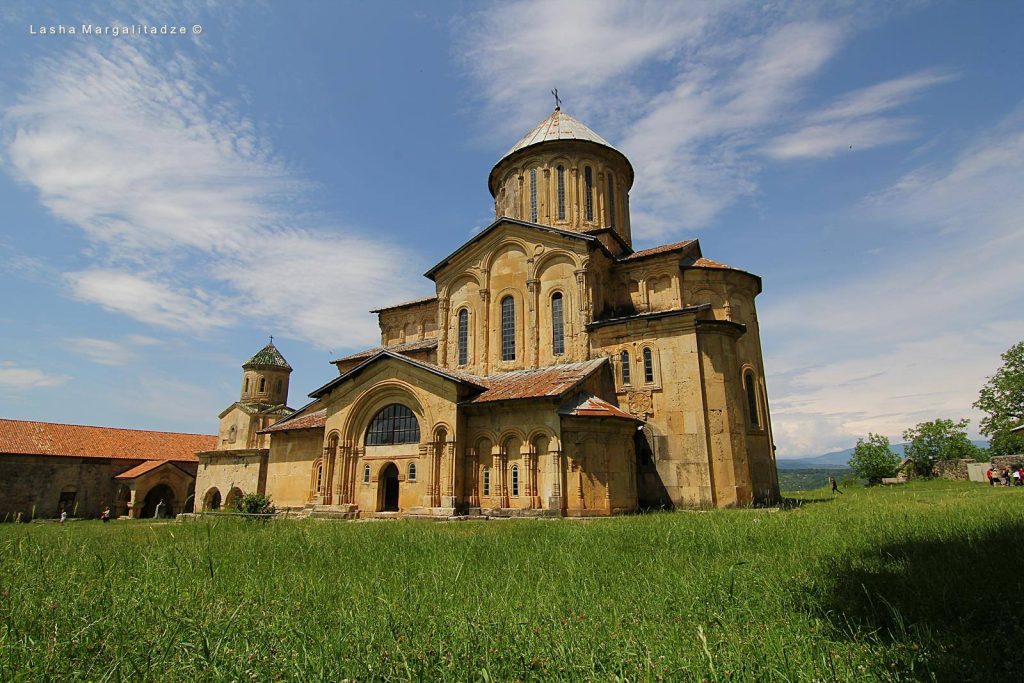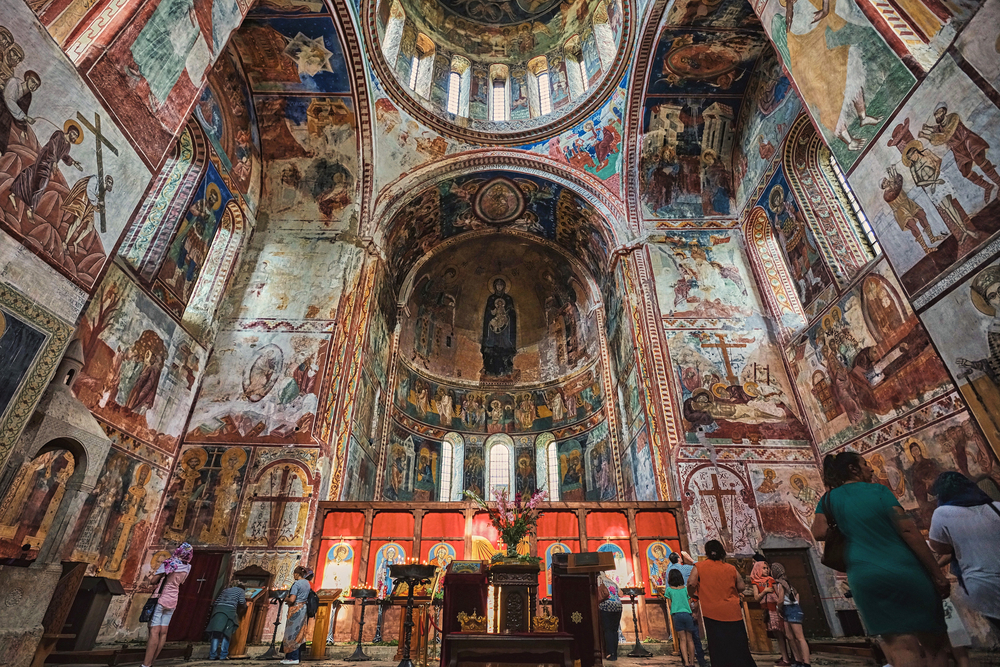 Motsameta Monastery
If you are interested in, there is another Monastery near Gelati in Kutaisi. Motsameta Monastery is named after martyrs who fought against Arabs in the 8th century. It's beautiful,  with an impressive view to  canyons of Tskaltsitela gorge. Especially recommended to be visited in Autumn colors.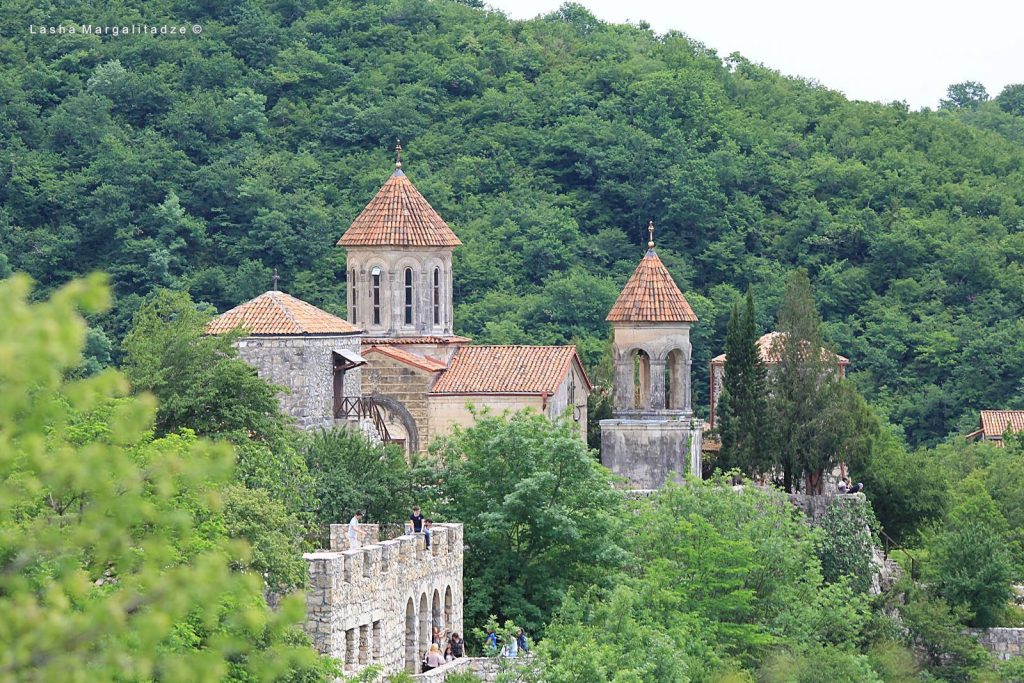 Walk in the city of Kutaisi
There are some nice districts (for example central district near the white bridge, Gora Park, Central square, etc). There is Mcdonalds with free wi-fi at the bus station from where Tbilisi buses depart.
Bagrati Cathedral
The most important sightseeing inside the city of Kutaisi is another UNESCO world heritage site Bagrati Cathedral (11th century) which was in ruins until recently (2012) and looked more impressive than currently according to many Georgians. You can walk to the cathedral even at night. You can also take a cable car from Love garden to Gora Park.
Where to eat in Kutaisi
You can stay in green flower hotel in Kutaisi where you can taste their own wine. However if you like wine, there are wine bars like Sapere, Satsnakheli. If you want tradational restaurants with Georgian music, restaurant Kvamli can be my recommendation. Its a bit outside city. However, at white bridge White stones is located. Another recommended restaurant is Debi – sisters and Palaty. Restaurant Park can be worth to check out.
Other places to visit in Kutaisi
The most recommended cultural sightseeing of Kutaisi is Kutaisi Bazar ( Green market) where you can buy Georgian vegetables and fruits and spices. Besides, inside you can find famous soviet bareliefs.  Inside another bazar (Kechi) you will find some interesting sculptures which may remind you  Trevi fountain without water (Dolce Vita) ) However There is Colchis fountain in the center of Kutaisi which has water.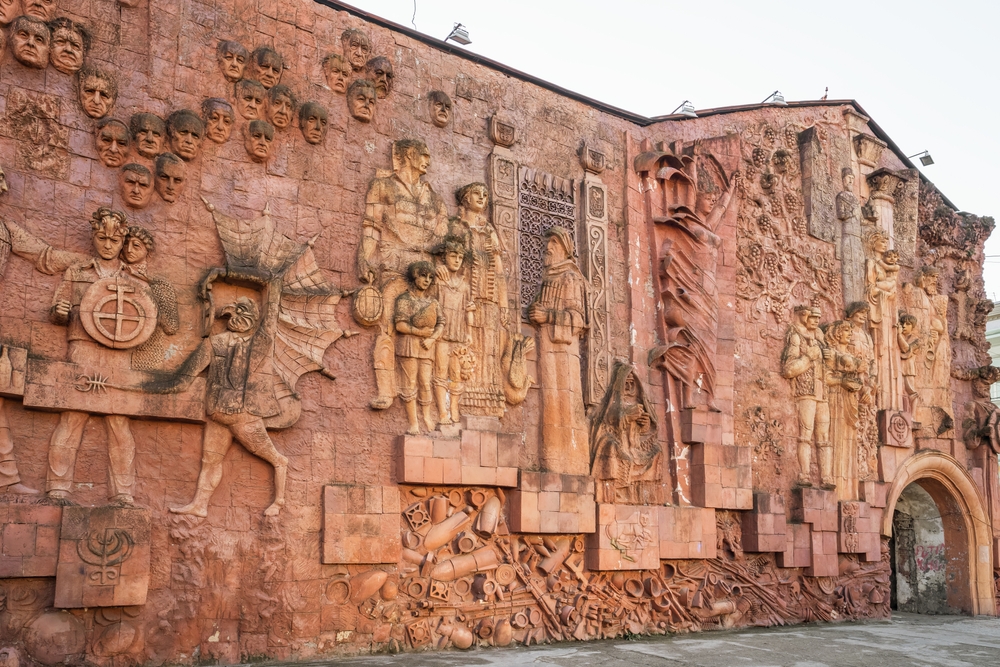 Places you must visit near Kutaisi:
Kinchkha Waterfall, Okatse Canyon & Lomina Lake – natural monuments near Kutaisi
Camp inside Tsutskhvati Cave, in the island or on Tskhrajvari – Less Touristic Places near Kutaisi, Imereti
Sairme and Nunisi Resorts, Khani Waterfalls and Caucasian sheepdogs of Tabakini (Near Kutaisi 2)
Map of Kutaisi
Facebook Comments